After the final events in our National Championships season were disrupted, we're pleased to see the 2021 Flesh and Blood National Championship season officially conclude with the Australia and New Zealand Championships over the weekend.
The talk of the town throughout the entire 2021 Nationals season was Briar, Warden of Thorns. After picking up fistfuls of victories around the globe and a more than generous share of the metagame pie, the world watched as Briar's Embodiment of Earth saw an errata, limiting it to triggering once per turn and farewells were said to Ball Lighting and Plunder Run in the form of a ban.
…but not at Australia and New Zealand Nats! Briar was able to show up- still in force- in her original form as these changes to Classic Constructed (and Blitz) were not in effect at the National championships. Many predicted Briar to maintain her hold on the meta and they were correct. The Elemental Runeblade was the most played deck at both of these National Championships on both days one and two, yet down under, the Warden of Thorns' path to victory wasn't as straightforward as it once was.
With much tuning, tanking and testing, the worldwide Flesh and Blood hive mind found the missing pieces to the puzzle. Guardians.
At both Australia and New Zealand Nats, Bravo, Showstopper and Oldhim, Grandfather of Eternity put on a show and dominated, crippled, crushed and froze aggressive decks out of many top spots with their fantastic defense suites, life gain and consistent pressure in the form of weapon damage.
A surprise to some, but not all, Prism, Sculptor of Arc Light descended upon the New Zealand Nationals metagame with performances touted by many as a "counter to the counters'. Prism's matchup against Guardians is known to be very favoured as her hard hitting Heralds (often with go again thanks to Luminaris) consistently pressure the opponent, but it's the Spectral Shields that really cause trouble. Prism's combination of a range of Spectra auras and massive attacks provide Guardians' one-to-two attacks per turn with a tall task to tackle and can very quickly see the Guardian player overwhelmed by attacking auras. When a Great Library of Solana enters the area…Prism is in a league of her own. Prism was a risky pick in a predicted heavy aggro Briar field, but it's fair to say, the Illusionists turned dreams into reality.
Australia took a slightly different approach to reacting to a possible Guardian heavy meta. Chane, Bound by Shadow had a great showing seeing two Shadow Runeblades in the top 8. Chane is great at adding more and more pressure and threats as the game goes on and with a very meticulous pitch setup, can eclipse the Guardian endgame and seal the deal.
Viserai, Rune Blood was another incredible choice against the field and particularly Guardians. Against slower decks, Viserai can stack the Runechants high with cards like Mordred Tide and Read the Runes before 'going off' and going for the OTK (one turn kill). Big Vis has game against all comers though, as the original Runeblade has a hellishly flexible gameplan. Viserai is a hero who is able to play a different role depending on the matchup he is facing. Slow decks? OTK 'em. Something more mid range? Viserai can play the aggressive game as well as (almost) anyone. If you're a fan of reading game states, knowing precisely when to pivot your gameplan, dealing 40 damage in one turn and pushing your sequencing skills to the limit, Viserai, Rune Blood is the hero for you.
As we peek under the big top of Everfest, it's safe to say the top contenders of the Classic Constructed format are Oldhim, Bravo, Briar, Chane, Viserai and Prism, with a few old favourites loitering around the arena. As we look back at the 2021 National Championship season, one which will be remembered for all eternity, all eyes move toward the greatest show on Rathe as Flesh and Blood fanatics eagerly await the exciting innovations which will be brought to Classic Constructed and beyond.
Australia
The team at RC Crew hosted Australia's National Championship at the Bankstown District Sports Club, in Sydney, Australia. The last time that a major Flesh and Blood event came to Australia was in the same city, just thirty kilometres away in Cammeray. The Calling: Sydney in 2019 came just a month after the release of our first set, Welcome to Rathe, and the following planned event, the Australian National Championship in 2020, was cancelled due to restrictions. The 2021 Championship came a full two years after Flesh and Blood's debut in Sydney, and marks a return to premier organised play in Australia.
RC Crew hosted their first Flesh and Blood event in November 2019, and are one of our longest-running local game stores in Australia. They've long had a reputation for building a local community in Sydney, hosting win-a-box events, giveaways, and weekly events. They teamed up with the crew at Fluke and Box to provide streaming; if you'd like to rewatch the magic, you can find their National Championship stream here.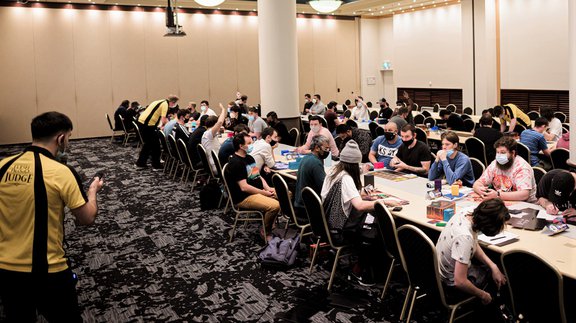 The Australian National Championship opened with 56 players, starting off Day 1 with three Swiss rounds of Classic Constructed. The tournament included players both new and old, opening on a field that included runeblades, guardians, rangers, illusionists, warriors, and three wizard players.
The Day 2 cut saw two Katsu players, a Kano, a Boltyn, Rhinar and Bravo all face a field of runeblades and guardians, with all three of our runeblade heroes represented past the cut.
---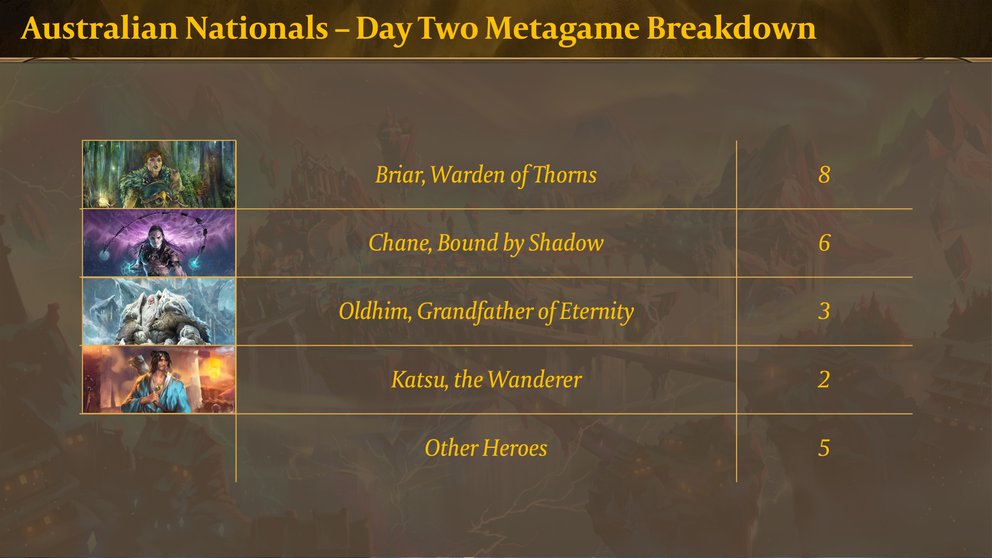 ---
The Day Two cut included four players who previously competed at the Calling: Sydney: Kuan Li, Luke Fletcher, Roy Lai, and Hayden Dale, who was our 2019 Calling: Sydney Champion. Conversely, a number of newer players joined the battlefield. Alex Forndran joined the competitive scene at the start of 2021, with his first major win at Table Top Warfare's Road to Nationals event securing him his invitation to the Championship. Liko Pepine's first event was at the very end of May, giving him just a few short months to qualify for Nationals through XP. Patrick Watt also qualified through XP, and having yet to make it to the finals of a competitive level event, making the Day 2 cut at Nationals marks a massive milestone in his journey as a competitive player.
Four players went 3-0 in the Top 24 Drafts - Matthew Clark with Oldhim, Beckett McNeil with Lexi, and Jesse Marshall and Kuan Li with Briar. Unfortunately, Jesse Marshall fell just shy of the Top 8 cut, while our other three 3-0 players moved on to the quarterfinals.
Matthew Clark, Beckett McNeil, Lachlan Buchan, and Harry Kaloyirou all qualified through XP, with Beckett McNeil qualifying after joining his first event in June, and Lachlan in May. Matthew Clark and Harry Kaloyirou both joined the Flesh and Blood scene in February 2020; both attended the Pro Tour Invitational that replaced the cancelled Calling in Melbourne last year, with Harry racking up 5 wins, and Matthew racking up 6.
Kuan Li qualified when he won Midian Gaming's Road to Nationals event, Hayden Dale when he won RC Crew's Road to Nationals event, Joe Barbaro placed second at Dragon's Lair St Mary's event after a year of fighting to make a name for himself in the competitive scene, and Roy Lai qualified through the XP leaderboard.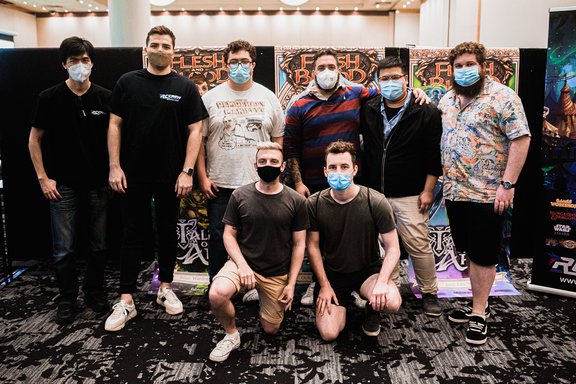 The quarterfinals saw both Chane players, one Briar, and the only Katsu in the Top 8 eliminated. This saw both semifinal games pitting a Briar player against Viserai and Oldhim, respectively. Hayden went with the classic Runeblade for the event, while Roy went for the eternal strength of Oldhim. Roy's Oldhim buried Lachlan's Briar beneath an avalanche of ice and earth, while Hayden won the Runeblade battle against Harry. That left Viserai versus Oldhim, and Hayden versus Roy.
Roy Lai's first Flesh and Blood event was the Calling: Sydney, where he picked up one win, not finding much more luck at the second chance side event. In the space of two years, he's now fought his way to the finals of the National Championship, pitted against Hayden, who won the Calling: Sydney after only playing one sealed event the week before.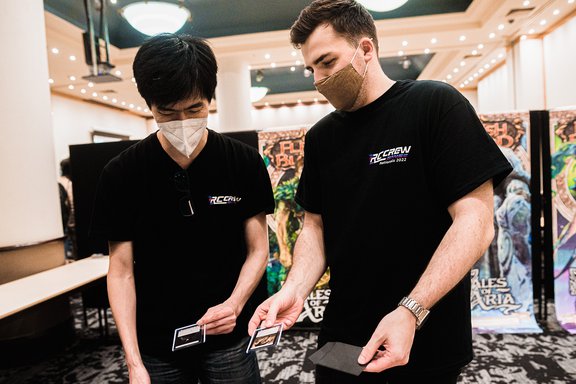 Early in the match, Roy used Tome of Fyendal to work his way up to 53 life, with no damage landing until Hayden drew first blood with Sonata Arcanix, in a move where he paired Ninth Blade of the Blood Oath with Runechants to deal 33 damage in a single turn. From there, he whittled Roy down to 4 life, pushing through damage with Rattle Bones to claim the title of Australia's first National Champion.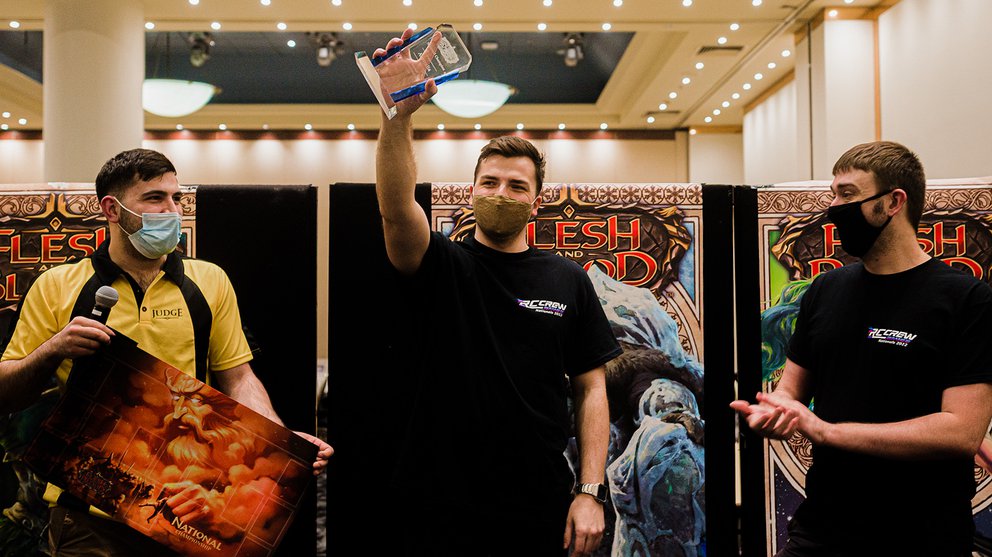 ---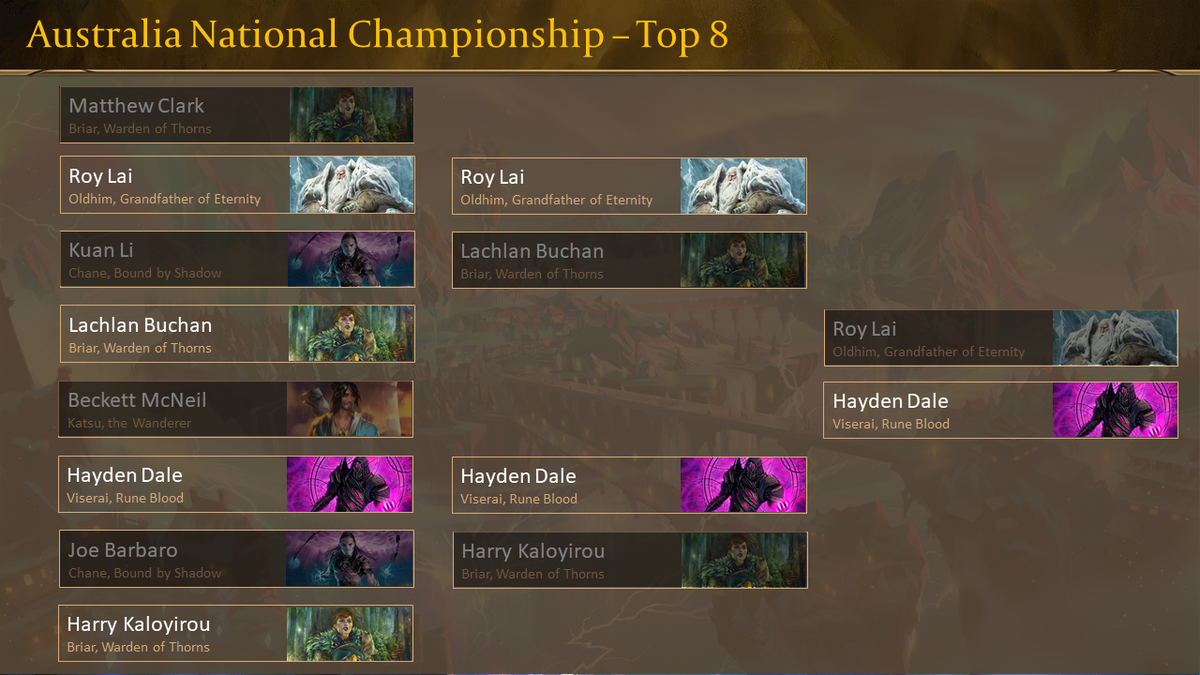 ---
New Zealand
The New Zealand National Championships were held at the Sky Stadium in Wellington, hosted by local community icon Sushi Knight. Following the two Calling events in Auckland in the first half of 2021, Flesh and Blood returned to the windy city for the first time since the last National Championship in New Zealand, held the year prior.
Sushi Knight is well-known in New Zealand for helping to build their local community - creating their own playmats, fundraising for charity, and creating free Blitz decks from commons for people to learn to play the game.
Their common-only Blitz decks feed into the unique side event found at this National Championship; the Chaff Goblin format invented by the team at Sushi Knight, and illustrated by Zoe Ditchburn. This unofficial format is a subset of Ultimate Pit Fight, featuring a 40 card deck randomly drawn from a pile of chaff (commons and rares).
With the Chaff Goblins on the sidelines, the National Championship got underway with 86 players, seeing some of the longest-running Flesh and Blood players in the world go head to head in the hopes of claiming the title of National Champion from last year's winner, Matt Rogers.
Heading into the Day 2 cut, there were a number of established competitive players - four from the Top 8 of the Calling: Auckland in June (Kiki Labad, Kieran Carnegie, Henry Moore, and Aaron Curtis), and two from the New Zealand National Championship in 2020 (Cayle McCreath and Rohan Khanna). Aaron Curtis and Matt Rogers also placed in the Top 8 of the Calling: Auckland 2021 in February, with Matt winning the Calling in June.
Other players who made the Day 2 cut are newer to the game, taking 2021 to build their competitive skills. Jack Whitaker joined the battle at the tail end of 2020 through Sushi Knight's Training Grounds program, working his way toward a win at their Skirmish in June. Elijah Hewlett also came on board through the Training Grounds program, joining his first event in April and qualifying for the Championship through XP.
---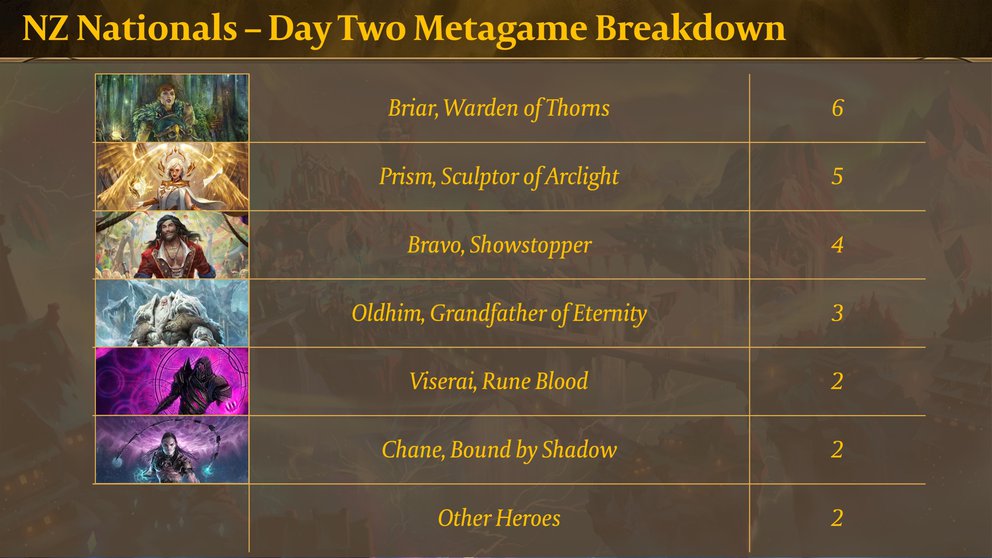 ---
The Top 8 cut included Matt Rogers, Kieran Carnegie, Rohan Kanna, and Cayle McCreath, who was the first player in the world to reach 1,000 XP. They were joined by Tom Penny, who missed several Top 8 cuts since he first played at the Calling: Auckland in 2019, before placing in the Top 8 at the ProQuest event at the Calling: Auckland in June 2021, almost two years later. Thomas Bailey Galbraith also placed in the Top 8 of the same Pro Quest event, having joined his first event just a few short weeks before Tom Penny.
Cameron Hay joined the battlefield through Sushi Knight's Training Grounds program at the end of 2020, fighting alongside his friend and testing partner Jack Whitaker, who narrowly missed out on the cut in 9th. Nicholas Holding, also from Wellington, found his footing at Cerberus Games' weekly classic constructed events in 2019, winning the ProQuest side event at the New Zealand National Championship in 2020.
The quarterfinals saw Chane, Bravo, and a Prism and Oldhim knocked out of the running, leaving two runeblades, a guardian, and an illusionist heading into the semi-finals. Tom Penny's Briar was frozen out of the finals by Matt Rogers' Oldhim, while Nicholas Holding's illusions reigned supreme over Rohan Khanna's Viserai.
That left Matt Rogers, winner of the New Zealand National Championship 2020, against Nicholas Holding, winner of the ProQuest at the Nationals 2020. Matt's ancient ice guardian, Oldhim against Nicholas' young illusionist, Prism.
While Matt has an extensive competitive history behind him, this isn't the first time that he's faced Nicholas on the battlefield. The two previously fought at the Blitzathon, an anniversary event in 2020 celebrating the first birthday of Flesh and Blood. Nick won the match, and summarily ended Matt's winning streak of over fifty games undefeated.
In a field of aggressive runeblades, Prism was an unexpected pick, but with the Great Library of Solana at his back, Nicholas managed to push through the last point of damage that he needed to defeat Matt, unseat the previous National Champion, and claim the title for himself.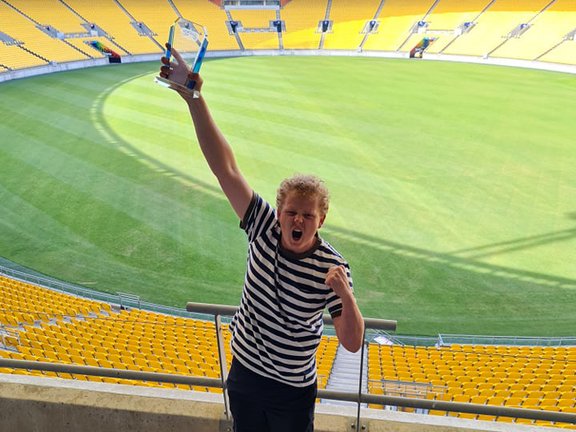 ---
---