"Our mission is to bring people together in the flesh and blood through the common language of playing great games."


Flesh and Blood is created by an independent studio based in Auckland, New Zealand. Created for gamers, by gamers, Flesh and Blood spent seven years in development before its worldwide debut in October, 2019, with the release of our first booster set, Welcome to Rathe.
Flesh and Blood rewards good decisions, not good luck. With our game, we seek to challenge the fundamental laws of TCG card evaluation and deck building philosophies. It's highly interactive, with action beginning from the very first turn. The game is built around a unique resource system, underpinning an innovative combat dynamic which has been rigorously tested by competitive TCG fanatics.
---

---
We run a global organised play program, which returns to the fundamentals of tournament play. Cash prize tournaments run throughout the year, leading to the pinnacle of tournament play at the National and World championships. Formats spanning sealed deck, booster draft, and constructed challenge even the most hardened TCG veterans.
Flesh and Blood is not only for TCG fanatics and veterans, it's a game made for collectors and connoisseurs of fine things. We value collectibility, and support the existence of a thriving secondary card market. With the help of our friends at Cartamundi, Flesh and Blood is produced at a new level of TCG craftsmanship, with no detail overlooked.
---

---
In a world of ever-changing technology, the importance of local communities has never been more relevant. Local game stores around the world provide a welcoming environment for people to come together to play great games, forge new friendships, and build communities. Trading card games provide a unique opportunity for people to share new experiences, regardless of age, gender, race, religion or language.
We believe that in a world of innovative technologies, the need for local communities will never go out of date. We're passionate about supporting local game stores as the heart of TCG communities. We created a retailer appreciation kit for local game stores, which contains unique Flesh and Blood products for players, and a game event management program for running in-store play. LGS can host events with our monthly armory kits, created to provide additional support for organised play.
---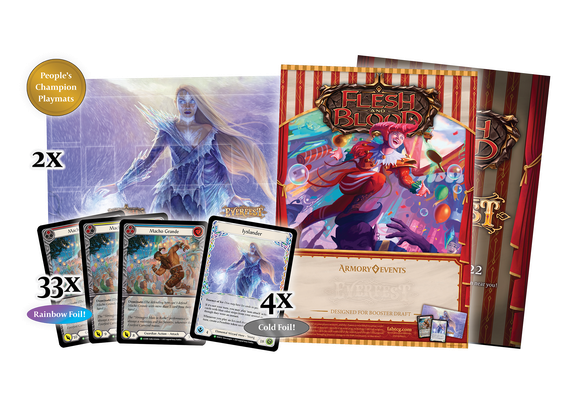 ---
If you're a player and you'd like to get started on your Flesh and Blood journey, check out our welcome page.
If you're an LGS and would like to learn more about us, please visit our retailer page for more information.
We hope to see you soon, in the Flesh and Blood!