From the first day that we sat down to design Flesh and Blood, organised play was at the centre of our thinking. It's embedded in the decision to design the game to support draft and sealed deck. Boxes of boosters hold 24 packs because that's how many you need to support an eight person draft. Reducing variance is intrinsically good, but especially in the context of organised play as it allows tournament rounds to be best of one, opening up deeply strategic formats like Classic Constructed as a viable tournament format.
Let's take a look at an overview of our Organised Play framework, and the types of events available to players around the world.
---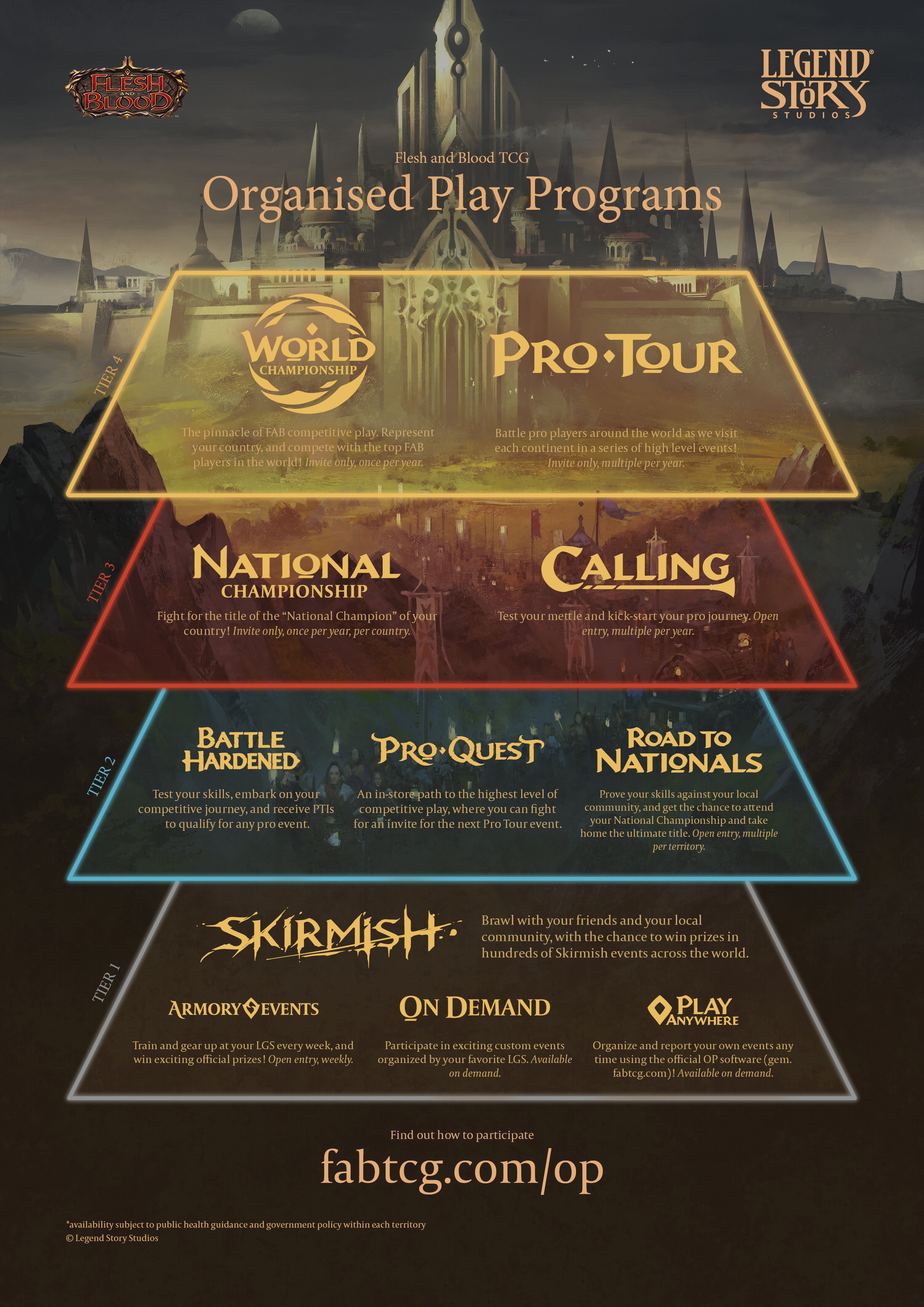 ---
---
Welcome Events
Welcome Events are a great way to begin your adventure into the world of Flesh and Blood. They usually start with a 60-minute open play session, where you'll learn to play as Ira, Crimson Haze, followed by a casual tournament where players face off to become the undisputed leader of the Crimson Haze! What's more, you get to keep the Ira welcome deck.
Welcome Events run from time to time in local game stores and at events like conventions. Find upcoming Welcome Events by searching "event type" in the event locator.
---
Armory Events
At the base of the Organised Play structure, we have the core weekly play programs; Armory Events, On Demand and Play Anywhere. These programs are intended to let players get involved at home or in store as an accessible first step on the Organised Play pathway. To support stores to run great events we provide free Armory Kits containing great playmats and promo cards to be given away as prizes*. Armory and On Demand events also award XP so you can get yourself on the leaderboards and compare yourself to your friends!

Skirmish
At the next level up, the Skirmish Series is intended to give players an opportunity to take part in accessible higher-level competitive play. The idea is that players in small communities might get access to a bigger event in the season, while players in larger communities might have 2-3 events taking place nearby. The prize pools are bigger for these events, so the level of competition tends to be a bit higher, but the events are still run at a casual level of rules enforcement and are intended to be a fun way to test your skills in a more competitive environment. Skirmish Events are also standalone; you can gain XP by taking part, and built up your reputation in the community, but you don't qualify for anything as a result of winning an event.
Skirmish seasons are held throughout the year, so check back later for announcements about upcoming Skirmish events!
---
ProQuest
The next tier of events is where things start to get serious. Pro Quest tournaments are serious high-level tournaments where the winner can take home major prizes and ProQuest invitations, which are redeemable for the next Pro Tour event on the calendar. Like Skirmish events, ProQuest events are intended to be fairly accessible for communities around the world, while providing strong prize support for the winners, and are a great way to kickstart your path to higher tiers of competitive play.

Road to Nationals
Road to Nationals events run in local game stores each year, providing players worldwide with the chance to win an invitation to one of our global National Championships. The format and prizes vary from year to year, but can incorporate both Classic Constructed and Limited format events, and prizes can include exclusive promo cards such as Gold Cold Foils! Test your mettle against your local community, and fight for your chance to become the next National Champion in your region.

Battle Hardened
Battle Hardened events are the first series of standalone open entry competitive tournaments on the pathway. Unlike our other Tier 2 event seasons, Battle Hardened events are exciting one-off tournaments that offer players the chance to win Gold Cold Foil Legendary cards and PTIs — Professional Tournament Invitations, which are redeemable for any invite-only event and do not expire. They're a great way to kickstart your entry to the highest levels of competitive play.
---

National Championships
Fame. Glory. National Pride. The National Championships is the annual chance for players across the world to battle it out for the title of National Champion. These events are typically invitation-only. Players can qualify for these events by making the Top 4 at a Road to Nationals event or on ratings based invitation.
National Championships are professional, invitation only tournaments, run by Legend Story Studios yearly in official Flesh and Blood territories. Invitations are awarded through Road to National events, and based on leaderboard rankings at milestone periods.
National Championships feature cash prizes and the opportunity to play for Gold Cold Foil Legendary cards. Winners also receive a World Championship Invitation, which can be redeemed for entry into the next World Championship.

Calling
The Calling is our other Tier 3 tournament program, a series of open entry Professional Level tournaments typically spanning an entire weekend. Calling events bring players from across the land to battle, and are open to all players featuring different formats for players to test their skills. As with National Championships, cash prizes are on the line, along with the chance to win Gold Cold Foil Legendary cards and PTIs.
---
The pinnacle of Flesh and Blood Organised Play are the Tier 4 events - the Pro Tour and World Championship. Only the best will qualify for these tournaments, and victory will be hard fought. For the player that climbs to the summit and becomes the World Champion, success will truly be deserved, and they will be assured a place in history as one of the great Flesh and Blood players.

Pro Tour
The first of our Tier 4 events, the pinnacle of organized play; the Pro Tour is a series of invite-only landmark events that take place across an entire weekend, with massive prize pools and some of the most competitive players in Flesh and Blood. Pro Tour weekends typically feature side events like Callings and Battle Hardeneds, giving players multiple chances to launch and cement their careers in professional-level play.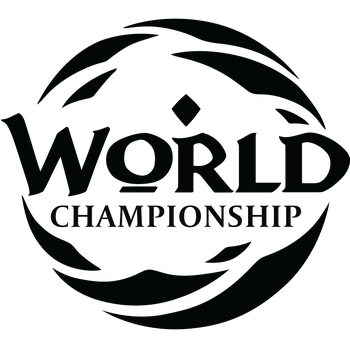 World Championship
The World Championship brings the best players in the world together, then raises one higher to the pinnacle of greatness, to be immortalized as a living legend of Flesh and Blood.