Celebrate the release of Arcane Rising at a pre-release event in a store near you!
Date: March 21-22. Participating stores can run 1 pre-release event on either March 21 or March 22.
Pre-release events are limited to the first 250 stores globally who schedule a pre-release event in GEM. The window for stores to schedule a pre-release closes February 27th. We recommend checking the event locator after this date to find a pre-release near you.
Format: Sealed Deck. Receive 6 boosters of Arcane Rising to construct a 30 card minimum deck.
Set code: ARC
The good stuff
Locations running an ARC pre-release will have the following on offer:
16 Arcane Rising young Hero foil promo cards (4 of each new hero). These are to be awarded to pre-release players in a method determined by the store.
2 Arknight Ascendancy limited edition play mats, 1 awarded to the winner of the pre-release and 1 awarded in a method determined by the store.
Arcane Rising for sale during pre-release weekend! Pre-release stores can sell ARC in-store (no online sales) during the weekend of the pre-release.
Buy-a-box promos!!! Get an Arcane Rising adult Hero foil promo card with the purchase of an Arcane Rising booster box. Each pre-release store only has 8 buy-a-box promos (2 of each new hero), so act fast to avoid disappointment. The Arcane Rising buy-a-box promo is a limited offer, available only while stock lasts at each participating store.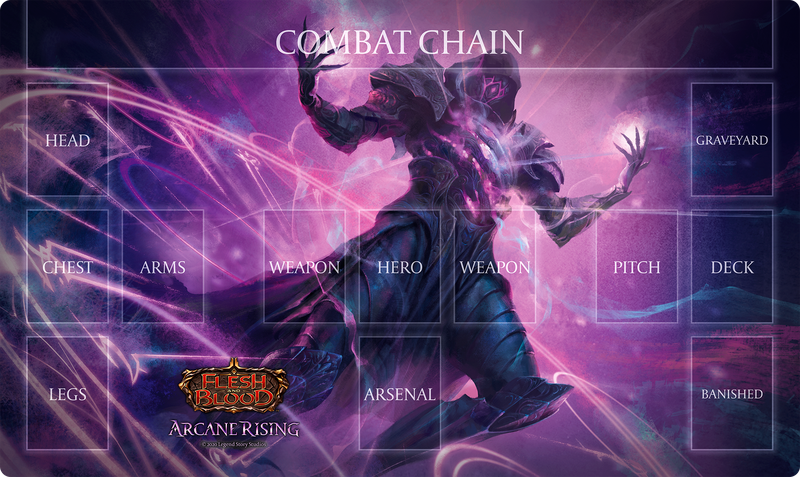 The world was simple, man and woman measured against each other on their prowess of muscle and mind. But from the southern reaches of Rathe, dark arts and aether manipulation have again found practitioners of the forbidden warfare. As the fight takes new shape, heroes must adapt or die. Sword and shield will not be enough to survive the Arcane Rising!