"Hello stranger! Welcome to our humble neck of the woods. You look weary from your travels, why don't you pull up a seat and grab a drink? You're just in time, I'm about to rock the town's socks off with my latest hit single! And if you like what you hear, this starving Bard would be ever-so grateful for a few copper coins tossed her way!"
---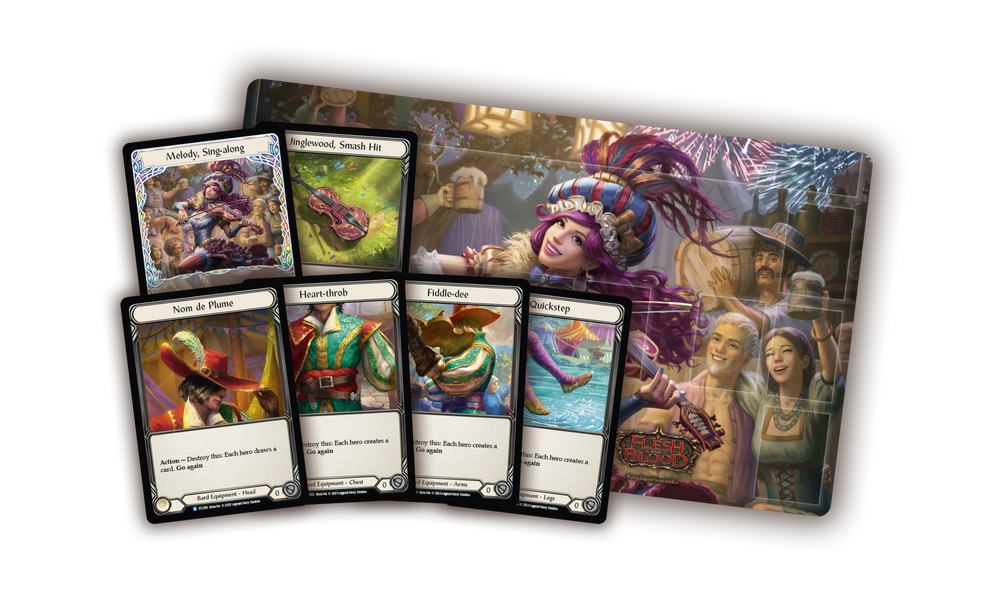 ---
We have always believed that one of the beautiful things about trading card games is how they appeal to different people in different ways. That's why we've created the Flesh and Blood Social Play Kit, available (while stocks last) free-of-charge to local game stores who run regular social play events in their stores.
Social Play Kits differ from our existing prize kits such as Armory, in that they are evergreen, not month specific. They contain a wide variety of promos that can be used over a period of time that fits the needs of each individual store and community. Over time a store may get a second chance to offer their community each of the Social Play Kits, which we believe will be well received due to the diversity of promos contained in each kit.
Today, we are excited to announce the first Social Play Kit - Melody, available from September 29th onwards. This crowd-pleasing prize purse contains the following:
4x Melody, Sing-along (Cold Foil)
2x Jinglewood, Smash Hit (Rainbow Foil)
2x Nom de Plume (Rainbow Foil)
2x Heart-throb (Rainbow Foil)
2x Fiddle-dee (Rainbow Foil)
2x Quickstep (Rainbow Foil)
4x Song of Jack-be-Quick (Rainbow Foil)
4x Song of the Rosen Matador(Rainbow Foil)
4x Song of the Shining Knight (Rainbow Foil)
4x Song of Sweet Nectar (Rainbow Foil)
4x Song of Wandering Mind (Rainbow Foil)
4x Song of Yesteryears (Rainbow Foil)
Social Play Kits are designed to support a minimum of 4 events and these should be run across a period of 1-2 months. Stores should allocate social play kit materials to reward participation and attendance at their discretion. Check Retailer News for more information on Social Play Events and how stores can become eligible for the Social Play Kit.
---