Legend Story Studios is proud to team up with The Professor, one of the world's leading advocates of social gaming, to get you Round the Table enjoying great games with your friends, family, and fellow gamers.
Flesh and Blood Round the Table: TCC x LSS contains 4 ready-to-play Blitz Decks designed for fun-flowing Ultimate Pit Fight (UPF) multiplayer gameplay, featuring over 100 new cards, a 24" rubber playmat, and all packaged inside a Teklo Industries 1000ct storage box!
Play as "The Professor" and build a high tech mech suit with the brand-new Evo equipment card type, the first ever equipment to start the game in your deck! Joining the festivities is Melody, a Bard who'll soon have the entire table singing along to her songs; Brevant, a chivalrous Guardian who'll make sure everyone has a smashing good time; and Ira, who… well, is still on her quest for blood, truth, and vengeance!
The Professor
It's an honor to collaborate with The Professor, one of the world's greatest advocates of social gaming and a vocal champion of local game stores as important community hubs where people can get Round the Table to play great games together!
It's this shared vision that brought The Professor and Legend Story Studios together to create this project, and is why Round the Table: TCC x LSS will only be available from local game stores around the world.
When crafting The Professor card itself, we couldn't look past The Professors favorite class Mechanologist to embody his character. We also wanted to capture the essence of what The Professor represents to many gamers around the world; Community, inclusiveness, fun and friendship through a shared love of playing games together.
We see The Professor at his best and most powerful when surrounded by his fellow gamers, and hence The Professor's hero card is more powerful, the more people who are sitting Round the Table with him!
Melody, Sing-along
Melody is the life of the party, knowing just the right notes to hit to get the crowd going!
Her songs create a plentiful flow of cards, energy, and action points that keep the tempo of the game upbeat and entertaining for all.
She'll soon have everyone Round the Table singing along to her merry tunes, however, all great performances must come to an end, and Melody's Final Act is sure to leave the crowd speechless!
Brevant, Civic Protector
Brevant is inspired by one of the most common "house-rule" variants we've see out there in the UPF community; Being able to defend other players.
A chivalrous protector of those around him, Brevant is the bastion of fairness and order, the moderator of advancements on others. On Brevant's watch, civic duty shall be upheld, else shall he Lay Down the Law!
Ira, the Bridge from Learn to Play
Ira is the bridge between learning Flesh and Blood and sitting Round the Table for your first fun-flowing game of Ultimate Pit Fight.
Local game stores who order Round the Table: TCC x LSS will also be shipped free-of-charge a carton of Ira Welcome Decks to pass through* to new players wanting to give FAB a try!
Ira Welcome Decks are the best way to learn the basics of Flesh and Blood. We are excited to reveal a new and improved Ira Welcome Deck interactive tutorial that makes it easier than ever to play your first game of Flesh and Blood!
For this reason, we suggest giving the Ira, Crimson Haze deck to the least experienced player at the table, as it builds on the familiar foundations established through the Welcome Deck and new interactive tutorial launching September.
*While stock lasts
EVO 101 - Prep School
Round the Table: TCC x LSS is a great way to step into the wider world of Flesh and Blood.
The Professor deck debuts the new Evo equipment that are a core feature of the next booster set, Bright Lights. Getting familiar with how The Professor deck works is the perfect pathway to playing Bright Lights sealed deck, booster draft, or the new casual format 3-Pack Crack, Shuffle, Play!
3-Pack skips deck construction and jumps straight to the fun part - playing great games! Simply crack 3 packs, remove tokens and equipment, shuffle the rest together, choose your hero and weapon, and play!
It's never been easier to pick up and play Flesh and Blood with Bright Lights 3-Pack, especially when you've graduated from The Professors class of EVO 101.

Social Play Kits
We have always believed that one of the beautiful things about trading card games is how they appeal to different people in different ways.
Alongside the release of Round the Table: TCC x LSS, we are excited to announce the first dedicated Flesh and Blood Social Play Kit, available* free-of-charge to local game stores who run regular social play events in their stores.
Social Play Kits differ from our existing prize kits such as Armory, in that they are evergreen, not month specific. They contain a wide variety of promos (12 different promos in the case of the Melody kit!) that can be used over a period of time that fits the needs of each individual store and community.
Over time a store may get a second chance to offer their community each of the Social Play Kits, which we believe will be well received due to the diversity of promos contained in each kit.
Further details of how to request and use these kits will be shared on the Retailer News  page in a few weeks.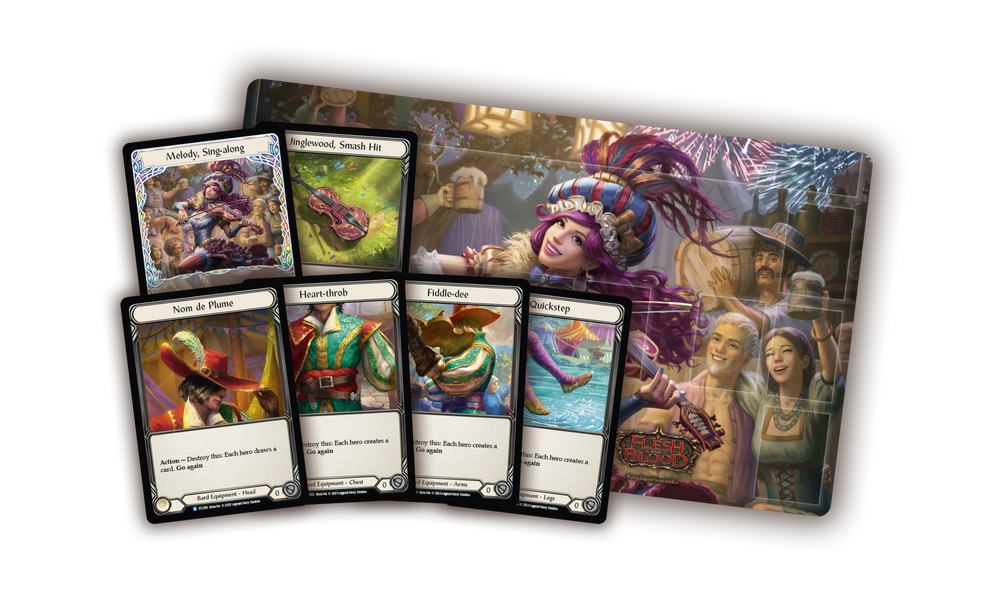 *While stock lasts
Product Configuration
Product code: TCC
4 pre-constructed decks, each containing 40 cards + 1 rainbow foil hero, 1 weapon, 4 equipment, and token cards
Cold foil weapons for The Professor, Melody, and Brevant
1 rubber play mat with zones
Packaged inside a reusable storage box
Designed for Ultimate Pit Fight multiplayer. (Cards are also legal in other formats.)
Available languages: English
MSRP per display: $69.90 USD / €69.90 EUR / $89.90 CAD / $99.90 AUD / $99.90 NZD / ¥8750 JPY
MAP (USA and Canada): MSRP less 20% (MAP policy here)
---