"Are you tired of being just another cog in the machine? Why not become more than you could ever imagine? Join Teklo Industries and create a better future for everyone. A future… with Bright Lights!"
Join the mechanized madness from September 29th to October 2nd with Bright Lights Pre-Release Events taking place worldwide!
---
---
Enter the city of Metrix - a bustling metropolis with towering skyscrapers, flashes of neon lights, and the steam-fueled promise of a better tomorrow! Take control of a Mechanologist hero to tinker your way to the top amongst the sprawling streets where muscle meets machine.
Bright Lights puts the boost in booster set with brand new mechanics like state of the art Evo equipment - the first equipment in Flesh and Blood to start in your deck! Upgrade your mech suit to stomp the competition, or build a conveyor belt of items using the new crank ability, turning scrap into strength!
Bright Lights Pre-Release Events will be run using Sealed Deck format, but unlike previous sets, Bright Lights Sealed Deck only uses FOUR booster packs instead of the usual six, giving you the most bang for your buck! You'll still get those two extra packs as a participation prize after the event has concluded. Another thing to keep in mind is that your deck has to be at least 30 cards, but no more than 40 cards.
Pre-Release Events are special times when the community comes together to celebrate a new set release. Sit down with your mates, crack some packs, holler when you open something crazy, and take the new heroes on the block for a spin. They are perfect for players who are just starting out, with a friendly low-stakes environment, and awesome prizes to be won.
Speaking of, there are some truly spectacular prizes on offer. Stores will be given a prize kit containing the following:
1 Proto Base Set (Cold Foil) - consists of 4 cards
7 Rainbow Foil Dash, Database (Young Hero)
7 Rainbow Foil Maxx Nitro (Young Hero)
7 Rainbow Foil Teklovossen (Young Hero)
2 Breaker Key Art Playmats
Bright Lights Token Pack (for operational purposes)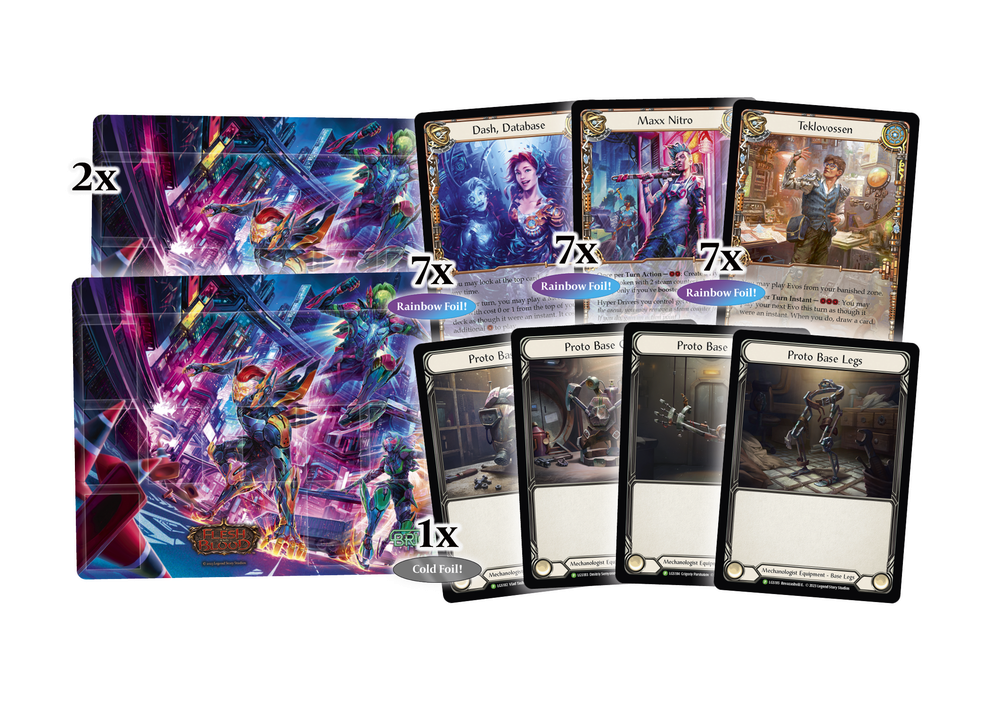 "Don't settle for ordinary... Become more than human..."