Pre-Release Weekend is almost here! In the damp and dark, far below Metrix, meet the lost, the misfits, the Outsiders. From the 17th to the 20th of March, take your choice between Assassin, Ranger and Ninja, and delve down into the murky underworld of the Pits.

For those of you new to Pre-Releases, we put these weekends together as a special chance for the community to get together and celebrate the release of the latest set in a casual setting with some great prizes still on the line. Stores in cities around the world will be hosting events, so check out the Event Locator to find something going on near you. In bigger cities, we try and do a mix of events; large events at some of our biggest stores as a chance for everyone to get together as a community and battle it out; as well as smaller events at other stores around the city as a chance to go and play at your local store, or for you to go and explore a new store that you may not have been to before!
Catch up with your friends, meet some new people, and hopefully win a game or two along the way! The format for Outsiders pre-release events is Sealed Deck. You'll get six booster packs for deck building, and 30 minutes to put your deck together. Don't worry if you don't get the hero or weapons you want, you're allowed to grab any tokens that you need from the common pool of tokens. We've got a few other hints here if you're new to sealed deck events. This will be your only opportunity to get your hands on Outsiders ahead of its worldwide release on March 24th!
Pre-Release events feature a range of prizes, including Cold Foil Young Uzuri prize cards, Blood Rot / Frailty and Inertia / Ponder participation promos, and special Pits Matte Landscape Playmats. In the fun casual spirit of the weekend, every event will have at least one Cold Foil Uzuri up for grabs as a random participation prize, so make sure to stay until the end of the event, just in case! On top of that, stores have the option of running a Top 8 draft as well, so check the event details to see what's on offer.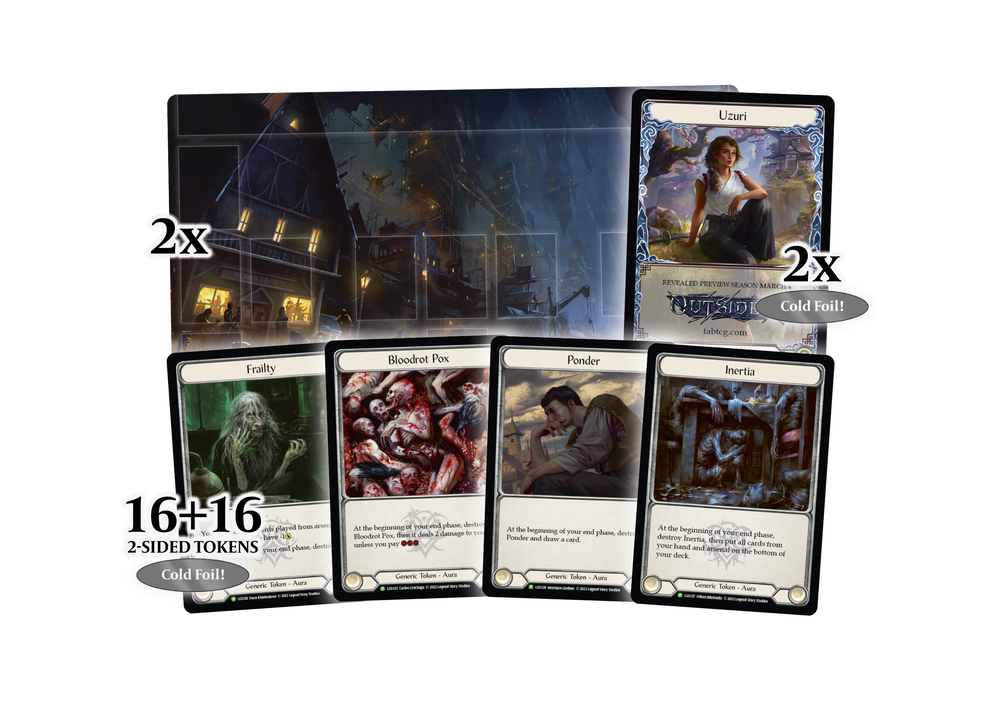 To find your nearest event check out the Outsiders Event Map or find an event on our Event Locator. Make sure to sign up to secure your spot, and we hope you all have a great weekend out there!
Outsiders Pre-release Event Details