Armory Events are the core of any stores Flesh and Blood Calendar. Here are a few key points:
Armory Events can only be run once per week (if you miss a week you cant roll it over to the next week).
These are considered a casual level event.
Armory Kits support four weeks of play.
You do not require a qualified Judge to run an Armory event.
TO's are allowed to play in their own Armory events.
Formats
Armory Events can be run using any of the following formats. Blitz and Booster Draft are recommended formats for Armory Events:
Blitz - 30 min per round
Booster Draft - 30 min per round
Classic Constructed - 50 min per round
Sealed Deck - 30 min per round
Ultimate Pit Fight - 50 min per round
Commoner - 30 min per round
Shapeshifter Sealed - 30 min per round
Blitz Pre-Constructed - 30 min per round
All Flesh and Blood matches are best of one.
While we recommend Draft and Blitz as Armory formats, talk to your community about what events they want to see. During the course of year the formats of higher level events will change and players will want to follow the different formats.
Recommended Number of Rounds

| Players | Swiss Rounds | Playoff (Optional) |
| --- | --- | --- |
| 5-8 | 3 | None |
| 9-16 | 4 | Top 4 |
| 17-32 | 5 | Top 8 |
| 33-64 | 6 | Top 8 |
Running your event
Step 1 - Create your event in GEM. Creating your event will allow players to register for it online and in-store. It will also appear in our Event Locator
Step 2 - Contact your distributor to get an Armory Kit (Kits are only available to GEM registered stores while stocks last).
Step 3 - Advertise your event. Make sure your store profile is updated with all your social media. To further advertise your events you can find official images on the Marketing Assets page.
Step 4 - Enter your players into GEM, run the event and give out prizes!
October 2023 Armory Kit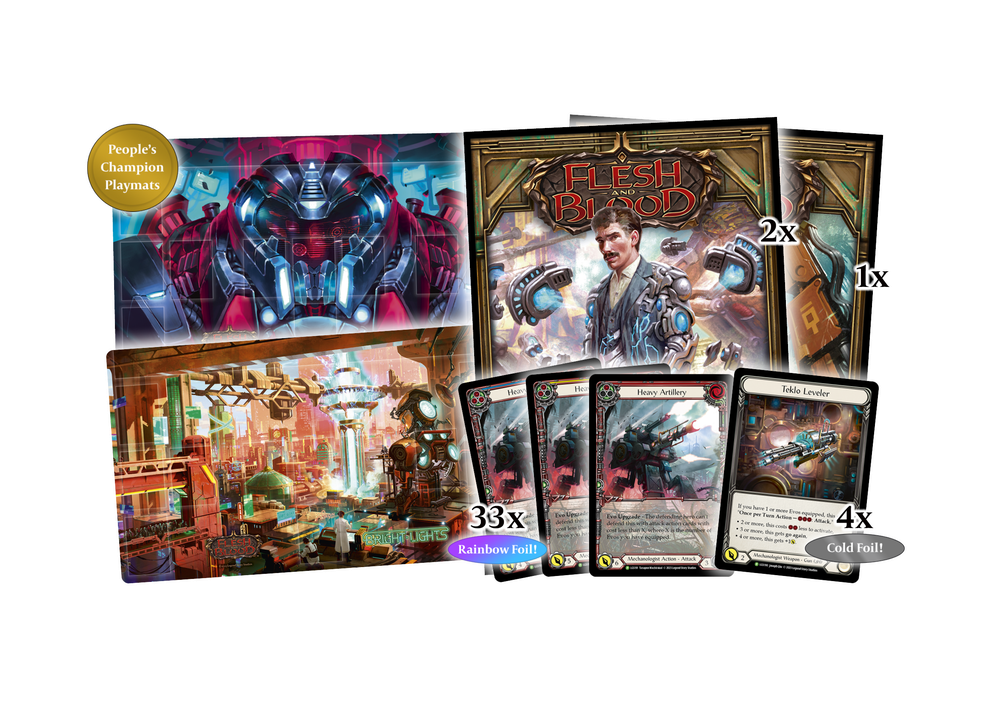 Prize Distribution
Armory kits give out a variety of exclusive prize items. From time to time we will include new items and some surprises. Each kit will contain letter outlining how to portion out the kit. For the October 2023 Armory Kit season please follow the guidelines below:
Season 10 Kits Contents:
4x Cold Foil Weapon Cards
33x Rainbow Foil cards
1x People's Champion play mat
1x General Use playmat
Armory Event and marketing posters
For more information on the upcoming month's kit check out the details here: October 2023 Armory Kit
The contents should be used as outlined below:
Cold Foil Weapon Cards should be given to first place in each Armory Event or as a random prize draw if the event is a Casual Play Armory - Follow this link for more information on Casual Play Armory events.
Extended Art Rainbow Foils for top-placed players and/or as participation prizes.
The Peoples Champion play mat must be given as prizes to players and/or ambassadors who represent positive community spirit. They may also be given out as a random prize draw with entry based on Armory Event attendance during the month. They are not to be used as performance-based prizes.
For more information on the use of Armory Kits check out the Use of Armory Kit Materials Policy.