Dusk till Dawn is an expansion booster set that marks the second chapter of the epic conflict between Light and Shadow, and sees the return of fan favourite Light Illusionist and Shadow Runeblade classes, whose predecessors have attained Living Legend status.
Light Warrior and Shadow Brute also unlock new abilities as the struggle between the forces of Solana and the Demonastery approach a thrilling chokepoint.
As the 10th booster set, Dusk till Dawn marks a special milestone for Flesh and Blood. To celebrate, it contains a collection of treasures to eclipse anything that has come before.
---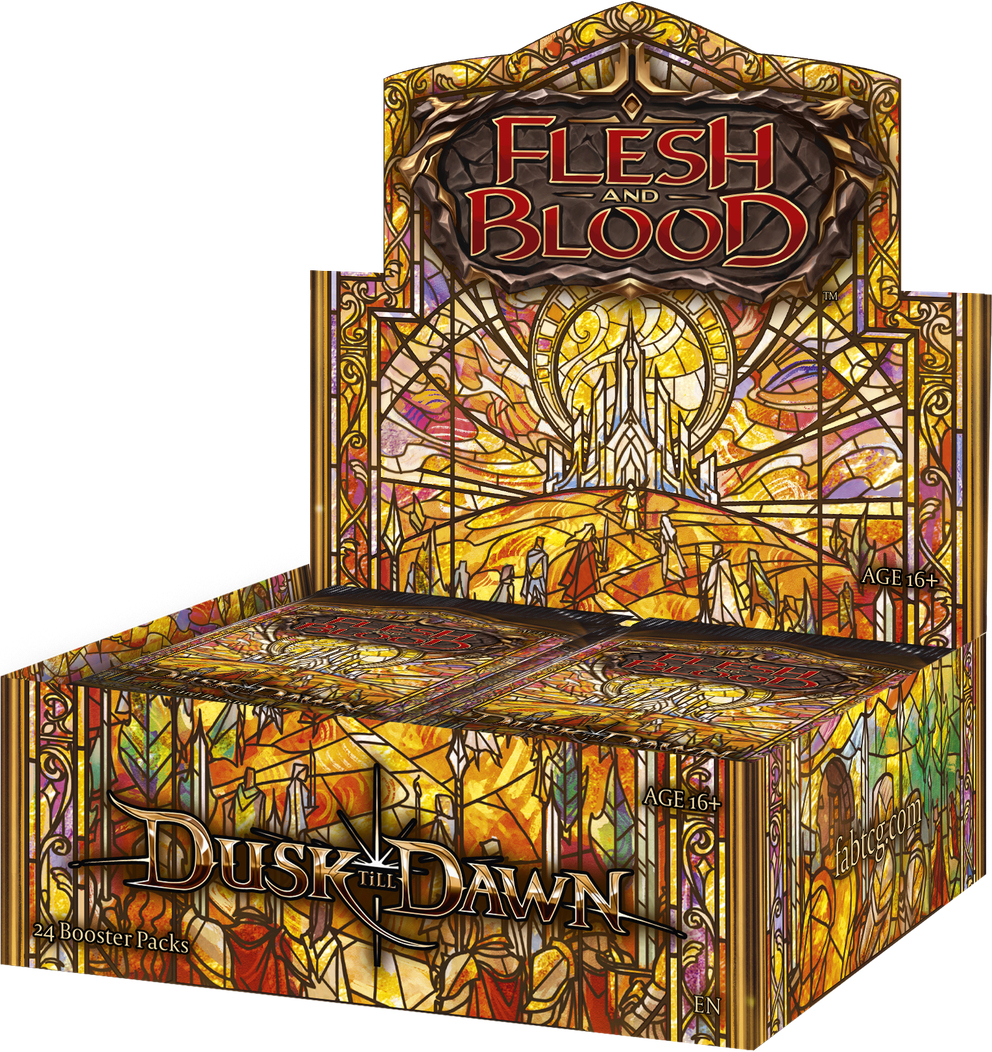 ---
Overview
Release date: July 14, 2023
Set code: DTD
Product type: Supplementary Booster Pack (Designed to expand constructed play. Not intended for booster draft or sealed deck play.)
Cards in set: 236
MSRP per display: $109.90 USD / €109.90 EUR / $139.90 CAD / $159.90 AUD / $159.90 NZD
MAP (USA and Canada): MSRP less 20%
Barcodes:
Booster Pack: 09 4210 37050737
Booster Display (24 packs): 09 4210 37050744
Booster Case (4 displays): 09 4210 37050836
SKU: FAB2303-EN
Product Configuration:
236 cards in set
10 cards per pack
24 packs per display
4 displays per case
Set Composition:
94 Commons
77 Rares
56 Majestic
8 Legendary
1 Fabled
10 Marvels
Cold foil serialized hand drawn artist sketch cards (10 each of Prism, Sculptor of Arc Light and Chane, Bound by Shadow)
Rarity Distribution:
Cold Foil - 1 per display (replaces a Rare)
Rainbow Foil - 1 per pack
Rare or higher - 2 per pack (1 Rare + 1 Rare or Majestic)
Common - 7 per pack
Stated card drop frequencies are an approximate average across the entire production of a product, and are not guaranteed to exist in any given pack, display, or case of product. Due to variations that may occur in the manufacturing process, final distributions of cards may differ from those stated above.
---
Dusk till Dawn Preview Season
Vision Design: James White
Product Design: James White, Bryan Gottlieb
Development Team: Chris Gehring, Jason Chung, Karol Ruszkiewicz, Jacob Pearson, Rohan Khanna, Tom Penny, Calum Gittins, Kieran McEntegart, Anthony Balmes
Product engineering: Chris Gehring
Syntax: Joshua Scott
Creative Director: Robbie Wen
Concept lead: MJ Fetesio
Concept design: MJ Fetesio, Sam Yang
Character design: Sam Yang
Asset rendering, packaging, logos: MJ Fetesio
Art Director: Robbie Wen
Assistant Art Director: Sam Yang, MJ Fetesio
Productions & manufacturing lead: Robbie Wen
Production Assistant: Kathleen Fetesio
Foiling Manager: Kathleen Fetesio
Foiling Assistant: Le Wang, Giriraj Tangkengko, Ryan Deed
Foiling contribution: Mj Fetesio, Sam Yang, Henrique LindnerLocalisation oversight: Robbie Wen
Localised productions: Kathleen Fetesio
Localisation Management: Laura Lobato
French Localisation: Bruno Billion, Gaétan Bovey
German Localisation: Stefan Ladstätter-Thaa, Oliver Tremel, Daniel Schuster
Italian Localisation: Riccardo Tessitori, Lamberto Franco
Spanish Localisation: Carlos Gutiérrez "GG", Carmen Valero, Carlota Fernández