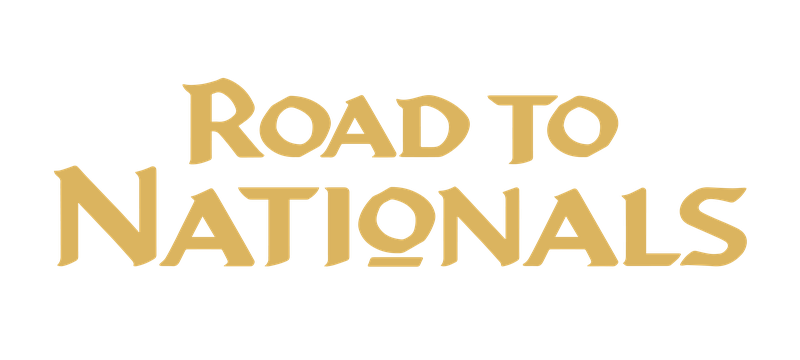 Fame. Glory. Cash. National Pride. Nothing brings the community together like National Champs, and the "Road to Nationals" starts here!
Season
The Road to Nationals season was initially delayed due to Covid 19. we are now committed to running the season in territories as long as it can be done safely and in accordance to Government guidelines.
Road to Nationals New Zealand Season runs July 4th - September 13th 2020
Road to Nationals Taiwan Season runs July 11th - August 22nd
Road to Nationals Malaysia Season runs September 12th - October 12th
Road to Nationals Seasons for Australia and USA to be announced.
Format
Road to Nationals events are Classic Constructed. Check details on individual Road to Nationals event listings, found by country below, or in the event locator (search by event type).
Road to Nationals are tier 3 events, offering a whopping x6 XP modifier! Check out the Ratings Policy document for more information on event tiers and XP.
Prizes
National Champs appearance fee!
The winner of each Road to Nationals will receive a cash payment for attending National Champs 2020. Simply present ID when you register at National Champs, to receive the cash payment appearance fee on the spot! You can even accumulate appearance fees if you manage to win multiple Road to National events! (The National Champs appearance fee is not transferable or deferrable. If not redeemed at a National Champs 2020 event, the appearance fee entitlement will be forgone.)
Appearance fees are based on the National Champs 2020 event attended as follows:
Australia $500 AUD
Malaysia RM1000 MYR
New Zealand $500 NZD
Taiwan $10,000 TWD
United States of America $500 USD
Additional Prizes
Top 8 players receive an invitation to National Champs 2020. Invitations do not pass down. Previously we announced invites could be used at any Nationals event. This has now changed and you can only play the Nationals of the country that is your primary residence.
The winner receives a "random drop" gold legendary prize card! The prize card can be any legendary from WTR or ARC. The prize card for each Road to Nationals will be unknown until revealed by the tournament organizer on the day of the event.
The highest ranked player of each hero after swiss rounds, receives a cold foil version of the hero they are playing!
24 cold foil potion cards awarded at the discretion of the tournament organizer.
Top 8 players receive an "ambidextrous" Road to Nationals exclusive Fyendal's Spring Tunic play mat.
Road to Nationals events calendar (updated monthly, with new events added every month).

NZ
Taiwan
Australia
Malaysia
USA
July 2020
July 4th (Saturday) Vagabonds Games & Collectables - Classic Constructed - Auckland
Events to be announced
Events to be announced
July 11th (Saturday) Hobby Master Entertainment - Classic Constructed - Auckland
July 11th (Saturday) CFP Kaohsiung - Classic Constructed
July 18th (Saturday) CFP Playground - Classic Constructed
July 25th (Saturday) Dice Jar Games - Classic Constructed
August 2020
August 1st (Saturday) CFP Toufen - Classic Constructed
August 8th (Saturday) Cerberus Games - Classic Constructed
August 8th (Saturday) CFP Fongshan - Classic Constructed
August 9th (Sunday) Calico Keep - Classic Constructed
August 15th (Saturday) CFP Zhongli - Classic Constructed
August 22nd (Saturday) CFP Shilin - Classic Constructed
August 30th (Sunday) Adept Events - Classic Constructed
September 2020
September 19th (Saturday) Card Merchant West City - Classic Constructed
September 12th (Saturday)
Classroom Cafeteria - Classic
Constructed
October 2020
October 3rd (Saturday)
Vivae Board Game Cafe - Classic
Constructed
October 11th (Sunday)
AK Games Centre - Classic
Constructed