Thank you
The past months have seen an explosion in the number of players joining the Flesh and Blood community. We'd like to thank the local game store staff, distributors, content creators, and passionate fans across the world who have made this happen.
A consequence of such rapid growth is Welcome to Rathe and Arcane Rising boosters have become sold out sooner than we expected. Both sets are now being reprinted as Unlimited Editions.
Release Date
We are aiming for Welcome to Rathe Unlimited to be in stores from the first week of November, and Arcane Rising Unlimited from the week starting November 16.
There is no "release date" for Unlimited Edition. Retailers can begin selling it as soon as they receive it.
Canada and Europe
Unlimited Edition will mark the official launch of Flesh and Blood in Canada and some European territories. More details on this in the coming weeks.
Unlimited Edition
Flesh and Blood has been crafted with collectability as a core tenet. One of the ways we want to honor this, is differentiating between the first and subsequent printings of a product.
The first printing of Welcome to Rathe, which released October 11, 2019, is distinguished by an "Alpha Print" badge on the back of the display box.
The first printing of Arcane Rising, which released March 27, 2020, is distinguished by a "First Edition" badge on the back of the display box. The same is true for Crucible of War and other boosters going forward.
Unlimited Edition packaging has a red UNLIMITED flag on boosters and displays like this: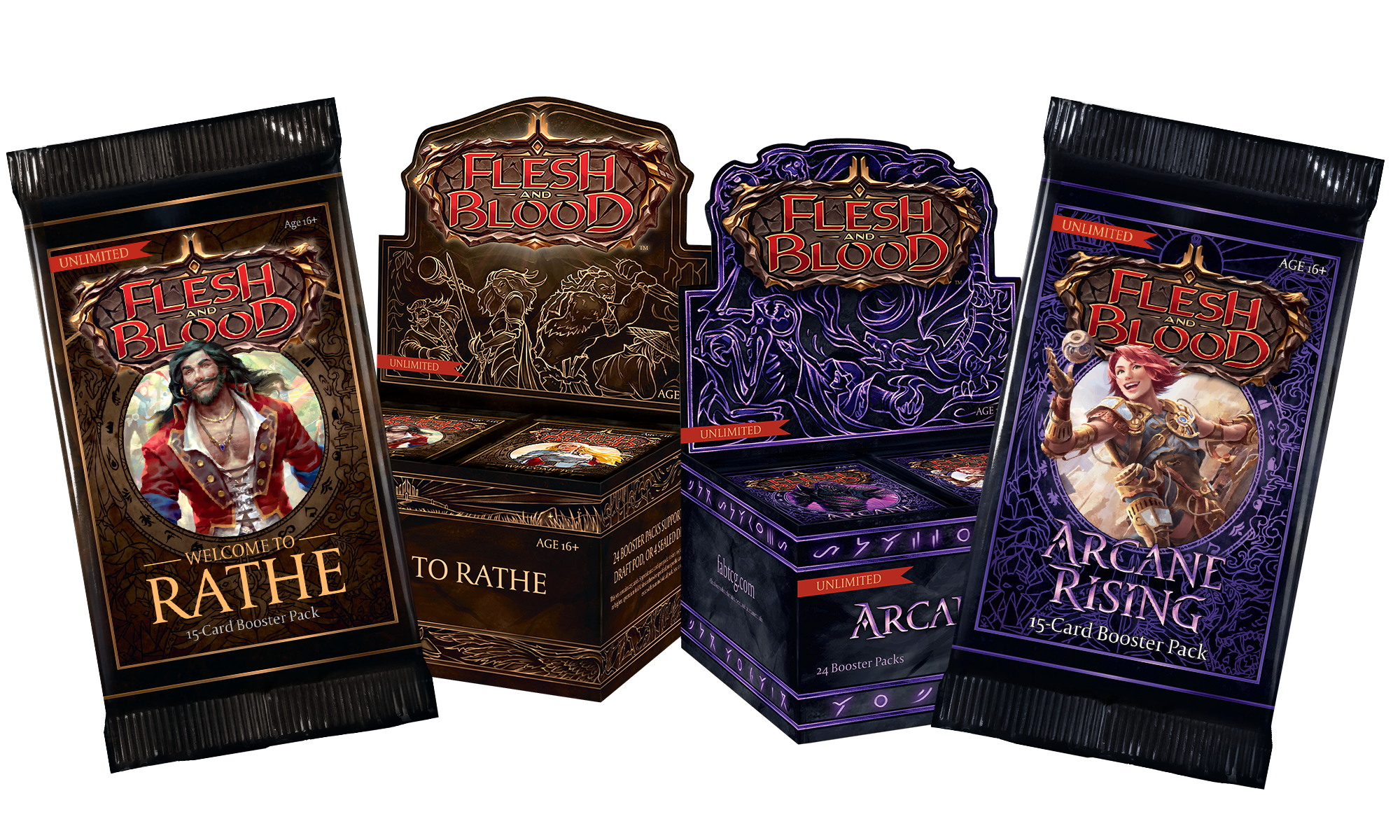 What is different about Unlimited Edition?
Firstly, Unlimited Edition is black border and contains exactly the same cards as the original printing of these products, in the same configuration. Unlimited Edition supports booster draft and sealed deck play.
Unlimited Edition cards have improvements to colour, templating, and syntax since their original printing, such as "red" colour strips on WTR cards, rarity badges, and adding italic reminder text to some cards.
What Unlimited Edition doesn't have is Cold Foils.
Cold Foil is a special printing technique that Legend Story Studios developed the application of to showcase the most special and unique cards in Flesh and Blood. We are thrilled that Cold Foil has been so well received by fans around the world, and are proud to have brought this special printing technique onto the global TCG stage.
The presence of Cold Foils is the subtle but meaningful differentiation between the First Edition and Unlimited Edition print runs. Owning Cold Foil cards is intended to be a point of pride for the early adopters of Flesh and Blood, and something that collectors will chase many years into the future.
Cards that feature as Cold Foil in their original print, will instead be found as rainbow foils in Unlimited Edition boosters, and we assure you, these cards look beautiful as rainbow foils.
---
Retailer Resources - Welcome to Rathe Unlimited
SKU: FAB19001U
Barcodes:
Booster Pack: 0 9421905459297
Display (24 packs): 0 9421905459303
Carton (4 displays): 0 942190545934
MSRP: $3.99 USD / $5.99 AUD / $5.99 NZD / $3.99 EUR / $2.99 GBP
Retailer Resources - Arcane Rising Unlimited
SKU: FAB2001U
Barcodes:
Booster Pack: 0 9421905459310
Display (24 packs): 0 9421905459327
Carton (4 displays): 0 9421905459334
MSRP: $3.99 USD / $5.99 AUD / $5.99 NZD / $3.99 EUR / $2.99 GBP