Rathe had changed.
A daring Rosetta… An energetic wayfarer… A fearless soldier… A charismatic showman… A charming diplomat… A curious Illusionist… A beacon of victory…
Oldhim had encountered many adventurous heroes since thawing out from his icy slumber, and he had found himself fighting alongside these new allies with a refreshed vigor he hadn't felt for thousands of years. He admired their courage, their resolve, their unwavering passion to stand up for what was right. But none of them were prepared for what was to come.
The frosty giant could sense restlessness in the air. The faint stench of the Old Ones lingering on every breath of wind, glimpses of archaic power in every ripple of water, whispers of ancient prophecy rustling with every leaf. The rising tide of darkness churning through their lands was only the beginning.
He had raised his trusty hammer and mighty shield time and time again, but Oldhim could sense his strength dissolving piece by piece like flecks of snow in the early spring. The steadfast Guardian had stood his ground for as long as he could remember, but now eternity seemed fleeting. Oldhim knew the path forward was to sow the seeds of tomorrow among this new generation of heroes, imparting the centuries of wisdom he had accumulated, so that they would one day be ready.
It was all up to them now, the fate of the world rested heavy upon their shoulders.
---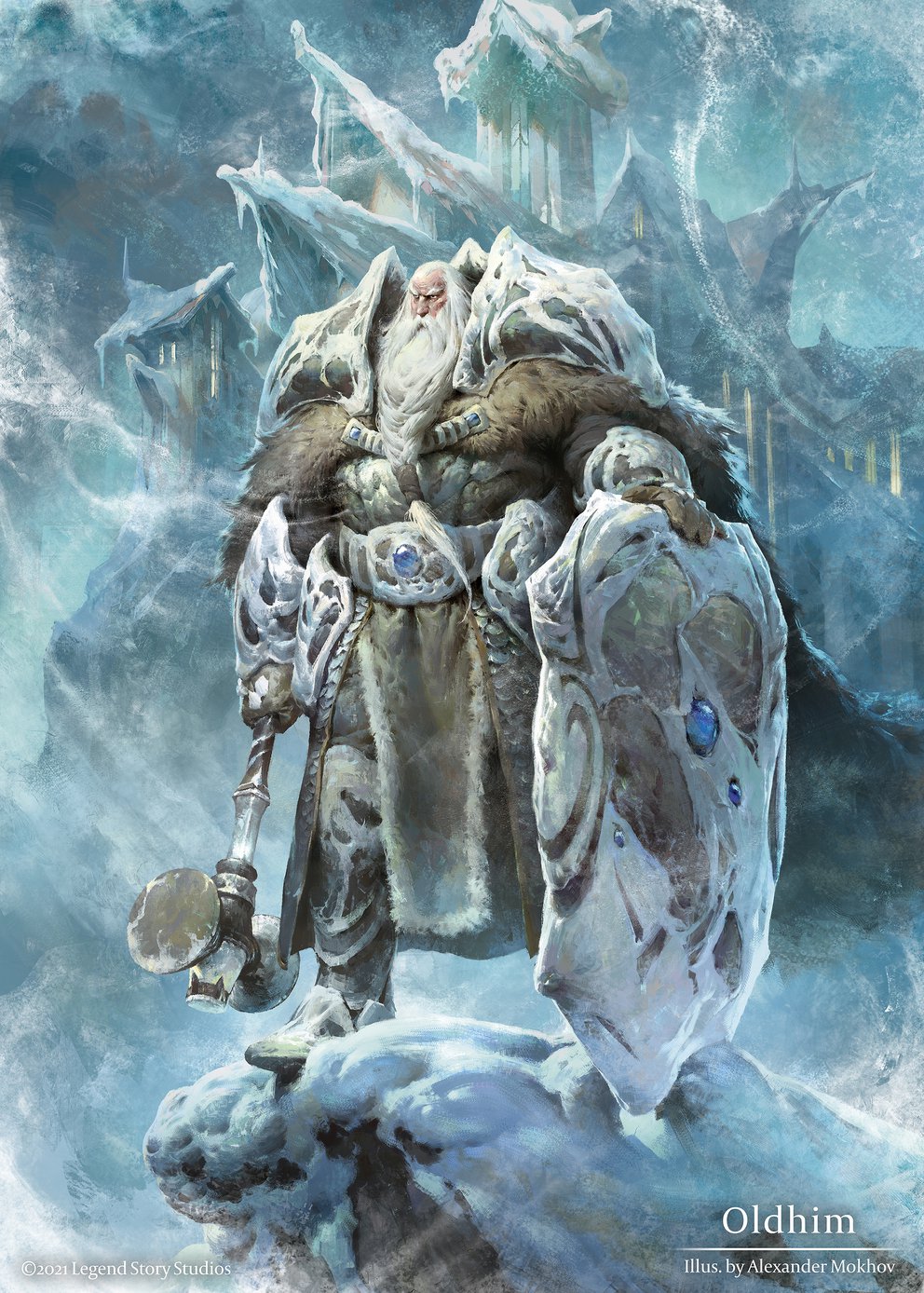 ---
Debuting in Tales of Aria on September 24th 2021, Oldhim challenged the heroes of Flesh and Blood like never before, testing their skills and their resolve to the absolute limit. The iconic duo of Crown of Seeds, Rampart of the Ram's Head, and the several defensive tools at his disposal meant that you couldn't just throw your hand at him every turn and expect to win. Players needed a highly specific gameplan, an endgame strategy that required skill, patience, and foresight to execute.
Oldhim remained an icy pillar of the Classic Constructed metagame for years, even when backed into a corner by Illusionists, Wizards, or even other Guardians, he was always there, threatening to run your deck into the ground if you didn't have some sort of backup plan in the sideboard. Winning a game against Oldhim was a unique achievement in of itself, a rewarding experience after a lengthy battle.
Oldhim, Grandfather of Eternity officially reached Living Legend status in Classic Constructed on July 3rd 2023. Congratulations to all the players who rallied alongside him in his everlasting fight against the Old Ones. You have stood the test of time and your names have been marked down in our Roll of Honor for all eternity!
Roll of Honor
Aaron Shantz
Addison Hudson
Adrián Marín
Alejandro Silva Moro
Allen Lau
Alvaro Francisco Toledano Benito
Anthony Bugoci
Anthony Nguyen
Ben Hannan
Bryan Knecht
Bryce Stroyek
Charles Dunn
Chris Brummett
Chris Waugh
Christopher Higashi
Collin Kaiser
Collins Mullen
Cooper Templeton
Craig Pollack
Dagan White
Daniyar Saduakassov
Danni Andersen
Darvydas Čepukaitis
Dave Lin
Dawid Mrówczyński
Dennis Zhang
Donovan van Beek
DYLAN MANGINI
Dylan Myers
Evan Herndon
Ezequiel Emeraldo
Fedir Kokhan
Felix Chung
Filippo Barbani
Florin-Cristian Loghin
Fred Bird
Geoffroy Massard
Gordon Koh
Guillaume Couillard
Haik Voskerchian
Haukur Thor Buason
Hayden Dale
Hayden Jeanson
Holden Isaacs
Ian Siczewicz
Igor Wesołowski
Ilias Karamanis
Ioannis Tsolakidis
Jacob Clements
Jacob Friis Nielsen
Jake Ausdemore
James Gilchrist
Jan Ban
Jeerod Balangan
Jeffrey White
Jeromy Tsai
Jesse Hudak
Jesus Garcia Gomez-Valades
João Gomes
Joel Repta
Jon Ho
Jonas Stoberock
Joseph Santianna
Justin Wong
Karl Shen
Kaspar Terauds
Kenni Pedersen
Kevin Zänker
Khoi Dinh
Kim Barroso
Kristian Čurla
Lucas Birch
Lucas Nijssen
Maciej Janik
Mário Abrantes
Mateusz Sass
Matt Rogers
Matthew Dilks
Matthew Fay
Matthew Vore
Max Dieckmann
Michael Dalton
Michael Feng
Michael Hamilton
Michael Jaszczur
Michael Walker
Minh Toan Nguyen
Mohamed El Fardi
Naib Mobassir
Nathan Hills
Nguyen Giang
Nick Butcher
Nick Gabler
Nick Tucker
Nicolas Bouffard
Nikos Tavoulareas
Oliver Berry
Pablo Pintor
Pat Eshghy
Pathomtarn (Tony) Arsaithamkul
Patrick Nelson
Paul van Gijssel
Pawel Urbaniak
Peter Markovič
Phawat Chuenchai
Richard Anthony Bustamante
Ryan Baker
Ryan Rich
Ryan Rinsma
Ryan Taylor
Sean Fox
Sebastian Golla
Shuo Feng
Tariq Patel
Thomas van den Berg
Tobias Lind
Tye Soens
Tyruss Sennett
Wesley Cole
Wyatt McHalffey
Yongji Yang
Yorgos Samaras
Zack Covington
Zayne Johnson