The moment she noticed it, like pinpricks toying with her spine, she knew there was no way to avoid it.
"Why now?" Briar questioned, scowling, as seismic vibrations rumbled quietly through the earth and invisible electricity buzzed through the air. She gazed over at her new friends, who were huddled nearby around the dim light of the campfire, sharing merry stories to keep their spirits high. They were oblivious to the beckoning of the Strale.
It was unfair, to say the least. She was just starting to warm up to this team of misfits and the strange world they fought so hard to protect. To be ripped away from her adventure so soon by the whims of nature itself… Briar realized she was actually trembling with frustration.
There was no point fighting it. The Strale was infinite, all-encompassing, and very, very aggressive. It would be like fighting against the wind or the sky. But what could possibly be so important that the Strale was calling her away to some unknown place?
Briar bit her lip, slowly sheathed her Rosetta Thorn, then slinked away into the woods without saying goodbye. Only a silver-haired Wayfarer noticed her departure, raising a curious eyebrow.
---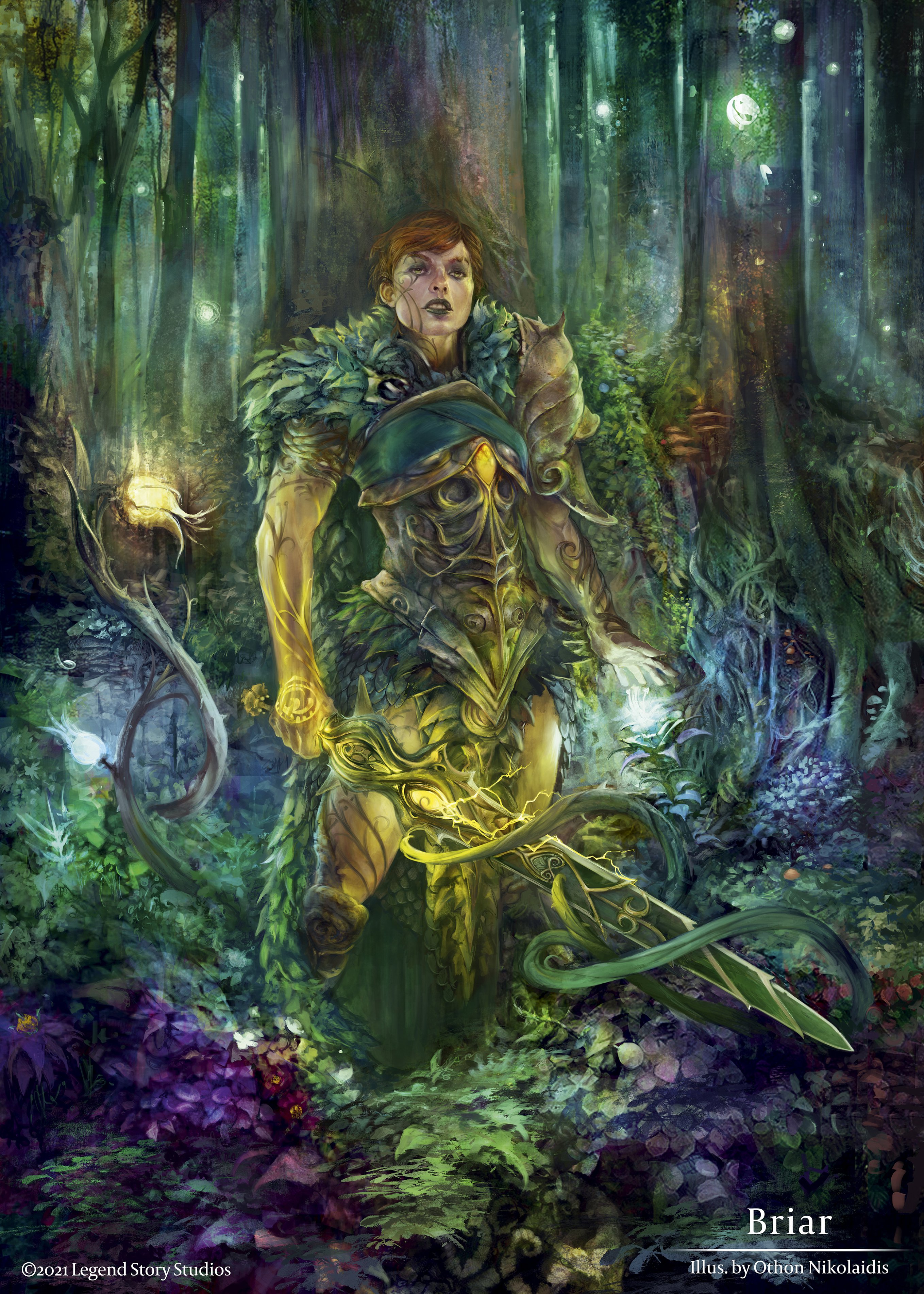 ---
Debuting in Tales of Aria on September 24th 2021, Briar redefined what it meant to be an aggressive deck in Flesh and Blood. Initially set free into the wild at full power, Briar utilized a pool of cheap go again attacks to trigger her hero ability several times, nicknamed "cheerios" by the community due to the large number of 0-cost cards. After her hero card received an errata, Briar found success again through the mighty Earth majestic Channel Mount Heroic, which when combined with several attacks in a turn, unleased an overwhelming amount of damage.
Briar continued to reign as a premium aggro deck in the metagame for nearly two years, pressuring other heroes to outpace her raw aggression, or find ways to survive the combination of physical and arcane damage. The Elemental Runeblade found new life once again at the 2023 United States National Championship, with an innovative build that focused on control, leveraging the Embodiment of Earth tokens, alongside tools like Crown of Seeds and Oasis Respite.
Briar, Warden of Thorns officially reached Living Legend status in Classic Constructed on September 19th 2023. With her goes her infamous signature weapon, Rosetta Thorn, a long-time staple tool in the Runeblade arsenal. Congratulations to all the players who helped Briar climb to the very peak of Mount Heroic. You have proved yourselves worthy to be carved into our Roll of Honor!
Roll of Honor
Adam Mercier
Adrián Ruiz Yague
Alex Chițu
Alex Marsden
Alexandre Lefebvre
Alexandros Argyriou
Amelia Hulin-Bobart
Bartosz Ziemba
Benjamin Brüssau
Biing Chyn "Benson" Lai
Birgir Hrafn Buason
Bob De jong
Bogdan-Andrei Oros
Chang Wei-Cheng
Charles Dunn
Christian Franco
Christian Hauck
Christian Heilman
Christofer Lindholm
Christopher Iaali
Claudio Paradiso
Connor Bryant
Corey Waugh
Daniel Chilgren
Dayna Hagewood
Denny Koh
Derek Anderson
Domonkos Ács
Don Gallitz
Dustin Wells-Mcleod
Elly Bird
Eric Dauernnheim
Erika Forslöf
Evan Hutto
Federico Chiarel
Filipe Camacho
Floris van Asch
Gian Arnandi
Glenn Van Roey
Ian Holland
Ian Shaffer
Ian Smith
Immanuel Gerschenson
Jacob Shaker
Jeremy Stowe
Jesse Hudak
Jimmy Nguyen
Jonas Benzarti
Jonathan Moore
JP Coleman
Kevin Canales
Kevin Lerens
Kieran Carnegie
Lahoci Franco
Lauro Mauro Giuseppe Di Lauro
Li-hong Yeh
Liam Hartles
Limbo _CFP
Long Dao
Lucas Dutailly
Luis Coelho
Łukasz Cichecki
Man Hiem Cheung
Marcel Fetsch
Marco Ng
Mark Tan
Matt Kohls
Matthew Foulkes
Mauro Burgio
Maxwell Mitchell
Michael Thorington
Michael wouters
Mikael Conrow
Mike Morelli
Natanael Avellino
Nathan Crawford
Nicolò Valenzano
Niklas Bengtsson
Noah Biros
Ondrej Hus
Owen Young
Pei-Tung Liao
Philip van Donselaar
Pudding [BluePitch] Tam
Quang Duong
Raj Parikh
Ralph Schlauri
Ren Springlea
Roman Legíň
Ronja Kieffer
Ryan Lewis-Jonns
Sam Dando
Sean Yang
Søren Madsen
Stefano Cocca
Stephane Doutaz
Tariq Patel
Taylor Crawford
Thomas Battaglia
Tim Lin
Timothy Wells
Trent Lennon
Tyler Horspool
Vincent Lim
Wouter Ouwehand
Xi Shern Tan
Zach Bunn