On June 24th, 2022, Chane, Bound by Shadow officially reached Living Legend status in Classic Constructed. Joining the fight with the release of Monarch on May 7th, 2021, Chane was one of the first heroes in Flesh and Blood to feature the brand-new Talent mechanic. The Shadow Runeblade represented the Demonastery on the global stage, racking up a blood debt to Ursur in the war against Solana.
---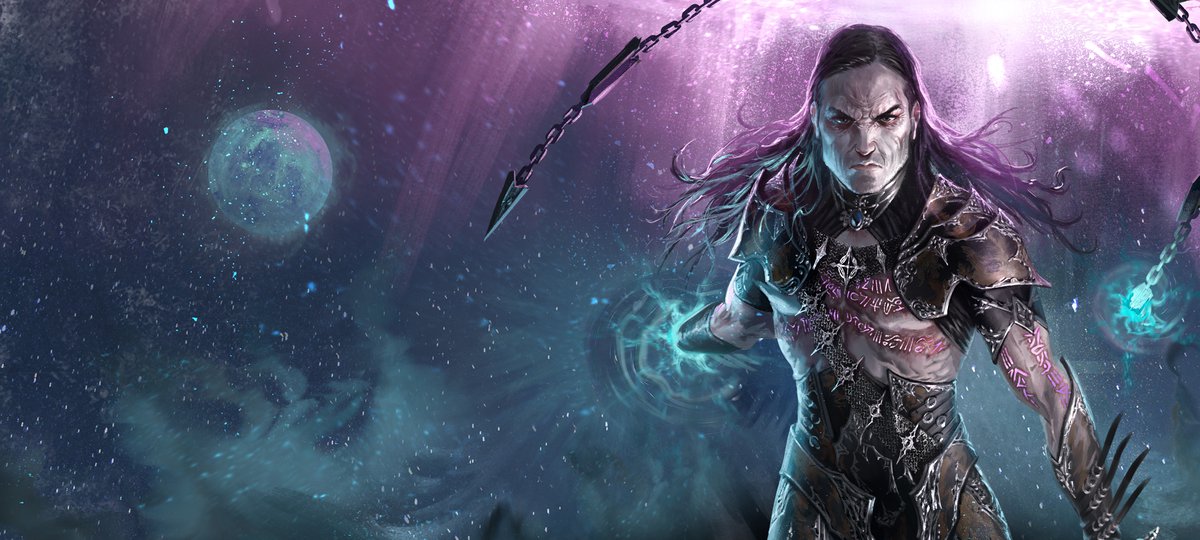 ---
Chane took his first steps into íArathael with Matt Rogers on June 6th, 2021, where he fought against Levia and Kiki Labad in the booster draft final match to claim the title of Calling: Auckland Champion. Later that year, players around the world embraced the Shadow during the Road to Nationals season, wrapping up the year with Bun Ar, who won the Hong Kong Regional Championship with power and precision.
The first season of ProQuest events in January 2022 saw Chane lagging behind the biggest stars of the season, but his war against the Light culminated in Pablo Pintor's stellar performance at the Pro Tour: New Jersey. Pablo started out the event with a 0-2 record, before ripping through reality (and his opponents) to claim the title of the first-ever Flesh and Blood Pro Tour Champion. Seizing power from his recent victory, Chane navigated the dimenxxional crossroads in the second season of ProQuest events, claiming the second-highest number of wins across the season and officially reaching the threshold for Living Legend status. In one final send-off, he seized victory with Alvaro Franscisco Toledano Benito at the World Premiere weekend in Madrid, winning the Battle Hardened event.
Runeblade and researcher, Disciple of Pain and vassal of Ursur, Chane seized power through his journey into the beyond, making a deal with the Soul Reaper in the war against Solana. While Chane may have passed into the hall of Living Legends, the war of Light and Shadow continues, waiting on more heroes to join the battle.
Congratulations to all players around the world who joined Chane, Bound by Shadow on his journey to Living Legend status; your names have been entered into Flesh and Blood history with the Roll of Honor!
| Name | GEM ID | Event Series | Region |
| --- | --- | --- | --- |
| Pablo Pintor | 12374294 | Pro Tour: New Jersey | Spain |
| Ar Bun | 79174636 | Hong Kong Regional Championship | Hong Kong |
| Alvaro Francisco Toledano Benito | 64982125 | Battle Hardened: Madrid | Spain |
| Name | GEM ID | Event Series | Store Name | Region |
| --- | --- | --- | --- | --- |
| Ádám Levente | 32776788 | ProQuest | Remetebarlang | Hungary |
| Alekzander Idol | 65165676 | ProQuest | Game On! | United States |
| Andrew Lorenz | 71357474 | ProQuest | Showcase Games | United States |
| Aneil Seetharam | 34323356 | ProQuest | The Upkeep Games | United States |
| Anthony Bertrand | 22522469 | ProQuest | Taverne & Donjon | France |
| Archer Taylor | 55196431 | ProQuest | Fable Hobby | United States |
| Benito Alvaro Francisco Toledano Benito | 64982125 | ProQuest | Azkaban Juegos | Spain |
| Bun Ar | 79174636 | ProQuest | Basic Land Card Game Shop | Hong Kong |
| Carter Barton | 59614336 | ProQuest | Source Comics and Games | United States |
| Carter Norris | 52757128 | ProQuest | LEVEL UP GAMES LLC | United States |
| Chi Shing Tsang | 82325829 | ProQuest | Home-run FABulous Card Shop | Hong Kong |
| Chris Evans | 28287129 | ProQuest | Mind Games Burnie | Australia |
| Chris Robinson | 62557512 | ProQuest | Four Horsemen Comics and Gaming - Morgantown Mall | United States |
| Cody Williams | 28483625 | ProQuest | Owl Central Games | United States |
| Cody Williams | 28483625 | ProQuest | Redcap's Corner | United States |
| CYK Lionel | 26355256 | ProQuest | 鬥樂 | Taiwan |
| Daniel Rutkowski | 42767595 | ProQuest | Greg's Games | United States |
| Daniel Rutkowski | 42767595 | ProQuest | Red Seal Gaming | United States |
| Danny McGeehan | 21378455 | ProQuest | TokenMTG | United States |
| Danny McGeehan | 21378455 | ProQuest | Games and Stuff | United States |
| David Marshall | 62924745 | ProQuest | The Armory | New Zealand |
| Dimitris Melissinos | 85239255 | ProQuest | Fantasy Shop | Greece |
| Dylan Thompson | 73151816 | ProQuest | ReRoll Games | Ireland |
| Elijah Hewlett | 14638661 | ProQuest | Dice Jar Games | New Zealand |
| Eros Andreolli | 64376487 | ProQuest | Il Labirinto - Comics, Cards & Games | Italy |
| Eros Andreolli | 64376487 | ProQuest | Jolly Joker Srl | Italy |
| Evan Herndon | 74942341 | ProQuest | Sunshine Games | United States |
| Frank Hung | 94336373 | ProQuest | Silver Goblin | Canada |
| Glenn Van Roey | 81359118 | ProQuest | NerdScape | Belgium |
| Grégory Lefebvre | 73238818 | ProQuest | RELIC | France |
| Hrvoje Hedžet | 87762967 | ProQuest | Hive Games | Austria |
| Jacob Maynard | 48879371 | ProQuest | The Destination | United States |
| Jason Thomson-Sheck | 55191691 | ProQuest | Cerberus Games | New Zealand |
| Jeerod Balangan | 95529274 | ProQuest | Dueling Land | United States |
| Jeromy Tsai | 39416575 | ProQuest | New World Gaming | United States |
| Jesse Kennon | 72852145 | ProQuest | Haven Games | United States |
| Jin Han Toh | 78561671 | ProQuest | The Imaginarium | Singapore |
| Jin Han Toh | 78561671 | ProQuest | The Trading Card Shop | Singapore |
| Joe Colon | 68592363 | ProQuest | Game King | United States |
| Joe Colon | 68592363 | ProQuest | Awesome CCG | United States |
| Joe Colon | 68592363 | ProQuest | Most Excellent Gaming | United States |
| Joe Tough | 42687852 | ProQuest | Comicrazy | United Kingdom |
| Joshua Bausch | 76869379 | ProQuest | White Rabbit Community Game Store | Germany |
| Kaiser Wong | 17829487 | ProQuest | Weatherlight | Hong Kong |
| Kanaris Bounas | 18348696 | ProQuest | The Rubicon | Greece |
| Kaspar Terauds | 14388784 | ProQuest | Dan Solo Comics & Collectables | Australia |
| Kevin Baatjes | 23699633 | ProQuest | The Hurricane Collective | Australia |
| Kevin Baatjes | 23699633 | ProQuest | Tactics | Australia |
| Kevin Brayer | 61784579 | ProQuest | Gamers Haven | United States |
| Kevin Lerens | 55814454 | ProQuest | Demo-Spel bv | Belgium |
| Kevin Pennec | 64685376 | ProQuest | Trollune | France |
| Kristian Čurla | 45478211 | ProQuest | Magic Omens | Croatia |
| Long Dao | 34799151 | ProQuest | Najáda | Czechia |
| Lorenzo Silvestri | 44357856 | ProQuest | Gamestower | Luxembourg |
| Luke Fletcher | 5277 | ProQuest | The Game Experts | Australia |
| Luke Fletcher | 5277 | ProQuest | Grand J Games | Australia |
| Matt Pollitt | 24513263 | ProQuest | JAVA GAME HAUS | United States |
| Matthew Duggan | 25445494 | ProQuest | Seventh Dimension | United Kingdom |
| Matthew Tickal | 64779424 | ProQuest | TGG Gaming LLC | United States |
| Menion Croll | 25531921 | ProQuest | Atomic Comics Emporium II (Newport News) | United States |
| Nathan Crawford | 95593898 | ProQuest | Lucky Dice Cafe | United States |
| nathan lapham | 71693458 | ProQuest | Good Games Chicago | United States |
| Nica Roth | 48731987 | ProQuest | Allerlei Spielerei | Germany |
| Nik Katebian | 98932229 | ProQuest | Greg's Games | United States |
| Pablo Pintor | 12374294 | ProQuest | El Tesoro del Dragon Blanco | Spain |
| Pablo Pintor | 12374294 | ProQuest | Júpiter Madrid | Spain |
| Patten Caleb Van Patten | 86168764 | ProQuest | ChannelFireball Game Center | United States |
| Patten Caleb Van Patten | 86168764 | ProQuest | Game Kastle Sacramento | United States |
| Pei-Tung Liao | 92819458 | ProQuest | 貓腳印嘉義店 | Taiwan |
| Peter Buddensiek | 61767867 | ProQuest | Darkside Games | United States |
| Peter Ward | 53813497 | ProQuest | Fan Boy Three | United Kingdom |
| Pierre Canali | 11877216 | ProQuest | Ludiworld | France |
| Pierre Canali | 11877216 | ProQuest | Playin by Magic Bazar | France |
| Robert Catton | 96675674 | ProQuest | Kingdom Gaming Ltd | United Kingdom |
| Robert Catton | 96675674 | ProQuest | Geek Retreat Leeds | United Kingdom |
| Roy Lai | 66872575 | ProQuest | BLOODRUSH Gaming | Australia |
| Rueylin Jou | 11481749 | ProQuest | 貓腳印台南店 | Taiwan |
| Ryan Rich | 61268882 | ProQuest | Beyond the Board | United States |
| Samuele Costantini | 94712579 | ProQuest | MAGIC MAZE | Italy |
| Sarah Bisplinghoff | 28679713 | ProQuest | Nerdy Needs | United States |
| Sean Knowelden | 59467877 | ProQuest | Excelsior! Comics | United Kingdom |
| Shahmir Samee | 35844257 | ProQuest | Dice Saloon | United Kingdom |
| Shahmir Samee | 35844257 | ProQuest | Dark Sphere | United Kingdom |
| Shane Martin | 95655265 | ProQuest | The Lotus Lookout Belleville | United States |
| Stephen Leany | 47269613 | ProQuest | Game Den | United States |
| Stephen Leany | 47269613 | ProQuest | Game Den - Provo | United States |
| Steven De Canck | 67291229 | ProQuest | Brood en Spelen | Belgium |
| Suitirat Palakawong | 61568355 | ProQuest | LMCafeNeverending | Thailand |
| Tariq Patel | 55364376 | ProQuest | Kitchen Table Games | United States |
| Thomas Farrow | 86333924 | ProQuest | Trinity Card Capital LTD | United Kingdom |
| Thorsten Drescher | 35349415 | ProQuest | KEEPSEVEN | Germany |
| Timothy Long | 19718495 | ProQuest | Forge and Fire Gaming LLC | United States |
| Toon Vertommen | 37869511 | ProQuest | t Spelgeweld | Belgium |
| valentin mackl | 28722421 | ProQuest | SpielRaum GmbH | Austria |
| Vincent Lim | 18269158 | ProQuest | The Gaming Verse | Australia |
| Wan Pang Law | 51398692 | ProQuest | Mox Saga | Hong Kong |
| Yorgos Samaras | 29352359 | ProQuest | Mini Vault | Greece |
| Zachry Benz | 38354541 | ProQuest | Cape Fear Collectibles | United States |
| Name | GEM ID | Event Series | Store Name | Region |
| --- | --- | --- | --- | --- |
| Alex Forndran | 84534291 | Road to Nationals 2021 | Table Top Warfare | Australia |
| Alexander Sinninger | 46954386 | Road to Nationals 2021 | Curio Cavern Springfield | United States |
| Allen A | 25688385 | Road to Nationals 2021 | Mox Saga | Hong Kong |
| Allen Lau | 25688385 | Road to Nationals 2021 | BattlegroundHK | Hong Kong |
| Andres Perez | 43713548 | Road to Nationals 2021 | Zulu's Board Game Cafe | United States |
| Austin Yost | 73687259 | Road to Nationals 2021 | Mr. Bill's Collectible World | United States |
| Brendan Patrick | 8764 | Road to Nationals 2021 | Cards and Comic Connection | United States |
| Brendan Patrick | 8764 | Road to Nationals 2021 | Edmond Unplugged | United States |
| Brendan Patrick | 8764 | Road to Nationals 2021 | Pink Elephant Games and Hobby | United States |
| Brendan Patrick | 8764 | Road to Nationals 2021 | Reaper Game Store | United States |
| Christopher Iaali | 49429466 | Road to Nationals 2021 | Top Deck Keep | United States |
| Christopher Shreve | 85277871 | Road to Nationals 2021 | Kavdaens Market | United States |
| Cody Williams | 28483625 | Road to Nationals 2021 | Play! Hoboken | United States |
| Dante Delfico | 16612399 | Road to Nationals 2021 | Gamer's Lair | Canada |
| Derk Hua Lee | 63655336 | Road to Nationals 2021 | Classroom Cafeteria | Malaysia |
| Dirk Crasto | 97821833 | Road to Nationals 2021 | Card Merchant Nelson | New Zealand |
| Eric Lerer | 43833147 | Road to Nationals 2021 | Bento Gaming | Canada |
| Evelio Valdespino | 76527367 | Road to Nationals 2021 | Paragon Games | United States |
| Evelio Valdespino | 76527367 | Road to Nationals 2021 | The Lotus Lookout | United States |
| Joe Colon | 68592363 | Road to Nationals 2021 | Akiba Underground | United States |
| Joe Colon | 68592363 | Road to Nationals 2021 | Alpha Omega Hobby | United States |
| John Asbach | 35114326 | Road to Nationals 2021 | Mana Bar | United States |
| Kaspar Terauds | 14388784 | Road to Nationals 2021 | Dan Solo Comics & Collectables | Australia |
| Kevin Brayer | 61784579 | Road to Nationals 2021 | Critical Games and Hobbies | United States |
| Kevin Zänker | 37818356 | Road to Nationals 2021 | Merlins Spiele + Freizeitartikel Handels GmbH | Germany |
| Kuan Li | 2412 | Road to Nationals 2021 | Midian Gaming | Australia |
| Li-hong Yeh | 84377192 | Road to Nationals 2021 | Cat Footprints (Kaohsiung) | Taiwan |
| Lucas Ng | 71112789 | Road to Nationals 2021 | Infinity Card & Collectibles | Canada |
| Mark Henderson | 32917365 | Road to Nationals 2021 | Geek Retreat London Holloway | United Kingdom |
| Mark Johnson | 23894321 | Road to Nationals 2021 | Pastimes Comics & Games | United States |
| Matt Kozmor | 38438786 | Road to Nationals 2021 | The Upkeep Games | United States |
| Matt Rogers | 8717 | Road to Nationals 2021 | Calico Keep | New Zealand |
| Matt Rogers | 8717 | Road to Nationals 2021 | Dice Jar Games | New Zealand |
| Matt Rogers | 8717 | Road to Nationals 2021 | shuffle "n" cut hobbies and games | New Zealand |
| Nathan Crawford | 95593898 | Road to Nationals 2021 | Meeple Madness | United States |
| Nikos Tavoulareas | 36856799 | Road to Nationals 2021 | Dragonphoenix Inn | Greece |
| Patrick McGregor | 93788556 | Road to Nationals 2021 | Atlantis Hobby | United States |
| Patrick Nelson | 74933547 | Road to Nationals 2021 | Card Table Republic | United States |
| Phillip Plew | 96147287 | Road to Nationals 2021 | Fable Hobby | United States |
| Preepong Samalee | 66839523 | Road to Nationals 2021 | Funtainment GmbH | Germany |
| Rui Correia | 75663951 | Road to Nationals 2021 | Lost World | Portugal |
| Ryan McClain | 76182514 | Road to Nationals 2021 | Power 9 Games | United States |
| Ryan Rich | 61268882 | Road to Nationals 2021 | DeckEdge | United States |
| Samuele Costantini | 94712579 | Road to Nationals 2021 | Digital Replay | Italy |
| Sarah Vandehey | 28679713 | Road to Nationals 2021 | Goblin King Games | United States |
| Scott Mccrory | 76958654 | Road to Nationals 2021 | Darkhold Games | United States |
| Sebastiano Cavallo | 35376327 | Road to Nationals 2021 | Lucky Dice Cafe | United States |
| Sebastiano Cavallo | 35376327 | Road to Nationals 2021 | Prime Time Gaming | United States |
| Shane Martin | 95655265 | Road to Nationals 2021 | Mana Merchant | United States |
| Shawn Dhaliwal | 69775991 | Road to Nationals 2021 | Red Riot Games | Canada |
| shawn Hill | 83342977 | Road to Nationals 2021 | Menard Comics | Canada |
| Steven De Canck | 67291229 | Road to Nationals 2021 | Brood en Spelen | Belgium |
| Taylor Morrow | 79388755 | Road to Nationals 2021 | Game Kastle Sacramento | United States |
| Thorne Jones | 75711521 | Road to Nationals 2021 | Vault Games | Australia |
| Tyler Trudel | 11179414 | Road to Nationals 2021 | Taps Games | Canada |
| Will Laystrom | 74953152 | Road to Nationals 2021 | Golden Phoenix Games | United States |