This Friday, the Pro Tour series sees its first event in Flesh and Blood history, marking a monumental introduction to our highest tier of competitive play. Players from around the world have cashed in ProQuest invites (PQIs), Professional Tournament Invitations (PTIs), and XP-based invites to compete in this landmark event, and fight to become the first-ever Flesh and Blood Pro Tour Champion!
For players who didn't qualify for the main event, the weekend will also feature a Calling and a Battle Hardened; a chance for players to test their skills, and earn PTI's for future invite-only events. Check out the full side event schedule here.
As of the time this article goes live, over 1000 players have already registered for events across the weekend, and the last remaining seats are going quickly! Tickets are currently still available, but a number of spots are being reserved for Pro Tour players who wish to compete in the Calling on Saturday if they don't make the day two cut. On Saturday morning, any leftover tickets will be available as door sales, but these are not guaranteed, so we suggest that if you're planning on coming that you get your ticket package now at https://www.fabevents.gg/pro-tour-1.
The Pro Tour players banquet is on Thursday night, with priority access for Pro Tour competitors until 6pm. After this time, doors will open to all players. However, due to the limited allocated space for this event, the number of people allowed in will be very limited. Once the area for the player's banquet has reached full capacity, the doors will be closed and no additional players will be allowed to enter, so this will be strictly on a first-come, first-serve basis.
Special Guests
Steve Argyle, who created the hero art for Iyslander and Viserai, Rune Blood, and art for cards such as Nebula Blade and Kraken's Aethervein. Federico Musetti, who created the hero art for Chane and Lexi, the art for the fabled Great Library of Solana, and memorable cards such as The Librarian, Ursur, the Soul Reaper, Invert Existence, and Mangle.
Cosplayers Olivia Gobert-Hicks and Cspranklerun, who'll also be judging our Cosplay Contest on Saturday! First place will receive a cosplay-exclusive Taylor promo, and second place will receive a copy of the Welcome to Rathe World Guide (often known as the Lore Book)!
Saint Hung of Fabled Hunters is a long-standing community member, card collector, and Flesh and Blood enthusiast. Rudy of Alpha Investments is a content creator, first-edition fiend, and taco aficionado.
From the Legend Story team, we have James White, who needs little introduction, and Chris Gehring, our lead game developer, as well as other members of our game development and organized play teams!
---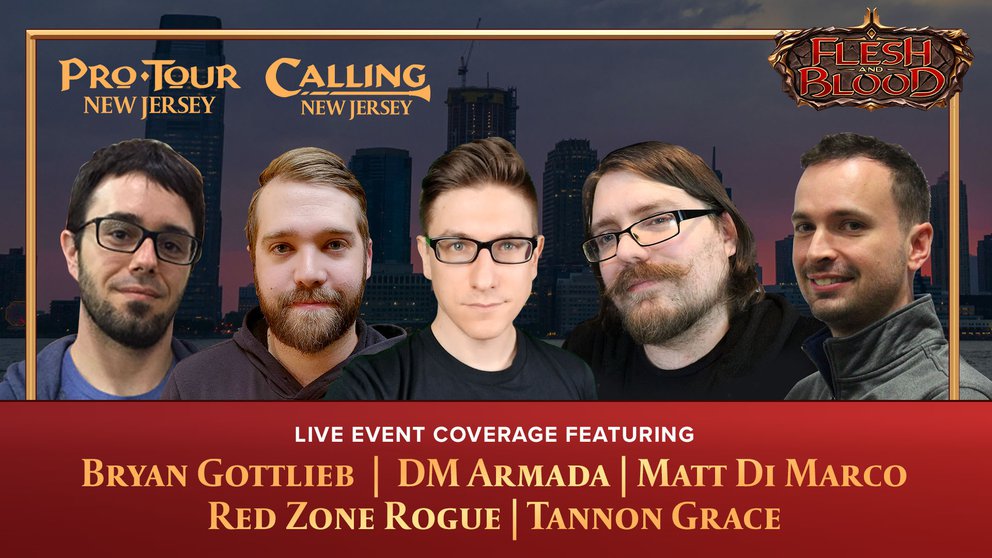 ---
Live Coverage
Our coverage team for the Pro Tour features Tannon Grace, who was part of the commentary team for the US Calling series in 2021, and for the Calling: Indianapolis, and his co-commentator in Indianapolis, long-standing TCG player Bryan Gottlieb. Content creator and strategy writer Matt di Marco was part of the commentary team for the US National Championship, as was content creator (and lasagne enthusiast) DMArmada, one of our longest-standing creators in the community alongside RedZoneRogue, advocate for the (non-existent) Assassin class.
For live coverage of the event, tune into ChannelFireball's Twitch channel to watch the stream at the following times:
Friday, May 13th at 9:00 am ET
Saturday, May 14th at 8:45 am ET
Sunday, May 15th at 8:45 am ET
You can also check out updates via our official Twitter and Facebook pages, or via our coverage page here on the website!
If you're sharing your photos or stories on social media, you can use our official hashtags #fabtcg and #fabProTour!