Haunted by a mysterious past, the crafty Assassin Uzuri leads a band of misfits, including a frightening new version of the king-slaying Assassin Arakni, and the merciless Riptide, a trap-based Ranger.
Fan favourite Ranger Azalea returns to take out the competition, while a pair of wandering Ninjas, Katsu and Benji, embark on a dangerous mission in the underworld.
Ready-to-play out of the box, Outsiders Blitz Decks are designed as a fun and fast way to play Flesh and Blood, ideal for kitchen table gaming.
Play as an Assassin, keeping your opponent guessing as you deliver an onslaught of sneaky tricks, or play as a Ranger, pinning your opponent down with arrows and traps while you set up the killing blow, or release fists of fury as a Ninja, darting between their defenses with a flurry of attacks.
Each Blitz deck contains 40 cards, plus hero, weapons, equipment, and tokens.
---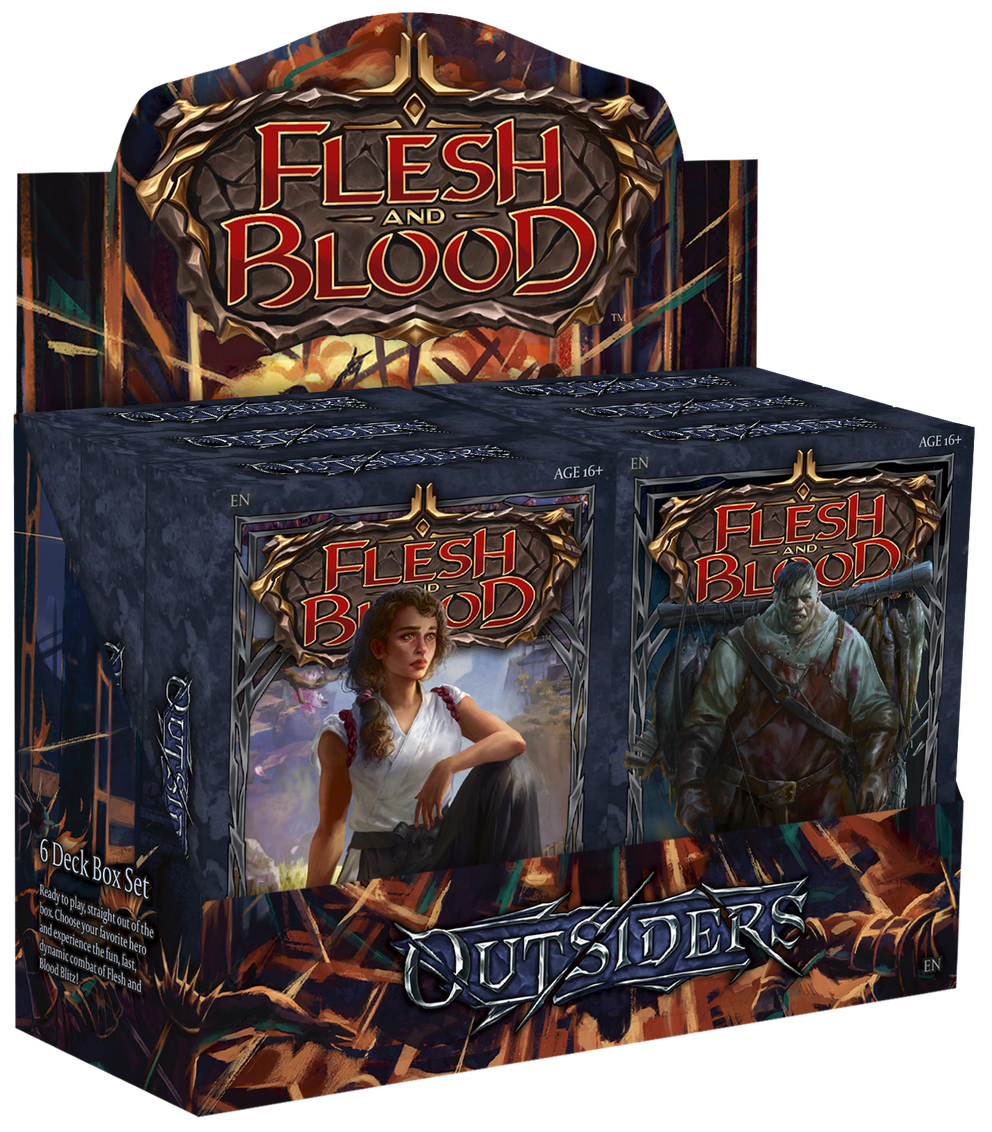 ---
Overview
Ready-to-play out of the box, Outsiders Blitz Decks are crafted as an ideal product for kitchen table gaming. Each Blitz Deck is a beautiful addition to the collection of new and experienced players alike.
Release date: March 24, 2023
Product type: Blitz Decks (Designed to play straight out of the box.)
MSRP: $11.99 USD / €11.99 EUR / $16.99 CAD / $19.99 AUD / $19.99 NZD
MAP (USA and Canada): MSRP less 20%
Barcodes:
Blitz Deck: 09 4210 37050409
Blitz Deck Display: 09 4210 37050454
Blitz Deck Case (4 displays): 09 4210 37050461
SKU: FAB2302-EN
---
Product Configuration:
40 cards, plus hero, weapon, and equipment cards, per deck
6 decks per display (1 of each hero: Uzuri, Arakni, Riptide, Katsu, Benji, and Azalea)
4 displays per case
Product Design: Bryan Gottlieb
Development: Bryan Gottlieb
Product engineering: Chris Gehring
Syntax: Joshua Scott
Creative Director: Robbie Wen
Concept lead: MJ Fetesio
Concept design: MJ Fetesio, Sam Yang
Asset rendering: MJ Fetesio
Art Director: Robbie Wen
Assistant Art Director: Sam Yang, MJ Fetesio
Packaging: MJ Fetesio
Productions & manufacturing lead: Robbie Wen
Production assistant: Kathleen Fetesio