Outsiders is a standalone booster set that takes you down into the Pits, a sprawling web of underground caverns and canals, home to all manner of backstabbing and skulduggery.
Haunted by a mysterious past, the crafty Assassin Uzuri leads a band of misfits, including a frightening new version of the king-slaying Assassin Arakni, and the merciless Riptide, a trap-based Ranger.
Fan favourite Ranger Azalea returns to take out the competition, while a pair of wandering Ninjas, Katsu and Benji, embark on a dangerous mission in the underworld.
The first draftable set to feature multiple heroes of the same class, Outsiders is designed for dynamic booster draft, sealed deck, and constructed play, and includes legendary new "hybrid" cards that can be used by multiple classes!
---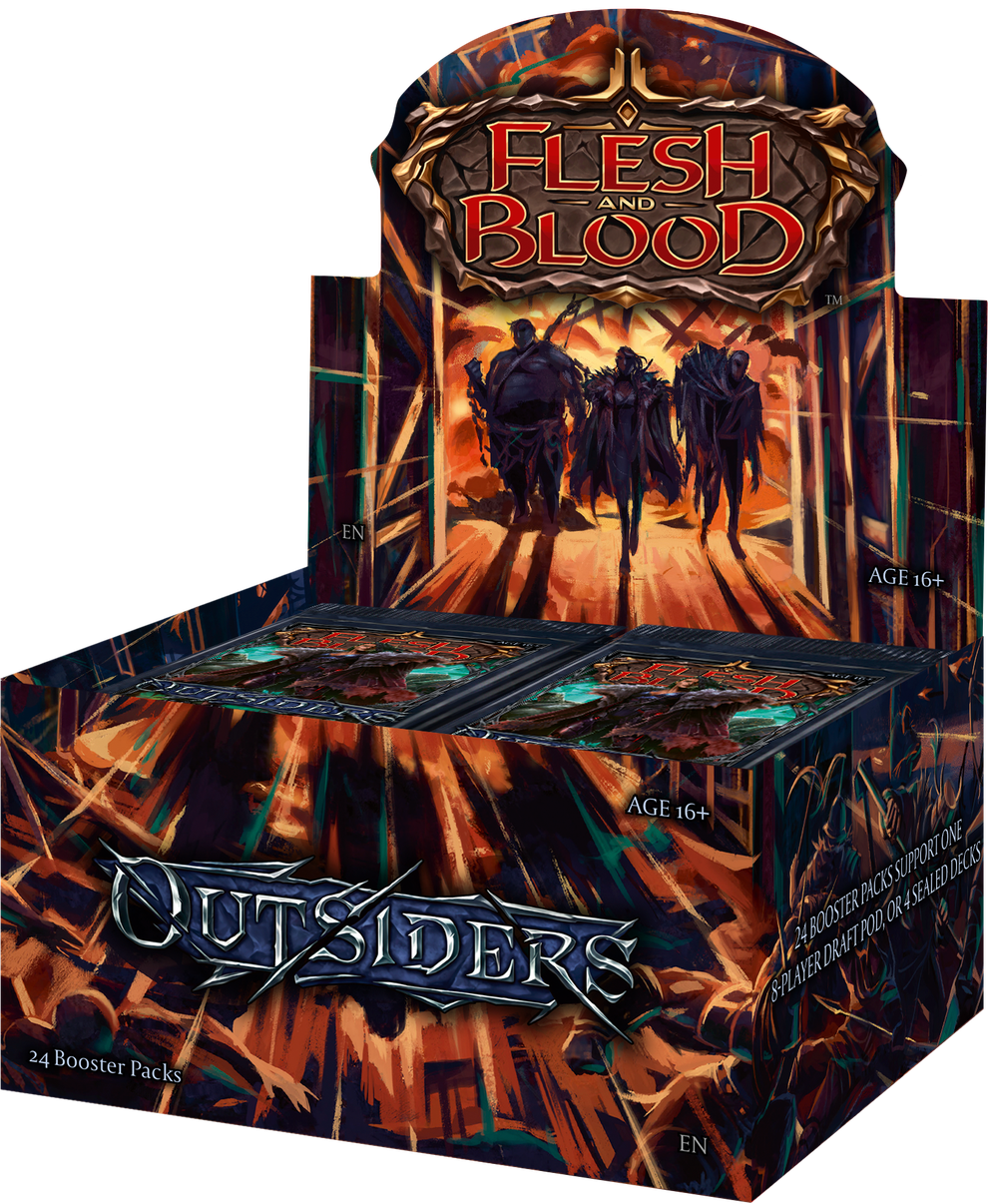 ---
Overview
Release date: March 24, 2023
Set code: OUT
Product type: Standalone Booster Pack (Designed for booster draft, sealed deck, and constructed play.)
Cards in set: 239
MSRP per display: $109.90 USD / €109.90 EUR / $139.90 CAD / $159.90 AUD / $159.90 NZD
MAP (USA and Canada): MSRP less 20%
Barcodes:
Booster Pack: 09 4210 37050379
Booster Display (24 packs): 09 4210 37050386
Booster Case (4 displays): 09 4210 37050393
SKU: FAB2301-EN
Set Configuration:
20 Tokens
128 Commons
51 Rares
31 Majestic
5 Legendary
1 Fabled
3 Marvels
Pack Configuration
A booster pack contains 16 cards, being:
Rainbow Foil - 1 per pack
Rare or higher - 1-2 per pack
Common - 11-12 per pack
Token - 2 per pack
Cold Foil - 1 per 24 packs
No specific card, rarity, or type is guaranteed to exist within an individual pack, box, or case.
---
Vision Design: James White
Product Design: James White, Bryan Gottlieb
Development: Chris Gehring, Jason Chung, Karol Ruszkiewicz, Jacob Pearson, Rohan Khanna, Tom Penny, Calum Gittins, Aaron Curtis, Kieran McEntegart, Anthony Balmes
Booster Draft Development: James White, Bryan Gottlieb, Newsun Zeng
Product engineering: Chris Gehring
Syntax: Joshua Scott
Creative Director: Robbie Wen
Concept lead: MJ Fetesio
Concept design: MJ Fetesio, Sam Yang
Asset rendering: MJ Fetesio
Art Director: Robbie Wen
Assistant Art Director: Sam Yang, MJ Fetesio
Packaging: MJ Fetesio
Productions & manufacturing lead: Robbie Wen
Production assistant: Kathleen Fetesio
Foiling: Kathleen Fetesio, MJ Fetesio
Foiling assistant: Le Wang, Giriraj Tangkengko

Localisation Director: Robbie Wen
Localisation Management: Laura Lobato
French Localisation: Bruno Billion, Gaétan Bovey
German Localisation: Stefan Ladstätter-Thaa, Oliver Tremel
Italian Localisation: Riccardo Tessitori, Lamberto Franco
Spanish Localisation: Carlos Gutiérrez "GG", Carmen Valero, Carlota Fernández