Dynasty is an expansion booster set that takes you inside the Imperial Palace of Volcor. Play as the Emperor and defend your Dynasty against the rebellious uprising sweeping the land.
Dynasty is designed to expand constructed play with new support for all existing classes, the introduction of a brand new class, and Relics of War, a collection of Marvel weapons and equipment to proudly display in your own trophy room.
---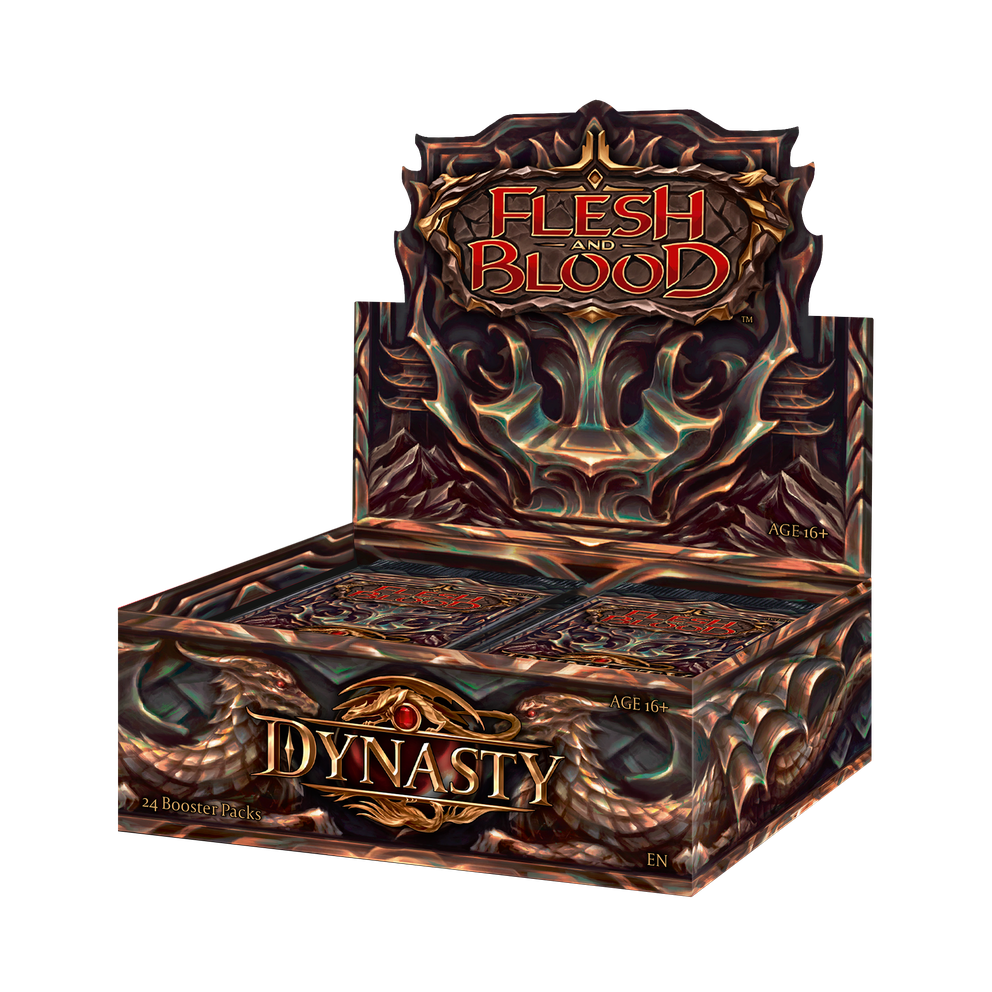 ---
Overview
Release date: November 11th, 2022
Set code: DYN
Product type: Supplementary Booster Pack (Designed to expand constructed play. Not intended for booster draft or sealed deck play.)
Cards in set: 247
MSRP per display: $109.90 USD / €109.90 EUR / $139.90 CAD / $159.90 AUD / $159.90 NZD
MAP (USA and Canada): MSRP less 20%
Barcodes:
Booster Pack: 09 4219 05459853
Booster Display (24 packs): 09 4219 05459860
Booster Case (4 displays): 09 4219 05459877
SKU: FAB2203-EN
Set Configuration:
109 Commons
81 Rares
51 Majestic
5 Legendary
1 Fabled
14 Marvels
Pack Configuration
A booster pack contains 10 cards, being:
Premium Foil - 1 per pack
Rare or higher - 2 per pack (1 Rare + 1 Rare/Majestic)
Common - 7 per pack
*No specific card, rarity, or type is guaranteed to exist within an individual pack, box, or case.
---
Lead Product Design: James White
Design Contribution: Sasha Markovic, Bryan Gottlieb
Development: Chris Gehring, Jason Chung, Karol Ruszkiewicz, Jacob Pearson, Rohan Khanna, Tom Penny, Calum Gittins, Anthony Balmes, Oliver Berry
Development Contribution: Sasha Markovic, Newsun Zeng, Bryan Gottlieb
Product engineering: Chris Gehring
Syntax: Joshua Scott
Creative Director: Robbie Wen
Concept lead: MJ Fetesio
Concept design: MJ Fetesio, Sam Yang
Asset rendering: MJ Fetesio
Art Director: Robbie Wen
Assistant Art Director: Sam Yang, MJ Fetesio
Packaging: MJ Fetesio

Productions & manufacturing lead: Robbie Wen
Production assistant: Kathleen Fetesio
Foiling: Kathleen Fetesio, MJ Fetesio
Foiling assistant: Le Wang, Giriraj Tangkengko