Equip Your Hero, Prepare to Fight!
Throw open the armories and turn up the forge, and rally your allies from near and far. Bring all your skill, luck, and your damn best gear to bear; as you're plunged headfirst into the Crucible of War.
Crucible of War is a supplementary booster set that introduces powerful weapons and equipment, and opens up new strategies and deck building options for all your favourite classes.
New equipment, weapons, and allegiances will be forged in the Crucible of War!
---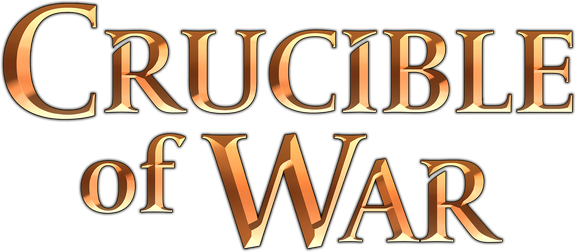 ---
Overview
Release date: August 28
Set code: CRU
Product type: Supplementary Booster Pack (Designed to expand constructed play. Not intended for booster draft or sealed deck play.)
Cards in set: 198 cards
MSRP: $3.99 USD / $5.49 CAD / $5.99 AUD / $5.99 NZD / €3.99 EUR
Barcodes:
Booster Pack: 9 421905 459228
Booster Display: 9 421905 459235
Booster Carton (4 displays): 9 421905 459242
Set Configuration:
1 Fabled
2 Legendary
36 Majestic
56 Rare
103 Common
Pack Configuration
A booster display contains 24 booster packs. A booster pack contains 10 cards, being:
7 Commons
1 Rare
1 Rare / Majestic / Legendary
1 Premium Foil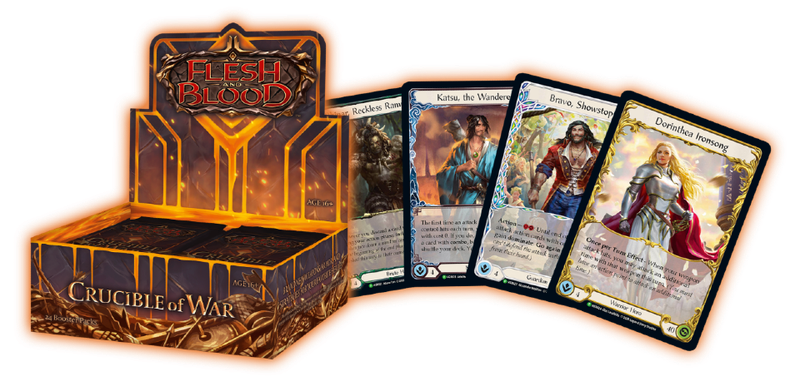 CRU Buy-a-box Promos
Rainbow foil versions of the original Welcome to Rathe hero cards are available, for the first time, as Crucible of War buy-a-box promos. Available only from qualifying local game stores, and strictly while stocks last. Buy-a-box promos include: 'Bravo, Showstopper', 'Dorinthea Ironsong', 'Katsu, the Wanderer', and 'Rhinar, Reckless Rampage'.

Product Design: James White
Development: Chris Gehring, Jason Chung
Product Engineering: James White, Chris Gehring
Creative Director, Art Director: Robbie Wen
Assistant Art Director: MJ Fetesio
Concept Design, Asset Rendering, Packaging: MJ Fetesio
Productions & Manufacturing: Robbie Wen
Foiling: MJ Fetesio, Sindy Wo