Season 3 Armory Kits are available free of charge to qualifying Local Game Stores from Q4 2020 - Q1 2021. Each kit contains materials to support four weeks of Flesh and Blood in store play, being:
4 cold foil young hero prize cards (perfect for Blitz!)
32 rainbow foil extended art promo cards
1 Crazy Brew (Cold Foil Full Art)
1 Crucible of War playmat
1 'People's Champion' play mat
Armory event posters
Suggested use of materials is cold foil heroes awarded to top placed players and the 'people's champion' play mat awarded to someone who is bringing positive energy to the FAB community in their local game store!
Armory events are not only a great place to meet local FAB players, receive sweet promo items, and support your Local Game Store, but they are the primary way to earn XP on your player account that will unlock prestige and invitations to professional level organized play tournaments in the future!
Armory Kits Season 3 are available monthly from December to April, but only while stock lasts.
---
Armory Kit Kayo (available from December 1st)
4 Kayo, Berserker Runt (Cold Foil)
32 ??? (Rainbow Foil Extended Art)
1 Crazy Brew (Cold Foil Full Art)
1 Crucible of War playmat
1 'People's Champion' playmat - Massacre
Kayo event posters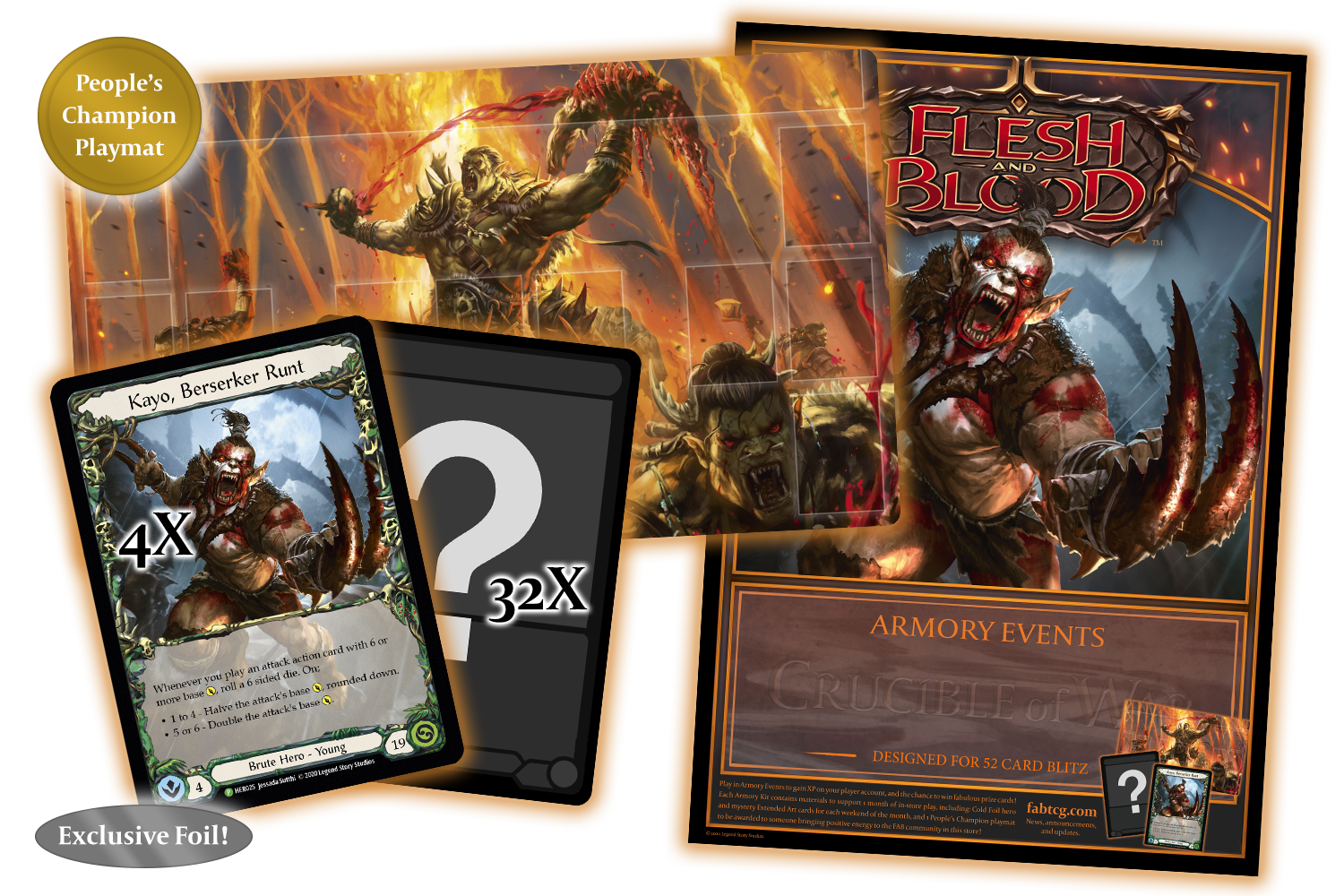 ---
Armory Kit Kassai (available from January 1st)
4 Kassai, Cintari Sellsword (Cold Foil)
32 ??? (Rainbow Foil Extended Art)
1 Crazy Brew (Cold Foil Full Art)
1 Crucible of War playmat
1 'People's Champion' playmat - Mangle
Kassai event posters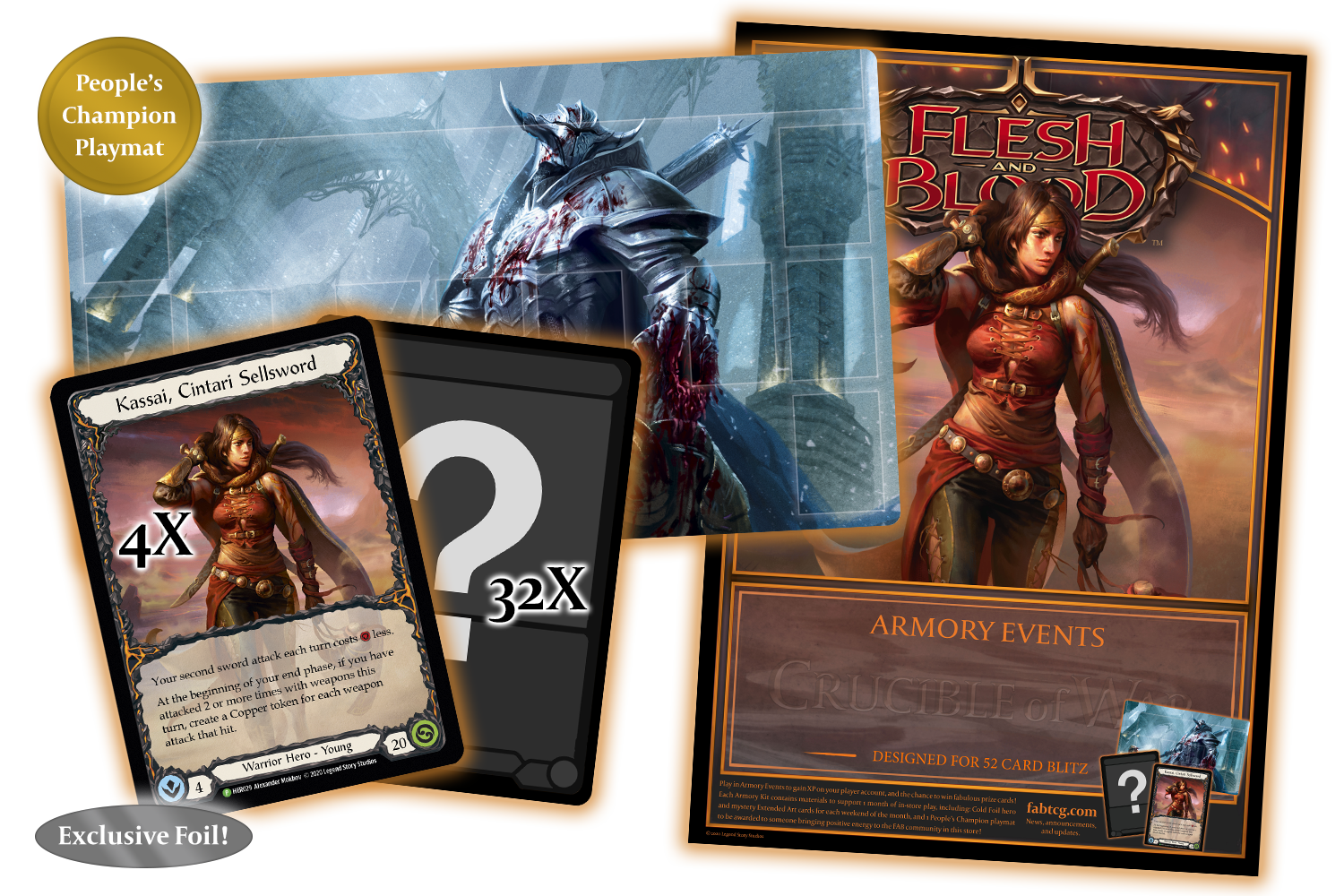 ---
Armory Kit Data Doll (available from February 1st)
4 Data Doll MKII (Cold Foil)
32 ??? (Rainbow Foil Extended Art)
1 Crazy Brew (Cold Foil Full Art)
1 Crucible of War playmat
1 'People's Champion' playmat - Viziertronic Model i
Data Doll event posters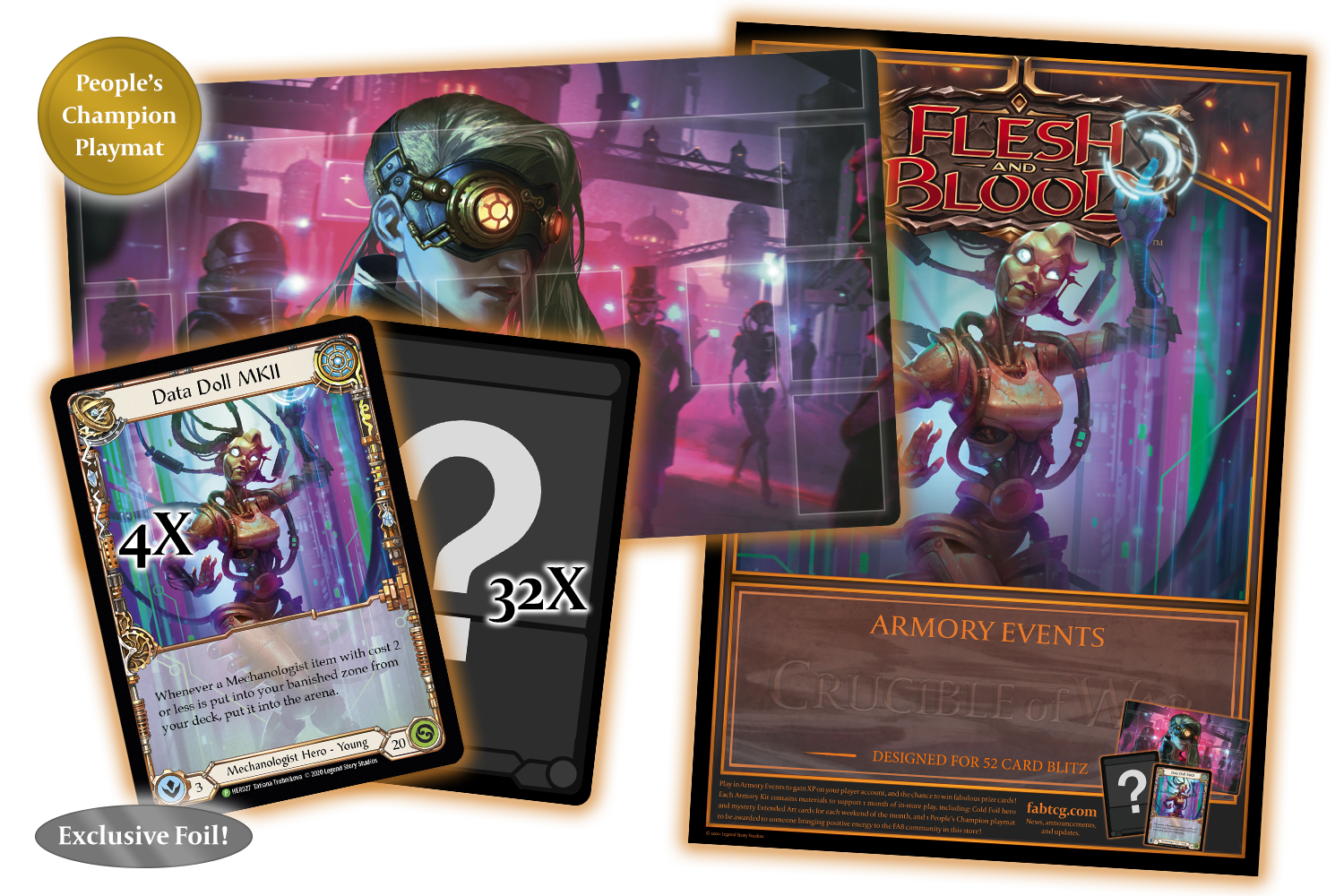 ---
Armory Kit Benji (available from March 1st)
4 Benji, the Piercing Wind (Cold Foil)
32 ??? (Rainbow Foil Extended Art)
1 Crazy Brew (Cold Foil Full Art)
1 Crucible of War playmat
1 'People's Champion' playmat - Find Center
Benji event posters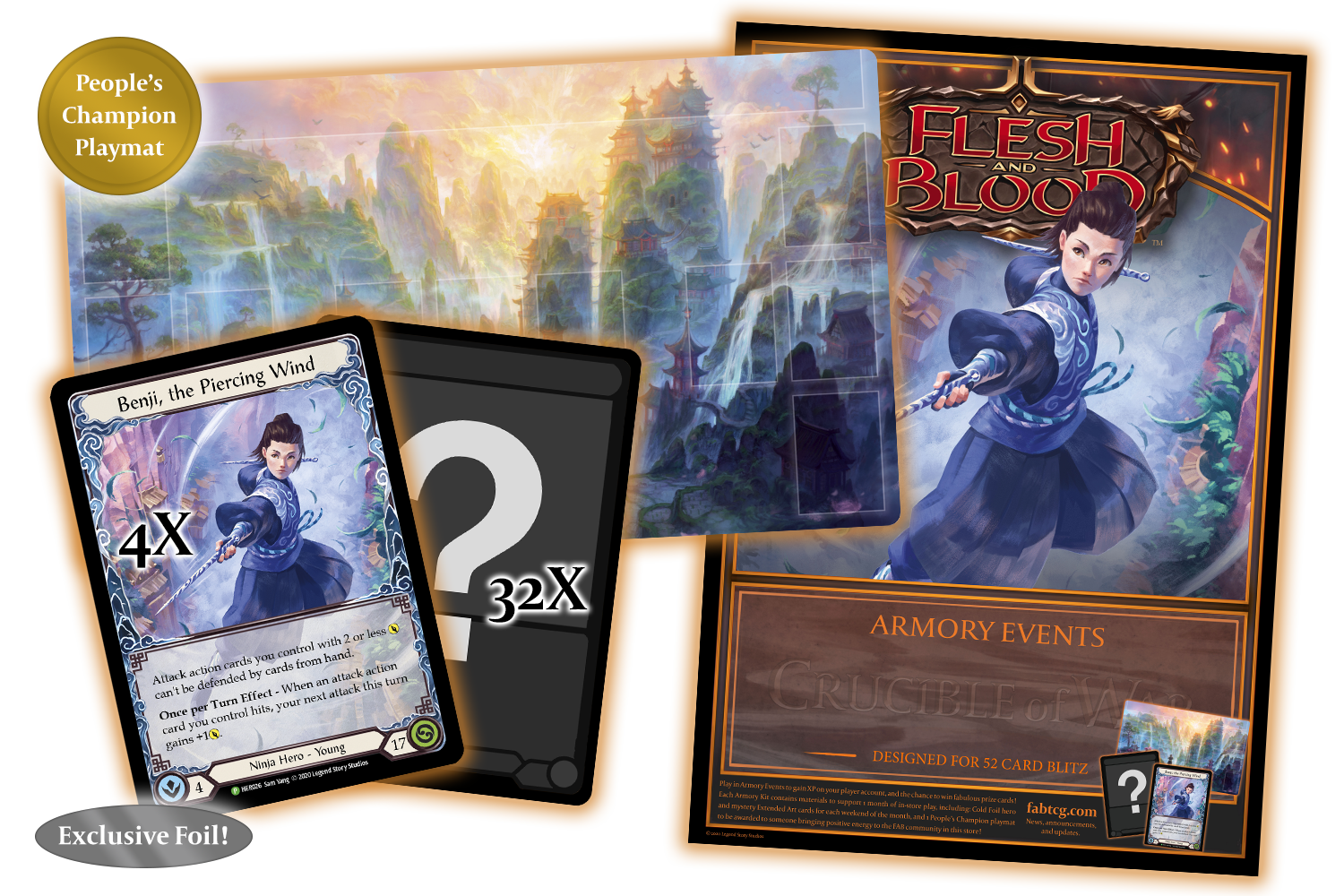 ---
Armory Kit Kavdaen (available from April 1st)
4 Kavdaen, Trader of Skins (Cold Foil)
32 ??? (Rainbow Foil Extended Art)
1 Crazy Brew (Cold Foil Full Art)
1 Crucible of War playmat
1 'People's Champion' playmat - Gorganian Tome
Kavdaen event posters