The road to greatness lies ahead of you. Take up the challenge, climb to the top, and you could be on your way to the 2023 National Championship!
More than 400 Road to Nationals events are taking place worldwide, starting from May 13th in Europe, UK,  Hong Kong, and Singapore, and from May 20th everywhere else.
This season features both Classic Constructed and Outsiders draft formats.
---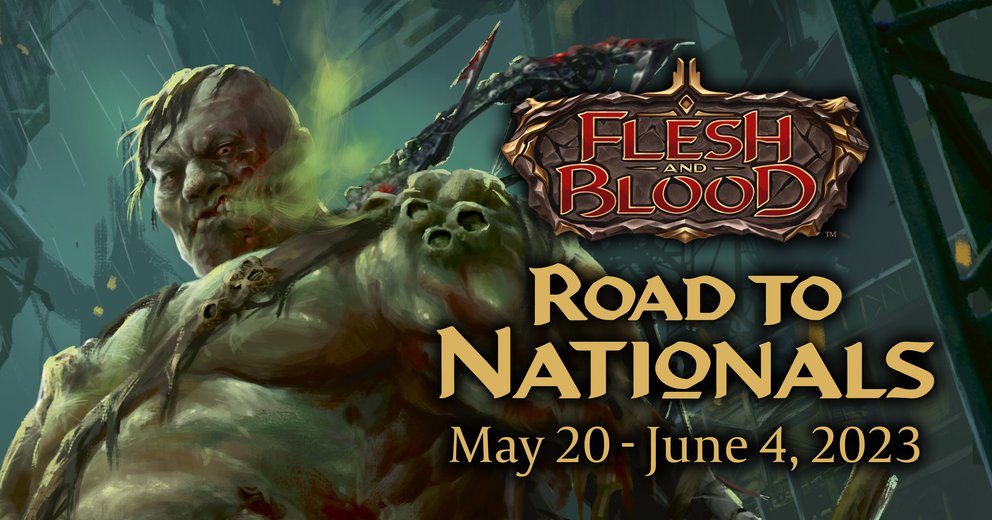 ---
Road to Nationals are open to all players, with National Championship qualifications for the Top 4 of each event, along with a range of other exciting prizes on the line.
Even if you don't make the Top 4 it's still a great way to rack up some points to qualify through 90-day XP.
Check the event locator below to secure your spot and Wreck some Havoc!
Overview
Dates:
May 13th - June 4th 2023 (Europe, UK, Hong Kong, Singapore)
May 20th - June 4th 2023 (all other regions)
Format: Classic Constructed or Outsiders Draft
Eligibility: Open Entry
Rules Enforcement Level (REL): Competitive
Prizes:
4x National Championship Qualifications - awarded to the Top 4 of each event
1x Jubeel, Spellbane Cold Foil - awarded to the winner of each event
4x Uzuri, Switchblade Cold Foil & 4x Riptide, Lurker of the Deep Cold Foil - awarded (at random) to the Top 8 of each event
24x Spinning Wheel Kick Rainbow Foil Extended Art Promo - awarded to 9th-32nd place players at each event
Can I qualify in another country for Nationals?
You can qualify by playing in a Road to Nationals event in any country, but you can only play in the National Championship of the country you are registered to, and can only play in one National Championship.
Can I play in more than one Road to Nationals if I'm already qualified from a previous event?
Yes, you are allowed to play in multiple events, even if you're already qualified.
If I qualify more than once does it pass down or can I give it to a friend?
These do not pass down and can not be given to another player.
My GEM Account has the wrong country listed. How do I get this changed?
You can write to op@fabtcg.com and provide an explanation of the situation and why a change is needed. The team will consider each request on a case-by-case basis.
When will details of the National Championships be announced?
We will announce more information on the 2023 National Championships in the coming months once all details have been confirmed.
When is the cutoff for 90-day XP qualifications for National Championships?
The cutoff for the 90-day XP qualification period will be Tuesday June 13th at 11:59pm PDT (Pacific Daylight Time).