Skirmish Season 5 is set to begin this month, running from July 30th to August 21st! This casual-level event series features both Blitz and Uprising Sealed Deck tournaments, so you can either pick up your favorite Blitz deck, or crack some packs to play Fai, Dromai, or Iyslander! Over 600 stores will be hosting events all around the world this season, so there's never been a better time to join the Skirmish. Grab some friends, find your nearest tournament, and get involved!
This season's prize kit includes Fai and Dromai Cold Foil hero promos, Silver tokens appearing for the first time in Cold Foil, and two playmats for the finalists of each event, featuring the artwork of Aether Ashwing and Phoenix Flame!
---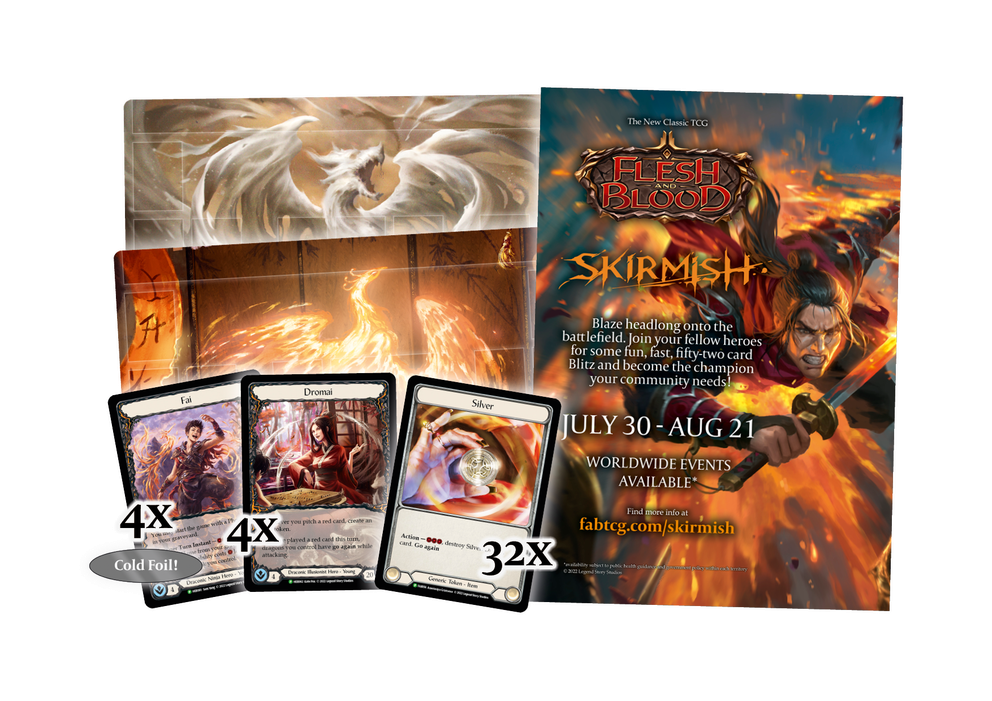 *Aether Ashwing playmat may vary from the image above
---
1x Phoenix Flame playmat
1x Aether Ashwing playmat
4x Fai Cold Foil promo cards
4x Dromai Cold Foil promo cards
32x Silver Cold Foil promo cards
Entry Fees
Stores can charge up to USD20 / EUR20 / GBP20 / CAD30 / AUD30 / NZD30 entry or local currency equivalent for Blitz events, or USD 40 / EUR 40 / GBP 40 / CAD 55 / AUD 55 / NZD 55 for Sealed events.
Skirmish Season 5 Coverage
This season, we'll be featuring six guest writers, discussing six different hero builds for you to try out new decks at Skirmish events! We'll also be featuring another series of Blitz Gauntlet videos, as well as our usual weekly recap articles.