Legend Story Studios is excited to announce the launch of the Skirmish series, a new organised play program designed to bring meaningful and accessible competitive play to Flesh and Blood communities around the world. A select group of stores across Europe, North America and the Asia-Pacific region have been invited to participate in the program, which will run from February 20 to April 11, 2021.
There are three formats taking place over the course of the season;
In-Store Blitz
In-Store Sealed Deck
Online Blitz
The full list of events is on the Flesh and Blood Event Locator, or view a map of events worldwide here. You'll need a GEM account to participate to play, and an up to date mailing address in order to be eligible for participation prizes for the online events - you can update your account (or create a new one) here.
Event Types
Ensuring the safety of players and staff has been a key consideration for us in designing this program. When we first began developing Skirmish in November 2020 our hope had been that the public health measures that governments were taking combined with the release of vaccine programs might have meant that there would be a number of northern hemisphere countries where COVID would be sufficiently under control that in-store play would be a reasonable possibility.
The unfortunate reality is that infection rates are far higher than expected, and much of North America and Europe is in lockdown. In this environment we don't want either stores or players to feel under pressure to travel to and participate in face-to-face events at this time, and at the same time we want to give people in lockdown something exciting to look forward to and to participate in. As such, the formats for the inaugural Skirmish season will be;
North America: Online Blitz
Europe / UK: Online Blitz
Asia-Pacific: In-Store Blitz and Sealed Deck, unless localised lockdowns require that events be held online (stores will also have the option of moving event dates in the event of unexpected temporary lockdowns)
It's been great to see the development of online play via Discord and webcam in recent months, and we hope that officially supporting this format for the Skirmish season finally provides for a way for those of you in lockdown to participate in competitive Flesh and Blood events. Similarly, for players in parts of the world where in-store play is possible, this should provide a new level of competition above and beyond weekly Armory Events.
Prizes
We have provided some fantastic prizes for this inaugural Skirmish season. The prize kit for each event contains;
8 cold foil adult hero cards

For In-Store events, these cards will be awarded to Top 8 qualifiers
For Online events, these cards will be awarded as participation prizes

2 Scar for a Scar playmats

For In-Store events, one of these will be awarded to the winner and one as a random participation prize
For Online events, these playmats will be awarded as participation prizes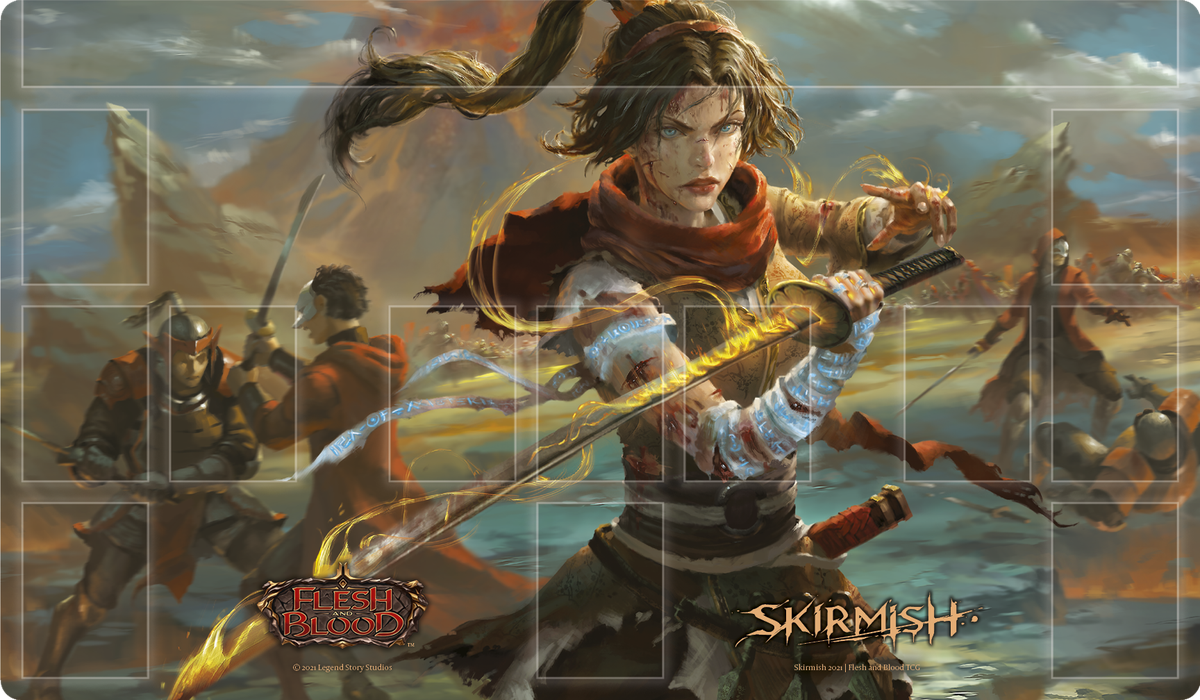 24 Head Jab "POP art" rainbow foil cards

For In-Store events, these cards will be awarded as participation prizes
For stores hosting online events these cards will be made available to use as promotional materials in conjunction with or separately to the Skirmish event
For online events, the prizes are being randomly awarded as participation prizes rather than as performance prizes, due to the difficulty of policing unsporting conduct over webcam. Because it may not be feasible for players to get to stores to collect their prizes in the current environment, we will be sending playmat and cold-foil prizes directly to players instead. Players will need to have a current email and physical address registered in GEM in order to enter the draw to win a participation prize.
How To Participate
Online tournaments will be run using Discord and Webcam. Over the coming weeks we will be putting out "How To" guides to support players in getting set up to participate in online tournaments and to support stores to run these events using GEM and Discord.
In-Store tournaments will simply run as normal tournaments, supported through GEM (gem.fabtcg.com)
Entry Fees
Stores can charge up to USD20 / EUR20 / GBP20 / CAD30 / AUD30 / NZD30 entry or local currency equivalent for Blitz events.
For Sealed Deck Events, stores can charge up to NZD45 / AUD45