The Battle Hardened series landed in Pittsburgh over the weekend, and among the 72 players gathered for the event, a number of Flesh and Blood's established and up-and-coming players were ready to join the action.
First, the two Calling and three Battle Hardened champions in attendance: Michael Feng, Champion of Calling: Cincinnati and finalist at the US National Championship; Yuanji Li, Champion of Calling: Krakow; Charles Dunn, Champion of Battle Hardened: Philadelphia; Yongji Yang, Champion of Battle Hardened: Indianapolis; and Brodie Spurlock, Champion of Battle Hardened: Dallas.
There's also a number of highly competitive Top 8 alumni - for example, Cody Williams, semi-finalist at the US National Championship and Top 8 at the Calling: Indianapolis, or Pat Eshghy, who made Top 8 at both the Battle Hardened: Philadelphia and the Calling: Indianapolis. There's also Matthew Dilks, quarter-finalist at Battle Hardened: Dallas, and Chris Ray, quarter-finalist at the Calling: Cincinnati.
Alberto Miracle made the Top 8 of the Calling: Las Vegas with the Mechanologist Dash, while Ethan van Sant is a long-time follower of Levia who has made her name appear on lists across Road to Nationals and Skirmish seasons. Anthony Nguyen won a Road to Nationals event with Ser Boltyn, and Matthew Mosholder won a Road to Nationals with Dorinthea.
Ethan van Sant was the sole Levia player in the Battle Hardened event; he was joined by a lone Ser Boltyn, represented by Louis Solymos, a lone Briar, represented by Austin Keith, and one lone Bravo, Showstopper, played by Bryce Johnson. There were also two Dorinthea players, two Lexi players, and three players each for Dash and Kano. The only heroes unrepresented on the field were Azalea and Oldhim - the latter a surprise, considering that Bravo, Showstopper was in attendance!
(Please note that there are only 70 players represented in the metagame data shown in the graph below - the two remaining players did not have hero data reported.)
---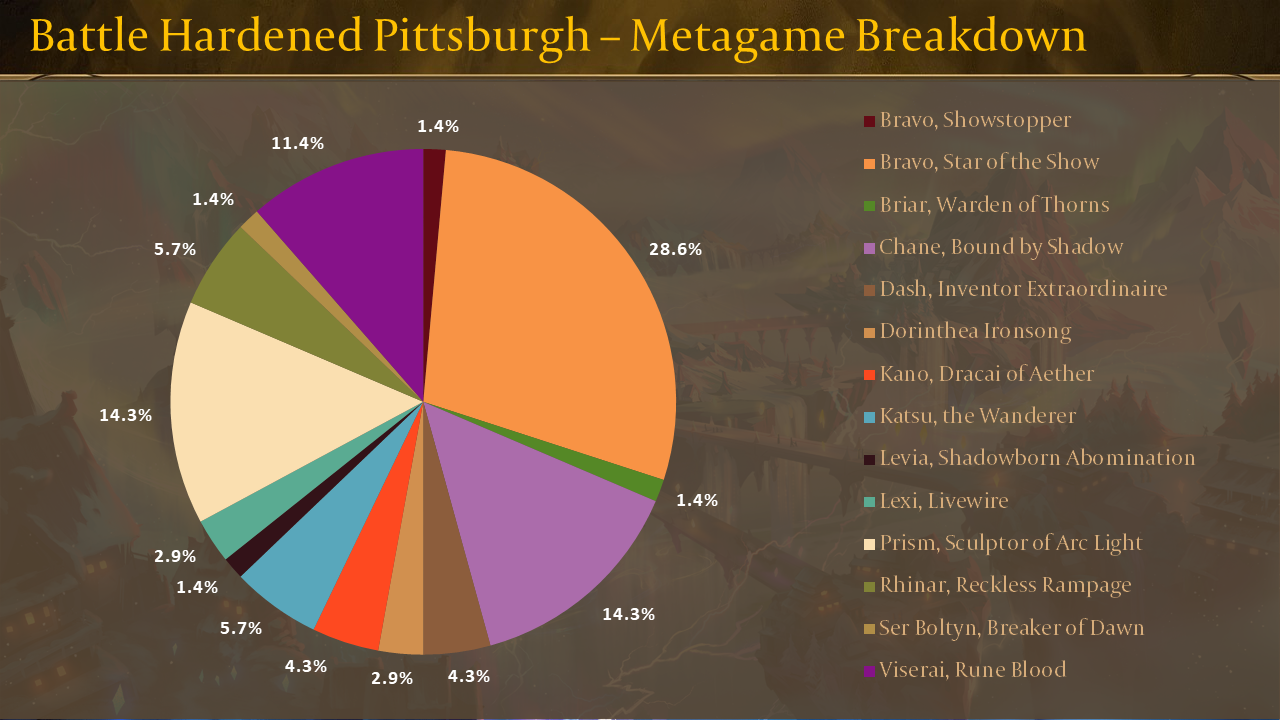 ---
This was the last major tournament to feature the 'old' meta, as the changes from the last Banned & Suspended announcement didn't come into effect until May 2nd. With cards like Awakening and Autumn's Touch still on the table for competitive players at this event, a large number of players capitalized on the final chance to farewell this iteration of Bravo, Star of the Show.
Battle Hardened: Philadelphia winner Charles Dunn and Battle Hardened: Indianapolis winner Yongji Yang both brought the Star of the Show into the Top 8 cut, alongside four other Guardians. Chris Ray was a quarter-finalist at the Calling: Cincinnati, playing through seasons of Skirmish and playing a variety of heroes, from Chane to Lexi to "Starvo". Matthew Dilks competed in the first season of ProQuest events, building his skills before making the Top 8 of the Battle Hardened: Indianapolis.
Casey Walker started playing in August 2021. They joined the competitive scene with the Battle Hardened event in Philadelphia, and competed in a number of events across the ProQuest season. Naib Mobassir joined the Flesh and Blood scene with a Farewell Welcome to Rathe event in January, participating in both the Calling and Battle Hardened events in Indianapolis, and Battle Hardened: Dallas ahead of this event.
Calling: Krakow winner Yuanji Li is one of two players in the Top 8 to break the Starvo streak, bringing Viserai, Rune Blood into the matchups. While Viserai recently reached the Living Legend threshold in Blitz, he is still a viable hero in Classic Constructed, albeit impacted by the suspension of Bloodsheath Skeleta. Yuanji competed at Calling events in Las Vegas, Dallas Fort-Worth, and Indianapolis, plus his win at the Calling: Krakow; he has also previously competed at the Battle Hardened Philadelphia.
Yuanji was joined by fellow Runeblade, US Nationals semi-finalist Cody Williams, who was representing Chane. Cody Williams previously made Top 4 at five different Road to Nationals events, plus his Top 4 finish at the US National Championship and Top 8 finish at the Calling: Indianapolis. Notably, Yongji Yang, Yuanji Li, and Cody Williams are also all part of the same testing group, coming to the event with three different heroes!
In a reverse of what we've seen with the Classic Constructed meta so far this year, Chane was a larger presence than Viserai, with 10 and 8 players respectively, and both saw a player in the Top 8. Despite taking up an equal space in the metagame, Prism failed to see any of her players make it past the Top 8 cut.
An honorable mention goes to Levia, who - with only one player in the event - came just shy of making the Top 8 cut with devoted follower Ethan van Sant. Ethan lost the final Swiss match to Charles Dunn, who entered
---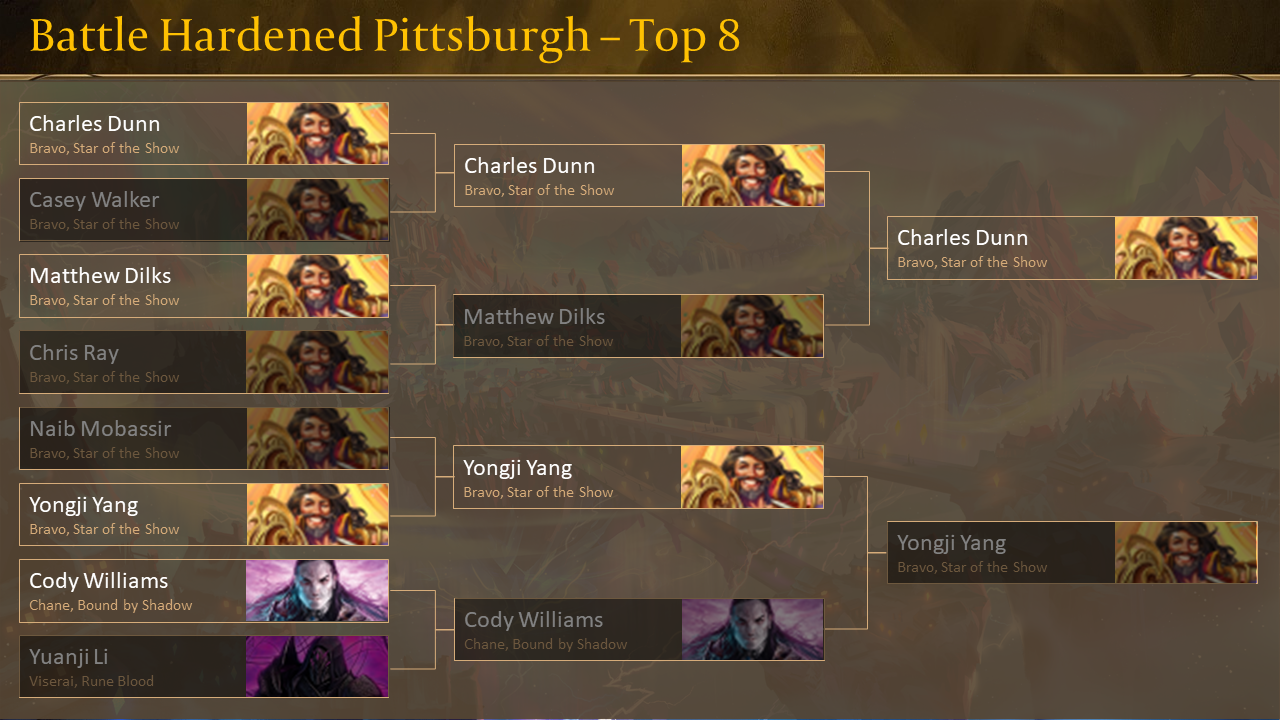 ---
Three stars fell in the quarterfinals, alongside original Runeblade Viserai, leaving Bravo players Matthew, Yongji, and Charles in the semi-finals, alongside Chane player Cody. The final match saw Battle Hardened alumni Charles Dunn and Yongji Yang face off for the title of the first two-time Battle Hardened Champion.
Charles Dunn followed up on his Battle Hardened: Philadelphia victory, making Flesh and Blood history, and securing another PTI for himself ahead of the Pro Tour events.
Congratulations to Charles and all our Top 8 finalists!
---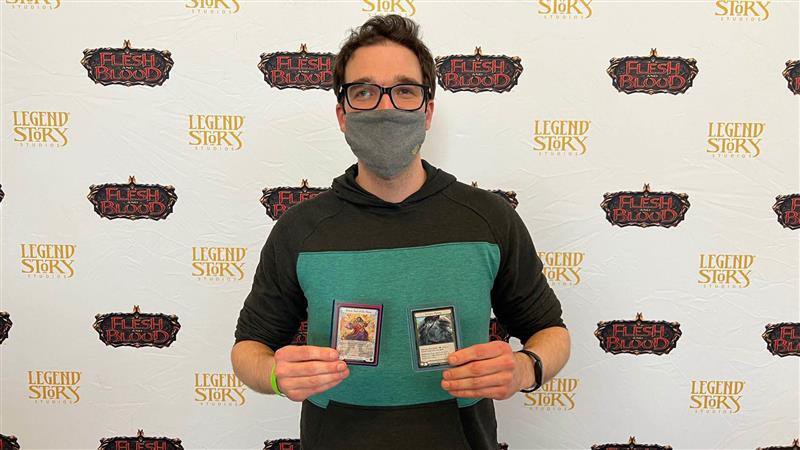 ---