The Battle Hardened series returned to Columbus last weekend with 136 players for the Fall Brawl event, masterfully put together by The Realm Games!
With just two weeks until the Flesh and Blood World Championship, this Classic Constructed event was the talk of the town as the world was watching, eager to see what the latest tech and metagame mutations looked like. Fai, Rising Rebellion and Iyslander, Stormbind led the pack at 24 and 21 pilots with Guardians, Oldhim, Grandfather of Eternity and Bravo, Showstopper behind them still in double digits with 15 and 10 players hammering their way through the field. Viserai, Rune Blood, Lexi, Livewire, Dromai, Ash Artist, Briar, Warden of Thorns, Rhinar, Reckless Rampage, and Dorinthea Ironsong were hot on their heels in terms of showing up to the brawl, then Dash, Inventor Extraordinaire, Levia, Shadowborn Abomination, Ser Boltyn, Breaker of Dawn and Azalea, Ace in the Hole fell in behind them as a represented cluster. Rounding out the field in terms of metagame share was a single Kano, Dracai of Aether, which saw all heroes apart from Katsu, the Wanderer show up and show out in Columbus!
---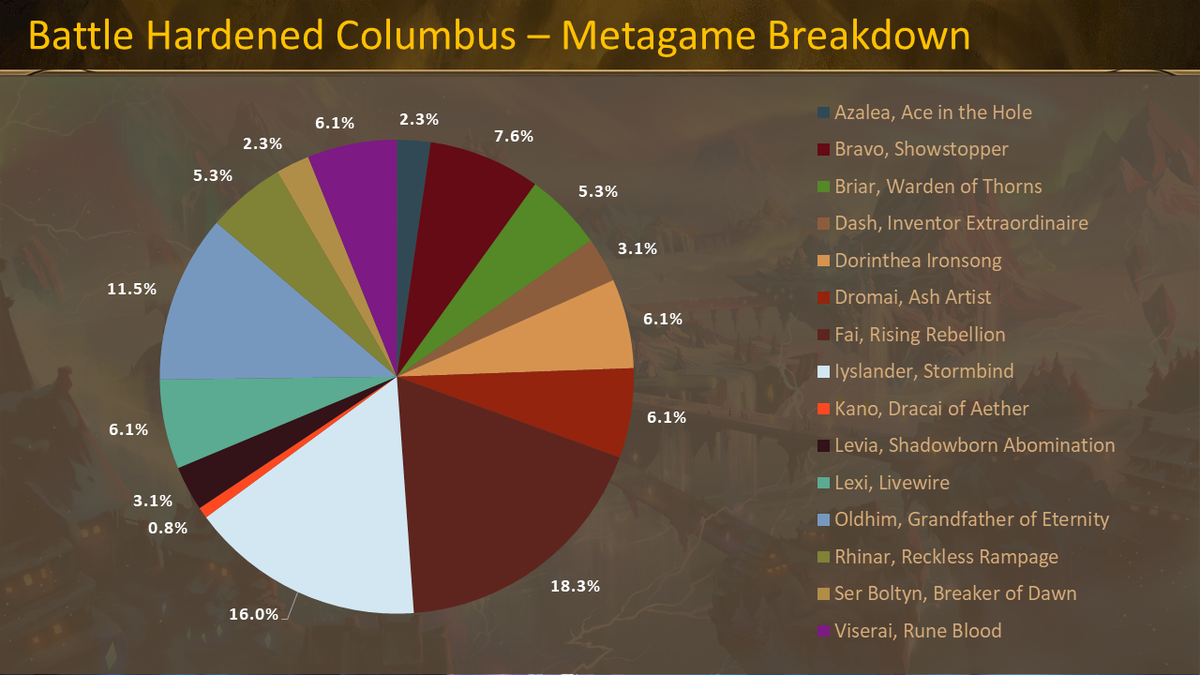 ---
The Fall Brawl was live worldwide on stream with Brendan Patrick, Matt DiMarco and more guest casters calling the action in spooktacular fashion while players fought it out in the Realm Games sponsored $10,000 prize pool weekend!
Speaking of spooky, the heroes of Rathe went to Halloween in the day long cosplay competition! Sash of Sandikai, Ghostly Touch and more made their presence known in the cosplay event which boasted $1000 in prize money.
But wait, there was more! Side events galore included UPF events, on-demand drafts, Blitz, team Sealed - even a draft at the speakeasy bar! The frighteningly long list of side events had something to satisfy even the most ghoulish FAB fanatics!
---
---
Oldhim made two appearances in the Fall Brawl Top 8. Ryan Rich, fresh of his victory in September with Oldhim the last time the Battle Hardened series rolled around, has competed at three Callings, two Battle Hardeneds and finished in the Top 16 at Pro Tour Lille. Michael Jaszczur has a long list of ProQuest and Road to Nationals Top 8s under his shield and can now add a Battle Hardened to those achievements as he looked to show that Oldhim still has a pulse in the Classic Constructed environment.
Fai was the most represented in the field and had the most pilots behind him in the Top 8 also along with Oldhim. Dan Groseclose knows his way around a Fai deck and Top 8'd Battle Hardened Syracuse with a draft deck. He hasn't just wandered into the Ninja class either, as he has finished in Top 8s of Road to Nationals events before with Katsu and was today looking to go all the way. Matt Muus of Canada was also representing the Draconic Ninja, ready to rise up and rebel against any and all in his way.
Viserai was as usual, dressed in his most threatening threads and fit right in at the Halloween themed extravaganza. Kevin Brayer, who has won a Road to Nationals with another Runeblade, Chane and had a brilliant showing at Pro Tour Lille with Viserai, was wielding the original Runeblade again today.
Wonderkid, Brodie Spurlock racked up another Top 8 with Briar, Warden of Thorns. He recently finished in the Top 8 at Battle Hardened Dallas Fort-Worth and has Top 8s at Battle Hardened Minneapolis, the 2022 United States National Championships and won Battle Hardened Dallas in April, demonstrating that he is a very real threat to the Fall Brawl Battle Hardened Top 8.
Dromai was brought to the Top 8 by Noah Clark, who has won ProQuest in the past with Prism, Sculptor of Arc Light. Now with Prism away, it was time for the Ash Artist to play, and Noah was determined to show that the newest and only Illusionist in town has what it takes to soar in this dynamic metagame.
Azalea modern day hero, Levi Rauch,who has seen seen several Top 8 finishes with Azalea at ProQuest and Road to Nationals events, and a Top 32 at Calling Indianapolis with Lexi, was once again representing the Ace in the Hole, coming off his last Top 8 finish at Battle Hardened Columbus last September.
---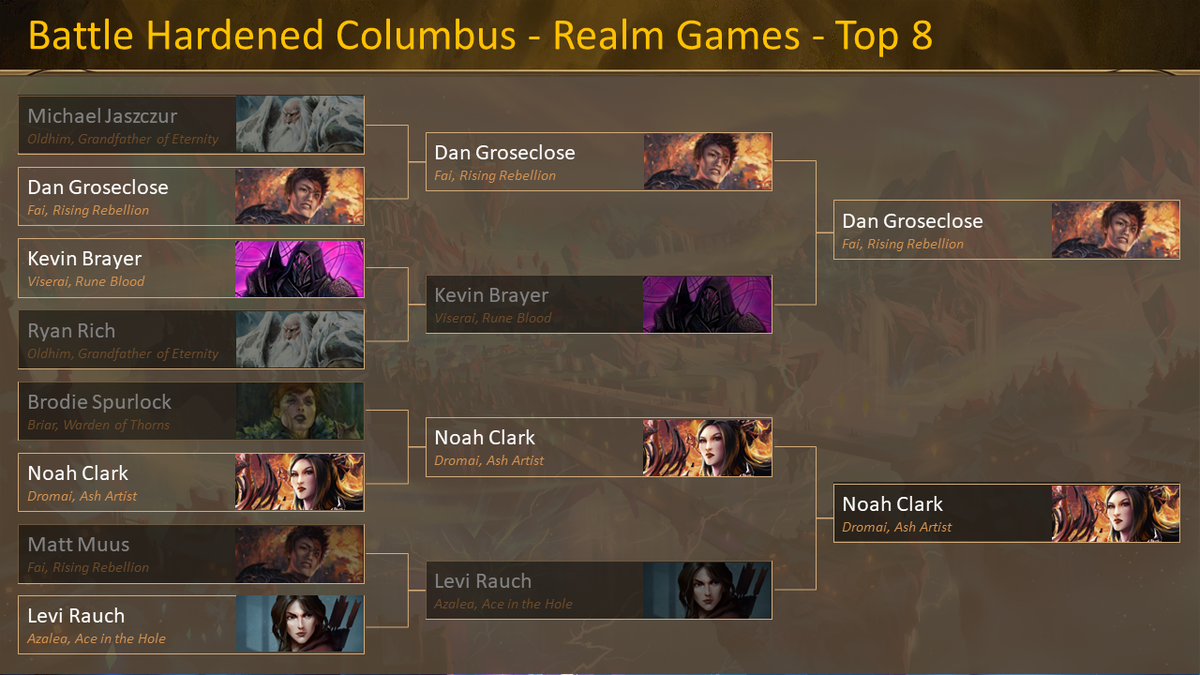 ---
The finals saw the sibling rivalry between Dromai, Ash Artist and Fai, Rising Rebellion reach a fever pitch! Noah Clark brought the Draconic Illusionist to the arena while Dan Groseclose brought the Draconic Ninja in one final battle to crown the Battle Hardened Columbus champion! Congratulations to winner and Battle Hardened Columbus Fall Brawl at Realm Games Champion, Dan Groseclose, achieving victory for Fai, Rising Rebellion!
---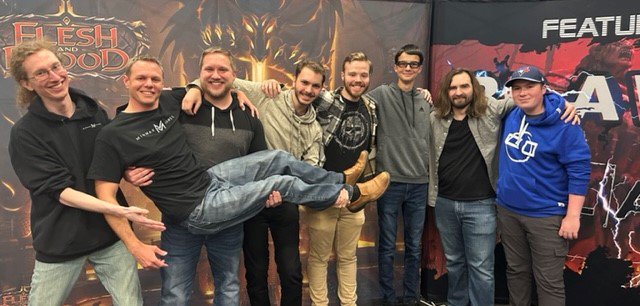 ---
---
The team at Realm Games caught up with Dan for a few quick questions.
What was the best card/combo in your Battle Hardened deck?
Two copies of Razor Reflex in my sideboard was the most impactful card choice.  I only changed a few cards in my deck from what I played at Nationals and Razor was the most important.  Using it to push additional damage through on Oldhim was definitely a difference-maker.  Razor was pivotal in all three of my wins in the top 8.
What is the deck to beat in the current meta?
I believe Oldhim is the deck to beat.  He can adapt extremely well to counter other decks and is very consistent.  I think Oldhim is a deck that really rewards players for their experience, and great Oldhim players seem to always find a path to victory.  
What is your favorite FAB set so far?
Welcome to Rathe is easily my favorite set.  I opened a Mask of Momentum in my first box of FAB and started playing Ninja.  Katsu will always be my favorite hero and my favorite deck to play.  The Farewell Welcome to Rathe events were also a ton of fun.  It was great to celebrate the set and draft Welcome to Rathe with everyone at our local shops.
What hero class do you wish would be released next?
I am hoping the next set brings an assassin from Misteria or a new version of Katsu. 

Is there anyone you would like to give a shout-out to?
I want to thank everyone at MinMaxGames for their support and helping me craft the deck.  I also want to thank all my friends at Gamers Haven.  You all taught me Flesh and Blood and our matches have been some of the most fun and most fierce games of FAB I will ever play.  Finally, I want to thank The Realm Games for putting on a great event.  You have done so much for the FAB community and I look forward to playing in many more of your events.
---