Kai of Cards was the first local games store in the Netherlands to champion Flesh and Blood, and one of the first in Europe to import the game. The store owner, Corné van Dooren, first brought FAB into the country in December 2019, a full ten months before official European distribution was even announced.
Corné was one of the founders of the Netherlands FAB community, and is one of the members of FAB Five, a content creation team aimed at establishing local community, and creating content for players the world over.
In the second of our local game store interviews, we sat down with Corné to discuss his journey in the Flesh and Blood, and how he fostered his local community at Kai of Cards.
'I first noticed FAB on Facebook at the end of 2019, just after Welcome to Rathe was released. We started doing board games, then TCG's, and when I found out about Flesh and Blood, I decided to order some stock directly from New Zealand. We played a few games, it was fun, but we didn't really have the time to invest in another card game. But then covid hit, and all the events got cancelled, so now we had time, and people started to ask us about Flesh and Blood. We still had some stock lying around, so we ordered more, because we were one of the first European stores to order directly from LSS, so we still had the account. We ordered stock, it came in the following week, and it sold out. We made another order but it kept selling out almost immediately each time, so we started ordering more until we were ordering the maximum amount of product that you could order.
We ran a lot of drafts because it's the easiest way for newer players to get into the game, because they can have a fun time playing, and if you make it affordable for people to draft, they can get the cards so they can continue to play. That worked quite well, up until the point around the release of Crucible of War, where we couldn't hold tournaments anymore because the situation with covid was getting worse. During December, we were in a full lockdown where events weren't possible, and we could only sell online, but the official release in Europe was also announced, so there was a lot more people interested in buying it, and from then on it just kept getting better and better for us.'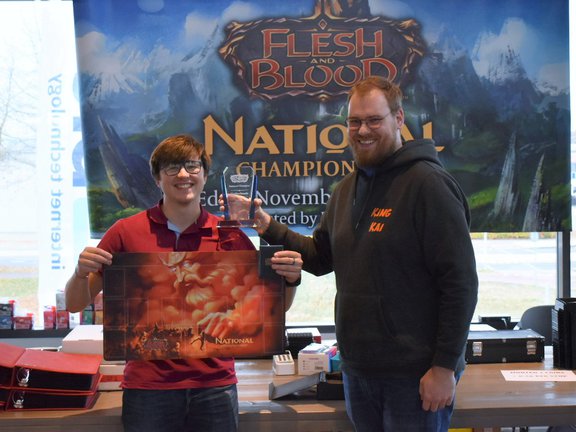 Corné knows a thing or two about organising events, with Kai of Cards hosting the Netherlands National Championship just last month. However, he emphasises that the key to fostering a local community is running casual events which encourage players of all kinds to participate, and create a fun environment for new players to join in and learn the game.
'We first started with the draft events, and when we had more people and everybody had the cards, we started to switch to more Blitz events, and then more Classic Constructed. We wanted, where possible, to give everyone a chance to play - we're starting up online events again now because covid is still a bit of a problem in the Netherlands, and just to get people- they're paying a lot of money for product so it's good for them to have a chance to play.
What I try to do with events is - I don't really make any money on events, I just try to- for example, we have an event now which is ten euros, I try to get as much value out of it as possible for players. Anyone playing gets two boosters for participation, a promo card, and then extra prizes, like if there's 16 people playing I might add a booster box as a random prize. It encourages casual players to join in, because in the past, I've had casual players- they want to play, but they don't want to pay a lot of money because then they're paying for a more competitive player to win the prizes. So as long as they get the value out of joining the event, and there's something for the more competitive players to win, you get more of a mix. The best way to do it is that all the money coming in from the event, you put it back into the event, because there'll always be somebody who wants to buy something from the store while they're playing.
With online events, it's more difficult, but that's kind of the way we're trying to make it grow, just make sure that everybody gets a good feeling playing in tournaments. It's not a good feeling when you pay a lot of money to enter a tournament and you don't get anything out of it, and that also scares away a lot of the casual players, and those are the players you really want as a store.'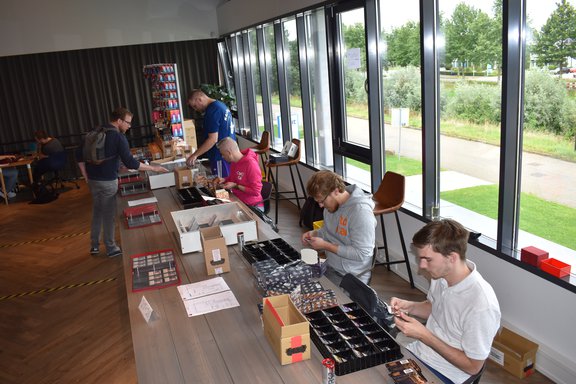 'This isn't the first TCG we've brought into the Netherlands, and we learned the hard way that if you make events too expensive, people won't come anymore. Only the competitive players, and they'll stay away as well if there aren't enough people to get a good prize pool. With the casual players, those are the players who'll buy the product just for fun, not because they need a particular card, they'll sell singles, they'll buy sleeves, they'll buy the cards that other people might not necessarily want, because there's a deck they really want to play.
It's more fun to see people coming in who just want to play, and the casual players - they want to win, but they also don't mind losing some games, and those are the people who are fun to have around, because they'll just come for a good time. What I like is seeing people who come to do something they like, and most of them time they're just happy to be there, and they are happy to buy stuff because it gives them a good feeling. It works really well for me, because it's just a lot of positive energy that you get in the store if you do it right.'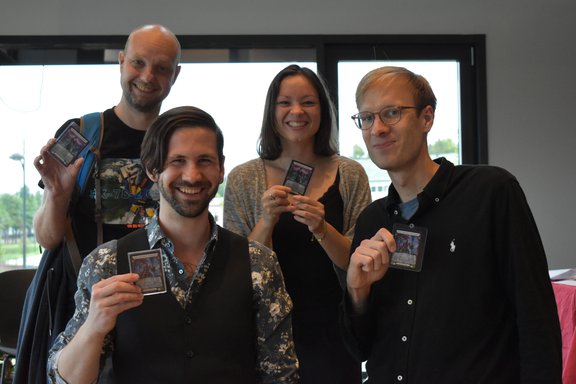 'We're really hoping that the Calling can go ahead in January, so we'll be one of the vendors there. We hope to do more as well, not just vendor-wise because it's good for the store, but also for the Dutch community, just to get more players on board, maybe something with another store as well, to make some sort of competition. If there's more places to play, if there's more tournaments to play in, if there's enough for people to do then they'll keep buying the product and keep on playing. I started doing this full-time at the end of April, so I'm really determined to get everything off the ground for a lot of events.
We really want to give players as many opportunities as possible to play in events. We want to give people the opportunity to buy what they want, to provide the product to people at affordable prices, and just try to get people playing as much as possible. Because it's a fun game, it's fun to see people play, and especially for what I've noticed in the current Dutch community, it's a little bit more mature than the other card games here that I know of, it's- a lot of people playing Flesh and Blood are already parents, they have children, they're a little bit older and they're all really relaxed, in for the fun more than trying to be the best in the game.
I remember when we started hosting drafts last year, there was one player with some sort of crazy luck who pulled a Fabled, and at Nationals he actually pulled a Fabled again. He always has the best luck with drafting, it's fun to be in a draft pod with him because you're just sure that he's going to open something good. Just seeing people's expressions when they pull something really good, seeing people playing, taking their time to explain things to newer players, it's a good feeling. It's a really nice mood, that's one of the things I like the most. Especially with sealed and draft, when somebody pulls something good, even if they get kicked all the other games they're playing, they're still buzzing, and that's something which is just really fun to see.'
While the concept of "local" community is slightly different in the Netherlands, where local game stores are fewer and further between, Corné worked to create an environment that fostered community play, which saw players travelling from across the country to participate - including two of his fellow members of FAB Five.
To other game stores around the world, Corné says that while there's no one way to foster community, and much of it depends on your store and the country you're in, incentives to keep players coming back to events won't go amiss. The key to community is fun, and if players are coming into an environment where both casual and competitive players are incentivised, and competing is valued above winning, they're more likely to have fun, and more likely to come back for another event.
'What worked best for me is just to do welcome events, and host sealed events, make it affordable for players. For example, the draft we did was 10-15 euros, something like that, it's the same price as a movie ticket in the Netherlands. Try to promote it in that way, especially if it's a draft, because players are also getting the cards out of it, as well as a day's activities, as well as the potential for winning something. For the same price as going to the cinema, or to the zoo, they can have a good experience and have fun. If they have a good time, then they like the game, and they're more likely to come back. Just try to get people into the game, and if they're into it, they'll buy product. You just have to get started. It will take some time and money to get the community started, but you need to start somewhere, and for me, the drafts worked because they were cheap and they were fun for players.
For me, I always try to look at it from the view of 'what would I like as a customer', if I would try a game, what would draw me in, what would make me want to play it. If you come at it that way, if it works for you, it will most likely work for other people as well. And most game store owners are also a little bit into the game, they play it themselves, they know a bit about it themselves, so you have a bit in common with them. If you were going to another store's event, would you go, would you join in, why or why not? Can you make these things work for your store, and use them in that way.
If you're wanting to start up a community, don't make it sound super competitive, push it as a fun afternoon to learn the game and see if it works for you. I like to emphasise- we had something similar with board games, where parents were talking to us about how expensive they were, and I'd say "does your son or daughter have a Playstation, or an Xbox? How often are they buying games for it?" 60 euros sounds like a lot, but they're spending the same on a Playstation game, and they play that on their own, whereas with a board game, they're playing it with other people.'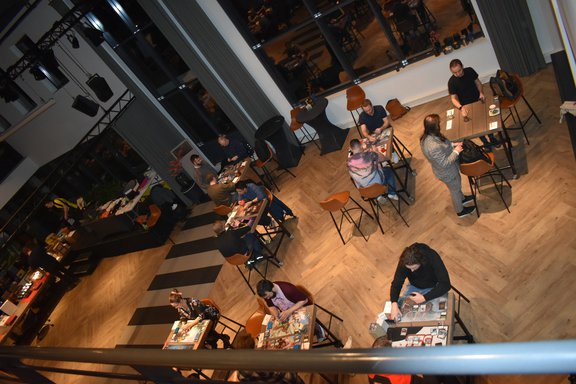 'If you can make it fun for people, and get them to see it as a form of entertainment, and at a certain point, if you have like eight people who draft regularly, who have the cards and have decks, you can start to host tournaments, and try to keep it as fun as possible. Personally, I like to do events in such a way that winning is good, but competing is more important, more people playing is better than just some person winning a lot of stuff. Yes, have a prize for the winner, but also have a raffle or something so other people want to continue playing. And that way if you have other people coming into the store, they can always join in.'