The Lille Grand Palais became the center of the Flesh and Blood world this past weekend as the second Pro Tour took up residence in France. Alongside the Pro Tour, Lille also hosted a Calling and a Battle Hardened event, plus a number of side events.
The creative forces behind the game were on hand to join the fans in celebration, and in fulfilling the mission of the game; to bring people together in the flesh and blood, through the common language of playing great games. Artists Federico Musetti and Othon Nikolaidis were in attendance, as were cosplayers Miss Chalice and Valera and content creator Pleasant Kenobi. Flesh and Blood's creator, James White, opened the weekend himself, presenting the assembled crowd with their first peek at the upcoming Dynasty expansion: Emperor, Dracai of Aesir.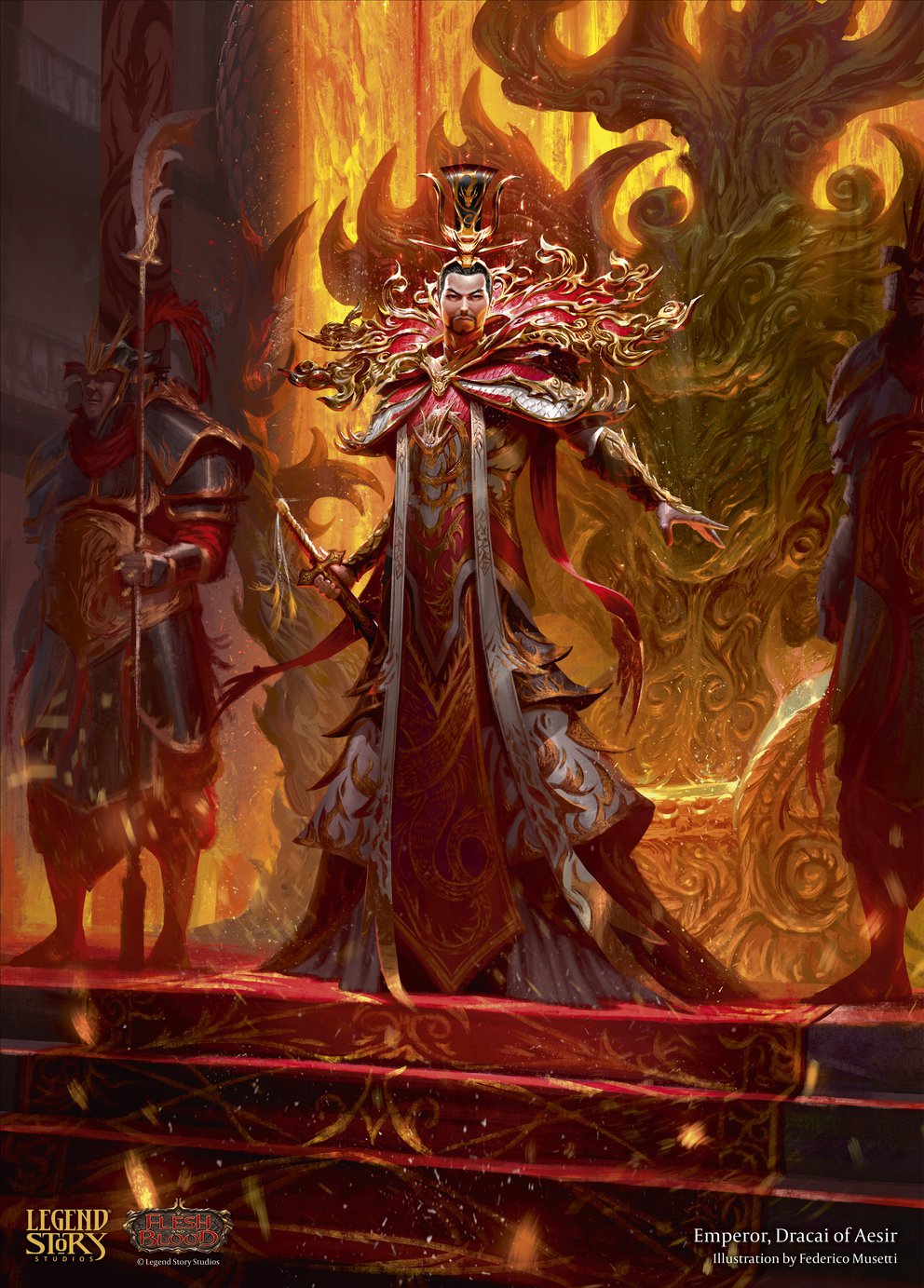 Friday
Pro Tour - Day One
354 players from around the world arrived with invitations in hand to compete for the title of Pro Tour Lille champion. Among them, notable players included:
Pablo Pintor Espinosa (Spain): 2022 Pro Tour New Jersey Champion
Yuki Lee Bender (Canada): 2021 Canada National Champion
Sebastian Grøndal (Denmark): 2022 European Champions' Battle & Battle Hardened Krakow Winner
Hayden Dale (Australia): 2019 Calling Sydney & 2021 Australia National Champion
Matt Rogers (New Zealand): 2020 New Zealand National & 2021 Calling Auckland Champion
Tyler Horspool (United States): 2021 Calling Las Vegas Champion
Tariq Patel (United States): 2021 United States National Champion
Sasha Markovic (New Zealand): Pro Tour New Jersey Top 8 finisher, 2019 Calling Austin & 2020 Calling Auckland Champion
Michael Hamilton (United States): 2021 Calling Orlando & 2022 Calling Indianapolis Champion
With this being the second Pro Tour in Flesh and Blood's history, the prestige of the crown could not be overstated. A second Pro Tour win by Pablo Pintor would firmly establish his position at the top of the FAB world, and prominently place the young European community on the competitive landscape. In contrast, the more developed U.S. and New Zealand communities were hunting for a Pro Tour championship of their own; the success of either would place the other outside this elite circle!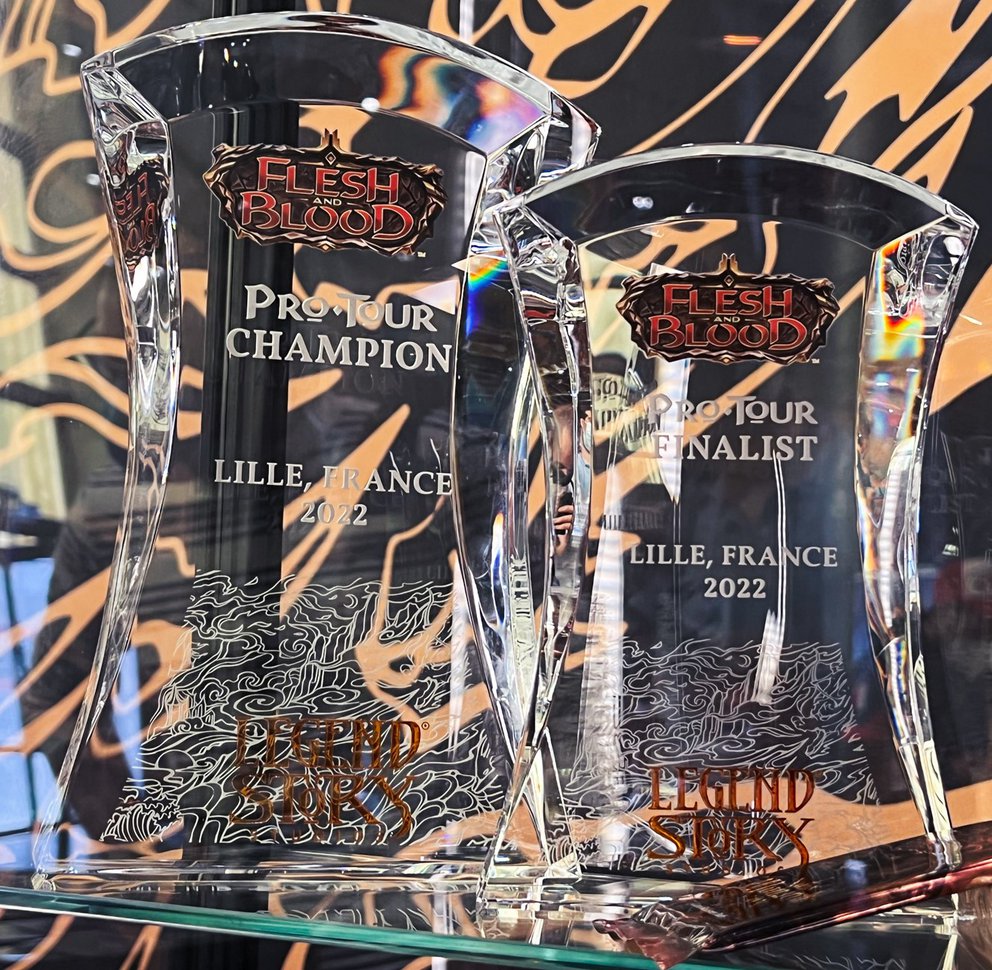 Perhaps of wider interest than regions was the representation of heroes, and the Pro Tour saw an incredibly diverse selection, with 16 different heroes across every class and talent making appearances. All eyes were on Prism, Sculptor of Arc Light, who came into the weekend with 998 Living Legend points; a win this weekend would close out her Classic Constructed career to join the ranks of icons Bravo, Star of the Show and Chane, Bound by Shadow. However, the players still believe in the power of Runeblades, backing Briar, Warden of Thorns and Viserai, Rune Blood in great numbers. Newcomer Fai, Rising Rebellion continued to build momentum among the aggro player base, joined by a resurging interest in Dash, Inventor Extraordinaire. For those who liked to slow it down and control the game, Guardians remained the preferred class, with Bravo, Showstopper and Oldhim, Grandfather of Eternity showing up in equal measure.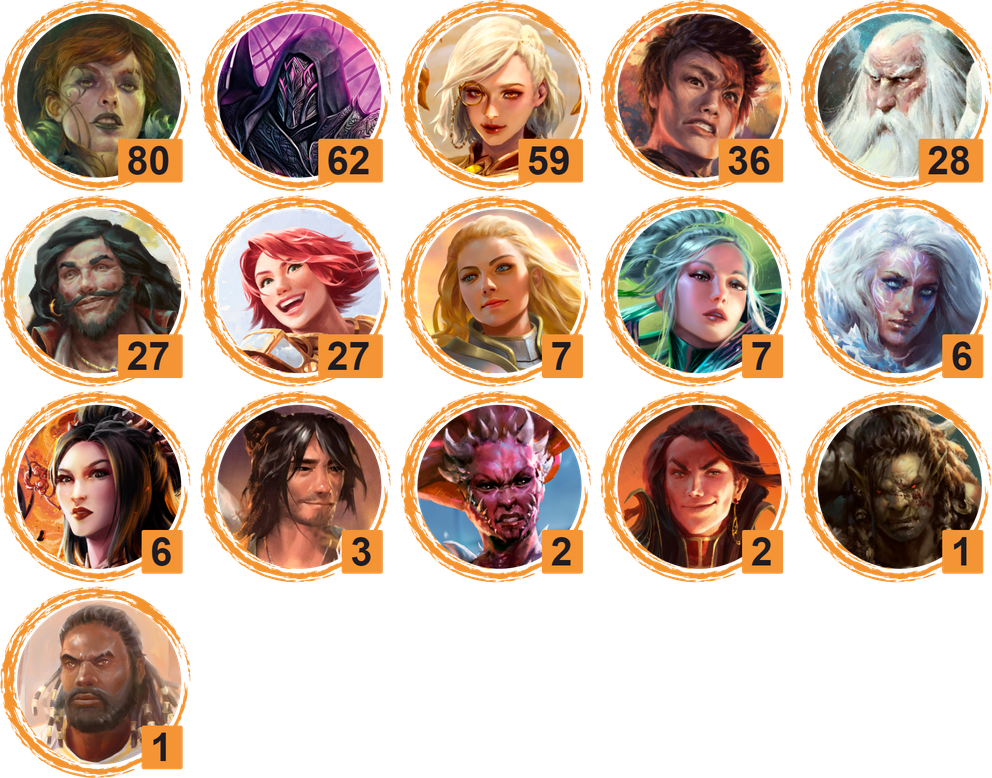 Before the competitors could unleash their constructed gameplans, they had three rounds of Uprising Draft to play. This mixed format- the first event run in this fashion- was designed to test deckbuilding, improvisation, and fundamentals; the Pro Tour champion to be crowned at Lille would truly be a master of all aspects of Flesh and Blood!
Fai was the favorite in Day 1 drafting, with 147 players choosing to run the Draconic Ninja. Dromai and Iyslander were drafted by 105 and 102 players, respectively. 3-0 conversion rates after three rounds were fairly close, with Dromai claiming a slight edge at 12.4% to Fai's 11.6% and Iyslander's 10.8%- but truly, a player's choice in hero was no indicator of their prospects for success in the draft.
Over the course of the next 4 rounds, a few players set themselves up as names to watch out for. Easton Douglas followed up his 3-0 draft with a 4-game winning streak piloting Lexi. Dagan White showed his mastery of Fai across both formats for a 7-0 Day 1 record. Chu Heng Eng joined them on the undefeated pedestal by successfully drafting Iyslander before taking up Prism. Notable 6-1s included Sean Knowelden (Oldhim), Shahmir Samee (Briar), Kevin Brayer (Viserai), Sebastian Grøndal (Briar), Viet Pham (Prism), and Pablo Pintor (Viserai).
The day ended with the field narrowed down to 270- and Rhinar, Reckless Rampage out of the running (Justin Vandehey, thank you for championing the original Brute).
Saturday
The Calling - Day One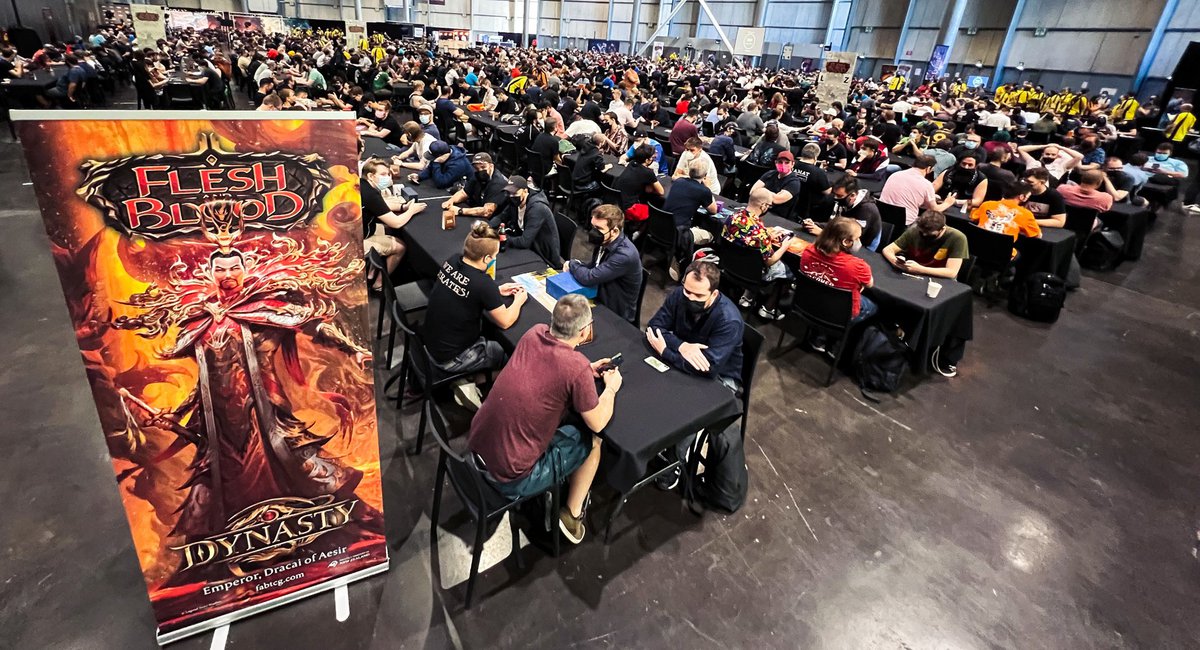 Without the prerequisite of a PTI, the open-entry Calling saw 575 players vying for an invitation to the next Pro Tour- including many Pro Tour players who saw their journey come to an end the day before. With less at stake, the meta saw more players taking chances- all 17 Classic Constructed heroes showed up this time around, including Azalea, Ace in the Hole, who was notably absent from the Pro Tour main event!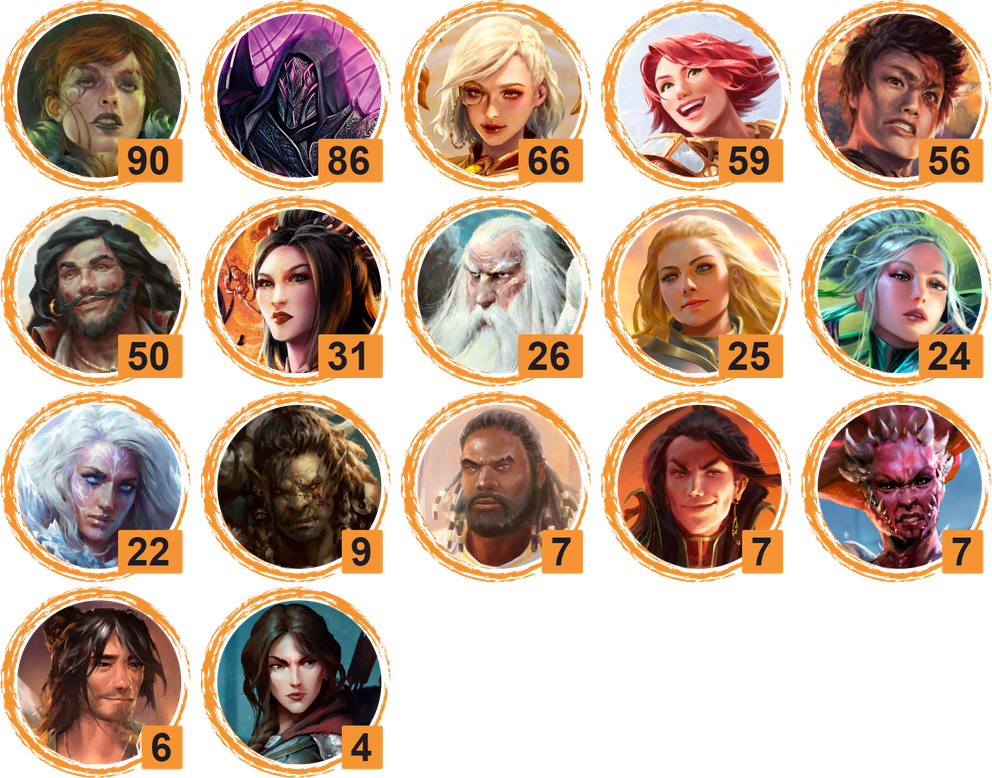 While the very top of the Calling meta looked fairly similar to that of the Pro Tour, it's worth noting a few shifts. Dash zipped forward to become the 4th most popular hero, nearly reaching Prism's level of representation. Guardian players opted for Bravo nearly 2 to 1 over Oldhim. Dromai, Ash Artist began to amass a following, preparing to take up the Illusionist mantle. Dorinthea Ironsong, Lexi, Livewire, and Iyslander, Stormbind all went from single digits to 20s and no one hero made less than four appearances.
The Calling had no draft segments- just straight Classic Constructed play- so players had to stand on their deck's performances alone. As Saturday came to an end, four heroes- Rhinar, Levia, Azalea, and Katsu- had been entirely eliminated, and 80 players advanced to Day 2.
Cosplay Contest
The incredible art of Flesh and Blood has inspired a cosplay community of its own, and on Saturday the heroes of Rathe came to life in what has become a tradition: the Pro Tour Cosplay Contest. The highly exclusive Taylor promo card and a copy of the sought-after lore book World Guide Volume 1 were on the line, and fans brought their A-games to Lille in pursuit of the prize!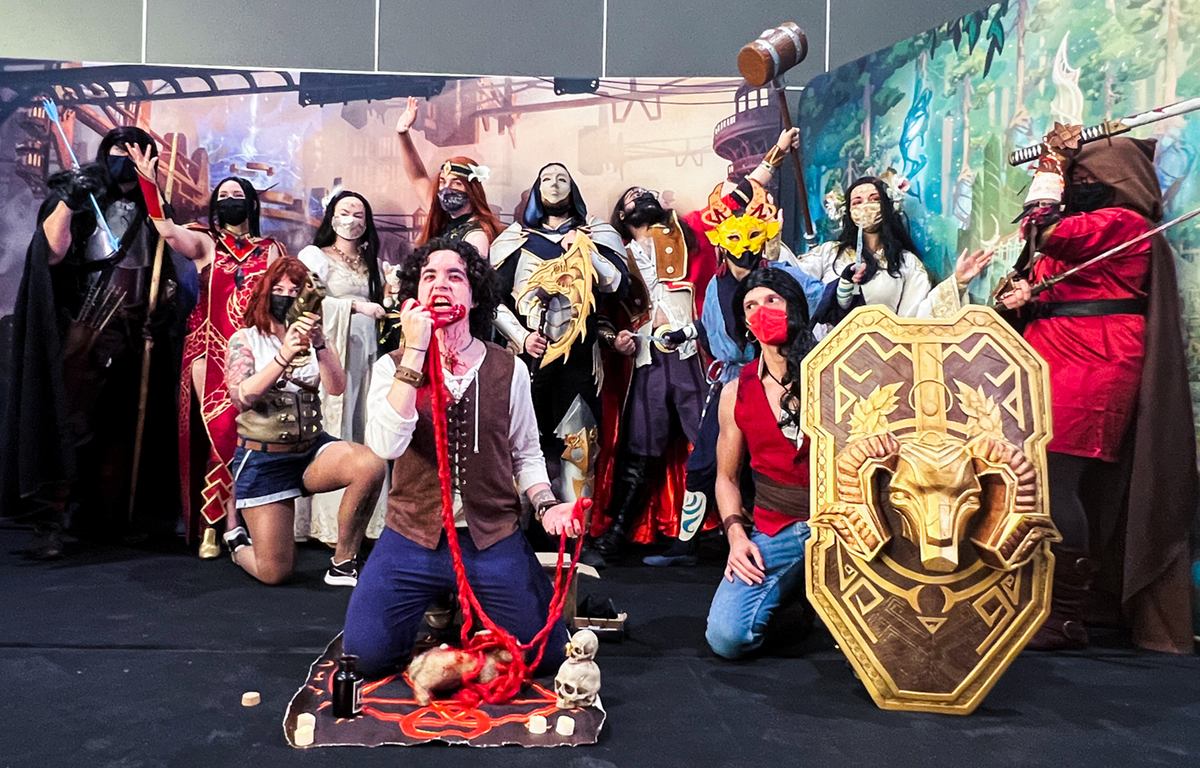 Nicolas Brosse from Black Citrus furniture designs brought an amazing armory inspired by the iconic equipment of the game, including the Dawnblade, the Rampart of the Ram's Head, and the Crown of Providence. Cosplay artists Valera (as Ira) and Miss Chalice (Azalea) lent their expertise to the judging.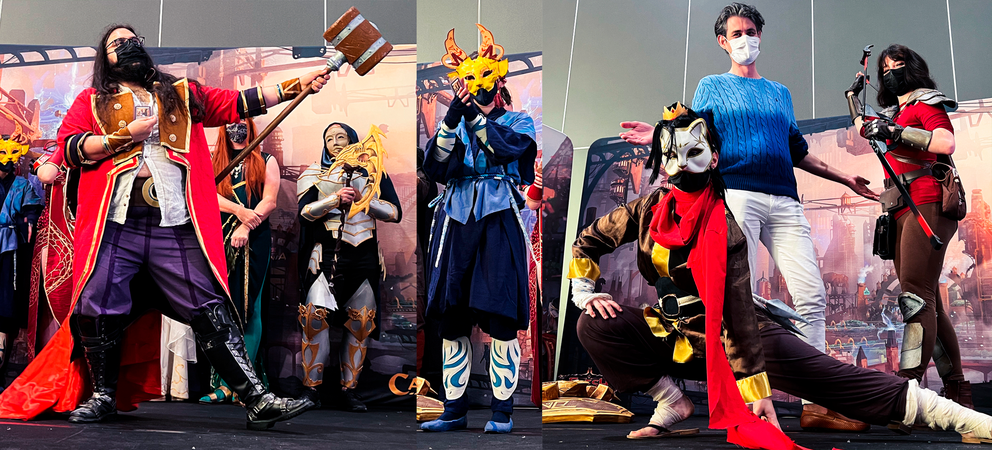 In the end, Eser Edgar Unger took home the top honors with a highly detailed Benji cosplay, with Andres Sandoval claiming second for channeling Bravo's Star of the Show attire while content creator Ethan Vant Sant a.k.a Man Sant was the recipient of the World Guide Volume 1 for his cosplay and performance of young Levia. Truly, the bar keeps rising!
Pro Tour - Day Two
All eyes were on the second day of the Pro Tour. 197 players from Singapore, the United States, Poland, Spain, Great Britain, Denmark, Germany, Netherlands, France, Italy, New Zealand, Finland, Australia, Norway, Belgium, Portugal, Austria, Canada, Croatia, Sweden, Switzerland, Romania, and Slovakia had all returned to make a run for the top.
After three more rounds of Uprising draft, only one player remained undefeated; Chu Heng Eng, who once more drafted Iyslander.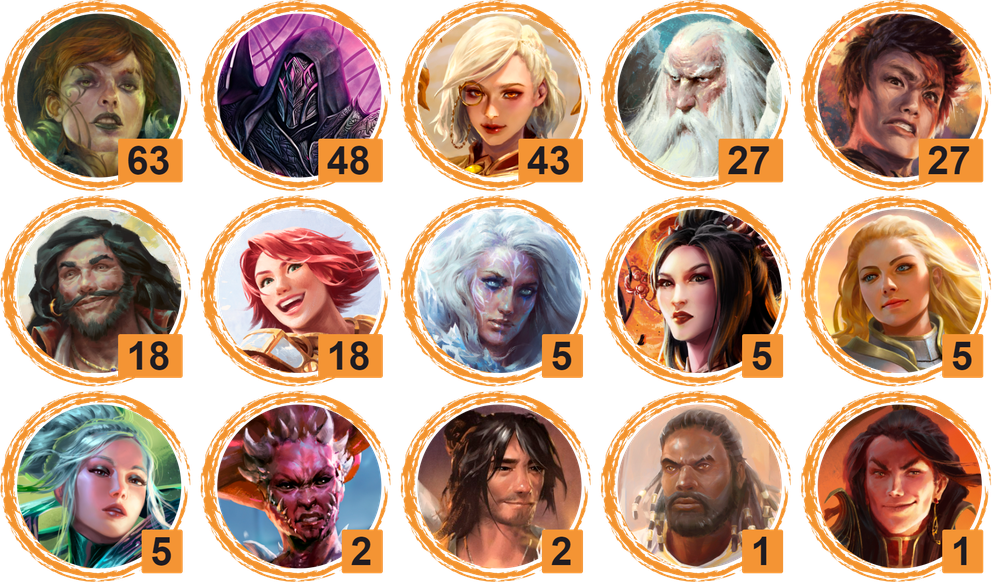 Pro Tour New Jersey champion Pablo Pintor also managed a 3-0 draft, joining Easton Douglas at 9-1 and setting himself up for a faceoff with Chu Heng Eng on camera in round 11. It was there that Pablo's Viserai brought Chu Heng's perfect streak to an end- and with that, no player would go undefeated to the top of this event.
Beneath them, the next eight players all had two losses on their records, and the list of 8-3 players stretched to 38th. Among them, Prism, Viserai, Lexi, Oldhim, Briar, Fai, and Dash were all represented.
By the end of round 12, a clear top 24 had emerged, with Pablo Pintor at the head of it. With two more rounds before the top 8 cut, each movement among the ranks carried incredible significance.
In round 13, we watched Jonathan Magnuson taking Oldhim in an unexpected new direction, defeating Daniel Rutkowski's Fai by firmly taking the offensive and setting himself up for a shot at the top 8. Pheano Black stole a game from Pablo Pintor, Matthew Foulkes gave Chu Heng Eng his third loss, and Bartosz Ziemba staved off a challenge from Viet Pham, reorganizing the top of the list; the 10-3 records (all still viable contenders for top 8) stretched from ranks 5 to 15. Viserai, Briar, Prism, Oldhim, and Dash all remained realistic prospects.
As day 2 came to a close, Shahmir Samee, Ian Zhang, and Christian Hauck all snagged last minute wins to secure their spots in the Top 8. Pheano Black, Pablo Pintor, Matthew Foulkes, Bartosz Ziemba, and Jakub Irzyk held onto their positions, with Cody Williams and Michael Feng narrowly missing the cut with comparable 11-3 records. No constructed deck had gone undefeated in both days of competition; even the highest ranked players carried two losses with them to the top. Briar, Viserai, Prism, and Dash were all on tap for Day 3 competition.

Sunday
Battle Hardened
The Battle Hardened at Lille was a showcase of drafting skill, with 252 players settling in for two three round drafts. Strategically placed on Sunday, the Battle Hardened was available to all but the top 8 from the Pro Tour, which meant the competition was fierce!
In a draft pod, reading the other players' inclinations is important for success and while Fai may be a popular choice for Uprising, the players who stray from that path can find rewards in a stronger, less contested card pool.
For draft number one, 101 players drafted Fai, 79 chose Iyslander and 72 players picked Dromai.
155 players remained for the second draft, and this time Iyslander and Dromai saw more interest.

When the dust settled, the top 8 consisted of Ben Hannan, Charles Dunn, Chris Iaali, Craig Pollick, Freddy Friedrich, Jacob Shaker, Jamie Faulkner, and Michael Hamilton. They sat down to one final draft pod, wary of passing anything helpful to their rivals lest they come to regret it.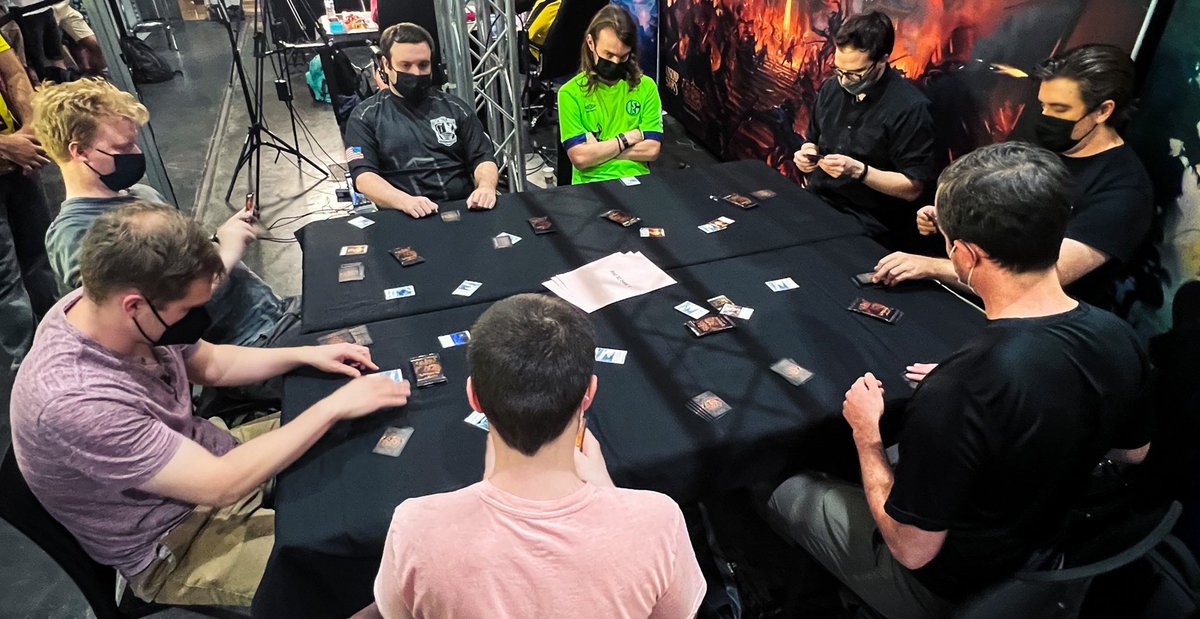 To the winner: USD$500, a gold cold foil legendary, the exclusive Battle Hardened playmat and an invitation to a future professional level event. In an unexpected turn of events, only Michael and Jamie backed Fai; Charles, Chris, and Jacob threw their lot in with Dromai, while Ben, Craig, and Freddy tried their hand at Iyslander. With Fai's card pool less diluted than usual, Michael Hamilton was able to push through three rounds to claim the coveted title of Battle Hardened champion!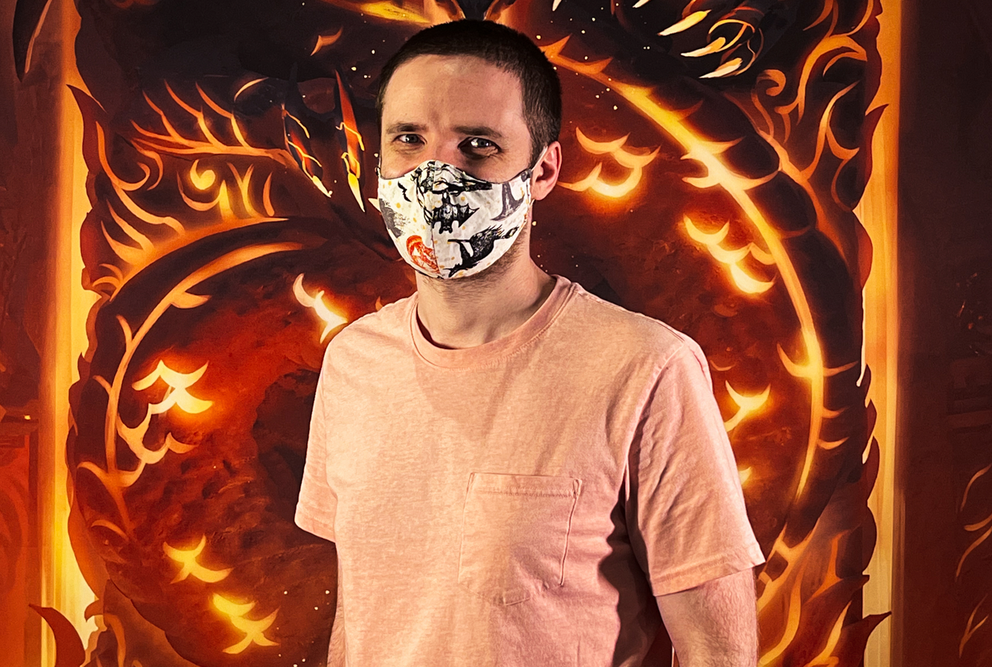 The Calling - Day Two
Back at the second day of the Calling, eighty players and twelve heroes remained in contention. Prism, Briar, and Viserai carried the greatest representation, and between them accounted for more than half the field; but Bravo and Dash had also seen widespread success.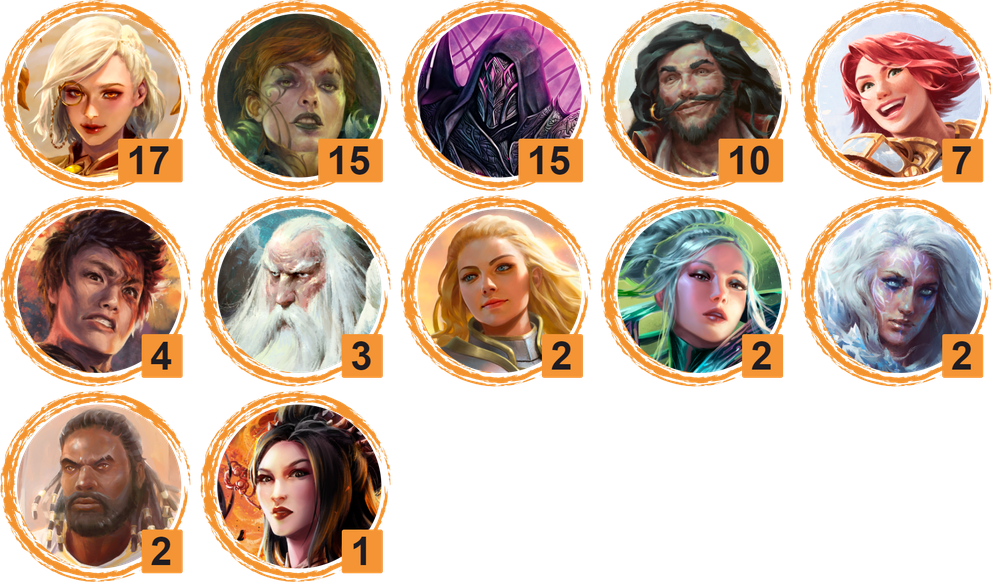 A less common deck on Day 2 is often a cause for concern; to see them that far in the tournament, a player needs to have developed their gameplay and refined their decklist, and perhaps has found a unique angle to come at the meta from. This seemed to be the case with Ignacio Riego's Dorinthea, who found a spot among the Top 8 utilizing the new Glistening Steelblade from Classic Battles to quickly build up counters on the Dawnblade.
As we saw in the Pro Tour the day before, Dash was perfectly capable of making a Top 8, this time piloted by Tom Tydecks in the Calling. This deck came ready to equip either Teklo Plasma Pistol or Talishar, the Lost Prince, prepared to fight a fatigue game or race damage depending on the matchup.
Adrián Marín made the top 8 with a Viserai deck that prioritized aura synergy, featuring a full suite of Shrill of Skullform and Mauvrion Skies. It harkened back to the days of tall Runechant stacks, with many ways of generating arcane damage en masse.
Wojtek Klimczyk and Łukasz Szczepanowski both hoped to see Briar bloom in the finals. Their decks followed an Earth-focused gameplan with plenty of card searching to find Channel Mount Heroic and maximize Briar's damage output.
Yuki Lee Bender- famous for her success with Lexi- showcased her range with a Prism build for this event, and was now among the three players carrying the Light Illusionist into the Top 8. Featuring Fractal Replication and a larger composition of 'Light-free' Illusionist attacks that remain on the chain to copy, Yuki was one of two representing the next evolution in Prism's gameplan. The other, Sergio Sanz Guerrero, had snuck a few Erase Faces into the list. Joris Verhelst rounded out the Prism triad, with a higher blue count and a larger concentration of Heralds to fill the soul.
The quarter-finals eliminated Tom, Adrián, Ignatio, and Yuki, setting up parallel Prism v Briar pairings. Wojtek overcame Sergio, while Joris bested Łukasz, culminating in a third Prism v Briar to decide the Calling winner.
Wojtek's Briar dealt heavy damage early, and Joris was forced to fight back with a quarter of Briar's health; but the slow buildup of auras were evidence that Prism was making progress of sorts, building a board state that would allow Joris to pressure while maintaining defenses. In a dramatic gambit, Joris let himself slip to 1 health- and maintained it for multiple turns against Briar's two-pronged assault of physical and arcane damage. Thanks to a slow buildup of counters from Shimmers of Silver, he was able to reduce Briar's threats, until he could return with enough pressure from hand and board to close out the game.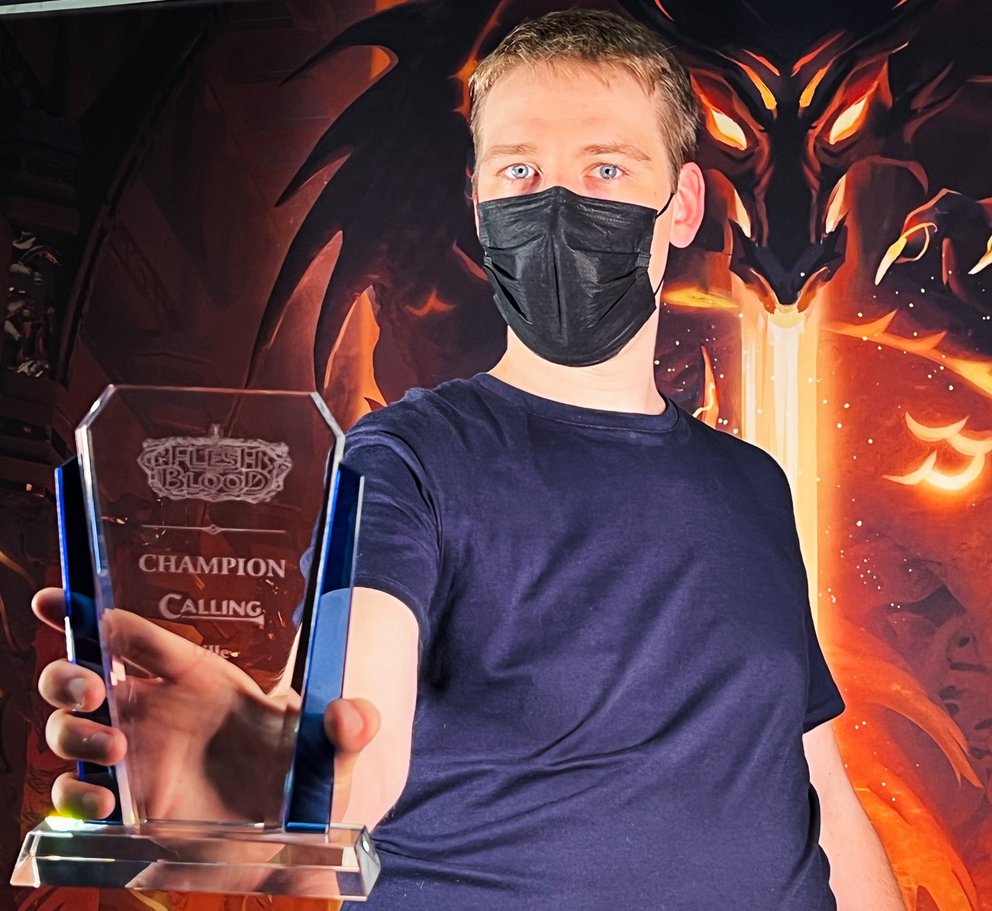 Joris Verhelst claimed the title of the Calling champion at Lille, but his legacy shall stand as the last person to play Prism, Sculptor of Arc Light in the Classic Constructed format; the very next day, Prism, Sculptor of Arc Light earned her place among the Living Legends of Flesh and Blood.
Pro Tour - Day Three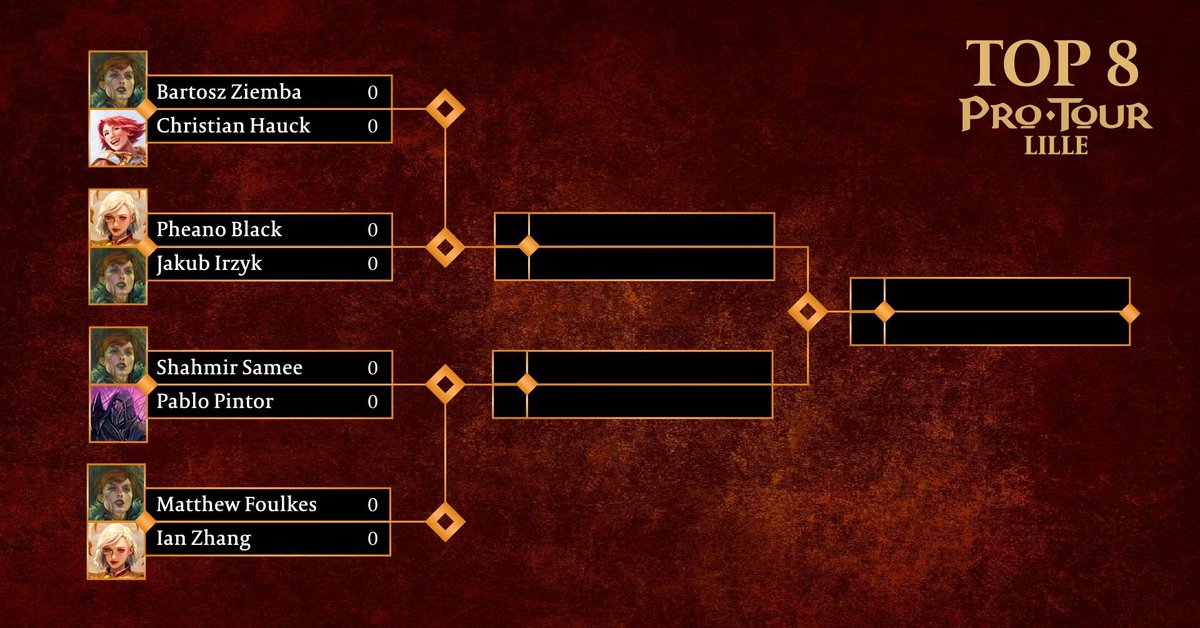 The stage was set for the culmination of the three-day Pro Tour Lille.
Christian Hauck opened his Dash game by revealing a Teklo Pounder, indicating his plan to race against Briar. Bartosz understood quickly that his role was to outlast the barrage, and spent the game ensuring an Embodiment of Earth was always online to raise his defenses. With Briar at 11 to Dash's 21, Christian's deck ran out of gas, and he was forced to concede to the inevitable fatigue loss.
Pheano Black approached his matchup with Jakub Irzyk intent on building a board; but Briar had plenty of extra attacks to deal damage while clearing anything Prism might establish. Without gaining any long-term assets, Pheano was only bleeding damage in a slow decline; he had to pivot. Shifting to a Herald assault, Briar began to take damage- but the momentum remained on her side, and Jakub was relentless. Leveraging health for the sake of attack pressure, Jakob finished it with a Snatch- enhanced by two copies of Channel Mount Heroic.
Pablo Pintor- searching for his second Pro Tour title- was also set on proving Viserai to be the superior Runeblade; but Shahmir Samee had defied the odds already to make Top 8, and wasn't about to be intimidated by the New Jersey champion. Trading blows at a roughly even pace, Shahmir found a chance to break the pattern with a Channel Mount Heroic in arsenal and a second in hand. Accepting whatever damage Pablo had to offer, Shahmir rolled a Force of Nature into Channel Mount Heroic into Snatch, threatening lethal with a card draw- and forcing Pablo to throw his entire hand at the defense. That gave Shahmir another turn to continue the assault- but a bad draw turned it back to Pablo for another chance. Unable to make the most of it, Shahmir didn't let his next opportunity slip away, and kept the pressure on from there until finally Viserai fell.
Matthew Foulkes took it slow as he developed a strategy to dismantle Prism's slow and steady aura game. With a slightly different Briar build than his fellow Top 8 contemporaries, Matt was looking to cycle for the right cards, keeping Prism at bay on his off turns while priming for explosive onslaughts. Maintaining a high life total became a key advantage for Matt, as Ian strived to find the perfect balance between defenses and attacks- at any moment, Briar could misfire and the entire game would cascade in Prism's favor- but that moment never came, and the fourth Briar joined the Elemental Runeblade semi-finals.
The semi-final between Bartosz Ziemba and Jakub Irzyk was a steady back-and-forth until only a few points of health remained on each side of the table. In the end Bartosz dropped a critically timed Sigil of Suffering on Jakub's final attack of the turn, putting him to 1; and with no arcane barrier, a single Runechant on Bartosz' next turn ended Jakub's run.
Shahmir's semi-final match against Matt took a bad turn when his Sonata Arcanix came up empty early in the game. Matt made the most of the low-pressure exchange and doubled down on the damage he was sending over the table, again weaponizing a comfortable health cushion to its maximum advantage. Shahmir nearly turned the tide with a late-game Channel Mount Heroic, but it wasn't enough to make back the ground he needed, and Matt simply weathered the barrage, betting it all on a damage-pumped Overload into a Rosetta Thorn for game.
This set up the Grand Final as a showdown between Bartosz Ziemba of Poland and Matthew Foulkes of the United Kingdom- a true European showdown on the stage at Lille. Bartosz exemplified the frenetically aggressive style that Briar's known for, but Matt had dealt with that before, and his decklist traded away that optimized aggression for greater defensive potential. Again, Matt traded early card play for a life total cushion, and found himself in control of the tempo by the mid-game. Bartosz proved the value of the aggressive approach, and brought Matt down to 1 life from a massive health advantage. But given one last turn, Matt was able to successfully deal damage with Sonata Arcanix, pitching a yellow for a Runechant before closing with the signature Rosetta Thorn.
Matthew Foulkes is the second Pro Tour champion, his Briar standing apart from the other players in the field thanks to his novel approach to the decklist and playstyle.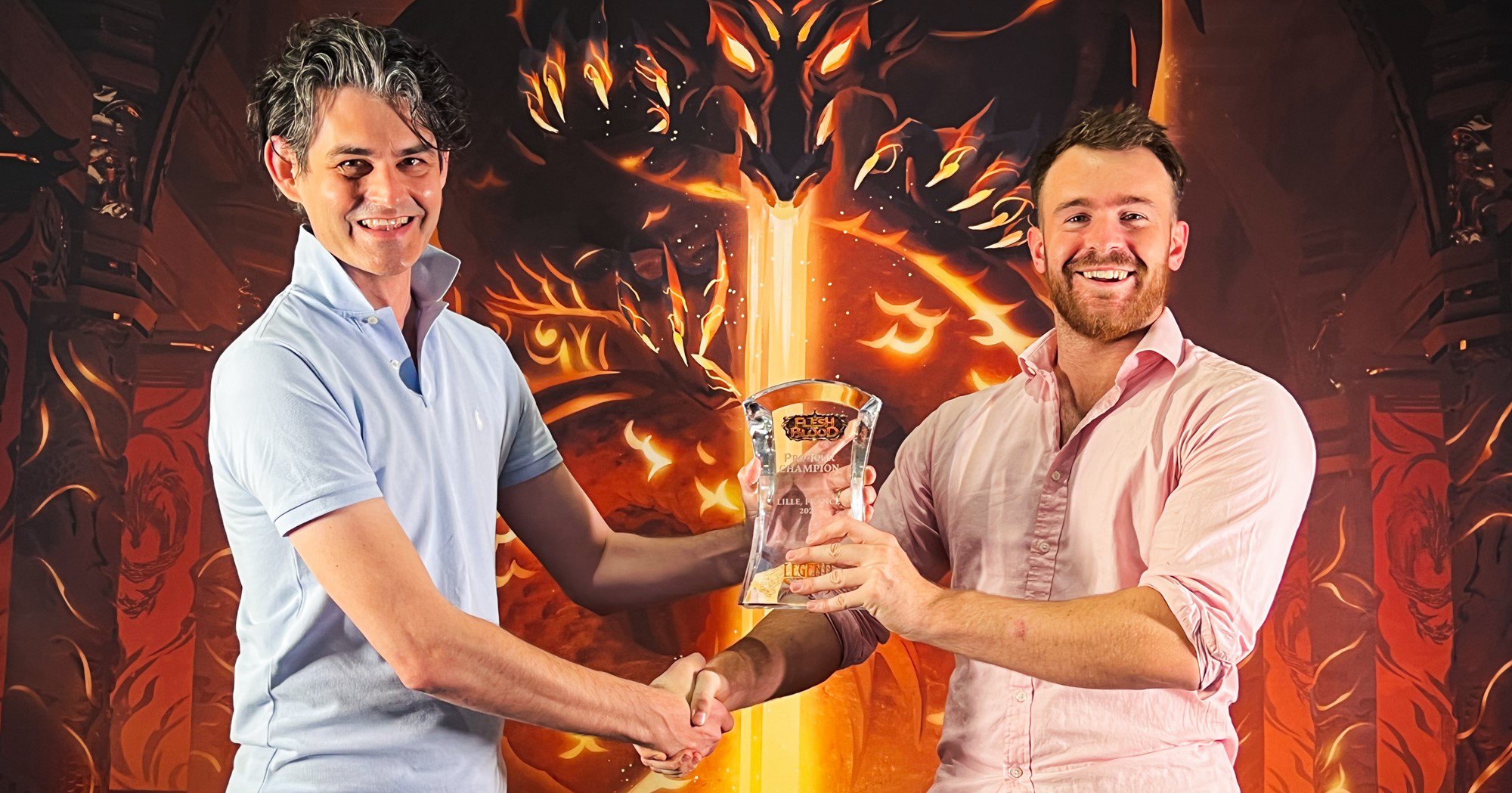 And with that, the second Pro Tour comes to a close. A new champion is crowned, a hero becomes a legend, and the city of Lille is immortalized in the history books of Flesh and Blood.