---
Sunday - US Nationals Top 8
We have our champion and a new Living Legend! Charles Dunn and Briar outlast Evan Herndon and Lexi in a dramatic final.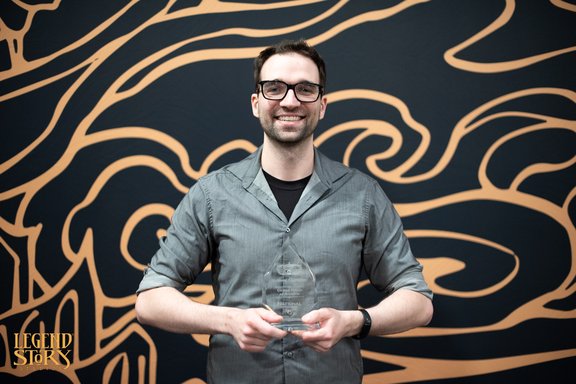 Charles Dunn's journey to the championship started with a 2nd place finish (to his best friend who shared the same deck) at his local Road To Nationals at SydeQuest Games in Wadsworth, Ohio and ends in a glorious victory in Las Vegas, Nevada. He outlasted 522 players to claim the title, the $10,000 check, and an invitation to continue his quest for glory at the World Championship in Barcelona, Spain this November.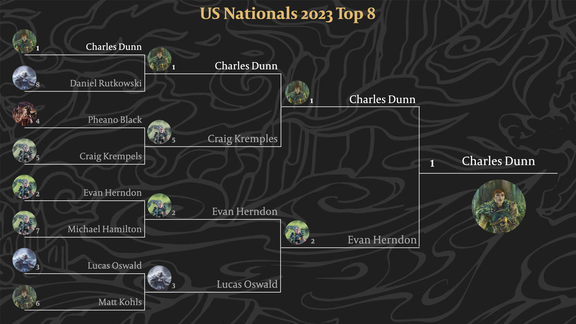 The 1st through 4th seeds in the bracket (Charles Dunn, Evan Herndon, Lucas Oswald, Pheano Black) all finished swiss with 12 wins while the 5th through 8th seeds (Craig Krempels, Matt Kohls, Michael Hamilton, Daniel Rutkowski) got in on 11 wins and having better tiebreakers among the 10 players who had the same number of wins.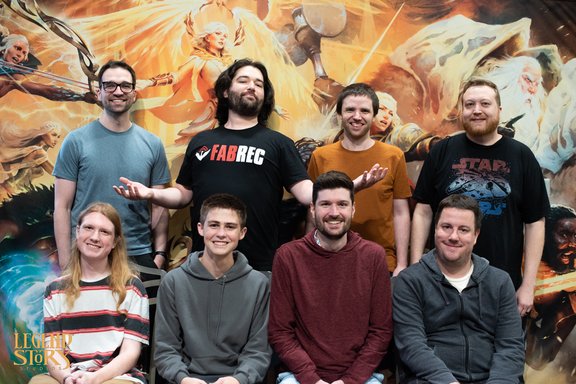 With the 100 points from this event Briar, Warden of Thorns and her signature weapon Rosetta Thorn will have enough points as of the next tally to become a Living Legend and Charles Dunn. Briar will still be in play for the rest of Nationals season as the totals are only checked at each scheduled Banned & Suspended announcement (which will occur on September 19th).
---
Sunday - The Calling: Las Vegas 2023 Top 8
Yuki Lee Bender takes down a 599 player strong field in Las Vegas as she continues her road to the Canadian National Championship in 2 weeks.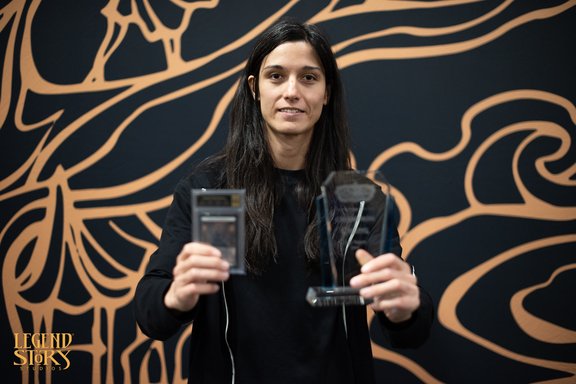 In the final Yuki Lee Bender got out to a strong start in the final then Ben Hannan on Bravo looked like he had stablized before Lee Bender found a Codex of Frailty into a Three of a Kind and proceeded to lock up the game and take the win.
The quarterfinals each featured a Lexi and a non-Lexi which meant that Toomre, Dhaliwal, Hannan, and Meserve were facing down the possibilty of 3 Lexis on their road to the title. But Toomre, Hannan, and Meserve were successful in taking out their Lexi opponents it meant that what looked like it could be a semifinal exclusively of Lexi resulted in only one being present.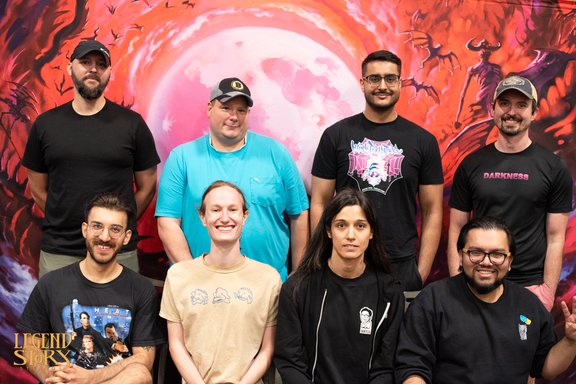 7 of the 8 made it into Top 8 it with 11 wins (Reese Toomre, Ben Hannan, Derek Anderson, Shawn Dhaliwal, Yuki Lee Bender, Nathaniel Meserve, Naib Mobassir) while Eli Teed won the tiebreaker race between the 14 players on 10 wins.
---
Sunday - Battle Hardened Top 8
Pro Tour Baltimore Champion Michael Feng becomes the first Blitz Battle Hardened champ in the new era of sideboards.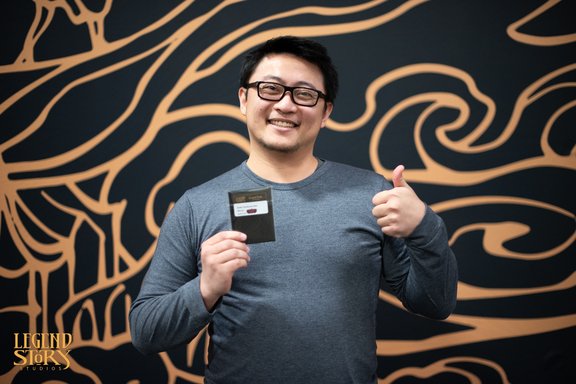 Michael Feng continued his amazing 2023 which has included two other Battle Hardened wins (Baltimore's Team Sealed event in June and the Classic Constructed in Charlotte in March) and most impressively the title of Pro Tour Champion in Baltimore continued today as he took control in the final and didn't look back.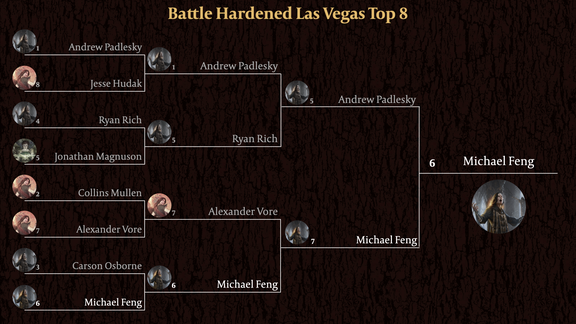 The day started with 243 challengers who battled through 9 rounds of swiss pressing the limits of the new sideboards to try and counter some mainstays of the Blitz world. At the end of swiss there was only one undefeated player in Andrew Padlesky on Chane. Collins Mullen, Carson Osborne, and Ryan Rich made up the rest of the upper seeds with 8 wins each. Joining them were 4 of the 17 players on 7 wins: Jonathan Magnuson, Michael Feng, Alexander Vore, and Jesse Hudak.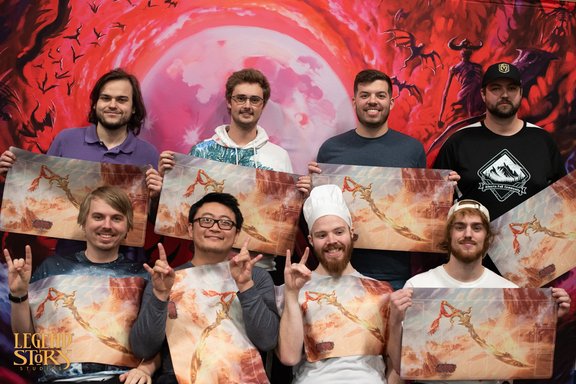 After talking to a number of players after this first big outing for sideboards in Blitz it seemed like most were thinking to the future of brewing in this format with a bit more flexibility. We look forward to seeing how it develops!
Sunday - The New World of Blitz
Our third main event of the weekend kicked off a new era for Blitz this morning with 243 competitors. This is the first large competitive event with the recent changes to Blitz to bring sideboards to the format. So many players have been enjoying this update to the format in Skirmish season 7 that it's been made a permanent feature to allow choice and flexibility.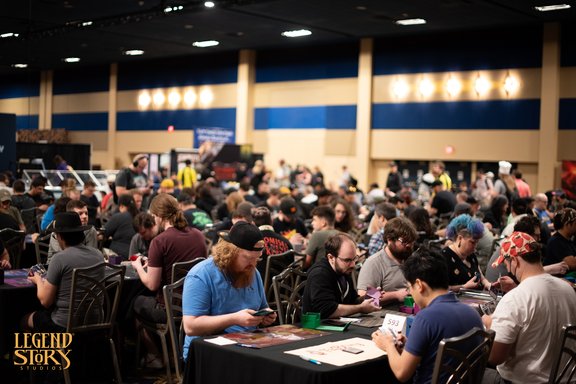 We talked to a number of players who are still figuring out the new worlds of possibilities that the sideboards bring to Blitz. Chane and Kassai were the frontrunners when it came to representation but the field contained 28 different heroes so it's anyone's guess as to where we'll be going from here. It's also interesting to see what happens with Kano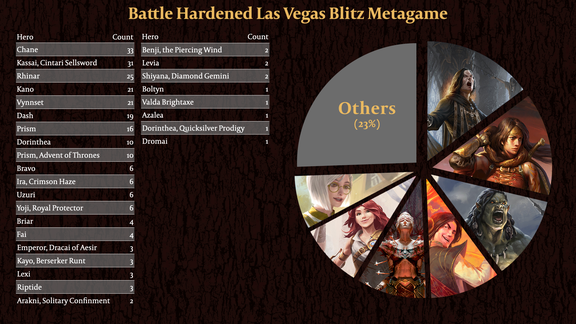 Once the players have completed the 9 rounds of swiss play we'll bring you an update with the Top 8.
---
Sunday - Calling: Las Vegas Day 2
Today 78 of the 599 players who started this Calling returned for 5 more rounds of play before we cut to the top 8. Only three players -- Jenson Wilhelm, Adrian Gebhart both piloting Lexi, and Reese Toomre running Dromai -- left last night undefeated.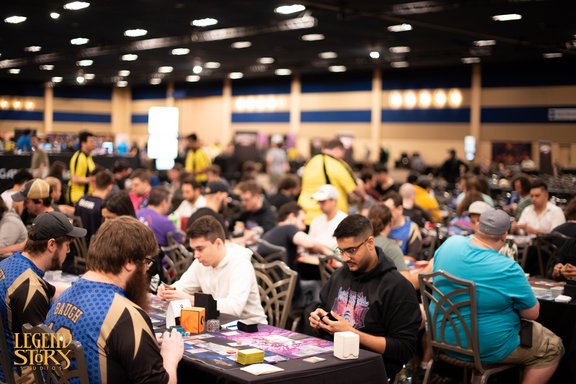 While yesterday saw a very diverse field the survivors for day 2 are very strongly a Lexi focused group -- almost 40% of the players left are rocking the elemental ranger. Azalea, Iyslander, and Kano also outperformed the field in terms of the percent of their day 1 pilots making day 2.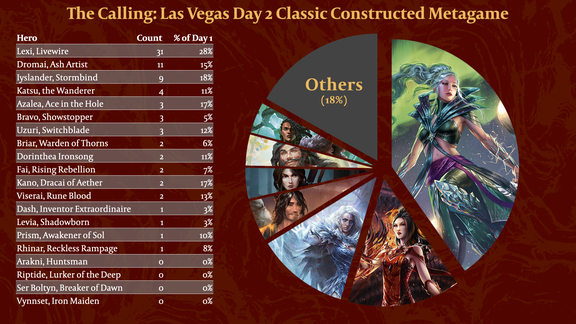 We'll let you know once we have our Top 8!
---
Saturday - The Largest Cosplay Contest Yet
The largest Cosplay Contest we've seen so far happened tonight in Las Vegas with 21 creative cosplayers bringing their takes on Flesh and Blood's heroes and bringing various card arts to life. The judges were blown away by Rachel Stoddard's amazing Data Doll MK II/Bios Update. For her efforts she's earned the Cosplay Contest exclusive promo hero card of Taylor along with a playmat of the art from the new promo Fabric of Spring.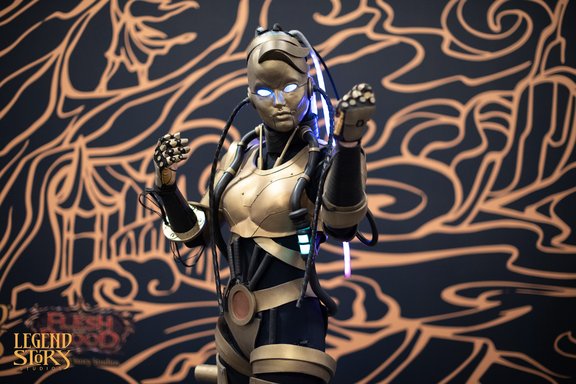 The rest of the top 8 made it a close contest and were also handsomely rewarded for their efforts.
While the top 8 stood slightly above the rest all 21 renditions brought the world of Rathe to life in front of us and we hope to see them all again in the future!

---
Saturday - The Calling Day 1
For the third time in just under two years we can say The Calling: Las Vegas is underway! Our second of three main events this weekend started with 599 players ready to battle for the $20,000 prize pool and for the champion the coveted Gold Foil Extended Art Crown of Providence.
There are a few differences from the National Championship that's happening near the feature match area – for one thing this event is open to any who wish to register, no qualifications required. For another, this will be Classic Constructed all the way from round 1 through the top 8.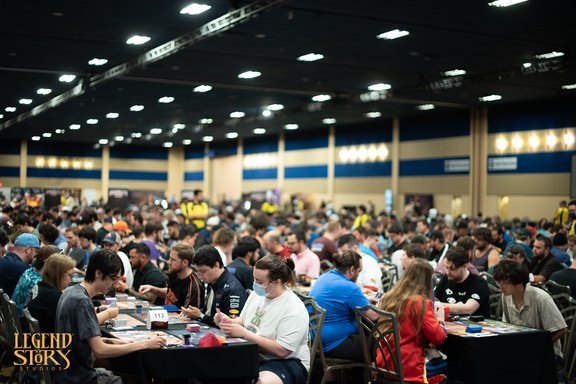 There are things that stay the same though, like very diverse meta in play right now. Every eligible hero had more than one pilot in the field. Lexi continues to have the highest representation in the field but with just 18% of the players bringing her anyone who built their strategy to target her will be sorely disappointed that it isn't higher after her success in US Nationals yesterday.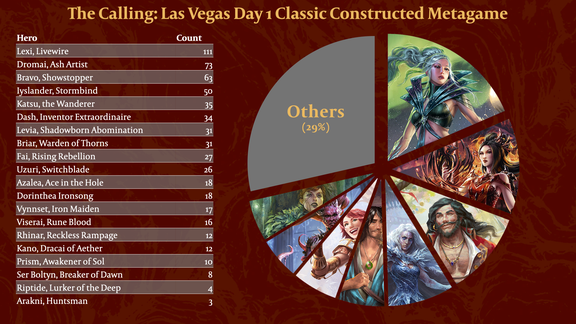 With this many players we'll be playing 8 rounds of Classic Constructed today and 5 tomorrow. Anyone who gets 6 wins today will be able to come back to try for their shot at the money. For those who don't make the cut there's still our third main event tomorrow the Battle Hardened, though for that one they will need to bring a Blitz deck instead of the Classic Constructed they used today.
---
Saturday - First Gold Foil Of The Weekend
It was a sizable field of 159 yesterday for the Professional Tournament Invitational, the first event of the weekend to award one of the coveted Gold Foil Black Envelopes! It also granted its champion a Professional Tournament Invitation which allows them to play in a Professional level invitation only event of their choice (like a Pro Tour, Nationals, or World Championship). It was a tough field but after eight rounds of swiss the cut was made to the top 8.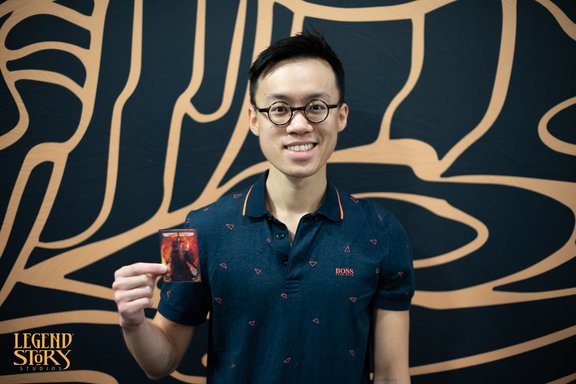 Florin-Cristian Loghin was the only undefeated player going into the bracket but that perfect record was broken in the semi-finals as eventual winner Jonathan Fouk took the win. On the other side of the bracket both Dromai players were able to dispatch their opponents in the quarter-finals and after a hard fight in the mirror match Lucas Ng's slightly more aggressive build of Dromai didn't pay off as Aaron Shantz wound up advancing to the finals. In the end though Shantz couldn't stop Fouk as his deck seemed to be built to answer the challenge from the Dromai with the addition of 3 yellow Aether Spindle to be able to take down any dragon he might run into.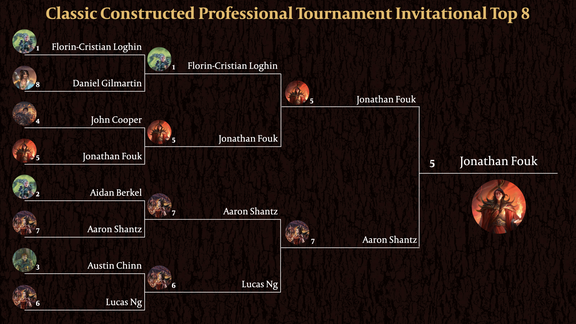 Fouk is running back his Kano in the Calling today and we're excited to see if this early success results in even bigger prizes during the weekend.
---
Saturday - US Nationals Day 2 Begins
It's an early morning for the 248 players who qualified for day 2 of the US National Championship. Today starts with three rounds of Monarch 1st Edition draft and then we'll wrap up swiss play with four more rounds of Classic Constructed.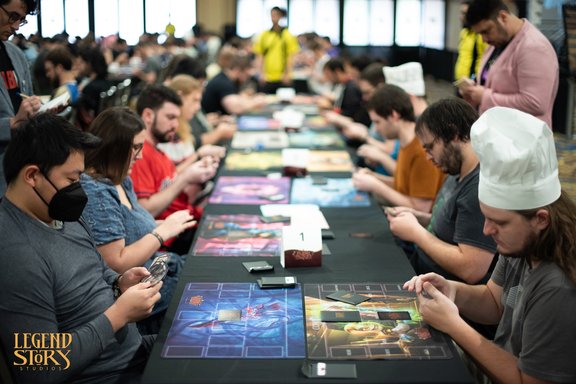 While it's still a few hours away the Classic Constructed rounds loom large over the room as they will be the final obstacle in the way of making the top 8 for those who've done well and survived the draft last night and this morning.
The metagame on day 2 looks a bit different than the metagame on day 1 -- Lexi still holds the top spot with 27% of the field but beyond that the order has been quite shaken up. With only 36% of Iyslander players making the cut for day 2 she's dropped her from 2nd place spot on the chart to 5th. Dromai has jumped to become the 2nd most common deck at 14% of players and Briar has been promoted to 3rd with 12% of the field.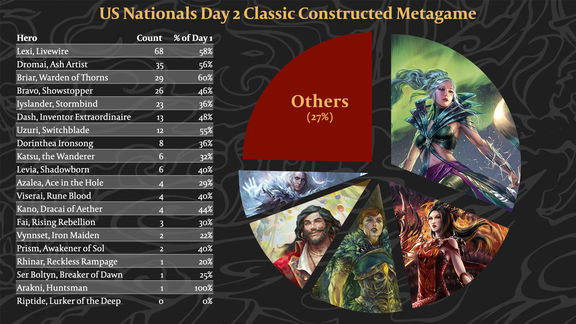 In terms of decks that went 4-0 during constructed yesterday Lexi was the queen with 13 followed by Briar with 5, Dromai on 4, Dash and Iyslander with 2, and 1 each of Azalea, Rhinar, Bravo, Katsu, Uzuri, Viserai, and Dorinthea.
The stakes for the players today are immense -- making top 8 locks you into a World Championship invite, a nice cash prize, and a Gold Foil Legendary. Today's great matches are definitely something not to be missed!
---
Friday - Seeing Triple!
Friday night at the US National Championship weekend caps off with not one, not two, but three Armories! 206 players are playing across all three main competitive formats (Outsiders Sealed, Blitz, and Classic Constructed). What elevates these Armories to Super Armories is the fact that a full Armory kit (what a store uses for a full month of events) is given out for every 32 players and then prize tickets are added to make them even more super! Each Super Armory is either 4 or 5 rounds (based on format) so everyone can see what else Las Vegas has to offer and still be back in time for the Calling (or day 2 of Nationals for those who made the cut).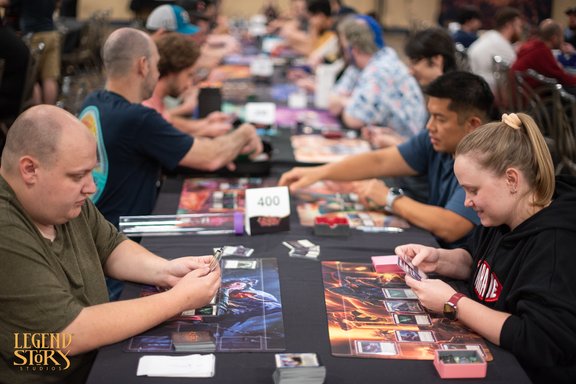 The super prizing means every player who goes undefeated gets a People's Champion playmat, a random Armory Cold Foil, and enough prize tickets to grab an Alpha Welcome to Rathe pack (or their choice of many other prizes)! The prizes don't stop there -- taking only one loss gets players a random Armory promo and a stack of prize tickets. There are prize tickets given all the way down to a single win so everyone is always still in it for super prizes (and the chance of playing a great game of Flesh and Blood).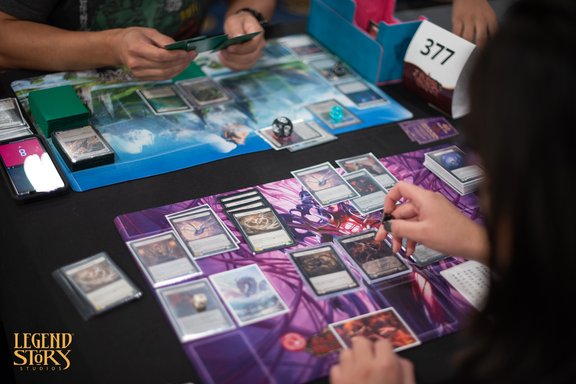 As an added bonus many players have told us that they're testing out the decks they plan to bring to the Calling tomorrow for Classic Constructed or their new Blitz with sideboard decks for the Battle Hardened on Sunday. So those in the room may be getting a preview of things to come with time to still find that secret tech before the big prizes are on the line.
---
Friday - To the Victor Goes The Spoils
Every event at a Calling weekend has amazing prizes at stake. For the main events (this weekend that's the US National Championship, the Calling, and the Battle Hardened) the top players will win cash prizes totaling $72,000, invites to the World Championship in Barcelona, Professional Tournament Invitations, Gold Foil Legendaries, and even a Gold Foil Extended Art Crown of Providence. But what about all the other events? For them, there's prize tickets and the prize wall -- home to some unique goods that even Genis would covet.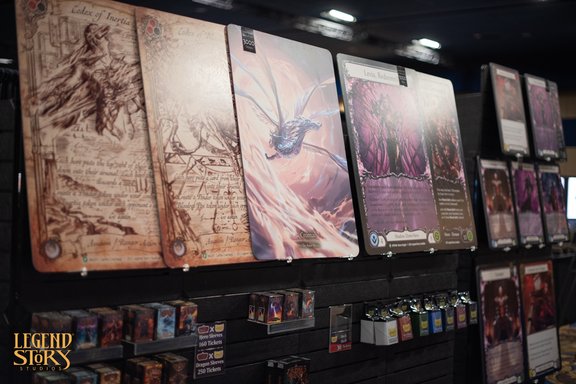 The basic premise is simple -- the better you do in each side event the more tickets you get (most side events award tickets based on number of wins - even On Demand Booster Drafts). Once you have enough tickets for the prize you seek, take them to the prize wall to get your treasure. But be warned -- many of the most special items (be they playmats, oversized cards, or even rare promos) are limited in quantity so make sure you redeem your tickets as soon as you're ready!
---
Friday - US National Begins
The main event today is the US National Championships. It's the largest National Championship in the history of the game with 522 players but only one will leave as US National Champion. Today we're playing 4 rounds of Classic Constructed followed by 3 rounds of Monarch 1st Edition Draft. Those who do well will be able to return tomorrow to continue their quest to become the next US National Champion.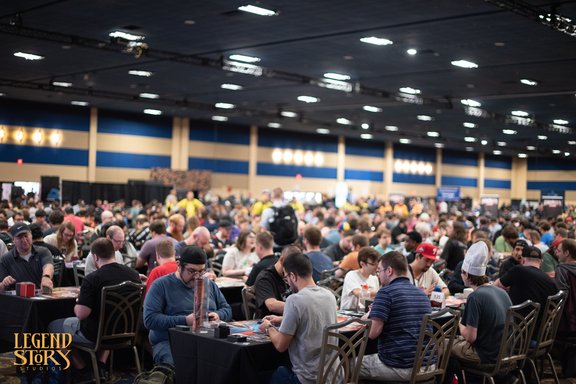 The Classic Constructed Metagame is diverse -- all 20 eligible heroes make an appearance at least once. Lexi, Livewire is the most prominent hero making up just over 22% of the entire field.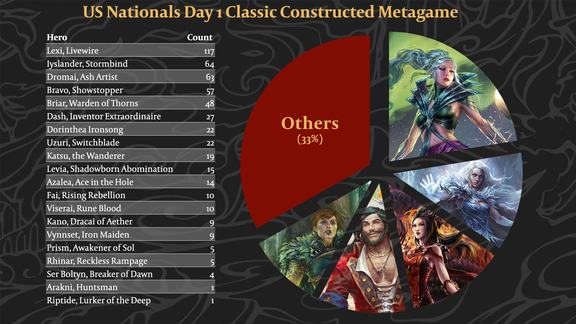 Players are playing now -- we look forward to bringing you an update on how the field shakes out tomorrow!
---
Welcome to the Calling: Las Vegas and US Nationals Live Blog!
Flesh and Blood has returned to Las Vegas! This is the third Las Vegas Calling and each have brought a unique experience to the city -- we were here for the Tales of Aria World Premier, the Uprising Premier, and now US National Championship Weekend. 
By the end of the weekend we'll have answers to some very big questions:
Can Michael Hamilton retain his title as US National Champion or will one of the over 500 challengers take the throne?
How will the new Blitz sideboard rules impact the game as we see the first Battle Hardened under the new rules?
Will Briar, Warden of Thorns get the final points she needs to become a Living Legend?
What wonders will be taken from the Prize Wall into the care of players?
We're at the Westgate Paradise Events Center and this venue has brought together some amazing parts of the US Community!
Players have started their adventure through this US National Championship weekend by acquiring a map: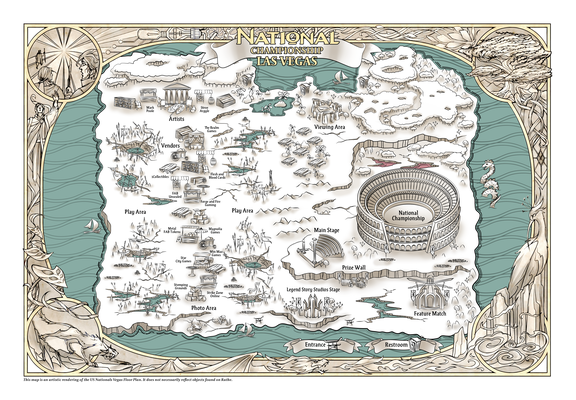 Many are making their way to the 11 vendors for last minute purchases of wares they need for their adventures today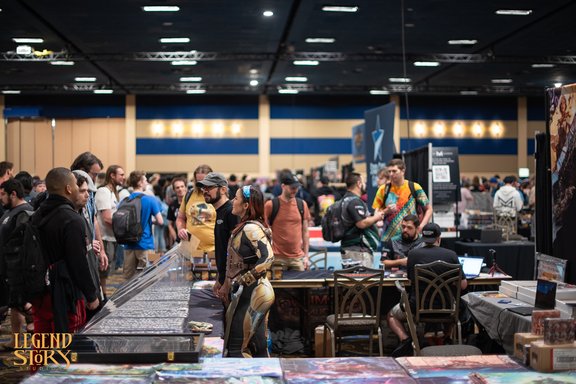 And many are taking their first look at the prize wall to decide on the riches they wish to aim for through side event play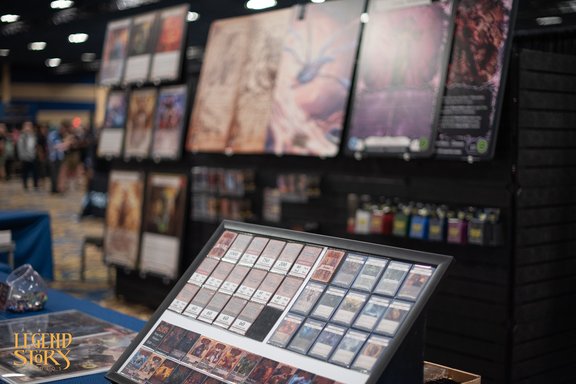 Players are sitting down to start the US National Championship and as soon as we have the metagame breakdown we'll update you here.
---