Watch The Blitz-A-Thon Here!
Blitz-A-Thon Decklists (In Order of Appearance)
---
It's (nearly) our Birthday!

To celebrate such an amazing milestone that could only be reached thanks to all of the supportive and passionate Flesh and Blood players across the world we're excited to share the glory that is the Blitz format with an 8-hour gameplay live-stream!

On our birthday, October 11th, the offices of Legend Story Studios, where Flesh and Blood is lovingly crafted, will play host to an array of invited members from the community who shall be squaring off against the staff members for glory, sweet prizes, and most importantly, the sharing of great memories with 100% great games!

We aim to help bring the celebration to your homes as well by live-streaming the happenings of the event and giving ANYONE around the world ample opportunity to score themselves some never before seen loot on the day!

Please stay tuned for details closer to the big day and follow the hashtag #blitzathon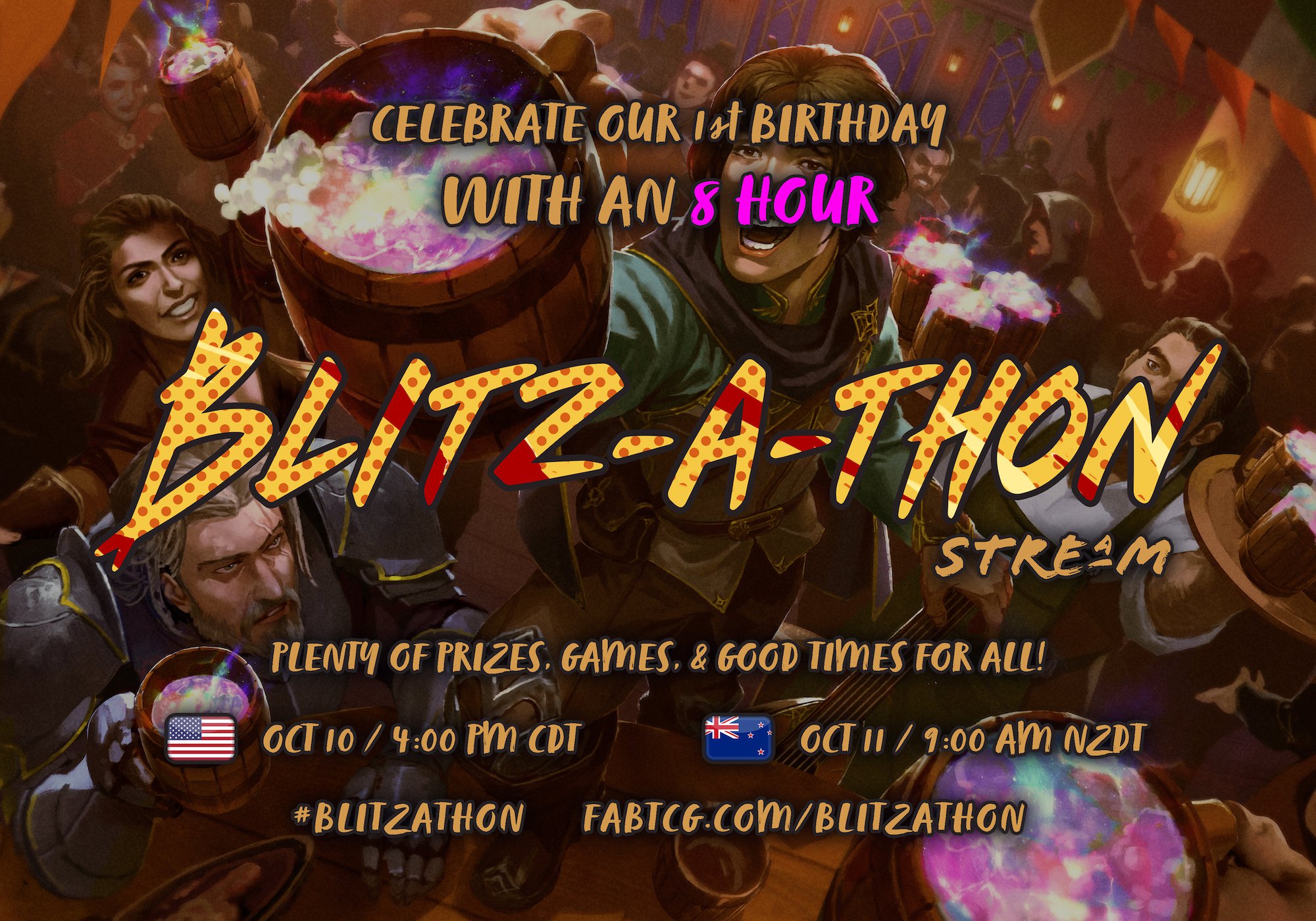 ---


Giveaways Galore!
Get amongst the action of the games, gossip, and giveaways on the day by participating in some of the activities throughout the 8-hour live-stream! There will be rare and great prizes to be won throughout the day eligible to ANYONE who participates. Here's a sneak peek at one of the categories of prizes up for grabs: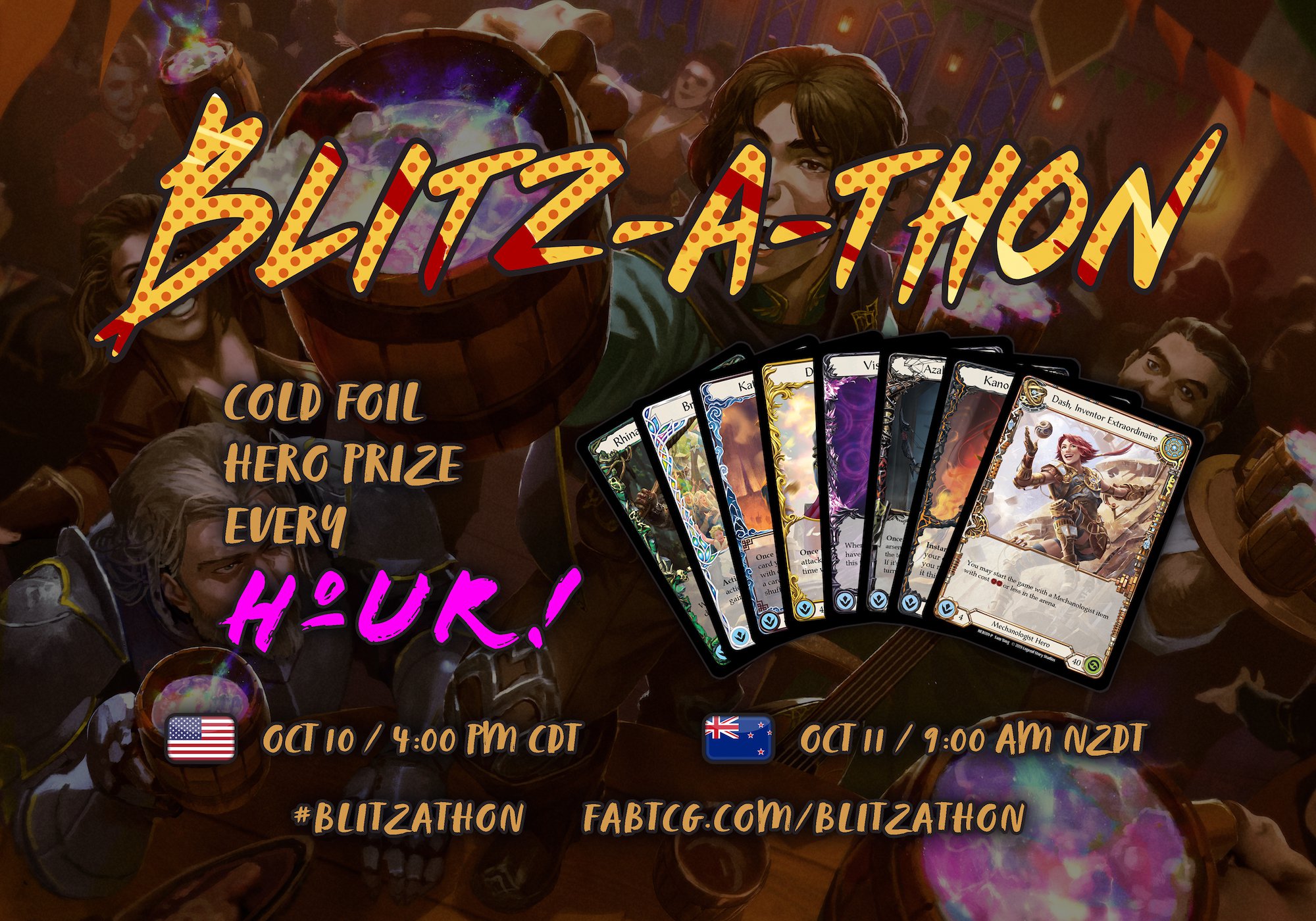 8-hour stream, 8 COLD FOIL heroes! Tune in on the day for details on how you can be in the running to earn one of these gorgeous cards!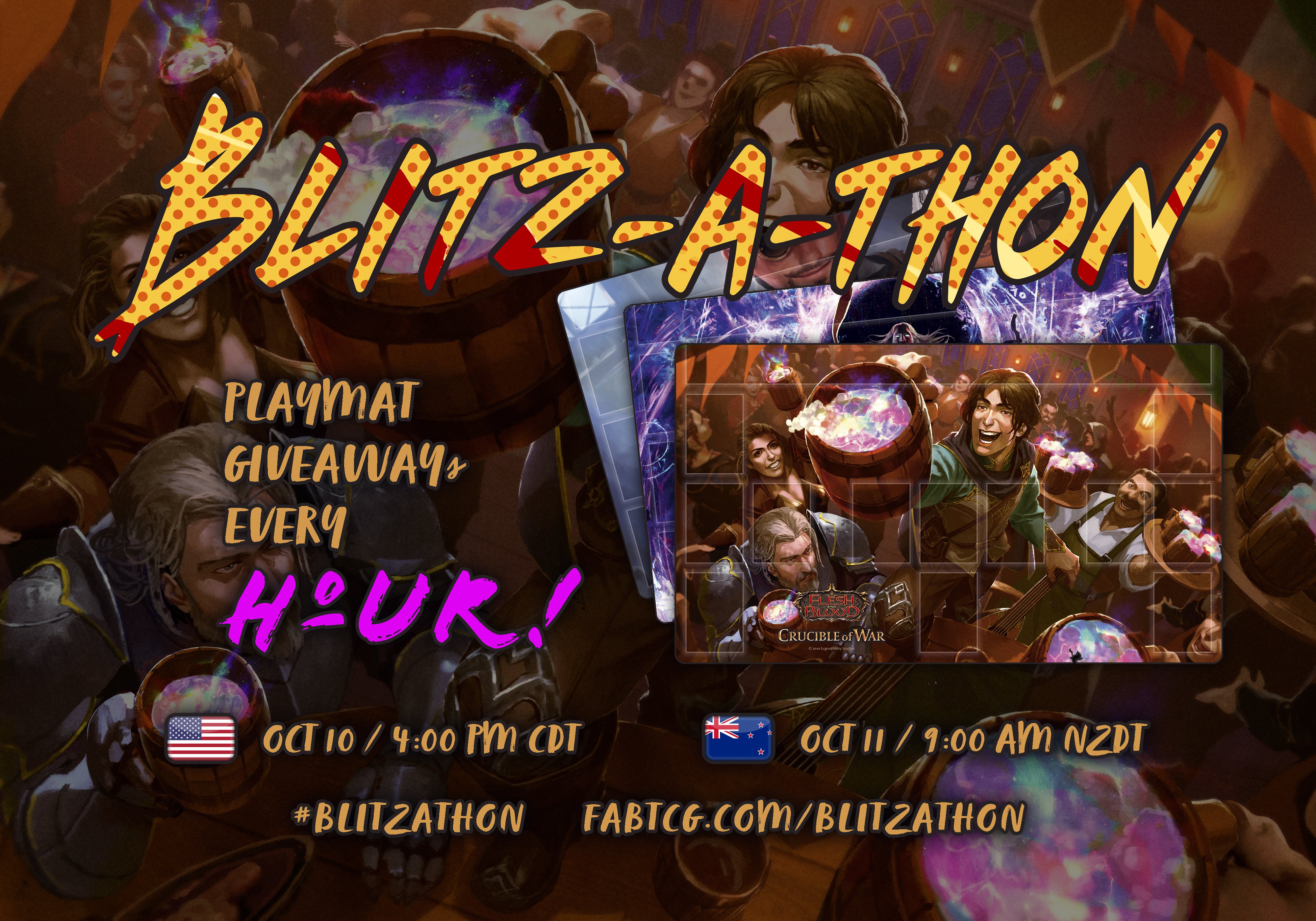 It's raining playmats! Participate in the chat during the live-stream to have the chance of having one of these beautiful new playmats fall into your lap!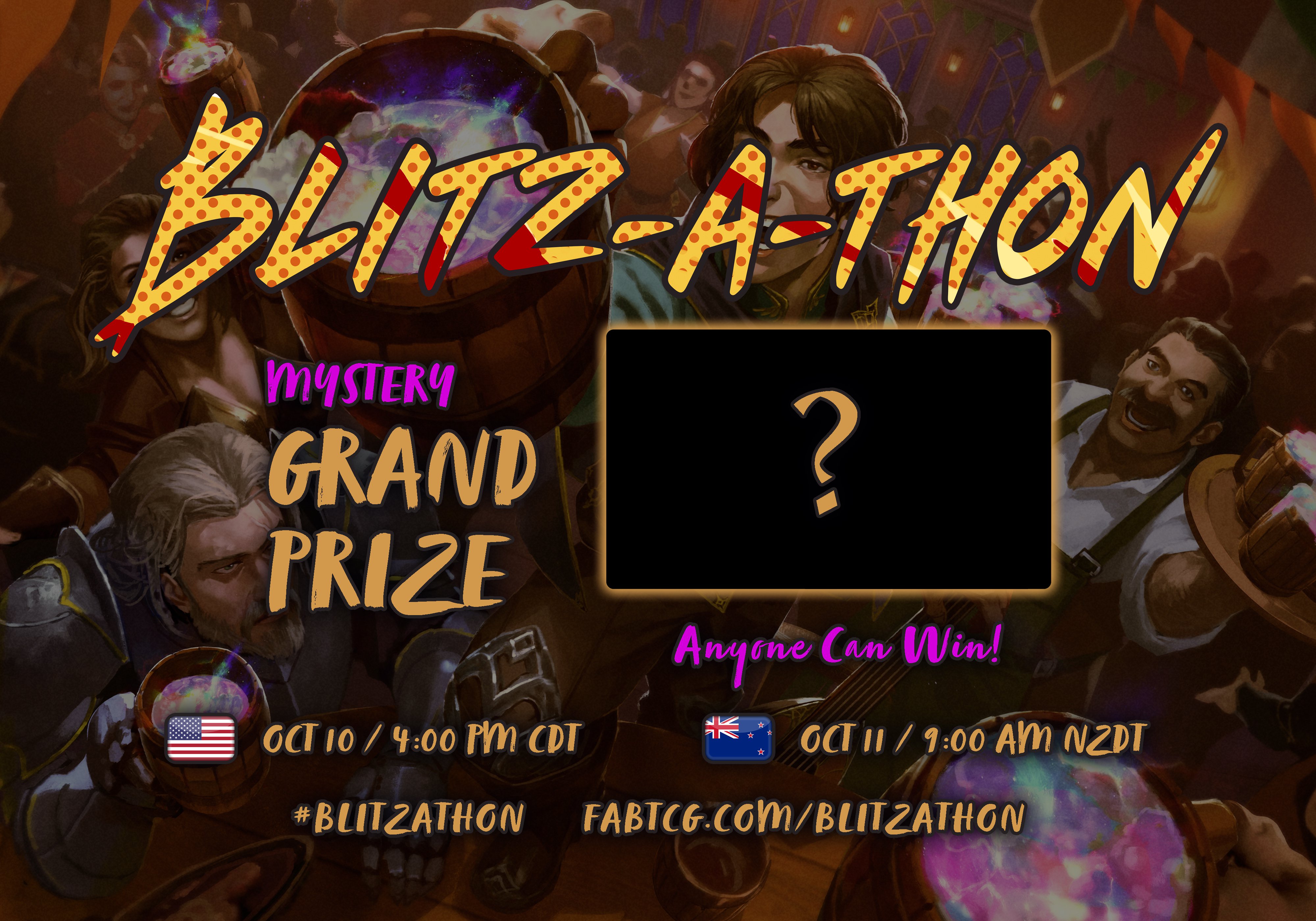 Believe us when we say that you won't want to miss the opportunity to score this mysteries prize! Only one lucky viewer from somewhere around the world will be taking this home after the live-stream concludes. What could it possibly be?


---
Vote Now! (Voting Now Closed)
Submit your best guesses on the outcome of a few key moments that are waiting to unfold during the live-stream! The focus of the Blitz-A-Thon will be seeing what hero will be able to keep the longest winning streak, will you be able to pick it exactly?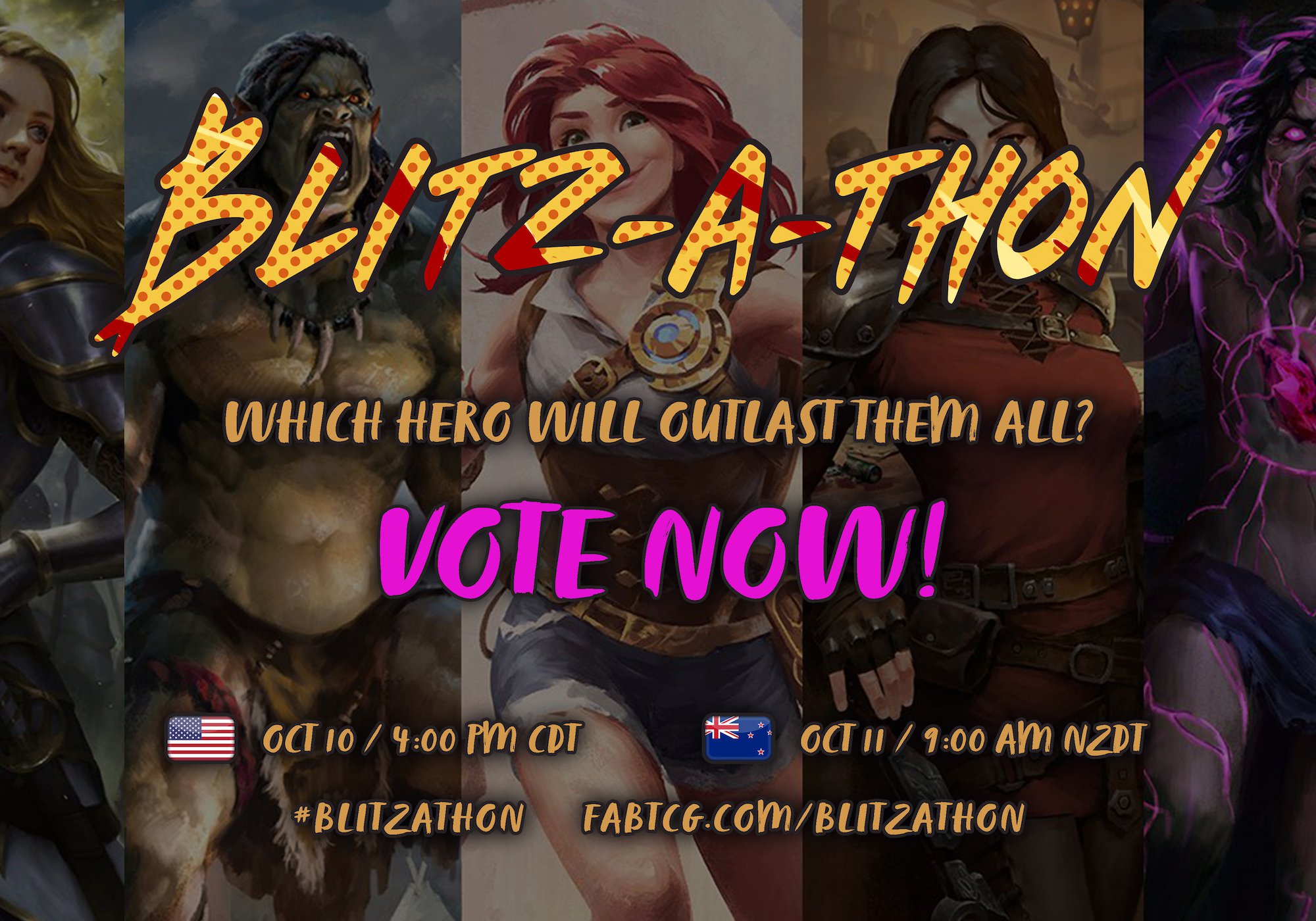 Where to Watch?
There's only one day to go until we all share some cake, presents, and non-stop Blitz action! Please visit our YouTube channel to make sure that you don't miss out on the party!