Uprising is a standalone booster set that plunges fans into a brutal civil war sweeping across the harsh and unforgiving land of Volcor.
Dromai, an Imperial Illusionist able to conjure the legendary dragons of Volcor out of aether and ash faces off against Fai, a hot-headed Ninja who spearheads the Uprising against the draconian oppression of the Imperials, while Iyslander journeys from her Icy homestead in search of answers to painful questions seared deep within her mind.
Uprising is designed for exceptional booster draft, sealed deck, and constructed play, and includes incredible "Marvels" that will leave players and collectors in awe!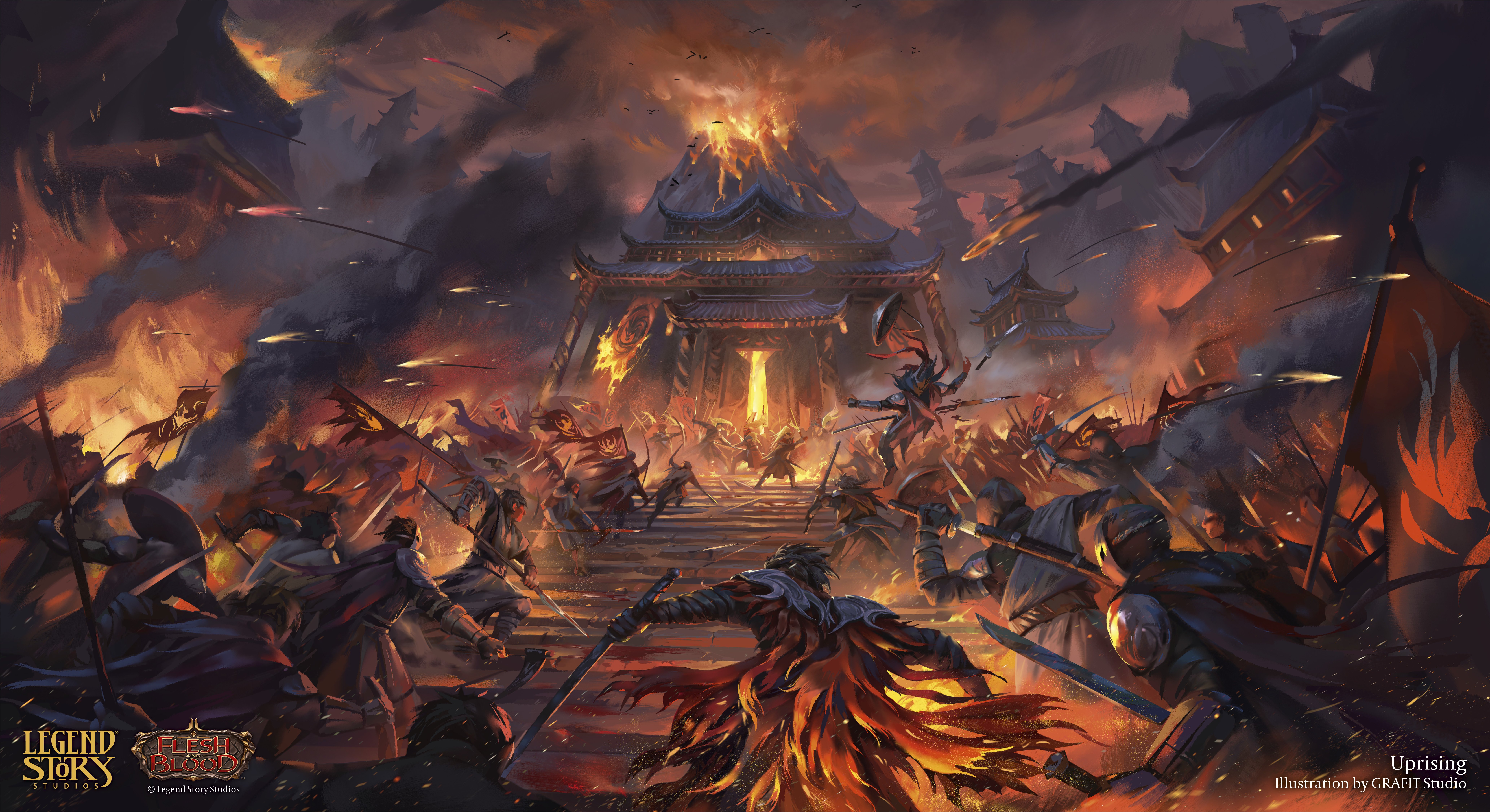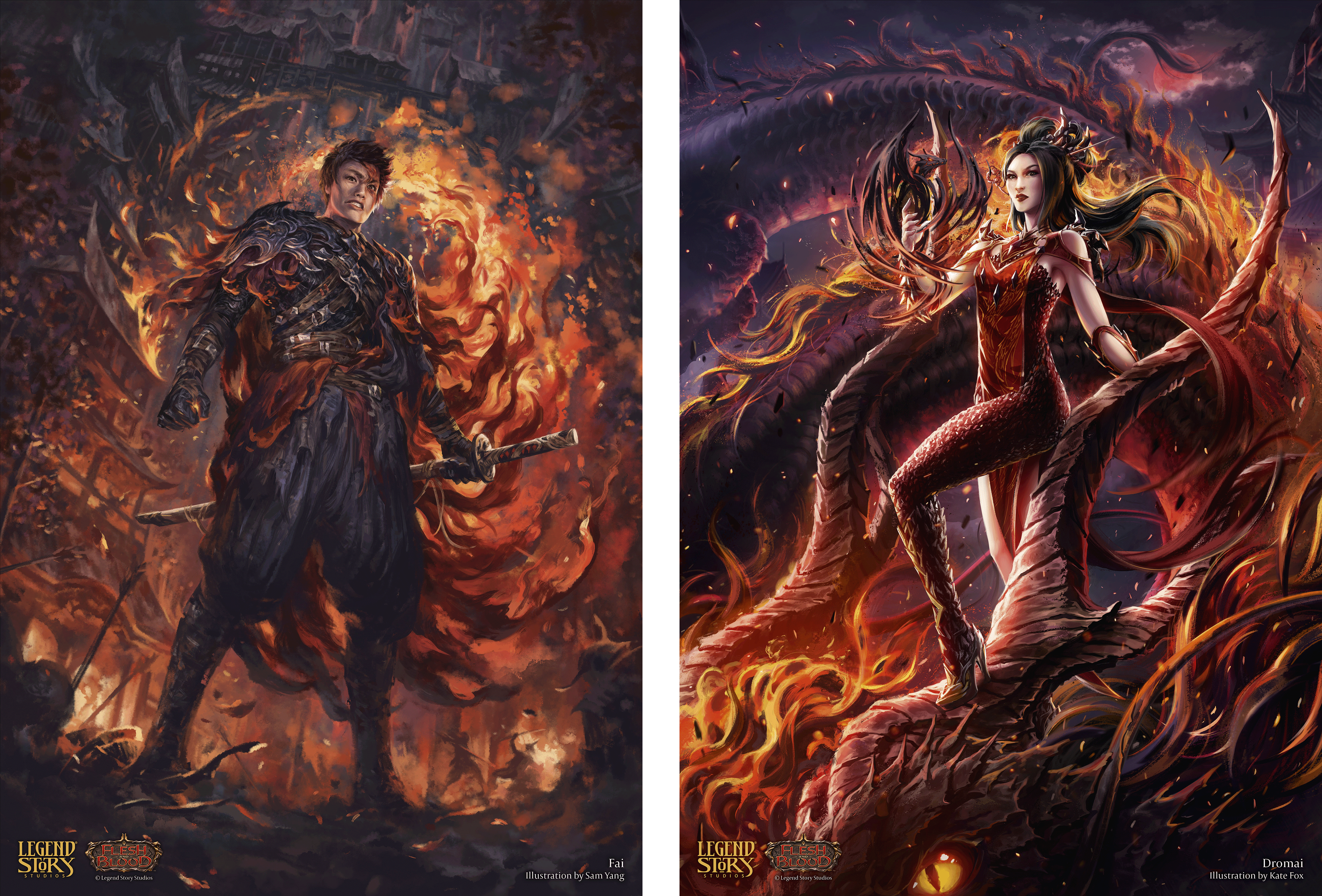 Marvels
Perhaps forged within the furnace heart of Volcor itself, Uprising features works of art so stunning they can only be described as Marvels.
Uprising introduces the new Marvel rarity, each one having a carefully crafted design feature that sets it apart from its regular printing. Discover the incredible Marvels of Volcor and the secrets that dwell beneath their surface.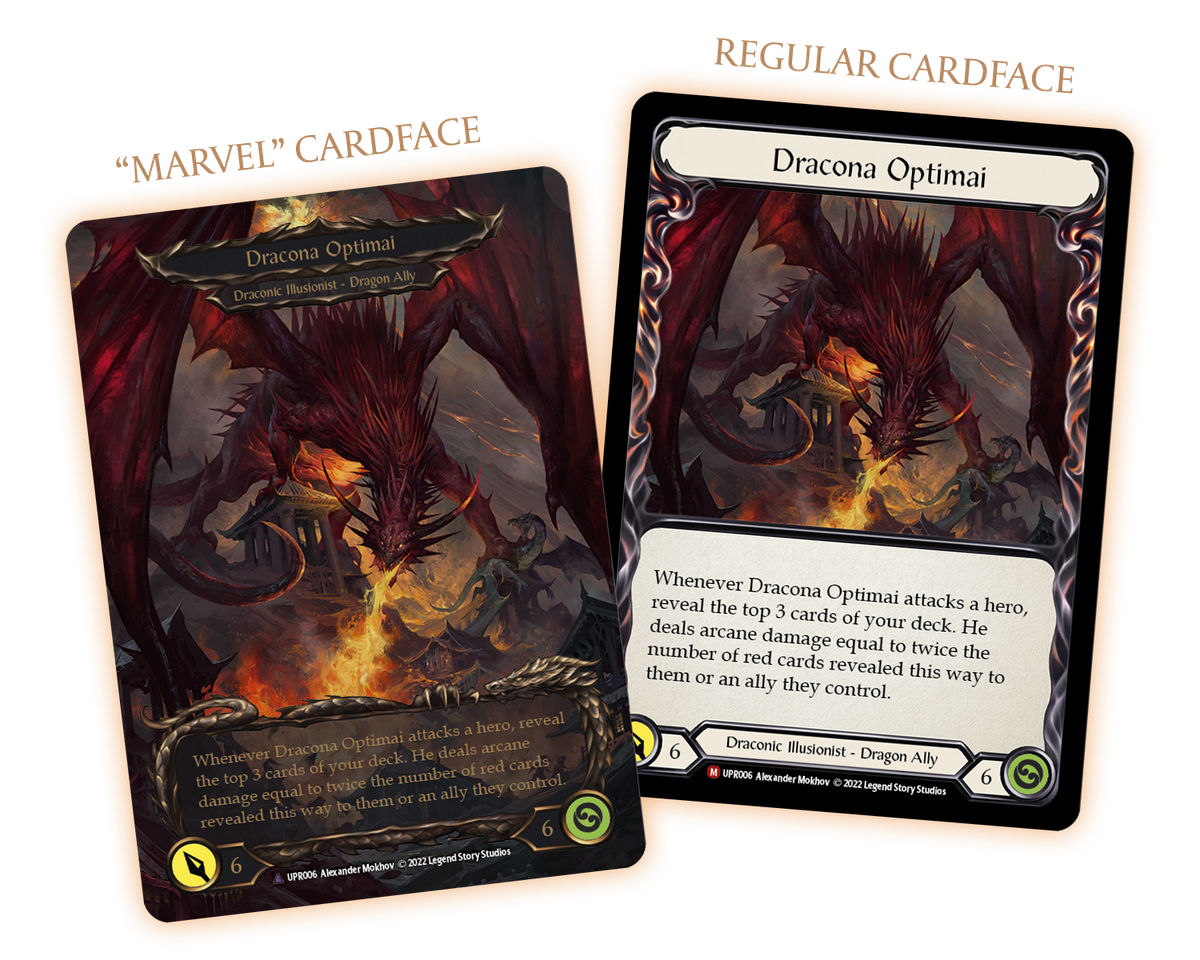 Key Dates
Card preview season starts June 4 (US)
World Premiere events - Las Vegas / Madrid / Sydney - June 10-12
Prerelease events in selected stores worldwide - June 18-19
Release date June 24, 2022
Uprising Product Configuration
226 card set (1 Fabled, 6 Legendary, 27 Majestic, 51 Rares, 125 Commons, 16 Tokens, ??? Marvels)
16 cards per pack, 24 packs per display, 4 displays per case.
Designed for booster draft, sealed deck, and constructed play.
Contains cold foils.
Fully recyclable paper booster wrappers.
MSRP per display: $99.90 USD / €99.90 EUR / $129.90 CAD / $144.90 AUD / $144.90 NZD
MAP (USA and Canada): MSRP less 20%
Uprising Blitz Deck Configuration
40 card pre-constructed deck + hero, weapon, and equipment cards.
8 decks per display (4 of each hero), 4 displays per case.
Designed as a fun and fast way to play Flesh and Blood, perfect for kitchen table gaming.
Each Blitz Deck includes a rainbow foil hero card.
MSRP: $11.99 USD / €11.99 EUR / $16.49 CAD / $19.99 AUD / $19.99 NZD

World Premiere Events
Rally your friends and join the Uprising at a World Premiere event weekend running June 10-12 in Madrid, Las Vegas, and Sydney!
Celebrate the release of Uprising with a massive sealed deck event on Friday, a Team Blitz Calling on Saturday (3 different heroes per team), and for those who like to battle until the very end, a Battle Hardened to round out the weekend on Sunday.
The Legendary Dragons of Volcor are descending upon World Premiere events with a Legendary Dragons of Volcor playmat exclusive to the Uprising World Premiere weekend, plus event specific Legendary Dragons of Volcor Dragon Shield 100ct sleeves. Event details and each of the event specific sleeves to be revealed on fabtcg.com over the next 3 days.