Welcome to Rathe Unlimited is officially out of print (OOP). Legend Story Studios will not be reprinting Welcome to Rathe again. The last Welcome to Rathe is making its way to distributors now.
As with all Flesh and Blood cards, cards that were originally printed in Welcome to Rathe may be reprinted in future sets.
Farewell Welcome to Rathe
One last time... Experience the set that started it all, the set that welcomed you and thousands of fans to the world of Rathe. Celebrate and send Welcome to Rathe off in style at a 'Farewell Welcome to Rathe' draft event running in stores around the world January 28-30, 2022. Due to Lunar New Year, Farewell WTR events in South East Asia will run the weekend of January 21-23.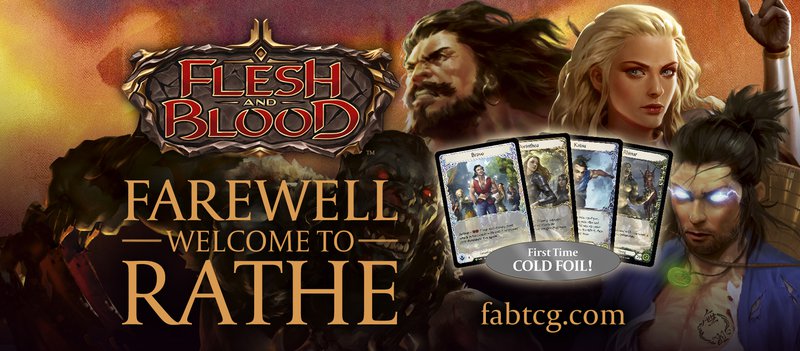 Bravo, Dorinthea, Katsu, and Rhinar young hero cards will be available for the first time in Cold Foil through participation in this special event weekend. These Cold Foil promo's are strictly limited to 16 per event, 1 event per store.
Participating stores will be loaded into the Event Locator throughout December. Find a participating store near you by searching "Farewell WTR" event type. We recommend pre-registering when an event near you is confirmed as most events will be capped at 16 players.
Recommended Event Structure
Our recommended event structure is 1 event with a player cap of 16 players, with the event running as follows:
Two 8-player draft pods, then play 3 rounds of swiss (within your pod).
Two 8-player draft pods (podded based on standings after round 3), then play 3 rounds of swiss.
Prizes awarded based on standings after 6 rounds of swiss.
Welcome to Rathe ALPHA
To celebrate this milestone in Flesh and Blood's history, we are giving away one of the few cases of Welcome to Rathe ALPHA we locked away in the cupboard for a special occasion! The case will be given away to a mix of players and stores who participate in a Farewell WTR event, as follows:
1 display to a player chosen at random from USA / Canada
1 display to a player chosen at random from Europe / UK
1 display to a player chosen at random from South East Asia / Oceania
1 display to a store chosen at random who schedules their Farewell WTR event in GEM by January 20th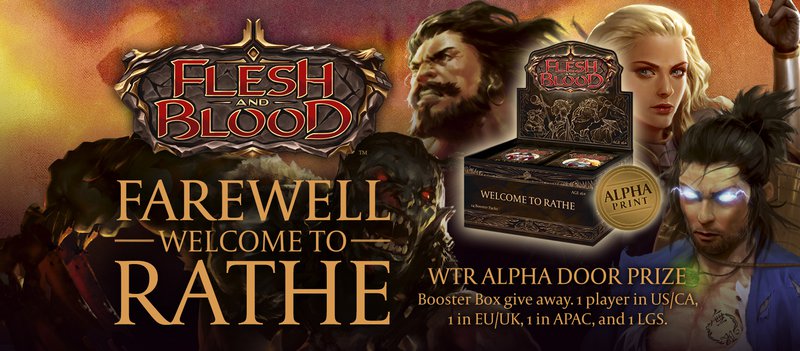 Retailer FAQ - the basics
You must be a GEM registered store (You can register here gem.fabtcg.com)
Order a WTR Celebration Kit from your distributor
After your distributor has confirmed your Celebration Kit order, schedule your Farewell WTR event in GEM (gem.fabtcg.com)
The full retailer event FAQ is available here.