This year's National Championship events have all wrapped up and what a season it was, one that will truly be remembered until the end of eternity! The world saw no fewer than 20 National Champions crowned, (with a few more 2021 National Championships to come early 2022) many being the first in their nation's Flesh and Blood history!
Briar, Warden of Thorns has no doubt been the standout hero of the season. Picking up 12 first place National Championship trophies (60% of all Nationals held), thanks to some literally world class pilots and no fewer than 74 top 8s across all Nationals events, the Elemental Runeblade rules Classic Constructed and many other decks are being crafted, built and played in response to Briar's power and popularity.
A lot of 50+ red line card lists make for a Lightning fast aggressive strategy, while the Channel Mount Heroic build, with a bumped up blue line count and plenty of Earth cards to pay the costs of Channel Mount Heroic (also boasting an aggro strat, albeit slightly "bigger") have very powerful, cost efficient yet linear gameplans.
Bravo, Showstopper has been a constant presence and threat across the top tables all National Championship season long. The original Guardian took home two National Championship titles, taking a 10% share of the season's events and racked up no fewer than 16 top 8 finishes. Bravo, who loves to take his time, swing for 6 with Anothos often and come in with a few colossal Crush cards thrown in for good measure, has a fantastic matchup against most decks in the field.
Chane, Bound by Shadow has had a fantastic season, racking up 15 top 8 finishes and taking home a Championship trophy. Some Chane builds have focused on particularly aggressive strategies taking advantage of standout cards such as Rosetta Thorn and Flock of the Feather Walkers while others have taken to biding their time a bit more, with more blood debt-centric builds which play into Chane's fantastic end game and perhaps sealing the deal with Ursur, the Soul Reaper after a flurry of Soul Shackles and attack actions.
Oldhim, Grandfather of Eternity and Lexi, Livewire have done extremely well this season. With a first place finish for each of these two Tales of Aria Essence of Ice heroes and solid top 8 showings all season long (Oldhim 6, Lexi 12) the Elemental Guardian and Ranger round out the top 5 best performing heroes of the 2021 National Championships.
A single Frostbite can freeze aggro decks in their tracks. Ice Lexi keeps the pressure on with arrow after arrow (many of which say "create a Frostbite token"), the powerful Three of a Kind card and many instances of go again to make for a very good matchup versus Briar. Oldhim, a control style Elemental Guardian, has a slower pace than the Elemental Ranger, but he hits a lot harder. One of Oldhim's most significant cards is Winter's Wail. If the aggro deck doesn't want to defend, they'll receive a Frostbite. If they do defend, that's at least one fewer card coming your way next turn.
Katsu, the Wanderer took home a National Championship title and clocked in at 12 top 8 appearances! The Ninja can play both the aggressive and control roles very well, however he does have a lot of competition in these areas with Briar, Bravo and Oldhim fighting for the top spot in these archetypes.
Kano, Dracai of Aether made zero top 8 appearanc- actually, he did. The Wizard's only top 8 showing of the season was the final event of the year in Italy and Kano won the National Championship trophy without dropping a single game! Dash, Inventor Extraordinaire and Ser Boltyn, Breaker of Dawn each picked up a National Championship trophy and eight top 8s and Dorinthea Ironsong took home one National Championship title across five top 8 appearances for the season.
The remainder of our heroes did not collect a Nationals trophy this year and each had fewer than five top 8 showings. However, with infinite innovation occurring from week to week in the Classic Constructed metagame, any hero has the possibility to take down a CC event at any time!
Hong Kong Regional Championship
BattlegroundHK hosted 84 players for the Hong Kong Regional Championship, seeing heroes through the doors of the Organize Kwun Tong event centre. Some of Hong Kong's most prolific Flesh and Blood players joined in the fray, fighting to become the first Regional Champion of Hong Kong, including players such as Kelvin Law, Galaxy Yang, and Ar Bun, all of whom made a name for themselves throughout the Skirmish seasons. The event was livestreamed courtesy of the Fable Gaming Hong Kong Twitch channel.
The battlefield saw a veritable army of Runeblades take on Guardians, Illusionists, and Rangers in their fight for the Top 8, followed by some stray Warriors, Mechanologists, Wizards and Brutes.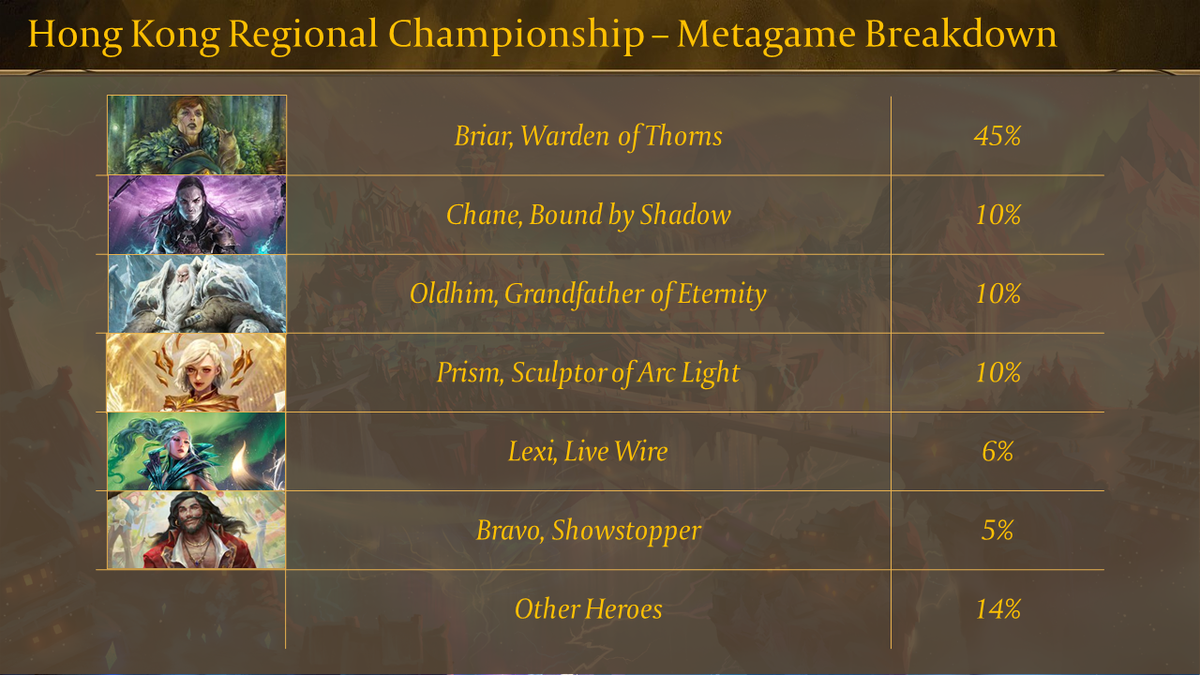 The draft portion of the event saw Oldhim and Briar neck and neck, with 28 and 32 players each, with our Elemental Ranger fighting for her place at the table with 14 players.
Players fought through three rounds of Classic Constructed, three rounds of Draft, and another three rounds of CC to see whether they made the Top 8 cut for Day Two. Among the Top 8 players were Pudding Tam, Tsang Chi Shing, and Allen Lau, who all qualified through Top 4 finishes at Road to Nationals events; Ar Bun, who racked up a number of Top 8 finishes with Kano at Skirmish events; Alex Lo, who switched between Katsu and Ira, Crimson Haze during the first and second season of Skirmish; and Patrick Or, Leo Lee, and Jack Tang, who have all been playing events throughout the year in preparation for this Championship event.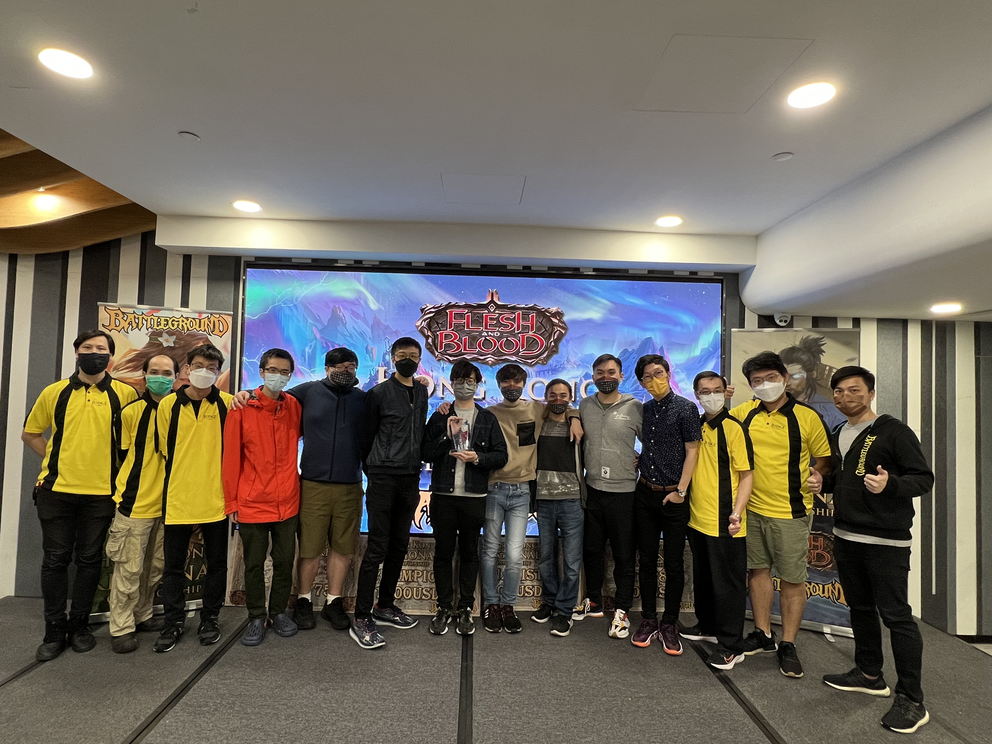 Four Runeblades were cut from the competition in the first round of Top 8 matches, with three Briar players and a Chane falling in battle. Our lone Guardian in the fray, Jack Tang's Oldhim, fought his way through the quarter and semi-finals, breaking through the Chanes to take his place in the final match of the Championship. Meanwhile, Ar Bun's Chane went head to head with two Briar's, facing the newest Runeblade in the Flesh and Blood family and proving that he still has a place in the meta, claiming his victories on the warpath to the final match.
The final game saw Jack Tang go head to head with Ar Bun, both players bringing a wealth experience from the year of competitive events. Both qualified for the Championship based on XP rankings, with both players close to breaking the 2,000 XP milestone on their accounts; at one point, Jack Tang played four Skirmish events in a 48 hour period in his fight for victory, and both players ended up at the same international webcam tournaments throughout the year, fighting from Hong Kong to Greece in their battle for victory.
The final match was nail-bitingly close, with Ar Bun sitting on two and then one health as he searched for a way to unseat Jack Tang's lead, strategically whittling down Oldhim's health until he felled the Guardian with one point of damage from Rosetta Thorn.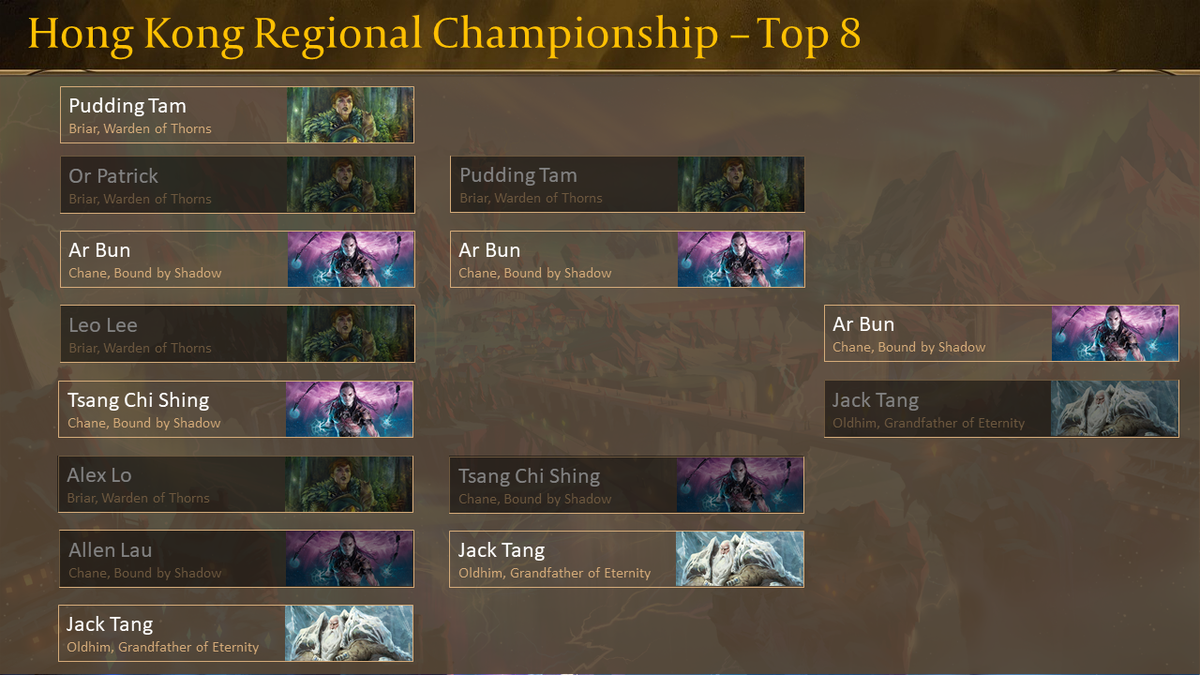 Italy National Championship
After a slight change in schedule, the Italian National Championship kicked off at the Forno dell'Antica Ricetta (Novi Ligure), hosted by Digital Replay. 37 players participated in the event, seeing a metagame with Katsu amongst the Runeblades.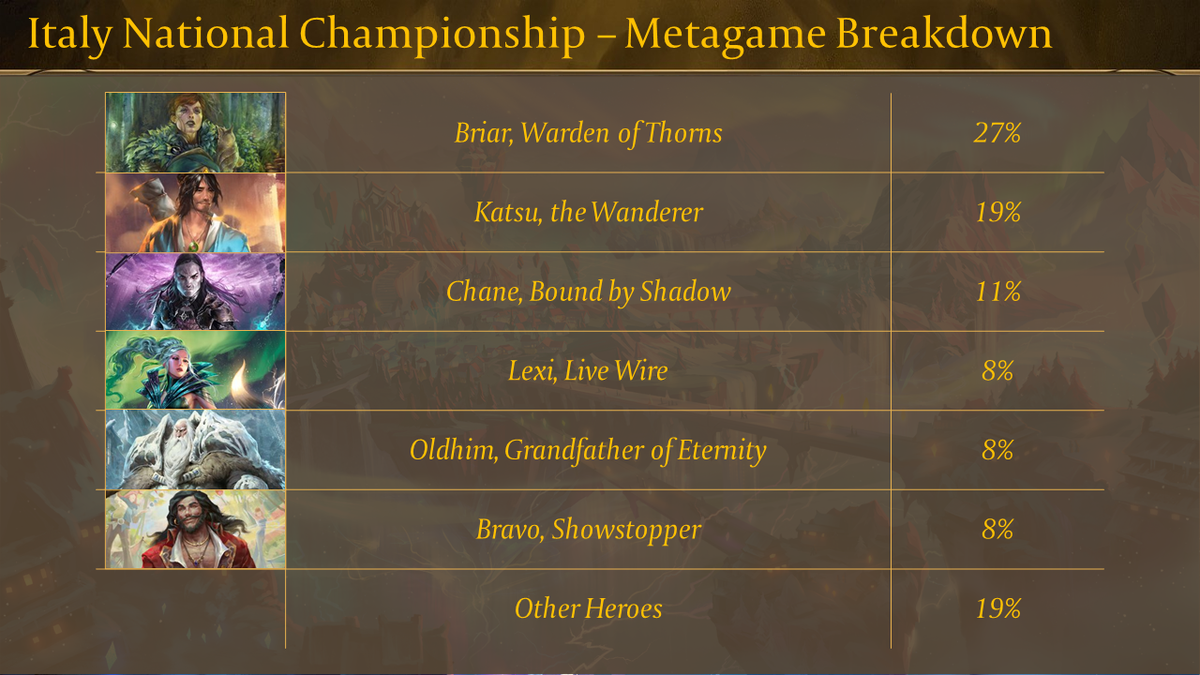 One of the only Championships not to feature a Draft portion in the event, six rounds of Classic Constructed saw eight players rise to the final matches of the day, including the one Kano player in the tournament, Pietro Gerletti, who sits at the top of the lifetime XP leaderboard for Italy by a 500XP margin.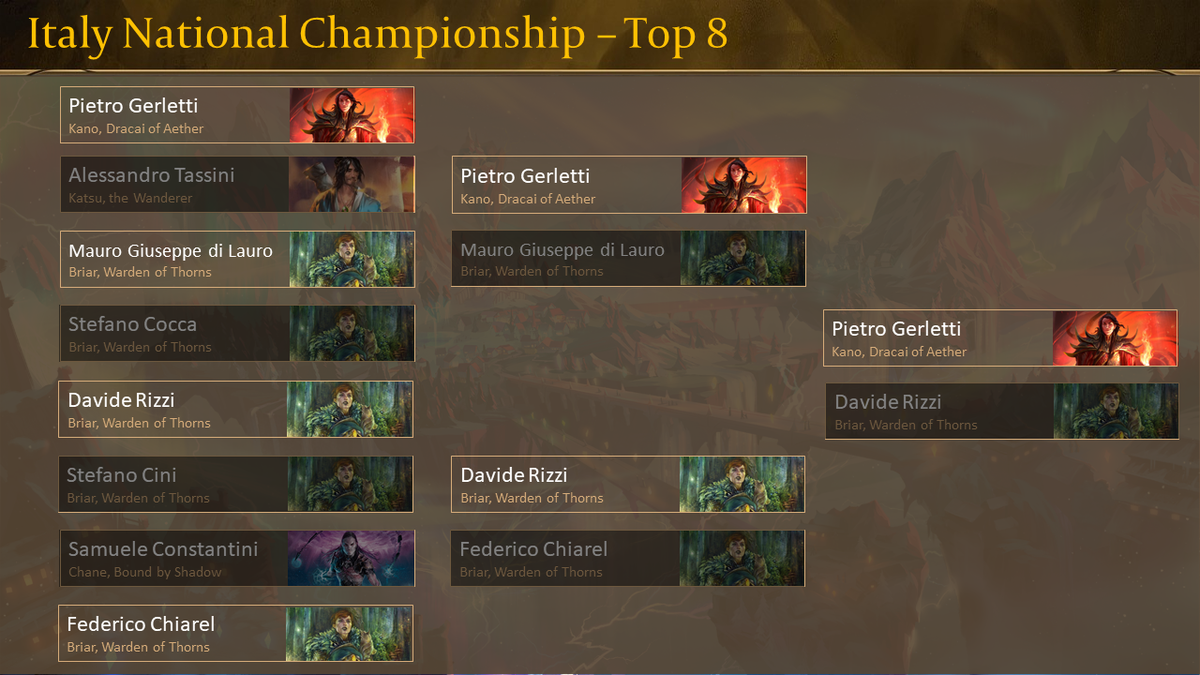 In the final match of the Championship, he faced off against Briar player Davide Rizzi, who first started playing Flesh and Blood at the start of September. The two arcane masters fought hard and fast, but it was the Wizard who came out on top, claiming the Championship title and ending the National Championship season with the Dracai of Aether.