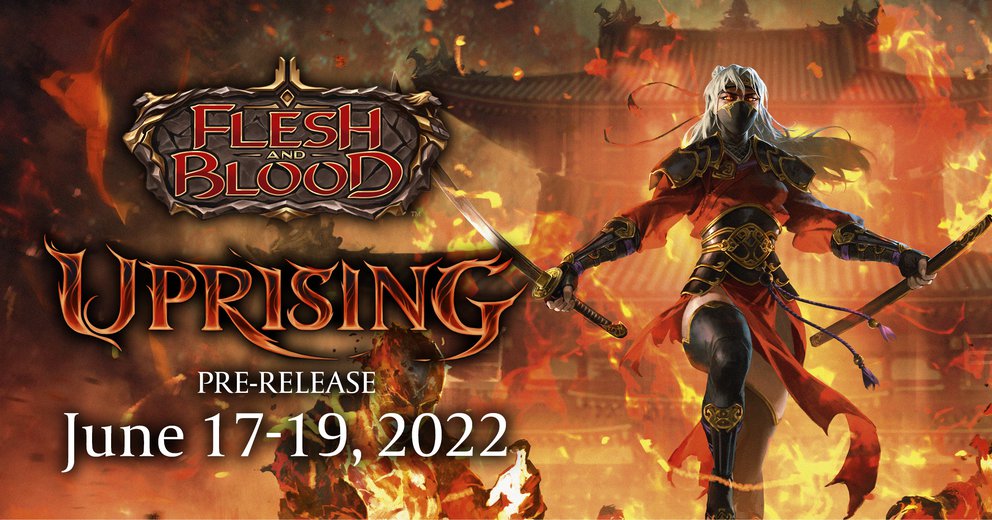 If your store has been selected to host a Uprising Pre-release, congratulations!
Uprising Pre-Release Weekend is coming, and as the community continues to grow strongly we're expecting a big turnout from players across the world. Pre-release events are being offered to stores on an invitation only basis, taking into account the stores recent support of organized play.
The Pre-release weekend is designed to provide players with the opportunity to explore the stores in their community over the course of the weekend.
We try to ensure that the larger events do not overshadow the smaller ones. The weekend is intended to be a celebration for the Flesh and Blood community, creating some larger Premier Events on Friday and Saturday, followed by an opportunity for smaller stores to showcase themselves to players that might not otherwise visit them during the normal course of an Armory Season with Community Events running on the Sunday.
The Basics
Selected stores are to run one Pre-release event
Stores allocated Premiere Events may run their event on Friday June 17th or Saturday June 18th. Stores allocated Community Events may run their event on Sunday June 19th.
Stores have been allocated a number of Pre-release bundles. Each bundle supports 16 players. If you have been allocated more than one prize bundle, it is intended to enable you to run a larger event size single event.
Pre-release bundles must be purchased from your chosen GEM distributor.
Pre-release events MUST be scheduled in GEM.
The format for Pre-release is Sealed Deck. Each player receives 6 Uprising boosters to construct a 30 card minimum deck.
The sale of boosters, booster boxes and blitz decks is not allowed on Pre-release weekend. Product cannot be opened prior to Friday June 24th. Breach of release date will have consequences.
Prize Distribution
A Pre-release Bundle contains:

16x Phoenix Flame Extended Art Rainbow Foils
16x Helio Mitre Rainbow Foil
96 Uprising Boosters (One Booster Case)
The 96 boosters is enough for 16 players to play sealed deck (six boosters each).
Each kit provides two different promos, 16 copies of each. Players should be given a copy of each promo during deck construction as they can be played in their sealed deck.
Booster Prize Allocations
The Uprising Pre-release will allow stores to offer Booster Pack prize support for the first time. Stores will be able to order additional booster cases to support booster prizes for the event. The number of additional booster cases is determined by the number of prize bundles allocated to your store.
| Prize Bundles | Optional Additional Booster Cases | Maximum Total Booster Cases |
| --- | --- | --- |
| 1 | 1 | 2 |
| 2 | 1 | 3 |
| 3 | 2 | 5 |
| 4 | 2 | 6 |
To support this we have adjusted the pricing limits for Pre-release events. The purchase of these cases is optional for all stores.
The allocation can support two boosters per player into the prize pool and 24 boosters for a top 8 draft.
With the addition of booster pack prize support we recommend that stores clearly advertise the prize support for their event prior and during Pre-release.

GENERAL
Q. Where do I get the Pre-release bundles? What will they cost?
Pre-release bundles are available from your nominated distributor. Once the sanctioning window for pre-release is closed distributors will be provided with the names of eligible stores and pre-release bundle allocations. Distributors will make these bundles available to order for the selected stores.
Q. What do I charge for a Pre-release event?
Stores can charge up to USD 40 / EUR 40 / GBP 40 / CAD 55 / AUD 55 / NZD 55 or local currency equivalent. If you choose not to offer booster prizing or a Top 8 for your event, then we recommend charging a slightly lower entry fee.
(If it's normal in the territory for sales tax to be applied to the marketed price at the point of purchase, sales tax may be charged in addition to the prices stated here.)
Q. Am I allowed to place a player cap on my event?
A. We would ask stores to refrain from setting a player limit that is lower than the amount supported by the Pre-Release bundle.
Q. What's the earliest that I can start a Friday Pre-Release?
A. The earliest that a Friday Pre-Release can start is 3pm local time.
Q. Are there any suggested start times for events?
A. Because there may be other stores running events in your area on the same day we would suggest you communicate with them to coordinate events.
Our suggested timings are as followed:
Friday - From 3pm onward.
Saturday and Sunday - Morning Events 10am start - Afternoon Events 2pm start (you may start before these times)
Q. When should I receive my PR bundle by? What do I do if I haven't received it?
A. For any questions regarding delivery, please contact your distributor.
Q. Are there marketing assets available for me to use to promote the event?
A. Yes. You can find a range of digital and printable marketing assets here in the Marketing Assets section of our website.
Event Structure
Q. If I don't open a particular hero or weapon token in my sealed pool does this mean I can't play with them?
A. No, players should separate all tokens from their card pool. The tournament organizer should collect any tokens that players are not using and place them in a general pool of hero/weapon tokens. If players require additional tokens to complete their deck, they should get them from the general pool. In addition a PDF of Hero and Weapon tokens will be made available for stores to print off before the pre-release.
Q. Should I have a cut to Top 4 or 8? If so, should the Top 8 format be Booster Draft?
A. This is up to the store's discretion. With the addition of Booster Pack support, pre-release stores will be able to support a Top 8 Draft.
Q. Am I able to offer either Sealed or Booster Draft for the PR event?
A. The main event MUST be Sealed Deck. If you choose to run a Top 8, you may do a booster draft. You will need to reserve one box of product from your Pre-Release allocation if you intend to run a Top 8 draft.
Q. How many rounds of Swiss should my tournament be?
A. The recommended number of rounds are:
5-8 Players - 3 Rounds
9-16 Players - 4 Rounds
17-32 Players - 5 Rounds
33-64 Players - 6 Rounds
Q. How long should a round be?
A. The standard length for a sealed deck round is 30 minutes + 5 minutes. However, you may set the round length at your discretion based on how experienced your players are.
Q. When should I give out prizes? Can players use these in their sealed decks?
A. The Pre-release promos should be given out at the start of deck construction as players are allowed to play with these cards as part of their sealed pool.
SELLING PRODUCT
Q. If my event doesn't sell out am I able to sell the spare boosters/booster boxes from the PR bundles?
A. Yes, but any remaining unsold/spare boosters/booster boxes from Pre-Release kits must not be sold under any circumstances prior to the official street release date.
Q. Can I sell the prize cards that I receive in the kit if I am unable to run my event?
A. Prize cards must not be sold under any circumstances. If you are unable to run your event, please contact us op@fabtcg.com
RULES & POLICY
Q. Are Judges required for Pre-release events?
A. Judges are not required and we do not offer Judge support for Pre-release events. However, Judges bring many benefits to your event. If you have access to one we would recommend having one in attendance.
Q. What happens if there is a rules question that I cannot answer?
A. Release notes will be made available prior to the Pre-Release events. If you are unable to answer a question after referring to the notes, just try your best to make a ruling that is fair to both players. Ultimately we view Pre-Releases as fun/casual events so a positive player experience should be the main goal of the event.
Q. Can players use the promos they have received from previous events?
A. No, players can only use the promos they receive at your event.
COVID
Q. My area is under Covid restrictions/lockdown, what should I do for my Pre-release?
A. Contact the team at op@fabtcg.com to discuss
Coverage
We would love to hear about your pre-relelase event! Please note we cannot feature every store that provides coverage information, but we greatly appreciate any and all information stores can provide for our coverage pieces. To submit the story of your pre-release use this link: Uprising Pre-release Event Coverage
Final Words
Your involvement in supporting Pre-releases for the community is indispensable. Pre-releases are casual events and a chance to introduce new players to the community. When you are running and judging events, please be friendly and polite towards players and encourage them to act in the same way.
If there are rules breaches, we would encourage you to assume good faith on behalf of the players, do your best to correct the game state so the match can continue. The overall goal is for everyone to have fun exploring the new set, and anything that you can do to make the event a great experience is much appreciated.
Ultimately if we have missed anything in this FAQ, please reach out to us at op@fabtcg.com
Thank you for your support of the community. We hope you have a great Pre-release event!