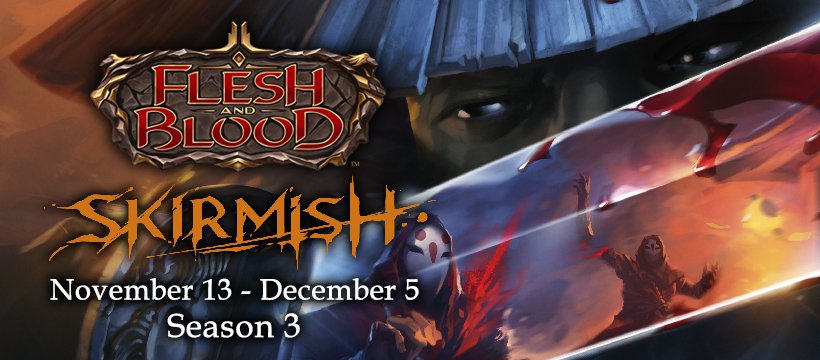 Thank you for all the work you've put into organizing your Skirmish event! We are excited to see you host a Skirmish event and would love to support your event with a follow up article on fabtcg.com. Please note while endeavor to include as many stores in our coverage we cannot guarantee a spot in the coverage.
To help spotlight your event, could you please send the following information to coverage@fabtcg.com with the subject line "X (Your store name) Skirmish":
Links to any social media platforms (Facebook, Instagram, Twitter etc).
If you are not in a position to provide any of the optional following coverage data, there is just one thing we ask that is mandatory; Event format (draft or Blitz) , event winner's full name, GEM ID and hero used. This helps us gather Living Legend data.
Optional Core Coverage
We'd like to request for the following information to be posted on your social media when feasible (and sent to coverage@fabtcg.com after the event has concluded) in order to generate interest in your event and help us out with a bit of data for our website:
Number of registered players
General photographs of the event (adhering to local COVID requirements)
Metagame breakdown of heroes played
Prior to Top 8

A Top 8 photo with player names and heroes played (in front of a store logo and FAB poster would be great!)

After Top 8

Top 8 decklists- Blitz (photos are okay, we'll type them up)
Top 2 Heroes used (decklists not required)
Photos of Skirmish Champion
Additional Optional Coverage
If you'd like to provide any additional information to coverage@fabtcg.com and/or post it to your social media profiles, we'd certainly appreciate it! Some examples may be:
End of Swiss player standings
Individual Top 8 player pics and profiles
Quick Questions
Quick Questions are always popular, particularly if you get different people to answer the same questions. An example of a format for these is:

Photo of person (in front of FAB branded photo wall/background, and feel free to include your store logo in the photo also!)
Name:
Question #1:
Answer:
Question #2:
Answer:
etc

Some examples of questions include:

What was the best card in your deck today?
What is the best card in the format?
What is the best deck deck in the format?
What card do you most want to see pack 1, pick 1?
What is your favorite Tales of Aria hero to draft?
What card from Tales of Aria do you think is going to make the biggest impact on Classic Constructed?
What is your favorite FAB card?
What is your favorite FAB set so far?
What part of Rathe would you most like to visit next?
Who is the best Runeblade (Viserai / Chane / Briar)?
Are you Earth, Ice, or Lightning?
Thank you again for being a part of this exciting Skirmish season! We wish you and the event all the best and look forward to seeing some great games played.