Flesh and Blood organized play is back in full swing. It's been eight months, but the Skirmish series is back with a vengeance for 2023 with Skirmish Season 6.

Skirmish Season 6 will feature the brand new Outsiders set. With its focus on back to basics melee combat, this season of Skirmish will challenge new players while also providing a great opportunity for new fans getting started in competitive organised play. Build your community this Outsiders season, from Pre-Release, through the Armory, and into Skirmish; this season promises something for all players on their competitive journey through Rathe. And if you're in Europe, take advantage of European language Outsiders to introduce new players to Flesh and Blood!
What are Skirmish Events?
Skirmish is a single in-store event offered to selected GEM stores. It is a way to help grow local communities at a casual level. Each event is supported by a Skirmish prize kit, provided free of charge by Legend Story Studios (LSS).
When is Skirmish Season 6?
April 8th till April 23rd
What are the formats for Season 6?
Blitz Constructed and Sealed Deck are the formats available for Skirmish Season 6. For full details on the formats check here: Blitz, Sealed Deck.
It is up to the store to decide on their preferred format for their Skirmish event.
How will I know if I am selected for Skirmish?
Selected stores will receive an email invitation. Invited stores will be able to see and select the event type "Skirmish season 6" in their GEM account.
Entry fee?
For Blitz Events stores can charge up to USD20 / EUR20 / GBP20 / CAD30 / AUD30 / NZD30 entry or local currency equivalent.
For Sealed Events stores can charge up to USD 40 / EUR 40 / GBP 40 / CAD 55 / AUD 55 / NZD 55 or local currency equivalent.
Event Structure
All events should be run with swiss rounds, followed by a top 4 or 8 cut depending on the number of players in the event (with the exception of 8 players where there is no top cut).
*Events need a minimum of 8 players to run (start).
| Players | Swiss Rounds | Top Cut |
| --- | --- | --- |
| 8 | 3 | None |
| 9 - 16 | 4 | Top 8 |
| 17 - 32 | 5 | Top 8 |
| 33 - 64 | 6 | Top 8 |
| 64 - 128 | 7 | Top 8 |
| Players | Swiss Rounds | Top Cut |
| --- | --- | --- |
| 8 | 3 | None |
| 9 - 16 | 4 | Top 8 Draft |
| 17 - 32 | 5 | Top 8 Draft |
| 33 - 64 | 6 | Top 8 Draft |
| 64 - 128 | 7 | Top 8 Draft |
Prizes and Distribution
Organizers will receive a prize kit containing the following: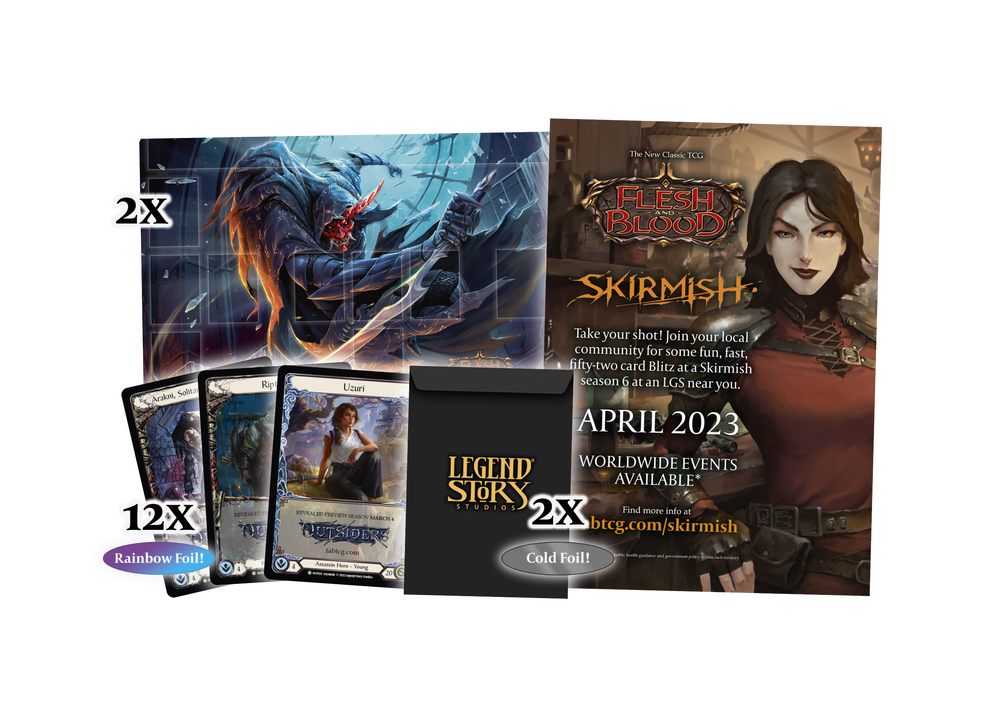 Prize
Distributiron
2x Azalea CF black envelops (1 to winner / 1 random)
- 1 is to be awarded to the winner the other is to be rewarded at random
12x RF Uzuri
- Should be given out as participation prizes.
12x RF Riptide
- Should be given out as participation prizes.
12x RF Arakni, Solitary Confinement
- Should be given out as participation prizes.
2x Razor's Edge playmats
- The two playmats are for 1st and 2nd.
- 1st gets first pick of the playmat
Recommended prize distribution for events with 24 players or fewer.
If your event has less than 24 players attending then please use the following recommendations:
Placing
DIstirbution
1st
- 1x Azalea (Cold Foil) Black Envelope,
- 1x Razor's Edge playmat - 1x of each rainbow foil hero
2nd
- 1x Razor's Edge playmat
- 1x of each rainbow foil hero promo
3rd - 4th
- 1x of each rainbow foil hero promo
5th - 8th
- 2x random rainbow foil hero promos
Remaining 16 rainbow foil hero promos
- to be used as participation prizes.
1 Azalea (Cold Foil) Black Envolope
- to be used as a random draw giveaway to attendees
How do I get the Prize Kits?
The prize kits will be available to order from your GEM registered distributor. LSS will send distributors a list of invited stores to the Skirmish season once the sanctioning window has closed. Once your event has been confirmed, you will be able to contact your distribution representative and order the kit. The kits will be shipped from your preferred distributor closer to the date of your event.
Do the top players qualify for any other events?
Skirmish events do not award any invitations to future events, but does award XP which may assist players to secure ratings based invitations to Premier Events.
Can I add prizes to the prize pool?
TO's can add whatever additional prizes they see fit to the event. The distribution of additional prizes is up to the TO.
Rules Enforcement, Judges and Decklists
What level of rules enforcement is this event run at?
Skirmish events are run at casual rules enforcement. Please check the Procedure and Penalty Guidelines for more information.
The purpose of this event is to be an enjoyable community-building exercise; if you have to adjudicate on a rules breach, we would encourage you to assume good faith on the part of the players and to treat it as an honest mistake and a learning opportunity.
The intent behind rulings is to restore the game state where possible and leave the players feeling positive after you have adjudicated the situation.
Do I need a Judge for an event?
You don't need a judge for the event, however, we would recommend that either the TO for the event or a store staff member is familiar with documents found in the Rules & Policy Center.
If you would like to appoint a judge for the event, you can also try to find one on Judge HUB Judge Finder.
Are deck lists required for Blitz or Sealed Skirmish events?
The Skirmish series is run at a casual level so they are not required. At your discretion, you may require decklists but you should advise players well in advance if this is going to be a requirement. Decklists can be useful as it allows us to spotlight the top-performing players in your community.
Do I need to record the Hero's played by players?
For Skirmish events, it is required for TO's to record the hero played by the top 8 competitors. We appreciate it if stores are able to fill in the details of all heroes played for constructed events, as this helps us to improve the development of the game. The Hero Assignment feature is available in GEM and you can read up on how to use it at the link Hero Assignment.
Digital Assets and Marketing
Where do I find digital assets for social media?
There is a page of digital assets for social media and printable posters can be found here .
Event Coverage
I ran an amazing event! Is there any way to get my players and their decklists featured?
We will be featuring coverage of the week's events including posting decklists, reports and photos. In order for your event to be featured, you will need to fill in the Coverage form at this link:
As with the previous event series, we are collecting information from stores for feature articles on our website. All compulsory information is being collected via GEM and the Hero Assignment feature. All coverage information is being collected via our Skirmish coverage form.

In particular, we are looking for:
Winning decklists
A photo of the winner
A group photo of the Top 8
General event photos
Stories of players, matches, or the day
We appreciate any and all information that stores can provide for our coverage articles; please note that we cannot feature every store that provides coverage information. We look forward to hearing your stories! If you have any questions about the form or want to submit additional information, please email the team at coverage@fabtcg.com.
Please note we cannot feature every store that provides coverage information, but we love getting your photos, decklists and stories about how your event went!