What are ProQuest events?
ProQuest provides players with a qualification to Pro Tour 3 and the chance to win exclusive prizes. All events are in-person events, there will be no online events for this series.
What are the Formats for ProQuest Season 3?
Classic Constructed is the format for this season.
Entry fee?
Stores can charge up to USD 40 / EUR 40 / GBP 40 / CAD 55 / AUD 55 / NZD 55 or local currency equivalent.
Can I add prizes to the prize pool?
Stores are free to add any additional prize support they deem necessary.
Season Dates
What are the season dates and when can I sanction the event?
Saturday 14th of January - Sunday 29th of January 2023. Events can be sanctioned now!
Is there any flexibility on the event dates?
Events must be run in this window. If stores cannot run the event during this time the event MUST be cancelled and the Prize Kit MUST be returned to your distributor.
How will I know if my store is selected for ProQuest?
Stores will receive an email invitation to notify that the option for ProQuest Season3 will appear in GEM when creating a new event.
Event Structure
Is there a minimum number of players to run this event
ProQuest events need a minimum of 8 players to run. If an event runs with less than eight players it will not provide an invite and the store will lose the right to host an event of this level in the future.
Is there a maximum number of players?
No. You are welcome to set an attendance cap on your event.
How long should I budget for ProQuest?
For ProQuest, we recommend 55-minute rounds. This allows players 5 minutes to present their decks and 50 minutes to play their match.
| Players | Swiss Rounds | Top Cut |
| --- | --- | --- |
| 8 | 3 | None |
| 9 - 16 | 4 | Top 4 |
| 17 - 32 | 5 | Top 8 |
| 33 - 64 | 6 | Top 8 |
| 64 - 128 | 7 | Top 8 |
Prize and Distribution
How is the prize kit going to be supplied?
The prize kit will be supplied by your distributor. These kits will be shipped from your distributor in 2023.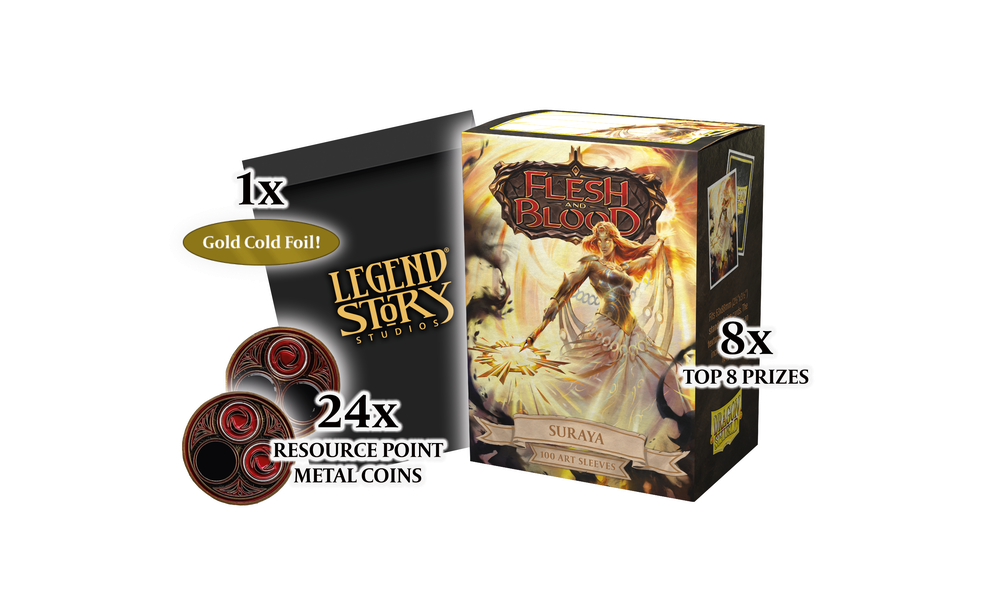 Prize
Distribution
1x Random Drop Gold Cold Foil card.
- Stores can NOT open the Random Drop Gold Cold Foil.
- This is a prize for the event's winner to open at the conclusion of Top 8, first place is awarded the random drop Gold Cold Foil prize card.
1x Dragon Shield OP display (10x 100ct sleeves) - Suraya Limited Edition Sleeves
- 8x for the Top 8, At the conclusion of swiss rounds the top eight players should be provided with the Dragon Shield Limited Edition Sleeves.
- 2x for the judge team.*
24x Resource Point metal coins
- The Resource point metal coins are to be given out as participation prizes.
- If you have more than 24 players they could be awarded to the first 24 players to register or as random prizes for players outside of the top eight.
- You must announce how you will be distributing these before the start of the event.
1x Pro Tour 3 invitation
- There is no physical Pro Tour invitation. Completing your event in GEM will provide LSS with the winners details and therefore qualify that player for Pro Tour 3.
- The Pro Tour invite is awarded to the winner of each event (or the losing finalist if the winner has already qualified via another in-store ProQuest event).
2x Proclamation of Requisition Rainbow Foil*
- Handed out to the judges once the event has concluded.
*Judge Support
The following is provided to reward your judge team:
2x Dragon Shield Suraya Limited Edition Sleeves.
2x Proclamation of Requisition Rainbow Foil.
These rewards are to be provided to your judge team in addition to any other compensation you may provide to them. Judge support must only be given to the judge team. They are not to be used as door or spot prizes for the players or given to non-judge staff members.
If you have only one judge then the whole Judge Support should be given to that judge. Otherwise, they may be distributed among the judge team at your discretion.
LSS provides this Judge Support to reward judges for their skills and dedication shown towards the game and it should not be used to replace any compensation they would otherwise receive for working a ProQuest event.
Rules Enforcement, Judges and Decklists
Are decklists required?
Yes ! decklists are mandatory for these events, you can find the Deck Registration Sheets here.
What level of rules enforcement is ProQuest run at?
This event is Competitive level of rules enforcement.
Will I need a Judge for this event?
ProQuest events MUST have a Level 1 or higher judge. The judge programme has qualified over 1000+ judges.
How do find a judge for my event?
If you are not already in touch with a judge in your community you can advertise for a judge on the JudgeHub site. All you need to do is create an account and create your event with your ProQuest information and wait for judges in your area to respond. If you have members of staff or community who want to judge and are not yet certified you can get them to register on Judge Hub to take the level 0 and 1 exams to become certified.
Coverage
As with previous event series, we are collecting information from stores for feature articles on our website. All compulsory information is being collected via GEM and the Hero Assignment feature. All coverage information is being collected via our ProQuest coverage form.
In particular, we are looking for:
Winning decklists
A photo of the winner
A group photo of the Top 8
General event photos
Stories of players, matches, or the day
We appreciate any and all information that stores can provide for our coverage articles; please note that we cannot feature every store that provides coverage information. We look forward to hearing your stories! If you have any questions about the form or want to submit additional information, please email the team at coverage@fabtcg.com.
Further Questions
Can players who are already qualified for the Pro Tour (such as by winning another ProQuest) play in my store's event?
Yes, players who are already qualified for the Pro Tour can participate in your ProQuest event. However, there is no additional benefit to a player qualifying for the same Pro Tour multiple times. If a player who is already qualified through ProQuest wins the event then the qualification will pass down to the other finalist. The pass down does not go any further than the other finalist.
Can I run this event at a location that is not my store?
ProQuest events can be run at alternate locations. However, location descriptions need to be entered when you create the event in GEM.
Can store staff play in these events?
The Tournament Organizer (TO) and judges cannot play in the event. Store staff that are not involved in the administration of the event are allowed.
Where can I find digital assets for Facebook, Twitter and website use?
You can find them here ProQuest Season 3 - Digital Assets
I still need help! Who can I reach out to?
Email the team at op@fabtcg.com, we are more than happy to arrange a call to assist if needed.