Dear local game store,
Thank you for your support of Flesh and Blood! Bring your community together with Armory Kit Arakni

Prizes and Distribution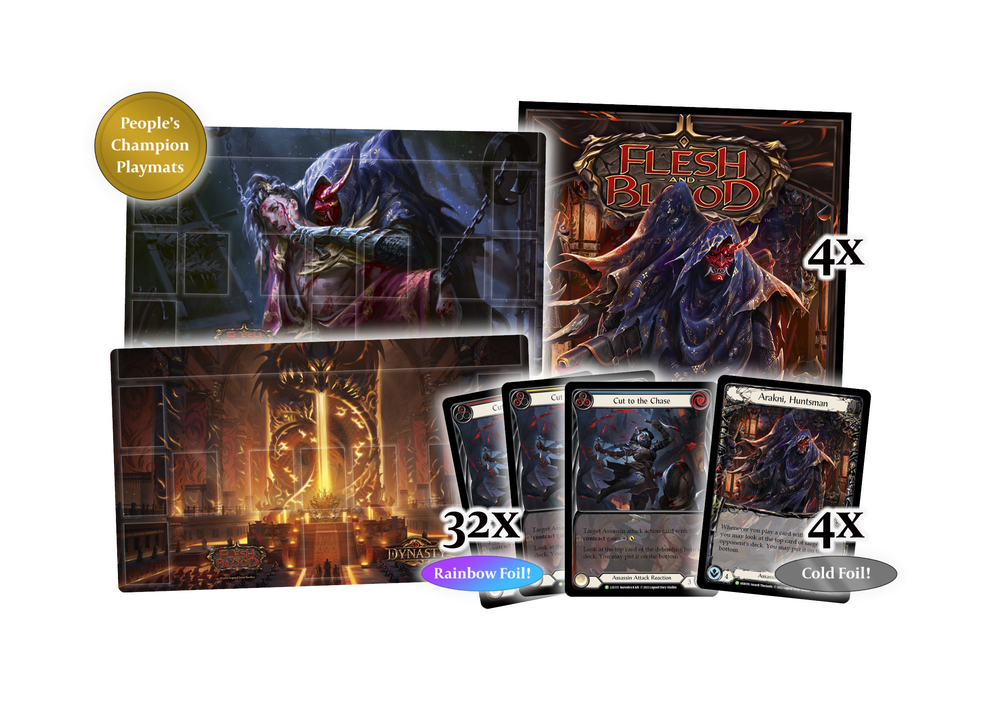 Prize
4x Arakni, Huntsman Cold Foil
32x Cut to the Chase Extended Art Rainbow Foil
1x People's Champion Surgical Extraction Play Mat
1x Dynasty General Use Play mat
4x Armory Event and marketing posters
How to use the Armory Kit Arakni 2023 materials:
Armory Kits are designed to support four weekly events. Only 1 Armory Event can be run per week.
Suggested Armory Event formats are Blitz or Booster Draft. A four-round Blitz tournament or draft pod + three rounds, will both complete within two hours. An overview of formats can be found at fabtcg.com/formats.
Each event should offer a Arakni, Huntsman (Cold Foil) card for first place. Cut to the Chase (Extended Art Rainbow Foil) to be distributed to top placed players and/or as participation prizes (at your discretion).
The People's Champion Surgical Extraction playmat must be given as a prize to a player and/or ambassador who represents positive community spirit. They are not to be used as performance-based prizes.
The General Use Dynasty playmat can be used at the discretion of the store to support their Armory Events.
If you have not done so already, please schedule your upcoming events in GEM (gem.fabtcg.com), so players in your local area can find your events on the official fabtcg.com event locator.
Please keep in mind our Use of Organised Play Materials Policy: local game stores who receive Organized Play materials are not eligible to sell promo cards or promotional playmats included in these kits at any time present or future. This includes if you purchase Organized Play promo cards or promotional play mats on the secondary market with the intention of reselling them.
If you have any questions about organized play, please contact us at op@fabtcg.com.