To be eligible to run an Arcane Rising (ARC) pre-release, you must schedule your event in our Game Event Manager (GEM) by the February 27th. If you don't have a GEM tournament organizer account yet, you can get that here gem.fabtcg.com.
You must set up your store details and select a primary distributor in your GEM account to receive an Arcane Rising pre-release kit.
If you need help, please contact us at op@fabtcg.com, or use the live chat functionality available on gem.fabtcg.com during business hours.
Running your event
Your pre-release event must be run on Saturday 21st or Sunday 22nd March.
You need to order product from your primary distributor as normal. The pre-release kit will be included with your order.
The minimum order to be eligible to run a pre-release is 1 booster case of Arcane Rising (4 displays/96 packs) = 16 pre-release players.
You can sell Arcane Rising during pre-release weekend, which means you can sell left over boosters if you get less than 16 players. However, we recommend ordering more than the minimum 1 case, so you can sell booster displays on the day of your pre-release to ecstatic fans that want more, NOW! (PRO tip - your pre-release kit contains 8 buy-a-box cold foil adult Hero promos. These are HOT, use them well!)
We recommend budgeting at least 3 hours for your pre-release event, being 30 minutes for deck construction, with 4 rounds at 30 minutes per round.
A judge is not required. ARC release notes that cover common card interactions will be published on fabtcg.com home page in the days before pre-release weekend, as well as new mechanic and hero intro guides. Please refer players to these resources if rules questions come up.
Your pre-release event must be run using GEM. Failure to run your event in GEM may affect future OP eligibility.
Player registration
Players need a GEM player ID to be able to play in your pre-release. If they don't already have a GEM player ID, they can use their mobile phone to get this by clicking "Register" in the menu drop down found in the top right hand corner of fabtcg.com.
It takes 1-2 minutes for a player to register a new GEM player ID, which becomes active immediately allowing you to enter them into your pre-release event using GEM.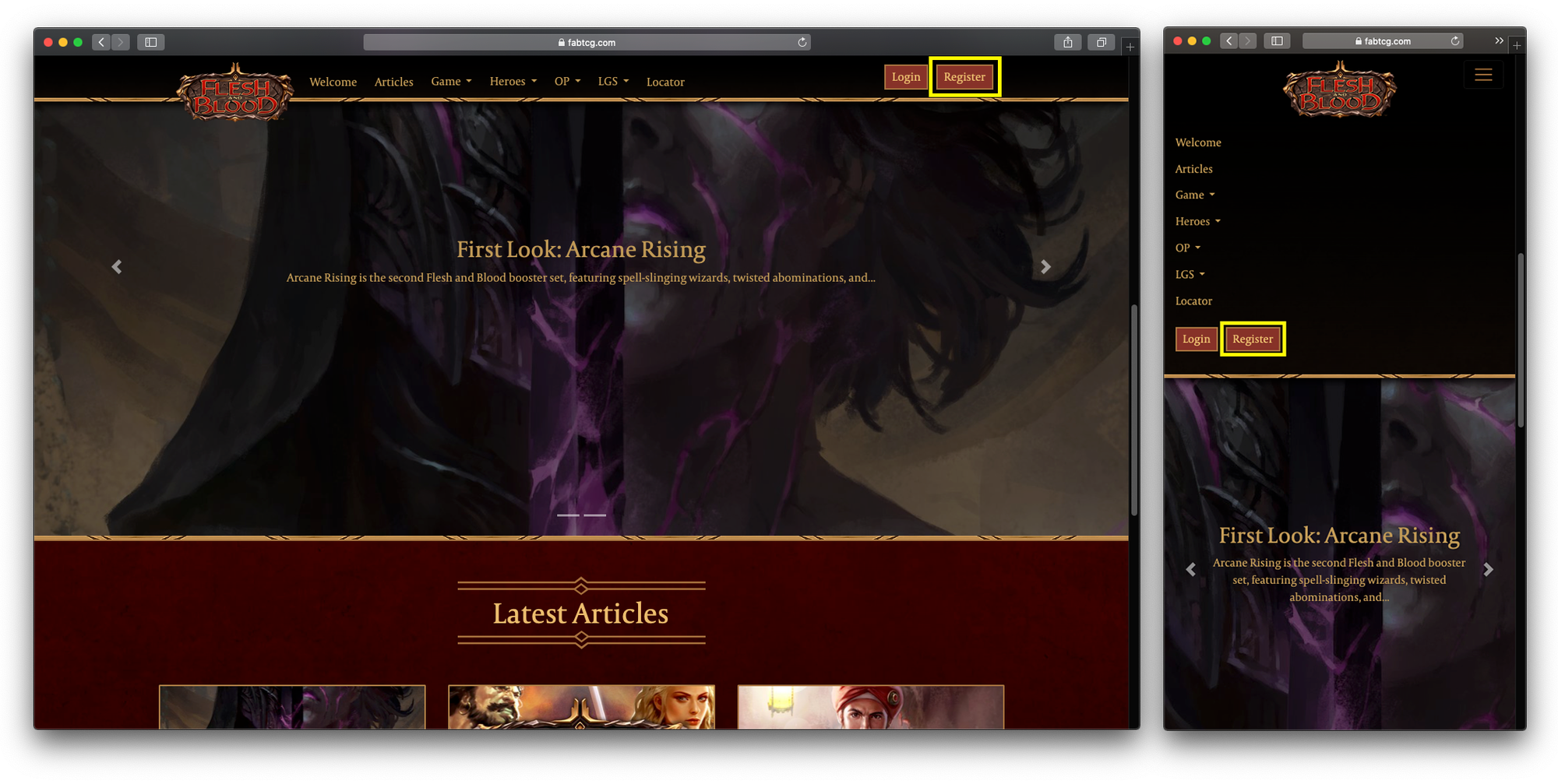 Deck Building
Each player receives 6 Arcane Rising boosters to build a 30 card minimum deck (not including young Hero, weapon, and equipment cards).
Deck construction should be at least 30 minutes.
A deck can include any generic cards, but only class cards that are the same class as the young Hero they choose to play. Tip - use card frames as an easy way to distinguish the different class and generic cards.
Limited format decks (sealed deck and booster draft) can include any number of a card, unlike constructed that has a 3 card limit. If a player opens 5 copies of the same card, they can include all 5 in their deck.
For limited formats young Hero cards are used. These are plentifully available in booster packs and you will also receive some in your pre-release kit.
Players choose the young Hero and weapon they want to play after opening their packs and building their deck. They don't have to open the young Hero and weapons from their own booster packs. We recommend players get the young Hero and weapon cards they need by pooling the token cards opened by all players, or from the TO.
Players can change the young Hero they are using and rebuild their deck between rounds.
You may give out the young Hero foil promo cards included in the pre-release kit, so that players can use them to play the event. We recommend doing this if your event has 16 or less players.
Playing the Game
Each round should be 30 minutes, best of one.
Start of Game Procedure
Players reveal their young Hero and then randomly determine who chooses whether to play first or second.
Players then decide on the 30 card minimum deck they will use for this game, and the weapons and equipment they will start the game with in play.
Decks are then randomized and presented to the opponent for a final shuffle and cut.
Both players then reveal the weapon(s) and equipment they have chosen for this game, draw cards up to their young Hero's intellect, and begin the first turn of the game.
End of Match Procedure
If time is called and a match is still being played, there is an end-of-match procedure.
The active player is on turn zero, then there are 3 additional turns to try and determine a winner.
If there is no winner at the conclusion of the additional turns, the match is a draw. In Flesh and Blood, a draw is worth 0 points. Players are incentivized to play at a pace that completes games.)
Prize Distribution
The Arcane Rising pre-release kit you will receive from the primary distributor you have selected in your GEM account, contains the following prize materials:
2 Arcane Rising limited edition playmats
16 young Hero foil promo cards (4 of each new ARC young Hero)
Prize distribution is at your discretion, however we recommend:
That 1 playmat is awarded to the winner of the pre-release and the other as a door prize.
The 16 young Hero cards are given out as participation prizes before the first round, so players can play with the foil young Hero promo's. If your event has more than 16 players, this won't be possible.
We recommend you advertise the young Hero cards as available while stocks last and guarantee them for the first 16 players to pre-register for your event.