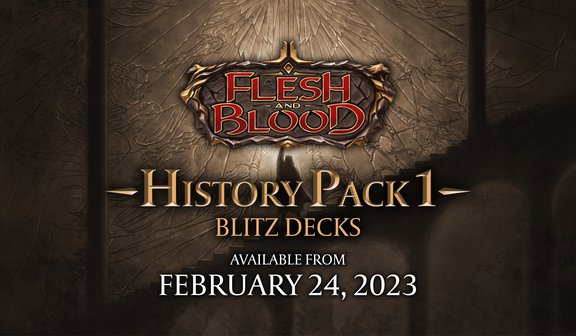 History Pack 1 Blitz Decks are the first ready to play decks available in French, German, Italian and Spanish, and are a great product to welcome new players to the world of Flesh and Blood and introduce them to your in-store organised play programs.
How to host a History Pack 1 Blitz Deck Release Event?
We recommend using the Release Event type in our GEM software to schedule a Sealed Deck format event and advertise it as a History Pack 1 Blitz Deck event.
In a pre-constructed Blitz Deck event, players receive a sealed Blitz Deck on a first come, first choice basis to use in the event. History Pack 1 Blitz Deck displays feature 6 iconic heroes from the origins of Flesh and Blood, meaning that 1 case of them can support an event of up to 24 players.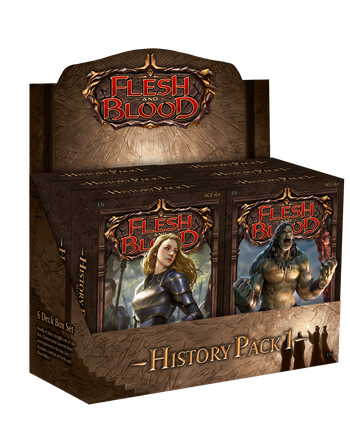 Suggested Format:
3-4 rounds
Best of 1
30 minutes per round
Players use History Pack 1 Blitz Decks with no additional cards or changes.
Entry Fee & Prizing?
For a release event stores are welcome to set their own entry fees and prize structures. We would recommend using participation prizes to give a more casual, new player friendly event, as opposed to a more competitive, top prize structure.

Combine with Learn to Play
History Pack 1 Blitz Decks are designed to be approachable for newer players, but for brand new players you may also wish to run a learn to play session earlier in the day utilising Ira Welcome Decks. These decks are available from your distributor in English, French, Italian and German. Our new localised European language welcome pages include all our localised Print and Play and Learn to Play resources and are listed below:
fabtcg.com/es
fabtcg.com/it
fabtcg.com/de
fabtcg.com/fr

If you haven't done so already, contact your distributor ASAP to order your History Pack 1 Blitz Decks and History Pack 2 Boosters!

* Please note that History Pack 1 Blitz Decks in English language will not release until April 7th.