"Farewell Welcome to Rathe" events give your community one last opportunity to play Flesh and Blood with the set that started it all. Celebrate and send Welcome to Rathe off in style, by hosting a 'Farewell Welcome to Rathe' draft event in your store!
Dates: Events can be run 28th - 30th January 2022 (North America, EU, UK, NZ, AU)
Format: WTR booster draft
Celebration Kit contains: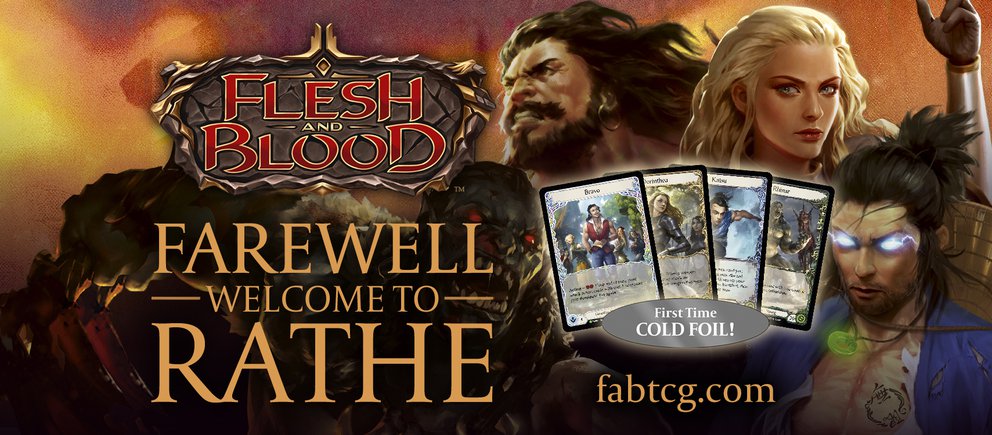 3x Welcome to Rathe Unlimited Cases
1x Promo Card Pack that containing 16 Cold Foil Young Hero's from WTR
(Limit 1 kit per store)
WTR Alpha Giveaway - Players and Stores!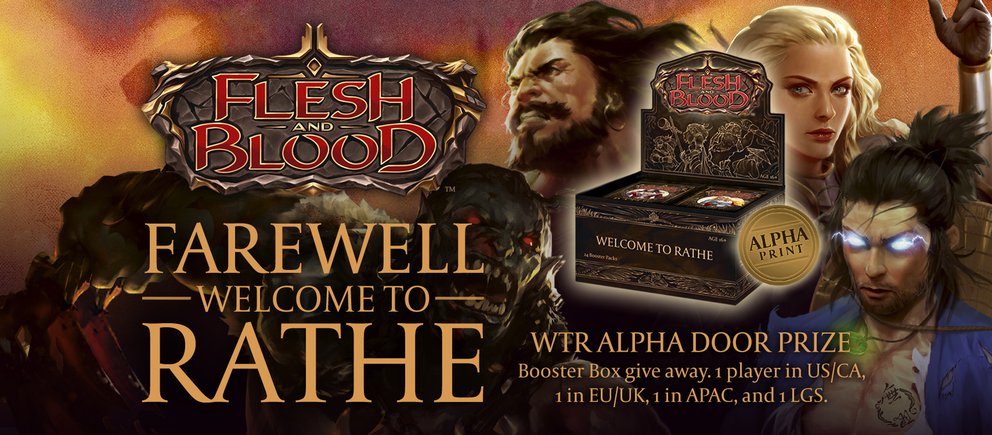 We are giving away a case of Welcome to Rathe ALPHA to a mix of lucky players and stores. who participate in Farewell WTR. The case will be given away as follows:
1 display to a player chosen at random from North America
1 display to a player chosen at random from Europe / UK
1 display to a player chosen at random from South East Asia / Oceania
1 display to a store chosen at random who schedules their Farewell WTR event in GEM by January 20th.
The Basics:
Any GEM registered store can run a Farewell WTR event.
Your event must run on the weekend of the 28th - 30th January 2022, you can run one Farewell WTR event.
Due to Lunar New Year, Farewell WTR events in South East Asia will run the weekend of January 21-23.
To participate in this event you must first purchase a Celebration Kit from your preferred Distributor.
Contact your distributor to request a Celebration Kit. Kits are strictly limited and will be allocated by distributors based on your recent event and sales activity.
Once your distributor has confirmed your Celebration Kit order, sanction your event in GEM asap, choosing the event type Farewell WTR. This will get your store included in the official Farewell WTR marketing campaign and eligible to win a display of WTR Alpha!.
The 3 cases of Welcome to Rathe Unlimited included in the Celebration Kit are to be used to run the event, plus prizing at your discretion, plus retail stock that will be in high demand due to Welcome to Rathe officially being announced Out of Print.
Celebration Kits will ship from your distributor in early January.
Digital Assets for this event are now Available - Farewell to Welcome to Rathe Marketing Assets
Running the Event
How do I run a Draft event in GEM?
You can check out our handy Draft Video here GEM Skirmish Tutorial
How long should I budget for events?
We advise that Draft events use 30-minute rounds. However, you may choose to make rounds longer if necessary based on factors like the experience level of your players.
Draft events require 30 minutes for each draft and 15 minutes for deck building time after each draft. These events are run at casual rules enforcement level, and therefore we suggest deck registration sheets are not used.
Event Structure
Our recommended structure is a player cap of 16 players (to support appropriately sized pods and create some urgency to pre-register for your event), with the event running as follows:
2x draft pods of 8-players per pod
2x draft pods of 8-players per pod
Prizes awarded based on standings after swiss*
Prize Distribution
The celebration kit contains 16 Cold Foil Young Hero cards from Welcome to Rathe. This is the first time these cards have appeared in Cold Foil. The distribution of these prizes is at the discretion of the Tournament Organizer and should be tailored to the dynamics of your community. All promos must be given away in a way that is transparent to participating players before the event begins.
Entry Fees
The entry fee can be set at your discretion. We encourage stores to charge an entry fee that is reflective of the MSRP of the product being given away through the draft itself plus any sealed product prizes.
RULES ENFORCEMENT / JUDGES
What level of rules enforcement is this event run at?
The Farewell event is a casual rules enforcement event. Please check the Penalty Guidelines for more information.
The purpose of this event is to be an enjoyable community-building exercise; if you have to adjudicate on a rules breach, we would encourage you to assume good faith on the part of the players and to treat it as an honest mistake and a learning opportunity.
Do I need a Judge for an event?
You don't need a judge for the event, however, we would recommend that either the TO for the event or a store staff member is familiar with documents found in the Rules and Policy centre.
Covid Restriction Procedures
As Covid continues to spread worldwide, we understand that rules move fast and that changes in local regulations may make it impossible to run events as was envisioned when this series was announced. Governments have been responding to the surge in Omicron infections with a wide range of policy measures, some of which have meant that stores are unable to run organized play.
Previously Farewell WTR events had to be run on the weekend of January 21st-23rd 2022 for Asia and on the weekend of January 28th-30th 2022 for the rest of the world. However, we recognize that this latest wave of restrictions has again been hard on stores. We want to provide you with some additional opportunities to run these events if possible and get your community back in store without clashing with the upcoming season of ProQuest. As such, the revised COVID protocols for the season are now as follows;
Due to the format of the event (WTR Draft) events cannot be run online and are in-store only.
All events must be run in compliance with local safety laws and regulations
If an event cannot be run due to local COVID restrictions, then it can now be postponed up until 13 February 2022. If an event cannot be run by this date then it will need to be cancelled, as ProQuest is starting the following week.
Stores that have restrictions on in-store numbers can run individual pods. For example, 8-player pods could be run at different times if that complied with local restrictions. Pods need to be run with a minimum of 8 players per pod. Please contact the team at op@fabtcg.com for support with this option.
If local restrictions prevent play in-store then event prizes can be given away to players, for example;
used as a surprise gift with purchase to loyal members of your community.
given away as part of online promotion on your social media
used as additional prizes in future Armory Events
You may not;
Sell the promos
Bundle them with other products and market them for sale 
Stores are not required to return prize support but they must be used as was envisioned when this series was announced .
If your store has any questions about these measures please contact the team at op@fabtcg.com so we can help you.