The Emperor stands between law and chaos. For the sake of his people, he must decide their fate. For He is the dynasty, and the dynasty shall prevail.
Dynasty releases in stores on November 11th and to celebrate the occasion LSS will be marketing a special Dynasty Armory Weekend to get players into your store to play with the exciting new cards!
Players are keen to see new cards in action and these will be the first events that feature Dynasty. The Dynasty Armory Weekend will bring further interest and anticipation to the launch of Dynasty on November 11th. Players can prepare with new decks whether it be by cracking packs or picking up singles from your store.
Stores can now schedule a Dynasty Armory Weekend event for the weekend of the 11th-13th of November. Scheduling is open until 6 pm Friday 14th October PST
Who can participate in these events?
Dynasty Armory Weekend is available to all GEM-registered stores.
Is this an extra Armory Event for November?
No, this event should be run instead of your normal weekly Armory event. Stores cannot run this as an additional Armory event.
What Format should be used?
What are the prizes?
Dynasty Armory Weekend event must use the November Armory kit as normal. Stores should offer the general use 'Dynasty' playmat in the kit as a door prize. Stores are encouraged to use Dynasty boosters as additional prizing.
In addition all stores that created their event in the sanctioning window will receive 2x Regicide Lights Out Extended Art promos.
These promos will be supplied to you through your preferred distributor and should be used at the event with one given to first place and the other given out as a door prize.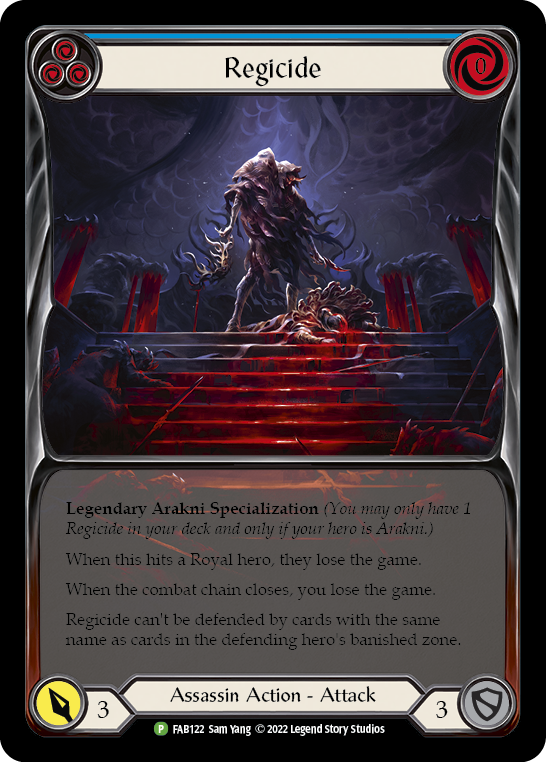 But wait, there's more!
Stores that schedule and complete their event in GEM will also be in for a chance to be featured with a  STORE SPOTLIGHT on fabtcg.com! 
We will bring the best of your store to players worldwide with a dedicated article.

When should these events be run?
Events can be run Friday, Saturday or Sunday. Dynasty is available in-store on Friday we suggest you run your event in the afternoons, this gives players the best chance to update decks, and picking up singles or boosters in-store.
Are there any other differences compared to regular Armory Events?
All other Armory Event procedures apply. For more information on Armory, Events check here Running an Armory Event
For further information contact the team at op@fabtcg.com
#fabDynasty 

Legend Story Studios will also be promoting the weekend through Social Media. To go into the draw to win a Dynasty Armory Weekend Prize Pack showcase your Dynasty release weekend highlight by posting a photo on your Twitter or Facebook using #fabDynasty and tagging @fabtcg. This draw is open to players and stores and there are 6 prize packs to be won across Twitter and Facebook.

The Dynasty Armory Weekend Prize Pack consists of the following:
1x Dynasty Booster Box
1x Dynasty Peoples Champion Playmat
1x Set of Extended Art Rainbow Foil Blessing of Aether
We look forward to seeing the fun and celebrating the Dynasty release with the community.
This competition closes 11:59 pm November 13th 2022 PST. Winners will be announced by the 16th of November 2022 PST.