Dear local game store,
Our festive season wishes are with you, your family, and your team who have worked so hard throughout the year to bring fun and games into the lives of people in your local community.
We thank you for your support of Flesh and Blood throughout 2022 and hope you enjoy the fun contents of the Christmas 2022 Armory Kit.

Prize and Distribution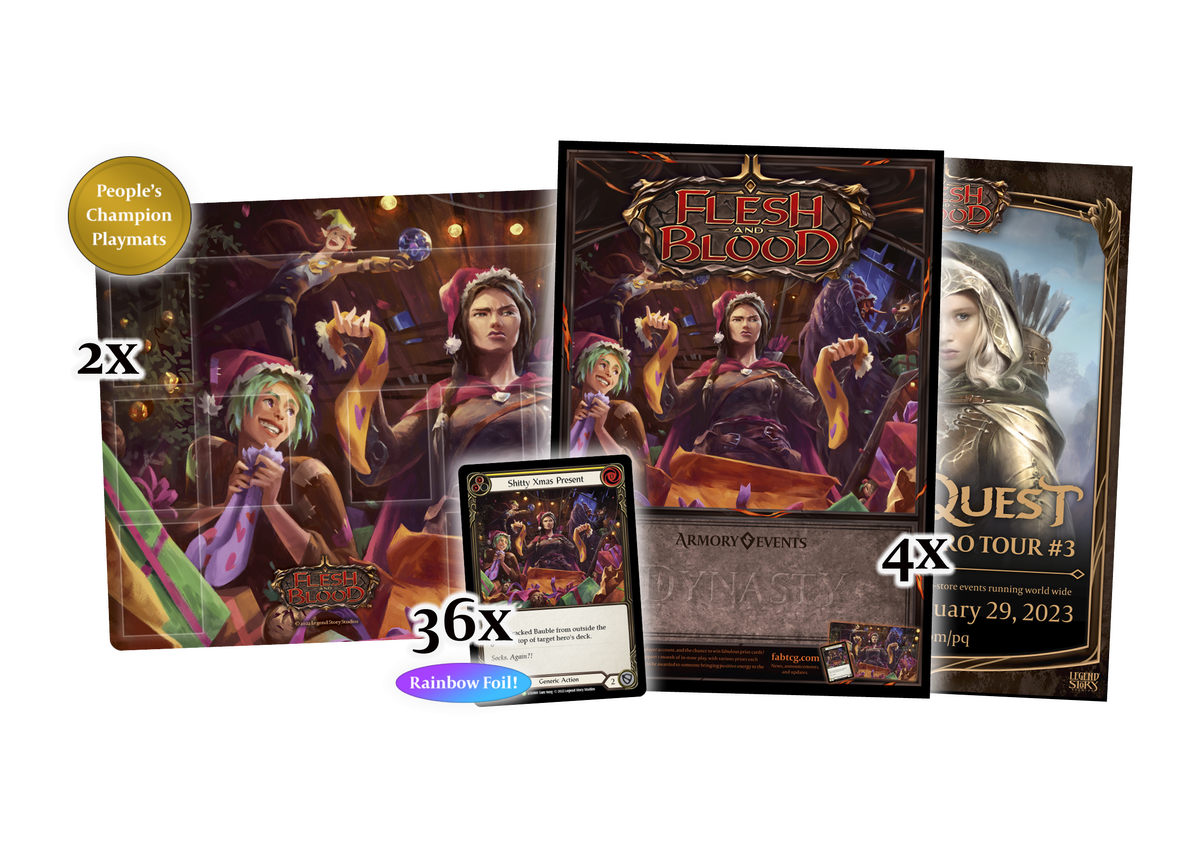 Prize
36x Shitty Xmas Present Rainbow Foil
2x People's Champion Shitty Xmas Present Play Mats
4x Armory Event and marketing posters
1x ProQuest S3 poster
How to use the Armory Kit Christmas 2022 materials:
We understand that during December your normal organized play schedule is likely to differ from other months due to public holidays and the rush of the festive season. Unlike other months, the entire content of Armory Kit Christmas 2022 may be gifted to your community at your discretion. We encourage you to share the Shitty Xmas Present Rainbow Foil around the community in your store. Last year we were sent dozens of photos of fans who had decorated their Christmas trees with regular Cracked Baubles, which is where the inspiration came from to create the special Christmas 2022 materials contained in this kit.
Shitty Xmas Present is considered a Special Use Promo and is not legal in Classic Constructed, Blitz, or Commoner official tournament play. For more information check here Card Legality Policy
If you have not done so already, please schedule your upcoming events in GEM (gem.fabtcg.com), so players in your local area can find your events on the official fabtcg.com event locator.
Please keep in mind our Use of Organised Play Materials Policy: local game stores who receive Organized Play materials are not eligible to sell promo cards or promotional playmats included in these kits at any time present or future. This includes if you purchase Organized Play promo cards or promotional play mats on the secondary market with the intention of reselling them.
If you have any questions about organized play, please contact us at op@fabtcg.com.
Wishing you a safe and happy holiday season!