Armory Kit Benji
4 Benji, the Piercing Wind (Cold Foil)
32 ??? (Rainbow Foil Extended Art)
1 Crazy Brew (Cold Foil Full Art)
1 Crucible of War playmat
1 'People's Champion' playmat - Find Center
Benji event posters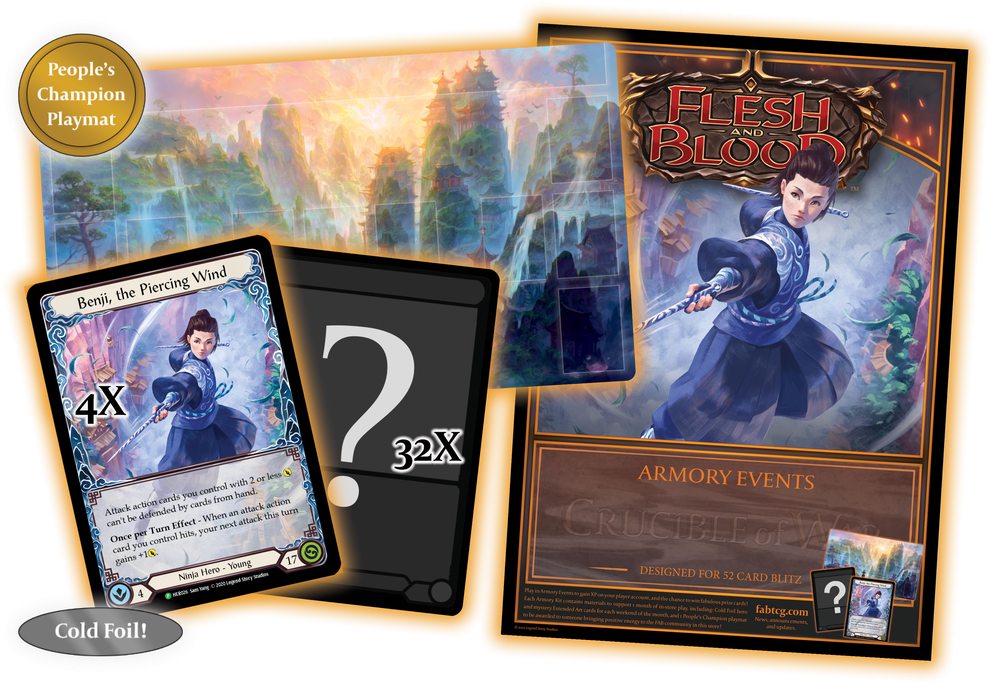 Players
Armory Kits set the theme of prizes for weekly Armory Events at your local game store. The young and nimble ninja Benji, the Piercing Wind is brewing up a storm all the way from the Gorge of a Thousand Winds in Misteria and is blowing the doors down of your Local Game Store this month! Earn yourself a Cold Foil version of the dipping and darting Benji for winning your weekly Armory Event, or pick up some mysterious Rainbow Foil Extended Art cards for participating as homage for your dedication to the mastery of the nimble arts! One deserving player from each community will be rewarded with a People's Champion playmat featuring the artwork of Find Center, being rewarded to the player who has contributed the most to their local community throughout that month.

Dive in and watch as Product Development Assistant, Newsun Zeng, tries to hold his own as Benji, being the underdog-ninja against Calling Auckland 2021 Top 8 competitor Calum Gittins playing as the rebel leader and ninja-to-beat, Ira, Crimson Haze in the most recent Hero Spotlight, playing the Blitz format.
So, what are you waiting for? Plenty of opponents are waiting on the battlefield with this month's themed Armory Events. Find an Armory Event near you with our Event Locator, and perhaps contact them in the case of in-store play being unavailable to find out about alternatives to participate.

Want more Flesh and Blood action? Play in a Skirmish event!
---
Stores
Armory Events are the perfect way to help grow your local community of Flesh and Blood players by offering them a weekly/consistent event to play some games and earn great prizes! By signing up to host Armory Events you will be eligible to receive Armory Kits every month for free!

Sign up to GEM (Game Event Manager) today in order to start your journey in running Armory Events and growing your Flesh and Blood community!
Existing stores should contact their distributor representative on being supplied Armory Kits.

If in-store play is not currently feasible please contact us (op@fabtcg.com) for some tips and advice on how to utilise the contents of each Armory Kit.