The world of Rathe turns to flame. Ancient and powerful dragons rise from the cauldron of Volcor. Discontent spills over into violence. Are you ready to join the Uprising?
To mark the release of Flesh and Blood's newest set, Legend Story Studios is excited to announce that three Uprising World Premiere events are taking place across three continents on June 10 – 12. Join the global Flesh and Blood community and be among the first in the world to try out the latest release!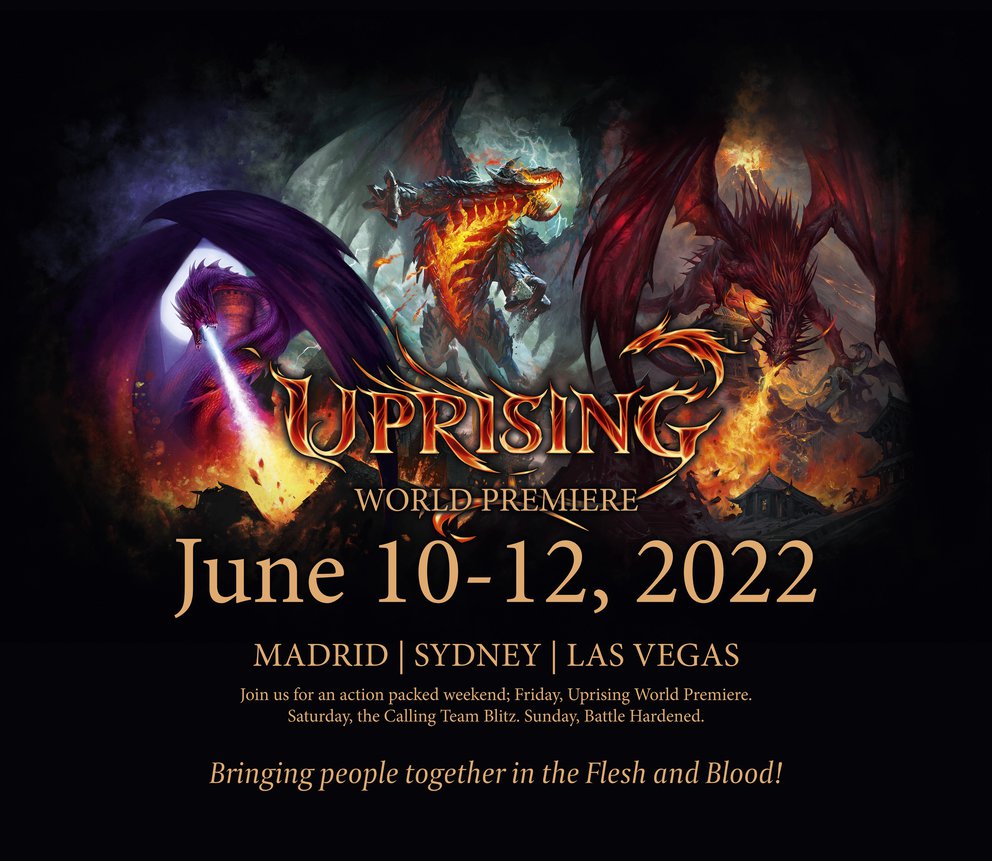 These World Premiere events are a chance to bring the global community together for one fantastic weekend of Flesh and Blood Organised Play, and in the spirit of coming together the weekend will also feature the first-ever Team Blitz Calling event! Grab your friends and battle it out over two days of fast and furious blitz action. These Calling events will each feature a USD20,000 prize pool, plus PTIs and a Golden Cold Foil Legendary prize card for each member of the top four teams.
Celebrate the release of Uprising with a massive sealed deck event on Friday, a Team Blitz Calling on Saturday (3 different heroes per team), and for those who like to battle until the very end, a Battle Hardened to round out the weekend on Sunday.
For the collectors, we have a special premium package available featuring two very special promotional items. The Legendary Dragons of Volcor are descending upon World Premiere events with a Legendary Dragons of Volcor playmat exclusive to the Uprising World Premiere weekend, plus a special limited edition set of event-specific Legendary Dragons of Volcor Dragon Shield 100ct sleeves.
We're so excited to finally be able to host the Flesh and Blood community around the world at these events. Will you step forward and join the Uprising?
Ticketing for all events is now live! Click the link blocks below to read all about the events, or head straight on over to the ticketing websites;