Welcome to this week's What's the Latest!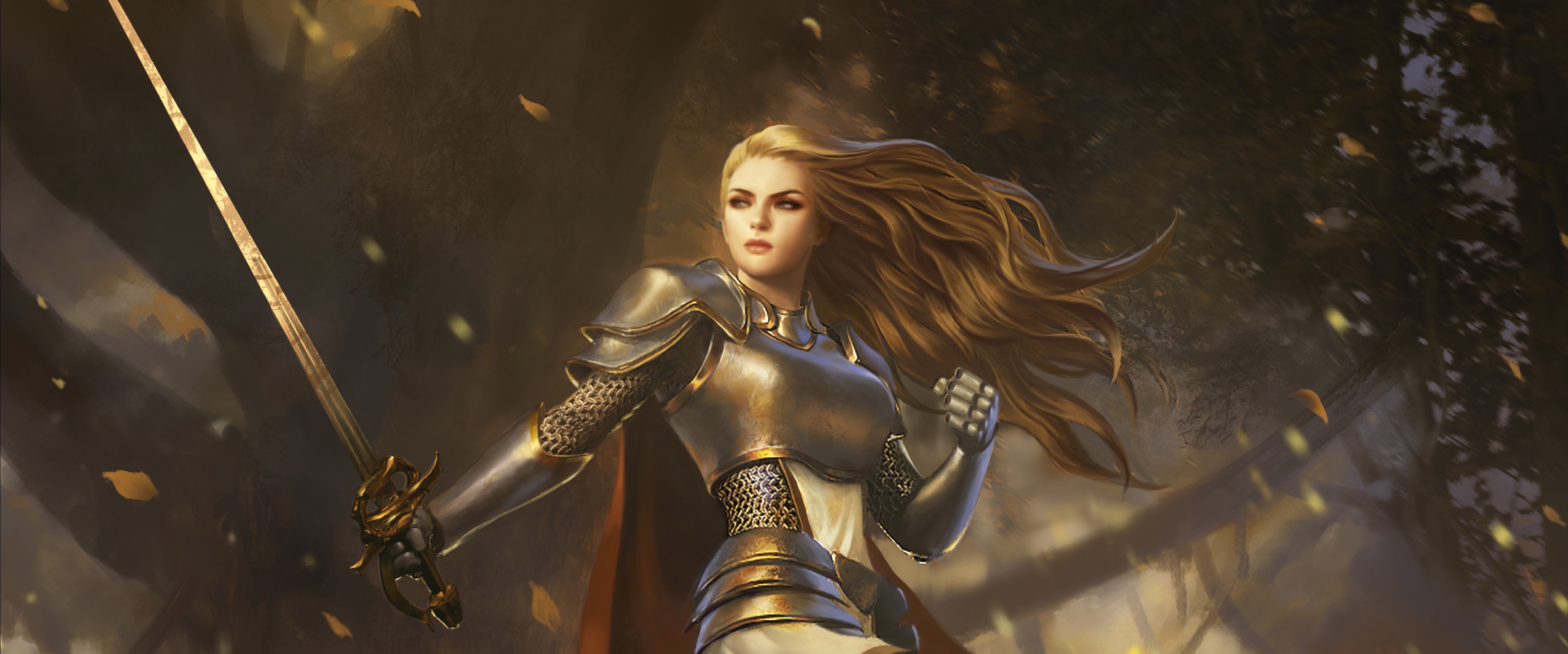 Skirmish Season 5 rolls into its second week this weekend! Over 600 stores are hosting events all around the world this season, so whether it's Blitz or Uprising Sealed Deck, find your nearest tournament, get down there and get involved!
We have some of the hottest Skirmish season content Rathe has ever seen, this week, with brilliant guest writers Kiki Labad and Rhys Robin showcasing some key concepts and strategies.
The Tall Timmy as well as FaBrika are here with episode two of their Blitz and Sealed Deck gameplay video series this week!
Battle Hardened events have been coming through hot and heavy! Keep reading to see what's happening in North America between now and the end of October.

Auckland, New Zealand had its Battle Hardened last weekend and we have the detailed recap of the epic event.
The Calling Singapore is juuuust under two weeks away and of course, the pinnacle of organised play, Pro Tour Lille is going down one week after that, August 26-28!
Keep reading for the Latest!
Skirmish Season 5

Skirmish Season 5 blazes headlong into its second week and runs from July 30 to August 21!
Check out the full Skirmish Season 5 Week 1 recap below for decks, drama and dialogues on Flesh and Blood's hottest Skirmish season to date!
This casual-level event series features both Blitz and Uprising Sealed Deck tournaments, so you can either pick up your favorite Blitz deck, or crack some packs and play as Fai, Dromai, or Iyslander! Over 600 stores will be hosting events all around the world this season, so there's never been a better time to get involved the Skirmish season.
We have six sensational guest writers this Skirmish season to share their thoughts, tips and tricks with you. This week, from New Zealand, we've had the privilege of both Kiki Labad, a player, tournament organizer and 2021 Calling Auckland runner up as well as rune decoder, and Mechanologist master, Rhys Robin publishing premium Skirmish content on fabtcg.com.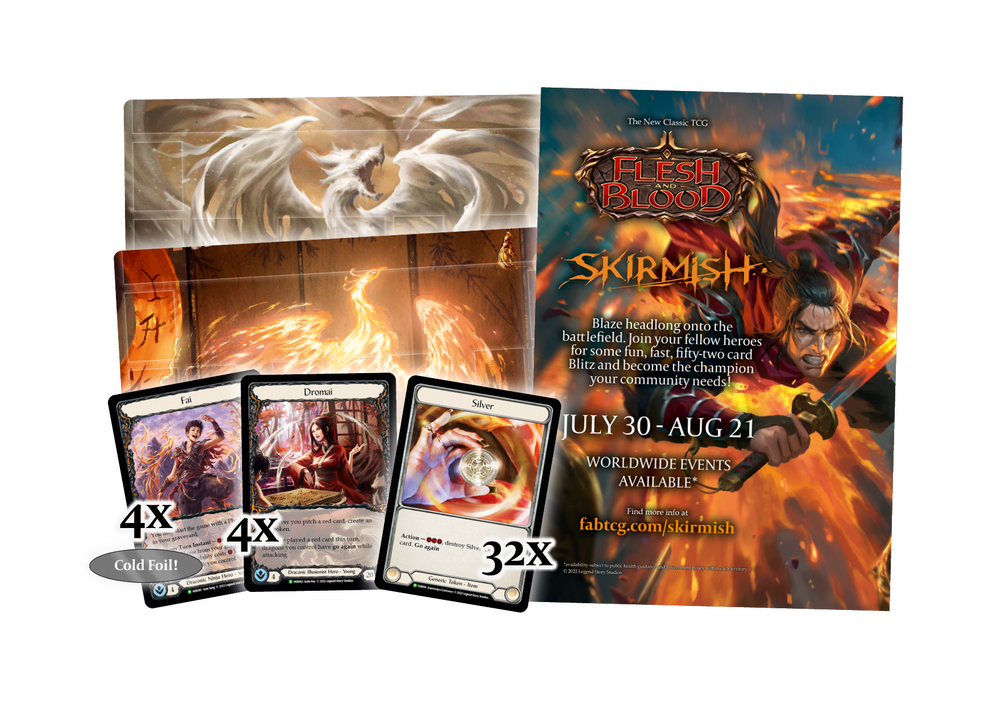 This season's prize kit includes Fai and Dromai Cold Foil hero promos, Silver tokens appearing for the first time in Cold Foil, and two playmats for the finalists of each event, featuring the artwork of Aether Ashwing and Phoenix Flame!
In addition to some world-class written content this Skirmish Season we have two video gameplay series for your viewing pleasure and both The Tall Timmy and FaBrika dropped their latest Skirmish gameplay videos this week.
Skirmish Gauntlet: Uprising Gameplay Series
This three part Blitz Constructed game series features three games and six different heroes selected and piloted by charismatic community fan favourite and content creator king, The Tall Timmy, and friends.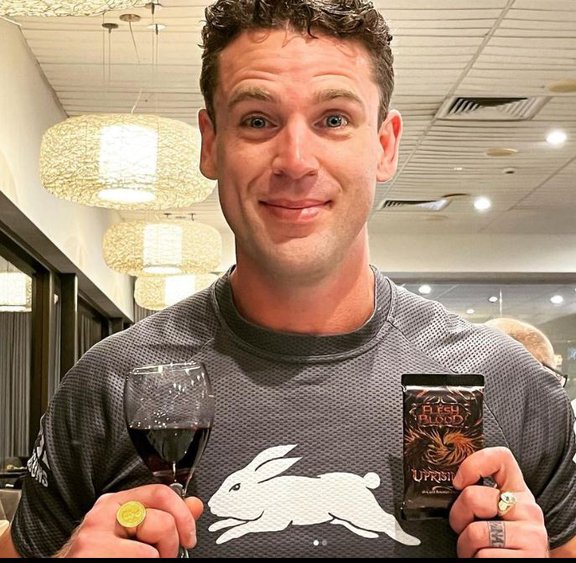 This Skirmish season, Tall Timmy and friends go one on one, smashing some of their personal top Blitz hero picks into each other, in what is no doubt another must-see Blitz Gauntlet series.
For week two, The Tall Timmy takes on fellow superstar content creator, one half of Arsenal Pass, Calling Sydney 2019 champion and also the 2021 Australia National champion, the one and only Hayden Dale!
In the second match of the Skirmish Gauntlet: Uprising Blitz Constructed series, we see Hayden go wider on the combat chain than in your wildest dreams! With the heart of a phoenix, he sets the arena ablaze, as he plays as the Draconic Ninja, Fai. On the other side of the arena, we see Tall Timmy, take it back to the classics. Confident, charming and theatrical, treating the battle like a performance as he plays as the Original Guardian, Bravo.
Uprising Sealed Showcase Series
This three part game series features one of each matchup between Dromai, Fai and Iyslander, piloted and produced by worldwide fan favourites and some of the slickest content creators in the game, FaBrika!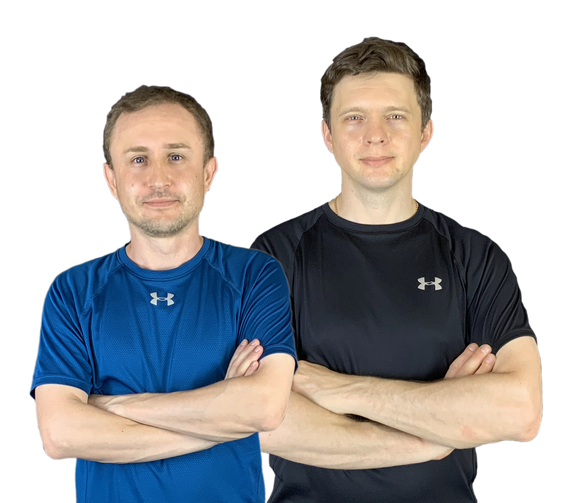 Over the coming weeks this Skirmish season, FaBrika face off against each other, constructing and running Dromai, Fai and Iyslander into each other, in a gameplay and deckbuilding series sure to inspire your sealed deck Skirmishes.
In the second match of the Uprising Sealed Showcase series, we see FaBrika build and battle with the Draconic Illusionist, Dromai and the Draconic Ninja, Fai in the hottest sibling rivalry Rathe has ever seen!
2022 National Championships

The 2022 National Championship events will run from September 10-25, with events split between invitation-only events in larger countries, or open-entry events in smaller countries.
Invitation-only events will be limited to players who have qualified through Road to Nationals, receiving an invite via 90-day XP, or redeeming a PTI. There are 15 invitation-only events: Australia, Belgium, Canada, France, Germany, Hong Kong, Italy, the Netherlands, New Zealand, Poland, Singapore, Spain, Taiwan, the United Kingdom, and the United States. XP-based invitations will be issued based on standings as of 5pm Tuesday 26 July PDT, directly following the end of the Road to Nationals season.
Open-entry events will be open to all players, up to the player cap. All players who have qualified through making the Top 4 of a Road to Nationals event will automatically receive free entry to these events, while other players will be able to purchase a ticket to the event.

Keep your eyes on fabtcg.com for ongoing updates on National Championship information.
Pro Tour Lille
Is happening in less than a month in France, August 26-28!

As of 11:59pm (PDT) August 4th, 2022 registration for Pro Tour Lille is closed, however the Calling, Battle Hardened and side event packages are available now!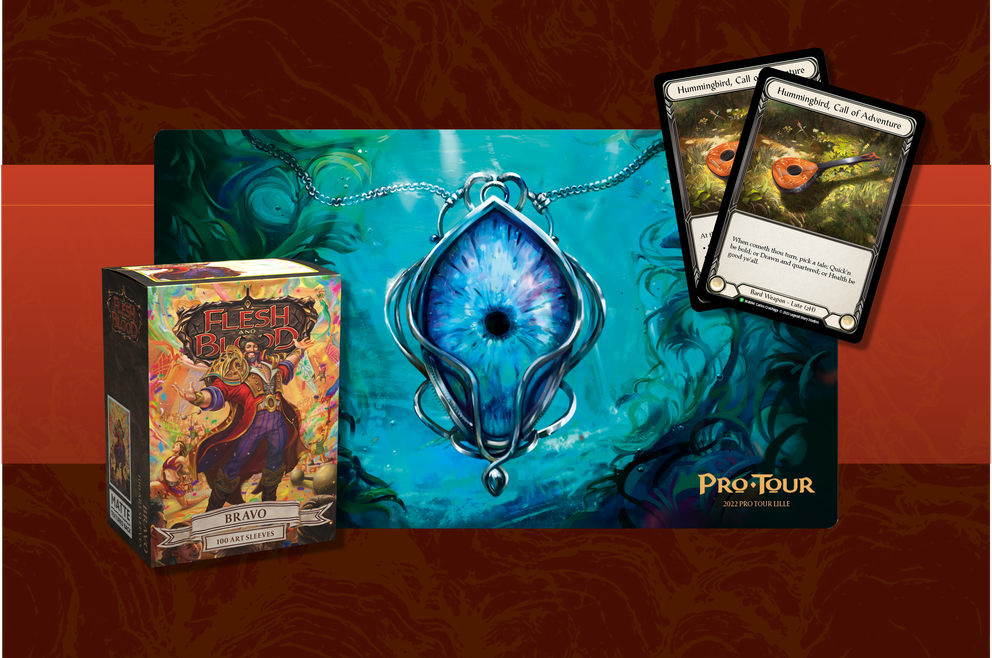 The Pro Tour weekend also features a full slate of public events, including the Calling, Battle Hardened and three action packed days of side events. We've got a range of ticket packages available, so head on over to the tournamentcenter website and check out all the options. If you are planning on coming, please consider buying your tickets early; a number of recent events including Krakow, Sydney and New Jersey have sold out, and we want to avoid any disappointment for players who are travelling to take part in the events!
Asia-Pacific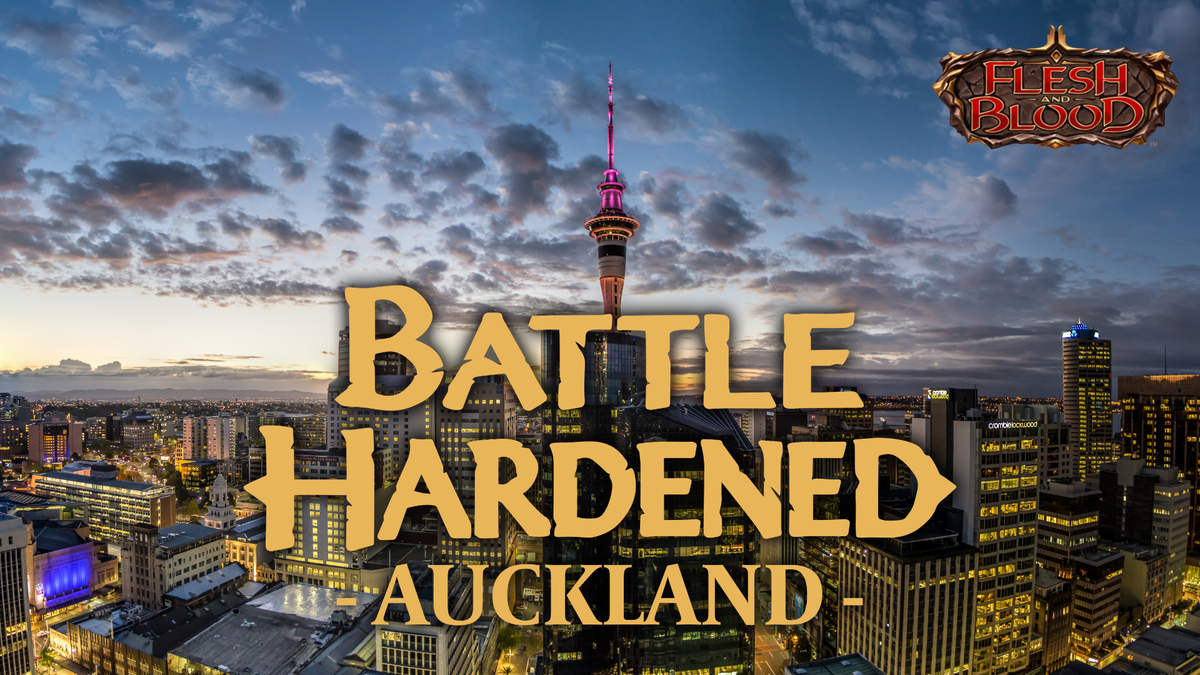 The Battle Hardened series returned to New Zealand last weekend July 30! Hosted by Card Merchant (with support from ADEPT Events), as part of the Cancer Society Games Fair at the iconic 'The Cloud' venue, players put their Classic Constructed skills to the test to compete for coveted PTIs, cash prizes and more.

Check out the detailed recap of this epic event below!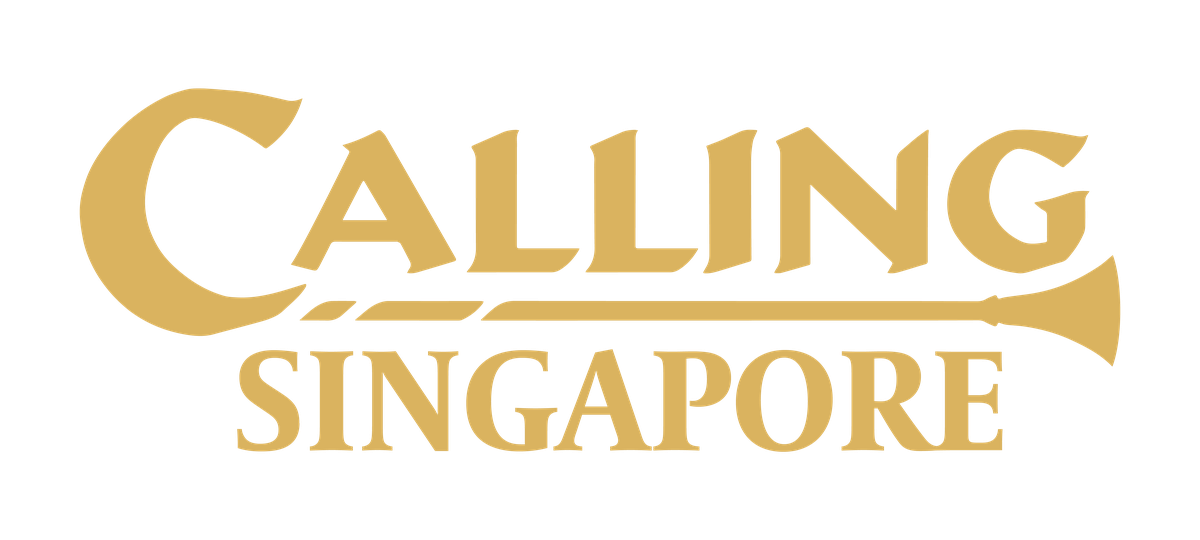 The Calling comes to Singapore in just under two weeks, taking place August 20-21!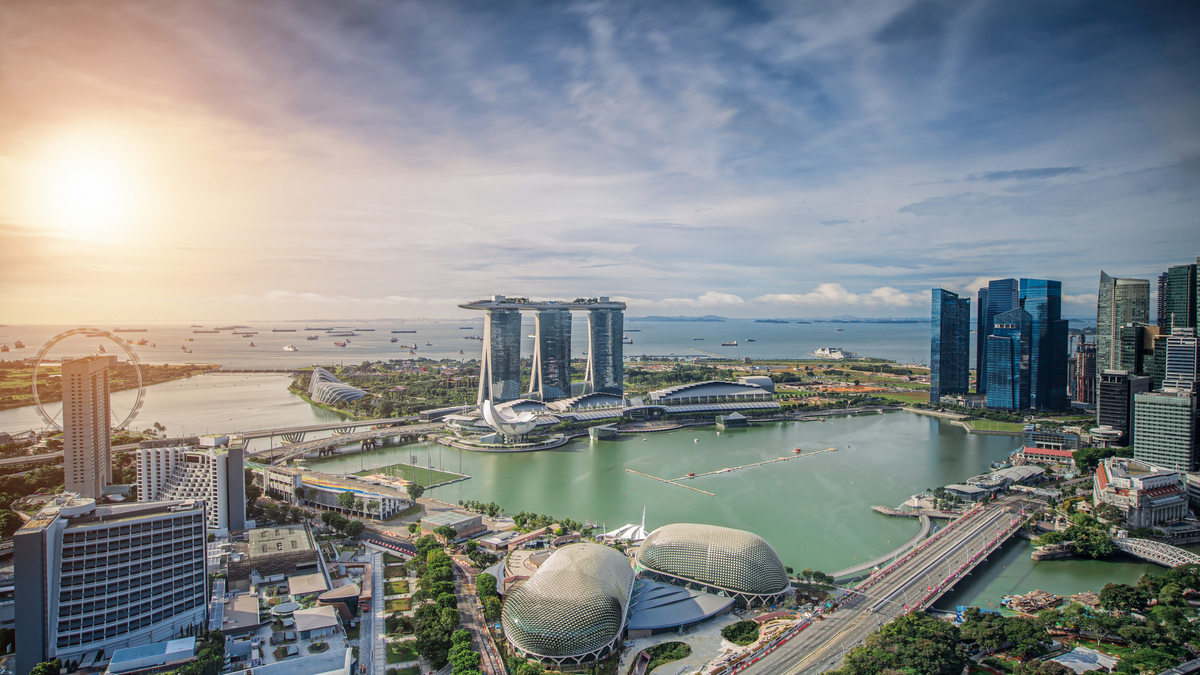 Over the past 18 months, South East Asia has established itself as one of the most intense competitive Flesh and Blood environments in the world. The leaderboards consistently feature players from across the region at the top of the standings, and casual Sunday Skirmish events have featured Top 8s with over 8,000 XP between them.
North America

We have six Battle Hardened events coming to North America between now and the end of October!

This month, starting with Portland next weekend on August 12 and then onto Baltimore, August 19-21.
Then, onto Columbus, September 2-4, and after that, as part of the United States National Championship weekend, Battle Hardened arrives in Charlotte, September 25, then Minneapolis from September 30-October 2, and finally Denver from October 29-30!
These will be some of your last chances to get a PTI and attend the World Championships in November and are not to be missed!