The Skirmish event series has been smooth sailing, picking up speed as it passes through its sixth week! In its first week of events post-Drone of Brutality, the meta saw a clear shift into a more aggressive play style, while a number of big names went down to some lesser known players.
---
Most Excellent Comics & Gaming
This week, Most Excellent Gaming knocked Channel Fireball's previous record out of the park, with their free-entry Skirmish event attracting over 150 players from all over the world! Participants booted up their webcams from the United States, Canada, Singapore, Germany, England, Scotland, France, Poland, Bulgaria, Denmark, Australia, Costa Rica and the Czech Republic.
---
Fantasy Shop
Our second largest Skirmish event of the week came courtesy of Fantasy Shop, an LGS in Athens, Greece! 64 players from around the globe faced off in an epic battle for the crown, vying for prizes which included not only cold foil heroes and rainbow foil Head Jab's, but a sealed booster display of Monarch first edition for the winner of the Skirmish!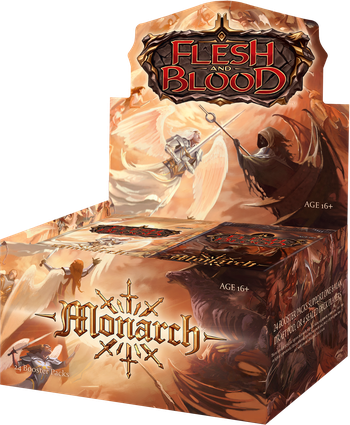 As you can see from the hero breakdown, Ira players still made up the majority of this tournament, but there were some surprise heroes who entered the Skirmish, including several Kassai's, a Benji, and a Kavdaen!
Hero Breakdown

| Hero Name | Class | Number of players | Hero Name | Class | Number of players |
| --- | --- | --- | --- | --- | --- |
| Ira, Crimson Haze | Ninja | 24 | Dorinthea | Warrior | 12 |
| Kano | Wizard | 8 | Rhinar | Brute | 6 |
| Kassai, Cintari Sellsword | Warrior | 3 | Bravo | Guardian | 3 |
| Katsu | Ninja | 2 | Dash | Mechanologist | 2 |
| Kavdaen, Trader of Skins | Merchant | 1 | Benji, the Piercing Wind | Ninja | 1 |
| Viserai | Runeblade | 1 | Azalea | Ranger | 1 |
The Top 8 for this event featured players from the United States, United Kingdom, Canada, Singapore and Poland, and once again, known Rhinar player Dimos Kaloupis took the Brute into the Top 8 of a Skirmish event! He fought valiantly against Rob Cygul's Dorinthea, but in the end, it was the warrior of Solana who won the battle.
This is Rob's fourth time winning a Skirmish event, leading Dorinthea to yet another victory! He live-streams his Skirmish events over on his Twitch and YouTube channels, so if you'd like to see the warrior player in action, you can check out the playback of his stream here.
---
Game Kastle Sacramento
Concurrently, Game Kastle Sacramento played host to 50 players, including Dominick Rodrigue, who previously won Bento Gaming's Skirmish with his Kano deck, and competed in the Fantasy Shop Skirmish event earlier that same day with his Ira deck. However, it was Michael Caronchia who came out on top for this event, cutting down his opponents as Dorinthea for his first Skirmish win.
---
Agora Hobby
Agora Hobby hosted Singapore's very first Skirmish event, welcoming 32 players through their doors (cleverly using pods of 8 to manage COVID restrictions)! Many of these players had already sharpened their weapons in online Skirmish events, bringing their A-game for the event. While Ira and Dorinthea still dominated the event's metagame, there was a surprise Runeblade surge among Agora Hobby's players, kicking fellow arcane user Kano out of his usual position on the field.
| | | | | | |
| --- | --- | --- | --- | --- | --- |
| Hero Name | Class | Number of players | Hero Name | Class | Number of players |
| Ira | Ninja | 14 | Dorinthea | Warrior | 7 |
| Viserai | Runeblade | 4 | Rhinar | Brute | 3 |
| Dash | Mechanologist | 2 | Benji, the Piercing Wind | Ninja | 1 |
| Kano | Wizard | 1 | | | |
In a noteworthy first for the Skirmish event series, this particular Top 8 saw not one, not two, but three Viserai players fight their way to the top!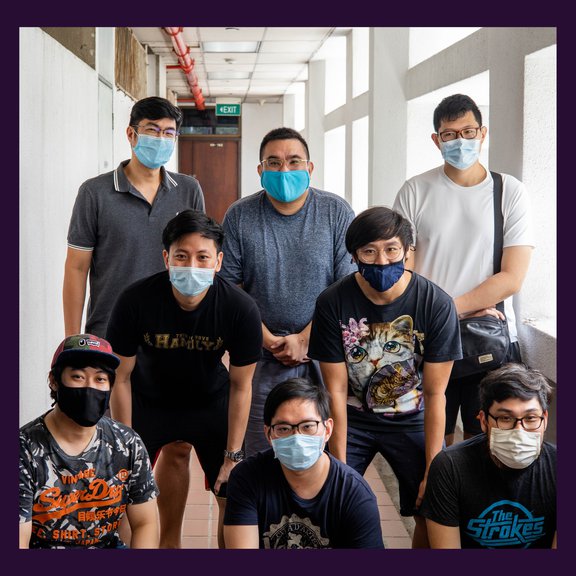 Skirmish event regular and Singapore #2 ranked player Gino Varella faced off in the final against newcomer Daniel Roses, who was playing his very first Skirmish event! The two duked it out in an Ira, Crimson Haze mirror match, but despite Daniel's best efforts, it was Gino who dealt the final blow. You can see a replay of their match-up here.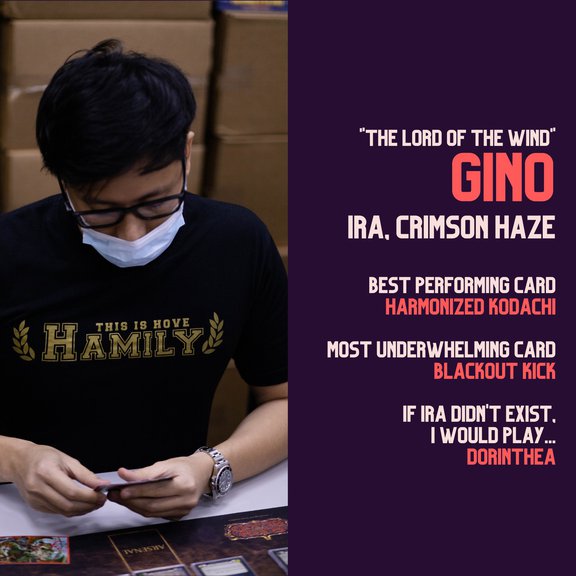 A big thanks to Bloodletter for allowing us to use the images from their coverage of the event! You can see more of their work via Facebook or Instagram.
---
Good Game Central
In Australia, this week saw Good Game Central's Skirmish event host 31 players. The final for this event saw the Champion of The Calling $10k Sydney, Hayden Dale, two-time Calling finalist Nick Butcher in an Ira, Crimson Haze mirror match. Hayden previously made the Top 8 in Channel Fireball's Skirmish event, but seems to have since switched to Team Ira. In the end, it was Nick who took the win of the day.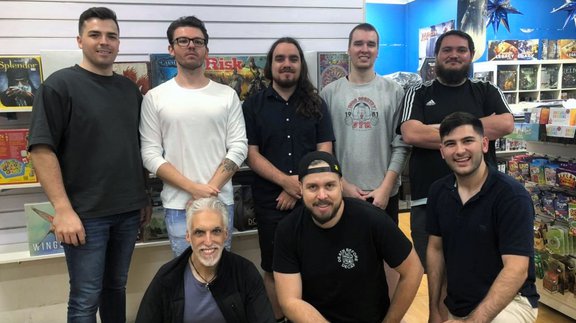 Back row: Hayden Dale, Nick Butcher, Steven Young, Luke Fletcher, Joshua Amos
Front row: Andy Palermo, Thomas Dowling, Noah Nakhle
---
Dice Jar Games
In the land of the long white cloud, Dice Jar Games and the Gamestore at Megazone hosted a double event in Dunedin, both welcoming 27 players. The first event of the weekend at Dice Jar Games was a sealed deck tournament with a draft for the Top 8 playoffs, and was streamed online! You can find their stream of the swiss rounds here, and their stream of the top cut here.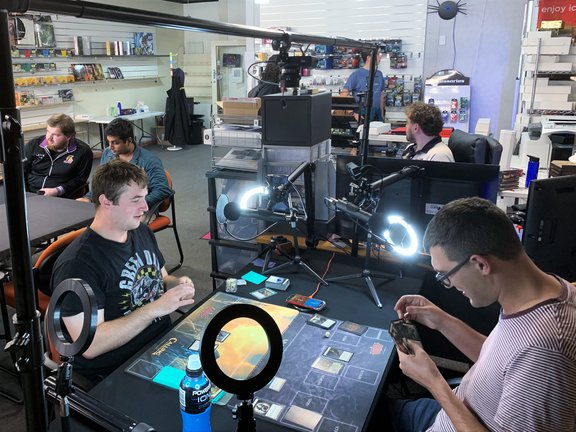 Dice Jar Games had a very nice setup for their stream, which is available on their YouTube channel.
The final round saw FAB veterans Matt Rogers and Jacob Pearson facing off for the win. Matt, in a surprising turn of events, drafted Rhinar, while Jacob drafted Bravo. Interestingly, Jacob was one of three people to draft Bravo, which is the exact same scenario that happened at the Cerberus Skirmish event the previous week. Once again, Jacob and Bravo rose to victory. You can see their final battle in Dice Jar's stream replay.
Top 8:
Matt Rogers, drafted Rhinar
Kenny Forrester, drafted Dorinthea
Joshua Scott, drafted Bravo
Daniel Real, drafted Rhinar
Jacob Pearson, drafted Bravo
Nic Andisen drafted Bravo
David Marshall, drafted Dorinthea
Dan McKay, drafted Katsu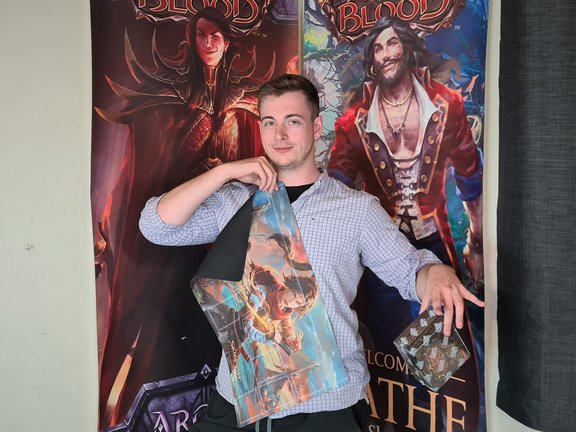 ---
Valkyrie Games
Finally, Valkyrie Games in Palmerston North, New Zealand hosted a Welcome to Rathe sealed deck event. Hometown hero Marius Van Staden opened a deck with Mugenshi Release and Lord of Wind, piloting Katsu to the top of the standings of a 32 player field.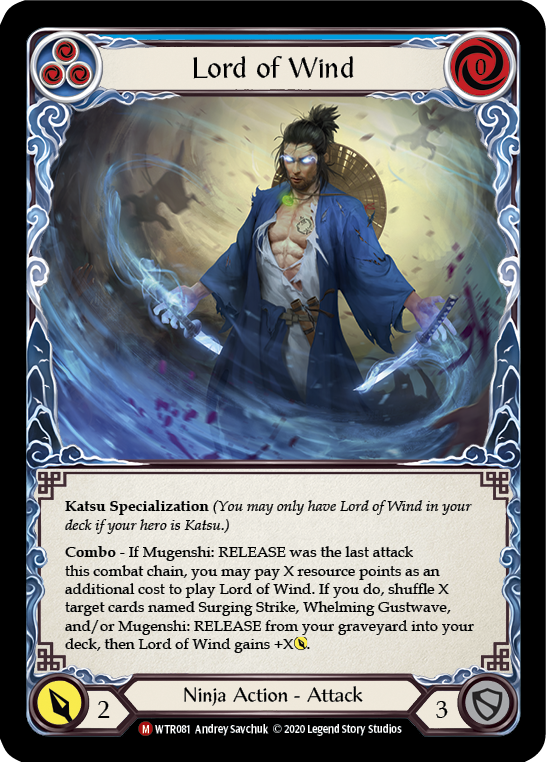 In the draft he managed to pick up six Surging Strikes, going on to beat people's champion Gene Brumby and World #1 on lifetime XP Cayle McCreath before seeing off Jason Thomson-Shek to take out the final!
The Week Ahead
Week 7 sees the Skirmish event series landing in Belgium and Sweden for the first time, and Germany for the second time thus far!
North America:
Europe/UK:
Oceania/Asia: