Skirmish entered its third week of play with a host of countries getting their first Skirmish event. Taiwan, Malaysia, Greece and Germany entered the fray, while Australia, UK and USA all played host to large events. Over 330 players attended some 9 events across the world.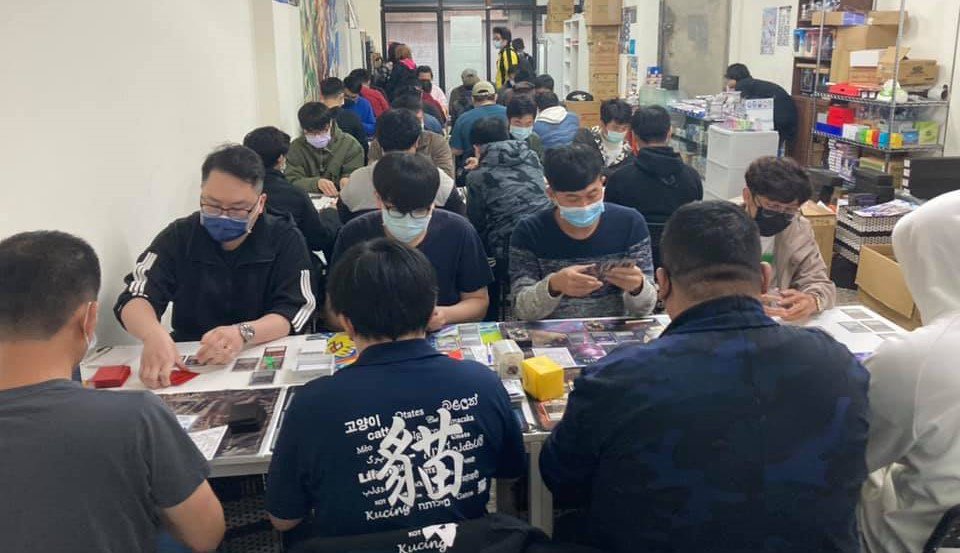 33 players attended the first Taiwan Skirmish at NowNowTCG
The first event for Taiwan ran at NowNowTCG in Taipei City. 33 players signed on for six rounds of swiss play before the top 8 was announced. The deck choices broke down like this:
Ira 11
Dorinthea 7
Kano 6
Viserai 3
Bravo 2
Dash 1
Rhinar 1
Azalea 1
Kassai 1
Included in the top cut were three Taiwanese stars Limbo_CFP, Wang Chung Chi and 陳, 銘賢 , who all made top 8 at the 2020 Taiwan Nationals. The finals of the Skirmish came down to the battle of this format with Wang Chung Chi on Ira beating Sei Ruei and his Dorinthea deck.
Dark Sphere Games in the heart of London, UK was host to players both local and international, with the largest European event of the weekend at 55 players. Dark Sphere didn't do a top 8 cut but after six rounds the top table came down to Rob Cygul on his Tall Warrior deck, and Dimos Kaloupis on Rhinar. Rob took the win here, notching up additional success on the Skirmish circuit.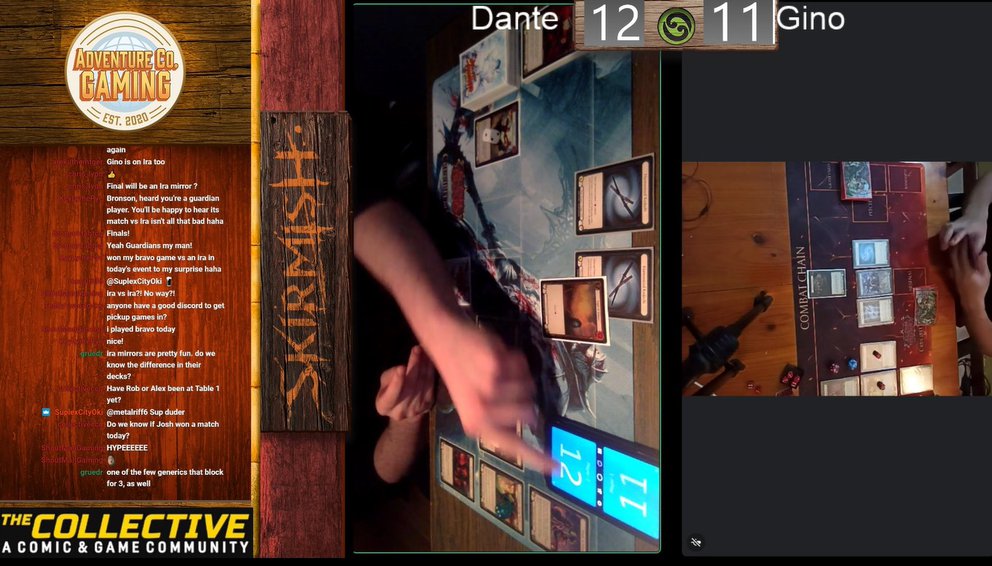 Image courtesy of Adventure Co. Gaming
The Collective: A Comic & Game Community had the largest North American event of the weekend with 62 players in attendance. The finals came down to an Ira, Crimson Haze mirror with Dante Delfico from Canada winning another Skirmish event, this time beating Gino Varella from Singapore.
Back in Europe Dragonphoenix Inn saw 24 players take part with an interesting spread of heroes:
Kano 6
Ira 5
Dorinthea 4
Viserai 3
Kassai 2
Benji 1
Azalea 1
Kayo 1
The finals saw the two most played decks face off. Sam Yuen from New Jersey, USA took on local Greek player Vasilis Kirlis. This time, fire was not enough to burn out the ninja and Sam Yuen took the victory with Ira.
The final North American event from the weekend saw Bento Gaming in Canada host a 31 player field through 5 rounds of swiss. The top table of the final round saw some familiar Canadian players fight it out. Dante Delfico secured another finals birth with Ira, and this time faced Dominick Rodrigue with Kano. This time the tables were turned on Ira and Dominick was able to burn out Ira and gave Kano his first Skirmish victory this season!
Back to the down under at The Games Cube in Paramatta, Australia. The event was star-studded, with some of best-known names in Australian Flesh and Blood. Sasha Markovich, Nick Butcher, Luke and Leigh Fletcher, and Hayden Dale all in attendance, this group has seven Calling top 8's between them. The finals brought what seems to be this season great grudge match, Nick Butcher on Ira versus Luke Fletcher on Dorinthea - this time Nick was able to take the Victory and the sweet Ira playmat!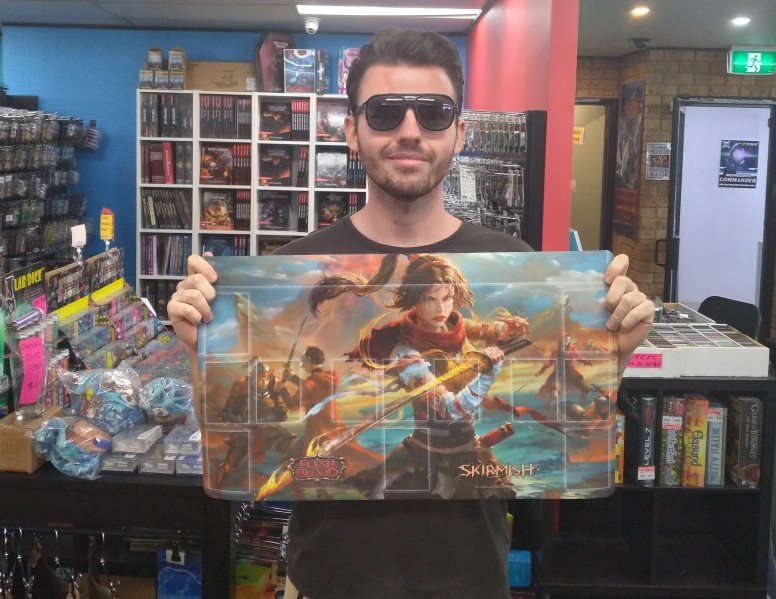 Victorious Nick Butcher at the Games Cube Skirmish
---
Updates
The first draw for the three completed weeks of Skirmish will occur on Friday NZT. We will publish winners to fabtcg.com soon after. This information will then be provided to our fulfillment partners so the first wave of prizes can go out.
The first week of Skirmish events currently do not have XP attached to them. This was due to an error in assigning the correct XP modifier. This is still in the process of being corrected and we hope to have it remedied in the coming week.
The Week Ahead
Week 4 of the Skirmish Series is going to feature more events than Week 1, including the first of the Canadian events and the entry of a lot more of our European stores;
North America:
Europe / UK:
Asia / Pacific:
For those of you looking for some deck tech for the upcoming week, we have some of the top placing deck lists available for you;
Also, don't forget to check out;
And finally, there are lots of other Armory and On-Demand events happening around the world, both in person and online. Check out here on out Event Finder for more details.
Good luck out there, and stay safe!
---
Bonus Content
LSS staff member Sasha Markovic didn't make a top 8 or finals table in the weekend but he did win the Scar for a Scar playmat as a sweet door prize! We share you this photo and his Ranger list.
Sasha Markovic Ranger Deck - The Games Cube Skirmish - 7.3.21