Registration for Pro Tour Lille, the Calling and side event packages are now open! Head on over to https://tournamentcenter.gg/flesh-and-blood-pt-lille/ to register for the biggest ever Flesh and Blood event to hit Europe.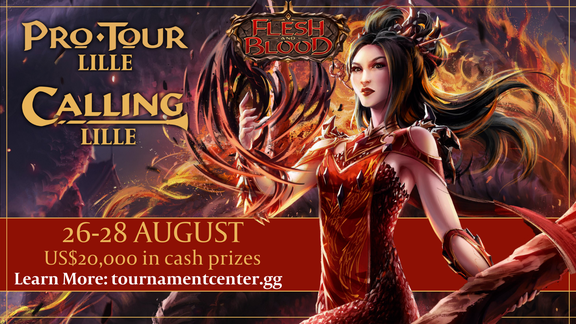 Pro Tour qualified players can register for the event from today. Registration is necessary, and must be completed by 11:59pm (PDT) August 4th, 2022 in order to ensure your place in the tournament.
The Pro Tour weekend also features a full slate of public events, including the Calling, Battle Hardened an three action packed days of side events. We've got a range of ticket packages available, so head on over to the tournamentcenter website and check out all the options. If you are planning on coming, please consider buying your tickets early; a number of recent events including Krakow, Sydney and New Jersey have sold out, and we want to avoid any disappointment for players who are travelling to take part in the events!
We're especially excited to announce some of the complementary materials that will be coming with the various packages for this event! Pro Tour players will receive a special Eye of Ophidia playmat as part of their entry into the event, in recognition of their huge achievement in making it to this prestigious event. And in the same spirit that we released Yorick, Weaver of Tales as an event exclusive promo for New Jersey attendees, everyone who buys a ticket package for Lille will also receive a special promotional card; Hummingbird, Call of Adventure. Hummingbird is the first every Bard weapon to be released in Flesh and Blood, as our hero Yorick shows that it is not just the pen that can be mightier than the sword!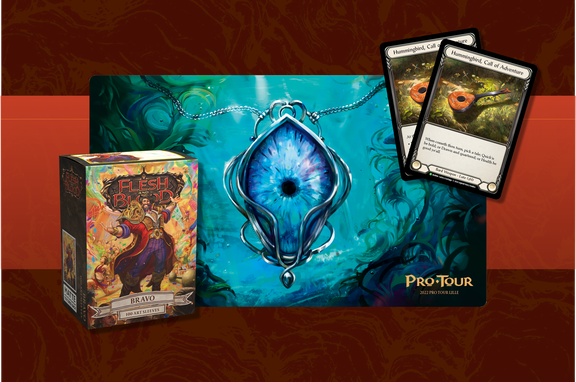 Lille is only two months away now, and we're excited to be able to finally invite you all to participate in the event! We hope to see many of you there.