Born the daughter of a noble house in the Northern Realms, the future Lady Barthimont was raised with the grace and cunning expected of a woman of her rank. Once she had come of age, her father quickly found a match for her, marrying her to another Lord in order to secure the power and status that he felt his daughter rightfully deserved.
But when Lady Barthimont had moved to her new estate with her servants in tow, expecting a life of luxury and comfort, she was faced with a harsh reality. Lord Barthimont was lazy, dull and impassive; he gallivanted across the plains with his hunting parties, his inexperienced new wife to take over the running of the estate in his absence, toiling over paperwork and engaging in empty pleasantries with unwanted visitors. Over the years, as she watched her youth wither away, she grew ever more embittered by her absent husband and the mundane, maddening work he left her to face alone.
This continued until one very ordinary day, when a visitor to Lady Barthimont's hall brought her an intriguing gift; a grimoire of mysterious origin. The tome had clearly changed hands many times, its dark leather cover worn by the touch of its past owners. Within this grimoire, she experienced her first introduction to the Shadow—an arcane art which promised her the kind of power she'd always dreamt of wielding. Delving into its depths, she quickly discovered her arcane gifts, a connection to the aether which she found blossoming within her day by day.
As her talents grew, so did her hunger for power. Lady Barthimont began to draw upon the resources made available through her aristocratic status, sacrificing the blood of her servants in fiendish rituals, spending her fortune on sourcing arcane artefacts from across the continent, and inviting other practitioners among the nobility into her home. In this way, her lavish parties formed the basis for gaining more and more knowledge, and eventually she found exactly what she'd been searching for.
Lady Barthimont decided that she would seek to call upon an entity from the beyond, who could imbue her with its own power, and allow her to bend all others to her will. Yet before she could move into the final phase of her plans, they were overturned, and one of her own traitorous servants stole the power for her own. The final indignity was dying by the young woman's hands, strangled by the very might she had sought for herself.
(Written by Nicola Price, edited by Tarryn Thomas, hero illustration by Carlos Cruchaga)
---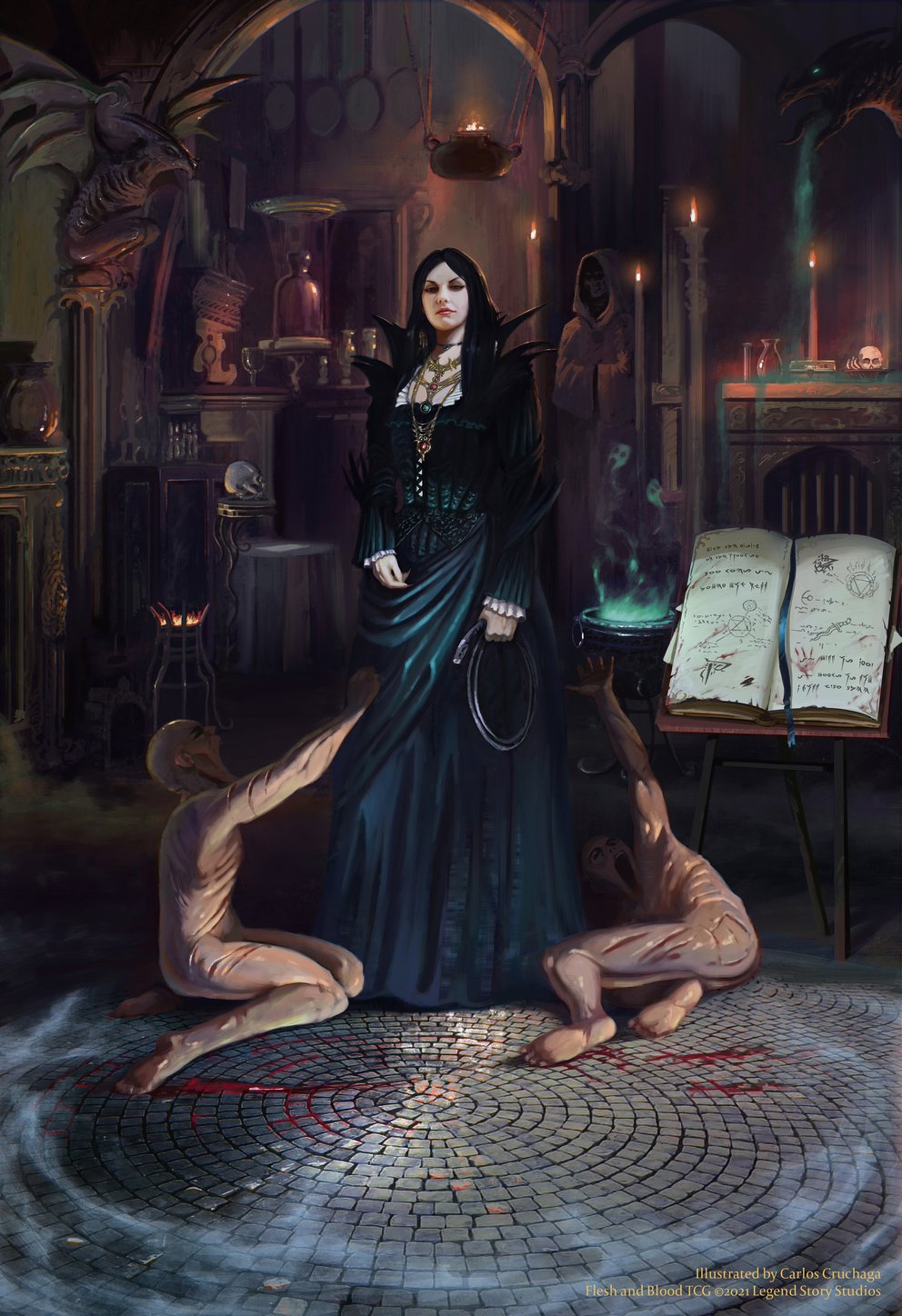 ---